Daieisho Moves Closer to Claiming Second Emperor's Cup at the Spring Basho
The komusubi grappler ended the Spring Basho title hopes of rank-and-filer Midorifuji, who lost for the fourth day in a row.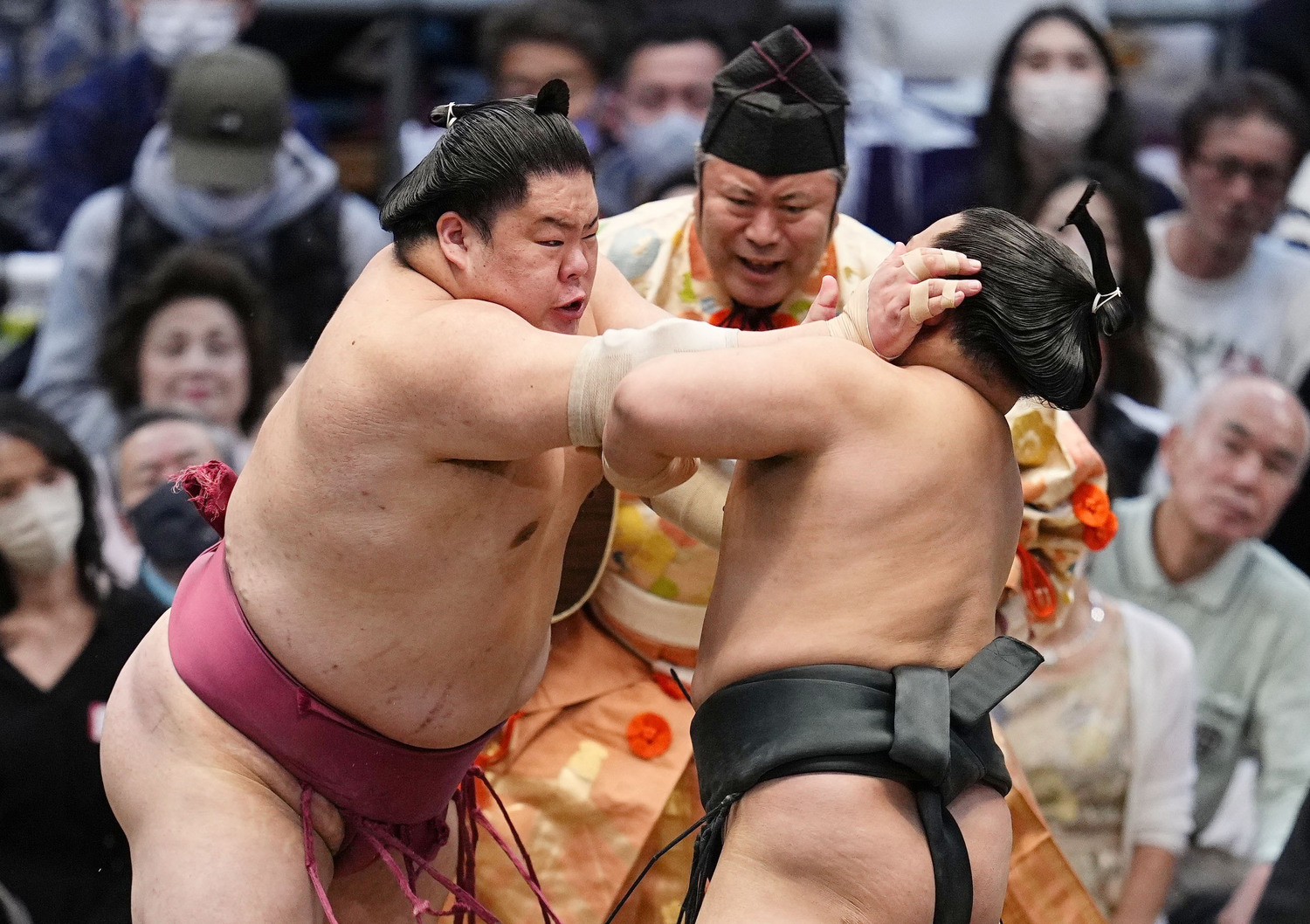 Komusubi Daieisho moved a step closer to winning his second Emperor's Cup on Saturday, March 25 when he brushed aside Midorifuji on the penultimate day of the Spring Basho, ending the rank-and-filer's title hopes.
Daieisho was all business in the featured bout on Day 14 at Osaka Prefectural Gymnasium when he used a series of powerful arm thrusts to send No. 5 maegashira Midorifuji toppling off the raised ring and out of contention.
Daieisho, who captured his first championship at the 2021 New Year Basho, improved to 12-2. Midorifuji, who was in the lead on Day 10, lost his fourth straight bout and dropped to 10-4.
Kiribayama is the only other wrestler still in contention at the Spring Grand Sumo Tournament. He improved to 11-3 when he won by forfeit after fellow sekiwake Wakatakakage was forced to pull out after injuring his knee in Friday's hard-fought win over Kotonowaka.
Wakatakakage exits the tournament at 7-7. His stable master said his status for the May tournament is unknown.
Kiribayama will face Daieisho on the final day. If Kiribayama wins, he will force a playoff with the komusubi grappler.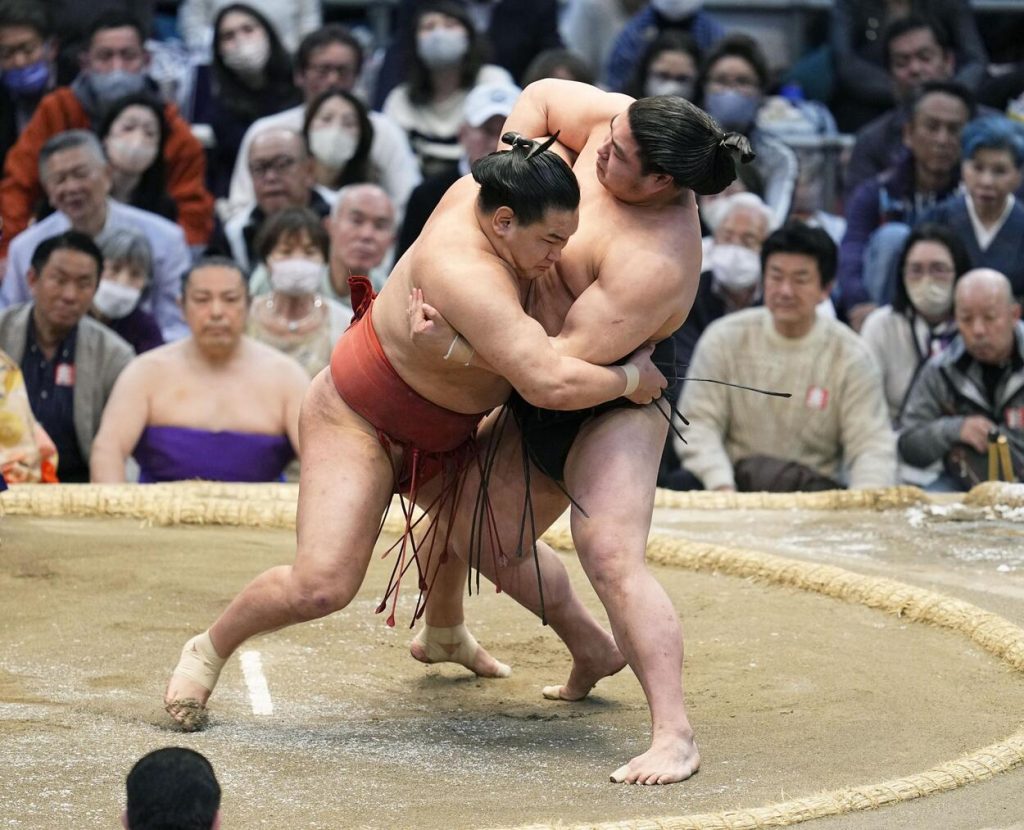 Hoshoryu Outmuscles Wakamotoharu
Mongolian sekiwake Hoshoryu ensured there would be only two title contenders on the final day when he used a spectacular arm throw to send komusubi Wakamotoharu tumbling to the dirt surface and giving both a record of 10-4.
Fan favorite Endo, a No. 6 maegashira, bulldozed komusubi Kotonowaka out to give both grapplers a 9-5 record.
Makuuchi division rookie Kinbozan from Kazakhstan gave Abi a taste of his own medicine when he unleashed a powerful arm thrust to the neck to send the No. 2 maegashira out while improving to an impressive 10-4. Abi dropped to 8-6.
With at least 10 wins under his belt, Kinbozan will be moving up the ranks for the next tournament in May and should be in line for one of the March tournament's three special prizes.
Shodai (9-5) continued to impress at the rank of top maegashira when he shoved out No. 13 maegashira Daishoho (8-6).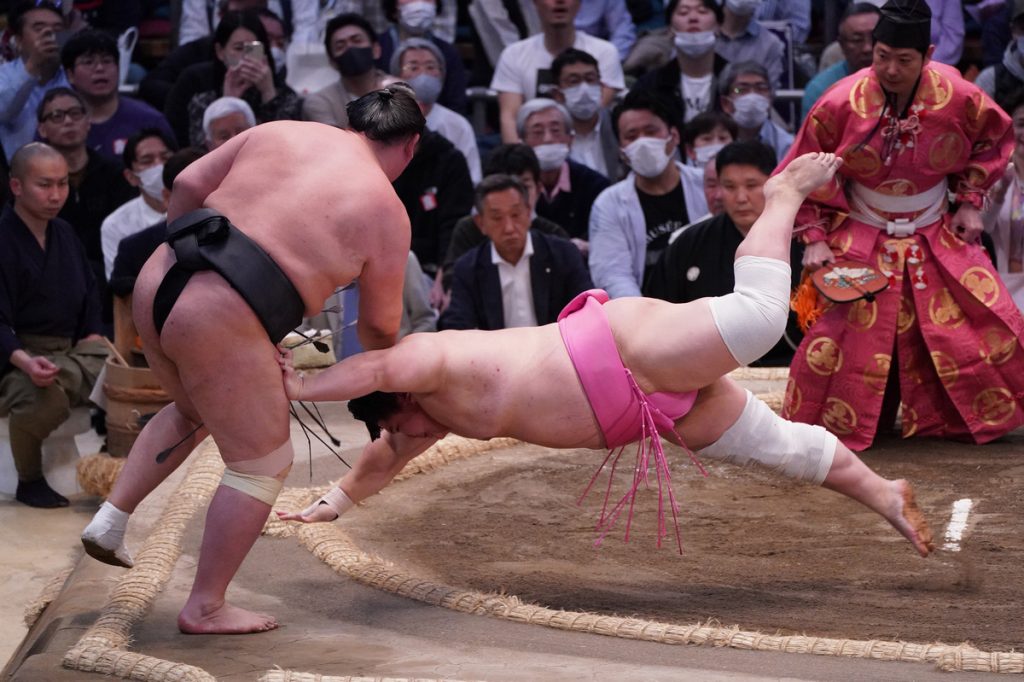 Ura Seals Winning Record
Osaka native Ura, a No. 8 maegashira, gave the home crowd a thrill when he wrapped up a winning record and improved to 8-6 after forcing out No. 11 maegashira Azumaryu (3-11).
Seventh-ranked maegashira Takayasu forced out No. 13 Kotoeko (8-6) to improve to 9-5.
Takayasu is a seven-time runner up and if he was ever going to win a title this would have been a golden opportunity with no yokozuna or ozeki taking part.
But after getting off to an impressive 6-0 start, the former ozeki lost five out of seven bouts to fall out of contention.
In a showdown of lower-ranked wrestlers, makuuchi division rookie Hokuseiho used a beltless arm throw to topple Hiradoumi and improve to 8-6. In doing so, Hokuseiho wrapped up a winning record in his debut in the elite division. Hiradoumi fell to 6-8.

Author: Jim Armstrong
The author is a longtime journalist who has covered sports in Japan for over 25 years. You can find his articles on SportsLook.