Eight B.League Teams Earn Back-to-Back Wins on Opening Week
The Nagoya Diamond Dolphins recorded the first victory of the 60-game B.League season, a 101-86 triumph over the SeaHorses Mikawa.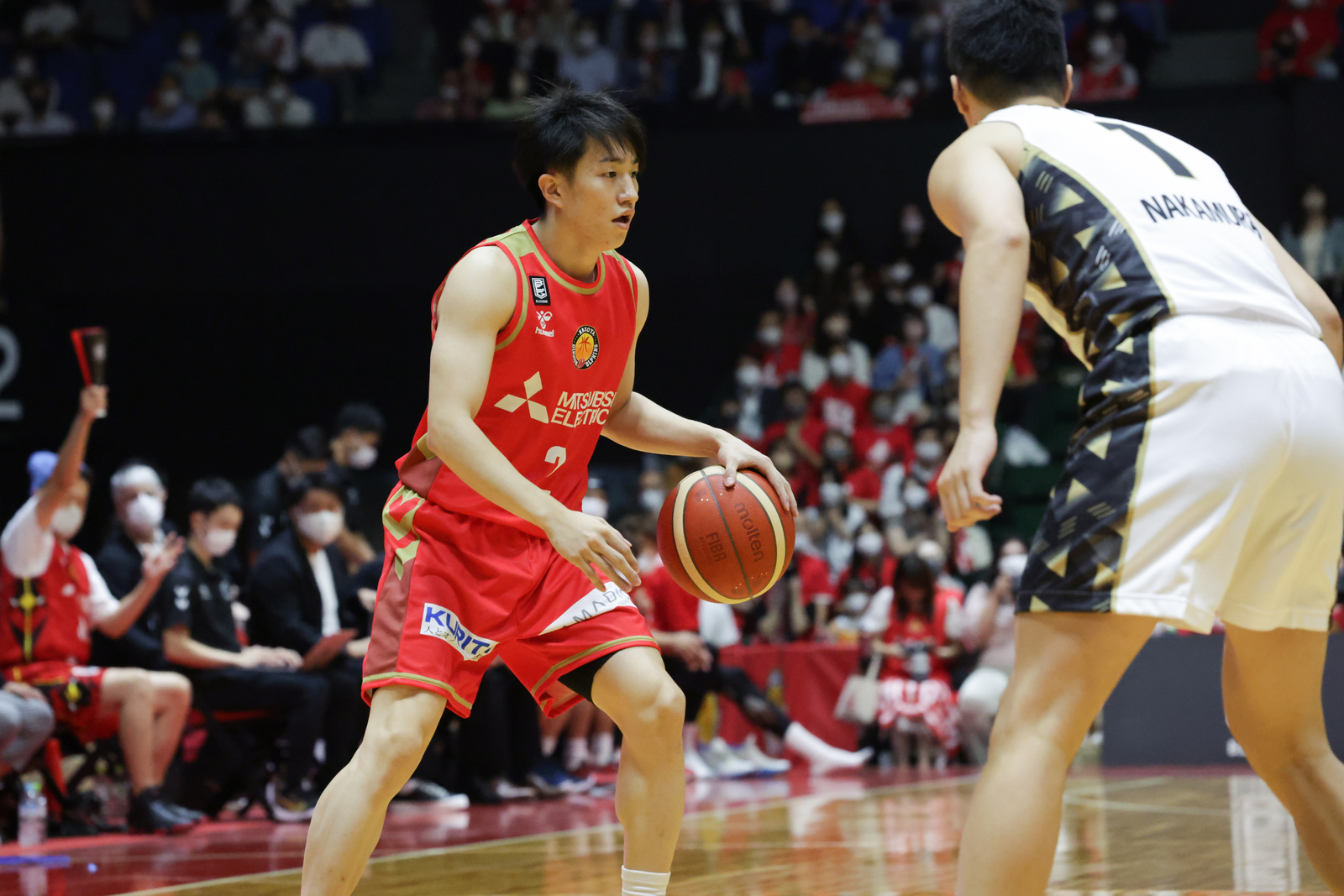 The B.League kicked off its seventh season on Thursday, September 29 with one game before a busy schedule featuring all 24 teams on Saturday, October 1.
Eight teams remain unbeaten after the pro basketball league's opening weekend.
From the East, the 2-0 clubs are the Gunma Crane Thunders, Akita Northern Happinets and Chiba Jets. In the Central, the Sunrockers Shibuya and Kawasaki Brave Thunders have identical perfect records. And in the West, the Ryukyu Golden Kings, Nagoya Diamond Dolphins and Fighting Eagles Nagoya are all 2-0.
Diamond Dolphins Sweep SeaHorses
In Nagoya, the Diamond Dolphins opened their season with a 101-86 victory over the SeaHorses Mikawa on September 29.
Nagoya led 50-37 at halftime.
Power forward Coty Clarke, who's in his second season with the Diamond Dolphins, contributed 24 points, 11 rebounds and seven assists in the victory.
Anthony Lawrence II led Mikawa with 19 points.
On Saturday, Clarke, a former University of Arkansas player, scored a team-high 20 points in an 84-74 win. Scott Eatherton chipped in with 16 points and 11 rebounds, while Takumi Saito added nine points and 18 assists, tying the league's single-game record.
The hosts outscored the SeaHorses 22-5 in the third quarter and took a 61-46 lead into the final period.
Davante Gardner was Mikawa's top scorer with 22 points.
"Especially in the first half, we conceded a lot of baskets, but we were able to play very good defense in the third quarter, which I think led to the victory," Diamond Dolphins coach Shawn Dennis told reporters. "I'm really happy that we were able to win two home games in a row in the opening [series]."
Diamond Dolphins captain Saito said his team's maturation was on display in the weekend matches.
"After winning Game 1 by a large margin, I expected Game 2 to be tough," Saito commented after the series finale. "However, we will have to overcome these obstacles in the future, and since we overcame various difficulties last season, I feel that today's victory has led to the growth of the team. And I think the reason why we were able to win such matches from the beginning of the season is because of the experience we have accumulated since last year."
A tough test awaits Nagoya on October 8-9 against the visiting Golden Kings.
"With the confidence that we gained in today's match, we would like to win the next match against Ryukyu, a strong team which won the West Division title last season," Saito said.
Golden Kings Trounce Brex Twice
In a rematch of last season's B.League Finals, Ryukyu routed reigning champion Utsunomiya 81-52 on Saturday before a crowd of 8,022 at Okinawa Arena.
Allen Durham had 17 points, 11 rebounds and five assists for the hosts. Jack Cooley provided his standard double-double (13 points, 15 rebounds) and Koh Flippin scored 15 points and handed out six assists.
The Brex shot 17-for-50 from the floor in the loss. Josh Scott led the club with 18 points.
In an 85-70 win on Sunday, the Golden Kings took a 22-6 lead into the second quarter.
Ryukyu coach Dai Oketani's club had a strong offensive performance, including 63.6% shooting from 2-point range.
Cooley, a University of Notre Dame alum, had his second double-double of the weekend with 17 points and 10 rebounds, longtime Golden Kings guard Ryuichi Kishimoto scored 14 points and four teammates also reached double figures in points.
Hannaryz Earn First Win Under Rana
After a 92-65 home loss to the Sendai 89ers on Saturday, new Kyoto Hannaryz coach Roy Rana's club bounced back and earned a weekend split with a 66-65 victory the next day.
Sendai's Taiki Okada sank a 3-pointer at the buzzer to account for the final score.
Point guard Yoshiaki Kubota had 16 points and five assists for the Hannaryz. Forward Cheick Diallo, who was born in Mali, finished with 10 points and 10 rebounds. TJ Lall and Jarrod Uthoff contributed 12 and 11 points, respectively.
Rana, who served as an assistant coach for the NBA's Sacramento Kings last season, described it as a "very intense, physical game."
"In the end, we were able to play in a good form as the team that played hard won the match," he added.
For the 89ers, Justin Burrell had 16 points, 14 rebounds, three steals and three blocks.
Crane Thunders Improve to 2-0
The Gunma Crane Thunders opened their new season with an 88-80 home triumph over the Shiga Lakes on Saturday in new coach Kota Mizuno's first game in charge.
Veteran forward Michael Parker was an offensive force for the Crane Thunders, scoring 25 points on 11-for-12 shooting. The 40-year-old Parker also corralled eight rebounds.
On Sunday, Gunma prevailed 92-87.
Parker had 13 points and nine rebounds. Trey McKinney-Jones added 12 points and five assists, Justin Keenan scored 11 points and doled out five assists and Aki Chambers and Teru Sugawara finished with nine points apiece.
"We won yesterday as well, but we thought it would be a tougher game today," Sugawara said after the series finale. "I think that's one of the reasons why we won."
Mizuno, who spent the past four seasons as an assistant coach for the Alvark Tokyo, said it's important for his club to focus on one series at a time.
"We still have 58 games left after the last two games," Mizuno remarked, "so we will face the battle while looking at what we need to do to become a better and stronger team."
Happinets Have Successful Weekend
Akita edged the Levanga Hokkaido 95-90 in the teams' season-opening game on Saturday in Sapporo.
Newcomer Stanton Kidd, a veteran forward who previously played for Russian team Lokomotiv Kuban Krasnodar, had a game to remember for Akita, scoring 29 points on 12-for-13 shooting. Perimeter marksman Shigehiro Taguchi poured in 22 points, knocking down 6 of 10 3-point attempts. Turkish big man Kerem Kanter also made a key impact in the opener with 12 points, 14 rebounds and eight assists.
A day later, Akita hammered Levanga 97-74.
The Northern Happinets built a 43-27 lead by halftime and extended their advantage to 78-50 entering the final quarter.
Akita's strong 3-point shooting (13 of 24) keyed the offense's efficient effort. For the Happinets, Taguchi and Kidd each scored 18 points in the rout. Taguchi was 4-for-4 on 3s.
The Happinets' positive start to the season has occurred at a time when head coach Kenzo Maeda is on a leave of absence from the team. Maeda is mourning the passing of his wife, Natsumi, who died on September 29. She was 39.
"All the club members would like to express their sincere condolences and sincerely pray for the repose of the soul," the team said in a statement.
Kevin Braswell is serving as Akita's acting head coach in Maeda's absence.
Statistical Leaders
San-en NeoPhoenix power forward Yante Maten is the league's leading scorer (25.5 points per game) through Sunday. He's also No. 2 in rebounding (14.5), trailing only Kawasaki's Nick Fazekas (15.5).
After his noteworthy 18-assist effort, Nagoya's Saito is No. 1 in the passing department (12.5 per game), with Yokohama B-Corsairs playmaker Yuki Kawamura at No. 2 (10.0).
Saturday's Other Scores
Alvark Tokyo 66, Shinshu Brave Warriors 61
Fighting Eagles Nagoya 95, Levanga Hokkaido 90
Kawasaki Brave Thunders 87, San-en NeoPhoenix 85
Yokohama B-Corsairs 96, Hiroshima Dragonflies 89
Niigata Albirex BB 82, Shimane Susanoo Magic 73
Sunrockers Shibuya 90, Toyama Grouses 84
Chiba Jets 77, Osaka Evessa 67
Sunday's Other Scores
Shimane Susanoo Magic 79, Niigata Albirex BB 49
Sunrockers Shibuya 90, Toyama Grouses 86
Hiroshima Dragonflies 70, Yokohama B-Corsairs 68
Fighting Eagles Nagoya 72, Ibaraki Robots 69
Chiba Jets 89, Osaka Evessa 88
Shinshu Brave Warriors 79, Alvark Tokyo 67
Kawasaki Brave Thunders 88, San-en NeoPhoenix 84
B2 Update
Of the 14 teams in B2, also known as the B.League's second division, only one club won both of its Week 1 contests. Altiri Chiba, guided by Australian bench boss Andrej Lemanis, is the lone unbeaten team.
Altiri, who competed in B3 last season, got a big spark from Leo Lyons (19 points, 10 rebounds, six assists) and Kota Fujimoto (18 points) in their season opener on Saturday in an 85-83 road win over the Aomori Wat's. In the Sunday rematch, Chiba beat Aomori 77-60, with Lyons, Fujimoto and Brandon Ashley scoring 13 points apiece for the winners.


Author: Ed Odeven
Follow Ed on JAPAN Forward's [Japan Sports Notebook] here on Sundays, in [Odds and Evens] here during the week, and Twitter @ed_odeven.