Rebuilding San-en NeoPhoenix Taking Steps in the Right Direction
Under new bench boss Atsushi Ono, the NeoPhoenix have overhauled their roster, laying a new foundation with an influx of youthful players and established veterans.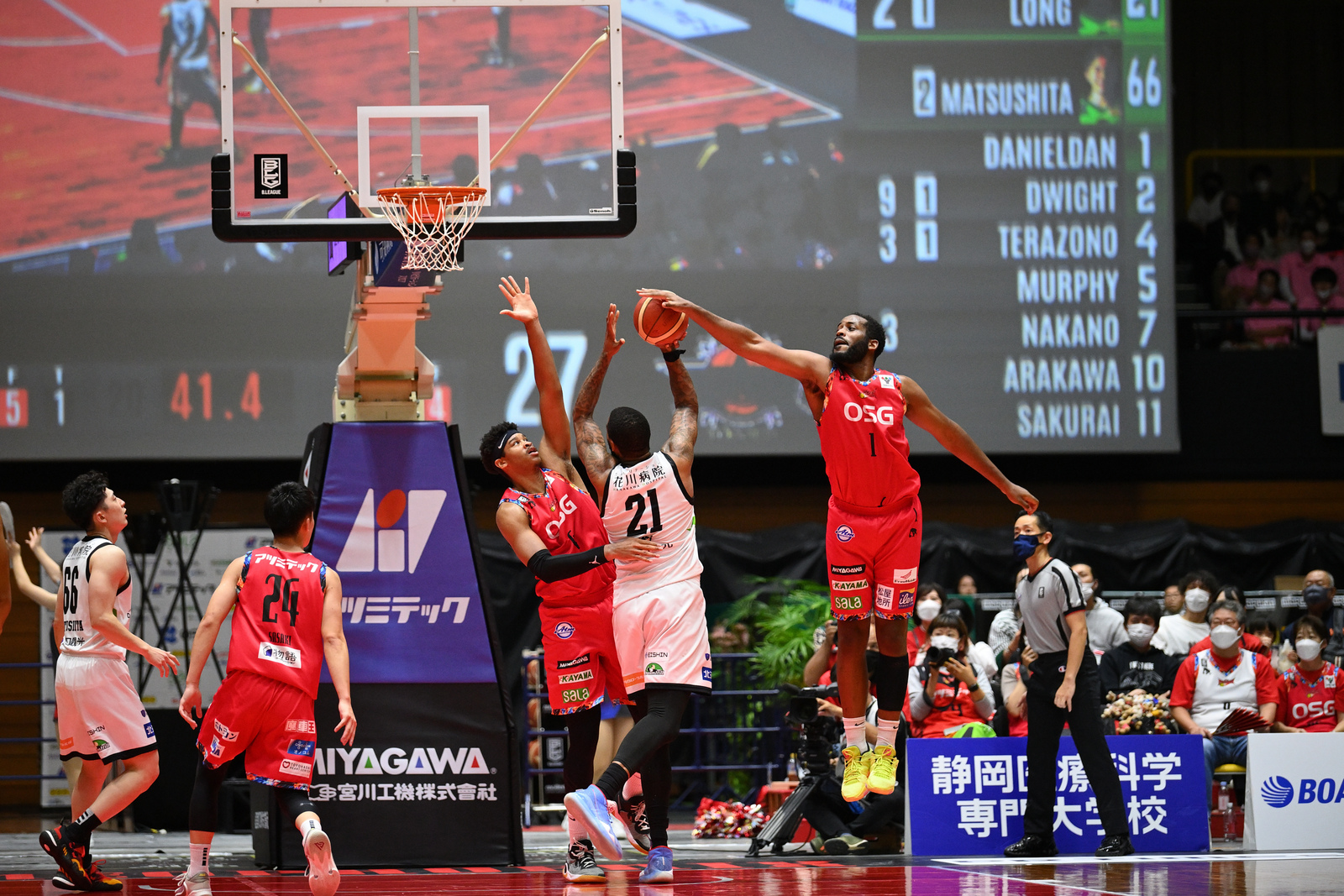 Over the past two seasons, the San-en NeoPhoenix lost 95 games. They had 22 combined victories in the 2020-21 and 2021-22 seasons.
In the offseason, management decided big changes were needed, starting at the top.
Former Chiba Jets head coach Atsushi Ono, who led the club to two B.League championship runner-up finishes and a title in his six seasons at the helm through 2021-22, was appointed San-en's new sideline supervisor in July.
Ono's first season in charge of the Aichi Prefecture-based team has started with encouraging signs.
The NeoPhoenix have been competitive from the get-go. They dropped their opening game on October 1, falling 87-85 to the perennial playoff-bound Kawasaki Brave Thunders. A day later, Kawasaki needed overtime to put away San-en, winning 88-84.
Two losses by six points illustrated Ono's vision for the team is slowly starting to take shape.
On Saturday, October 8, the NeoPhoenix won their first regular-season game of the Ono era, defeating the Levanga Hokkaido 76-57. San-en recorded a 93-80 home victory the next day to complete the weekend sweep.
When Ono was hired to overhaul the team, he outlined his bold vision, specifically addressing the team's loyal fans.
"Our goal is to make all stakeholders smile," Ono declared. "This cannot be accomplished alone, and creating a new culture is not an easy task.
"To achieve great things, to create a new culture, the players, the coaching staff and the support staff must come together," he continued. "We will work hard to create a team with passion and soul in our philosophy so that everyone's hearts can be one.
"Thank you for your interest in the new San-en NeoPhoenix. Thank you for your support this season."
Taishiro Shimizu was the acting head coach for the final 27 games last season after Serbian coach Branislav Vicentic's contract was terminated. Shimizu has returned to his former role as an assistant.
A Look at the NeoPhoenix Roster
The current 14-man NeoPhoenix roster features only four players who were with the team a year ago: Filipino shooting guard Thirdy Ravena, point guard Morihisa Yamauchi, combo guard Ryota Hanzawa and veteran center Atsuya Ota, who starred for the club on its three bj-league title-winning teams (2009, 2010 and 2015) before the B.League's inception.
Working with new team president Shinsuke Ushio to overhaul the roster, Ono has a veteran nucleus that includes three former NBA players: new team captain and point guard Kyle Collinsworth (a Brigham Young University alum), high-scoring forward Isaiah Hicks (University of North Carolina) and center Yante Maten (University of Georgia).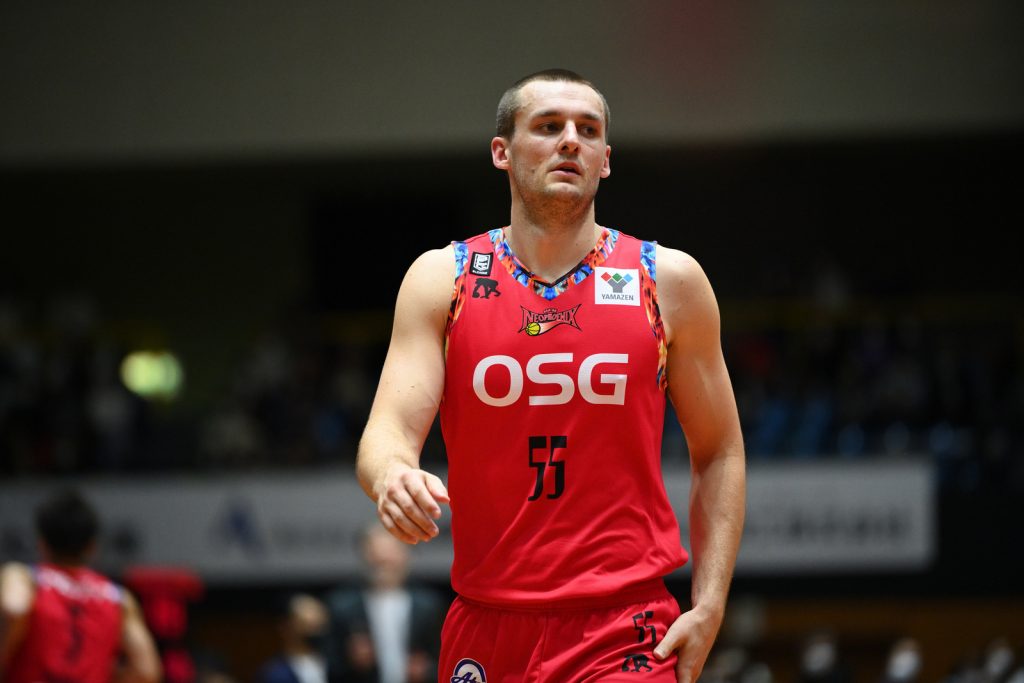 Of the three Americans, Collinsworth, a former Dallas Mavericks player, only brought previous B.League experience to the NeoPhoenix. A four-year starter at BYU, he spent the past two seasons with the SeaHorses Mikawa. He averaged 8.2 points, 6.8 rebounds and 5.5 assists in 25 games last season. He didn't play after January 22 due to a right ankle injury.
Veteran forward Kosuke Kanamaru, now 33, and one of the premier Japanese long-range shooters of the 21st century, joined the NeoPhoenix in the offseason after averaging 11.1 points for the Shimane Susanoo Magic last season.
Other roster additions include shooting guards Shinnosuke Negoro (SeaHorses), Kazuki Hosokawa (Kyoto Hannaryz) and Ryusei Sasaki (Kumamoto Volters), power forwards Hiromasa Omiya (Jets) and Alistair Tokio Tsuchiya (Yokohama B-Corsairs).
NeoPhoenix's Weekend Highlights
Against the Levanga on October 8, Kanamaru scored a team-high 17 points, Maten poured in 15, Hicks had 13 and Hosokawa finished with 11 in the hosts' 19-point win. Collinsworth and Hicks both snared eight rebounds and Maten grabbed nine.
San-en built a 41-28 lead by halftime and also finished strong, outscoring the visitors 19-8 in the fourth quarter.
In the Sunday rematch, Maten led all scorers with 24 points and blocked four shots. Backups Hicks (16 points and 15 rebounds), Hosokawa (15 points) and Sasaki (12) provided a big spark off the bench. In addition, Ravena made an impact with 10 points, eight rebounds and six assists in Toyohashi, Aichi Prefecture.
Rookie point guard Kaisei Takahashi, 19, demonstrated his passing skills in both wins, doling out four assists in the series opener and registering five assists the next day.
"It was difficult back-to-back games, but thanks to the hard work of our players, we were able to win two games in a row, which was the best result," Ono told reporters in a postgame news conference.
On Monday, October 10, Ota paid tribute to the NeoPhoenix's fans after Sunday's triumph.
"Two wins in a row! I'm really happy," Ota tweeted. "I would like to continue to fight in the next [round of games] and deliver victory to everyone again."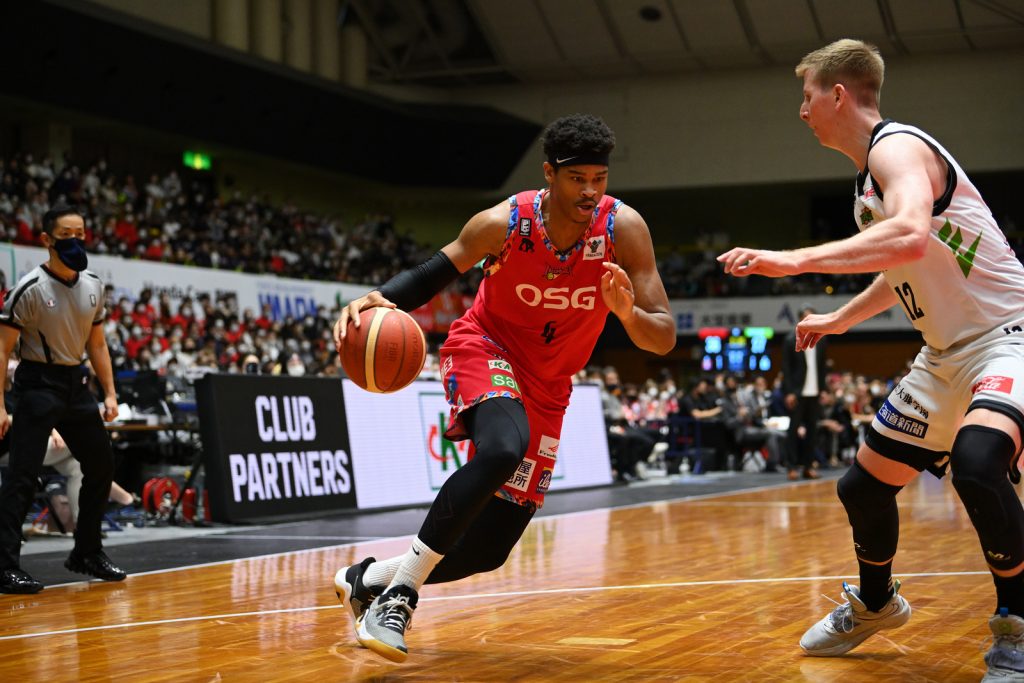 San-en's Statistical Leaders
Four games represent a small sample size out of the 60-game regular season, but the NeoPhoenix are showing some positive signs in the early going.
Maten is No. 3 in the league in scoring (22.5 points), tied for fourth in rebounding (11.5) and tied for first in blocks (2.0).
As a team, San-en is fifth in scoring (84.5), No. 1 in rebounding (42.8), tied for second in steals (9.5), tied for fifth in blocks (3.8) and fifth in 3-point shooting percentage (34.6).
Around the League
The reigning B1 champion Utsunomiya Brex recorded their first win of the season on Sunday, prevailing 87-82 in overtime against host Osaka Evessa. Center Josh Scott had 27 points and 10 rebounds and South Korean teammate Jae Min Yang scored a season-high 15 points for the Brex (1-3). DJ Newbill led the Evessa (1-3) with 27 points.
The Fighting Eagles Nagoya (4-0), who earned promotion to the top flight after winning the B2 championship last season, are the last remaining unbeaten team. The Fighting Eagles collected their fourth win in as many games on Sunday, topping the Kyoto Hannaryz 73-58. Nagoya outscored the hosts 24-8 in the third quarter to take a 57-43 advantage into the final stanza. Andrew "Scootie" Randall had eight of his 16 points in the pivotal quarter, and Fighting Eagles teammate Takaya Sasayama finished with a team-best 17 points, including 5 of 9 from 3-point range. The Hannaryz fell to 1-3.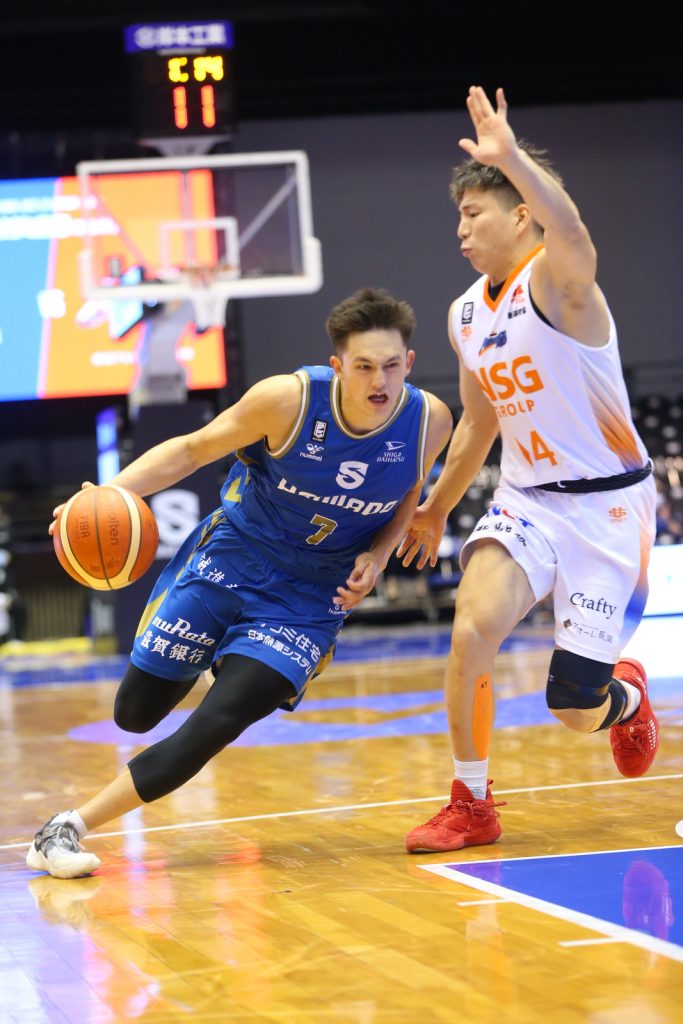 In Sunday's highest-scoring game, the Shiga Lakes held off the visiting Niigata Albirex BB 107-100 in double overtime. Croatian Ivan Buva paced Shiga (2-2) with 39 points and grabbed 14 rebounds, while dynamic playmaker Kai Toews added 23 points and 15 assists. Rosco Allen led Niigata (1-3) with 32 points. The teams took a combined 160 shots.
Author: Ed Odeven
Follow Ed on JAPAN Forward's [Japan Sports Notebook] here on Sundays, in [Odds and Evens] here during the week, and Twitter @ed_odeven.