B-Corsairs Playmaker Yuki Kawamura Dazzles with Pinpoint Passes, Youthful Energy
One of the B.League's bright young stars, Kawamura is No. 1 in assists (11.2 per game). Playing for the Japan national team has helped in his development.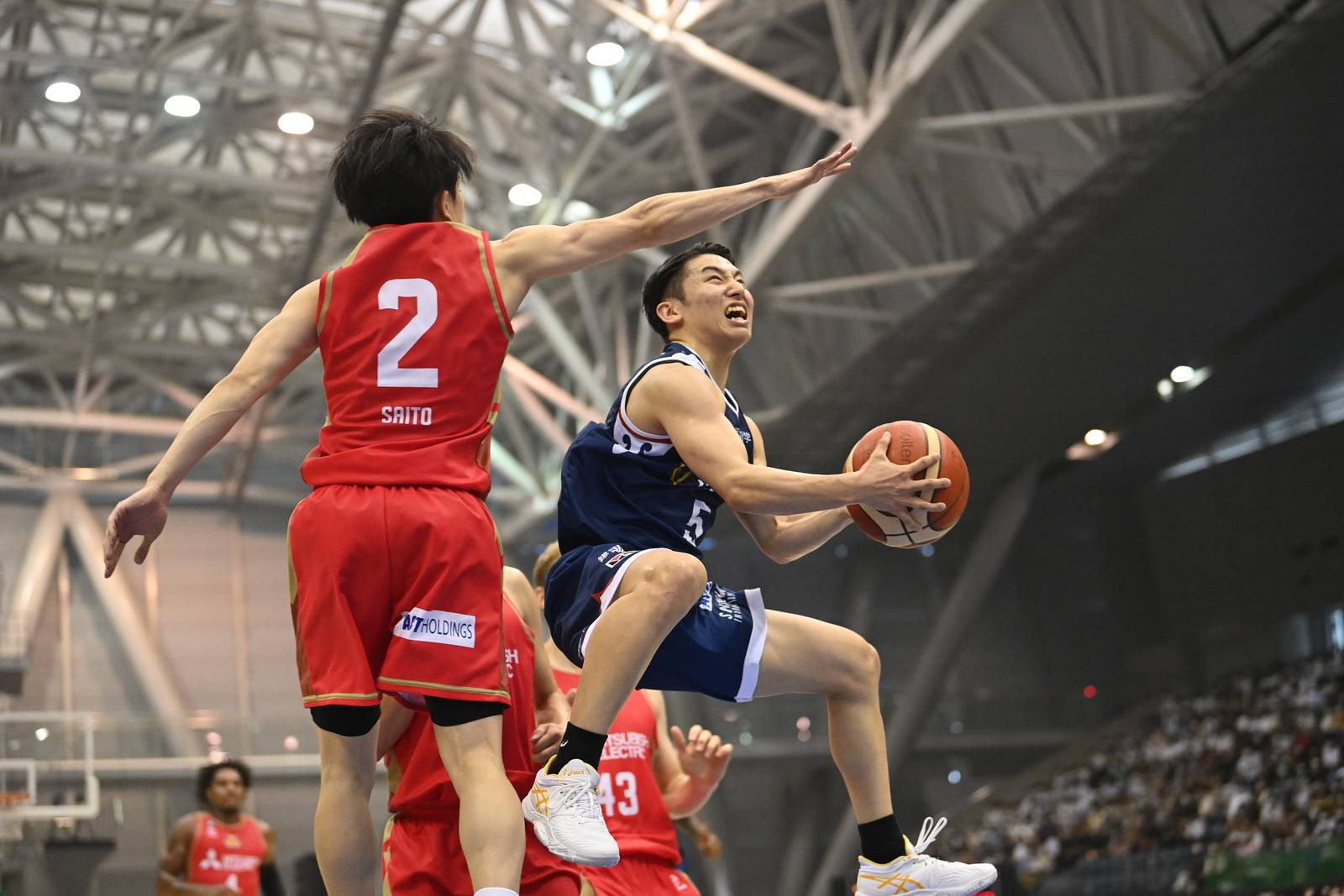 YOKOHAMA ― Yuki Kawamura turned 21 years old in May. A month earlier, he strung together a six-game stretch in which he reached double digits in assists every game.
In succession, he dished out 11, 13, 10, 17, 12 and 14 assists for the B.League's Yokohama B-Corsairs.
To do so at such a young age boldly underscores his playmaking skills and his potential to be one of Japan's great point guards for years to come.
This season, Kawamura, one of the B.League's rising stars, has cobbled together a similar streak through Sunday, October 16.
Over the past five games, the Yamaguchi Prefecture native has handed out 13, 12, 11, 12 and 12 assists. He leads the B.League in assists (11.2 per game).
Kawamura's dynamic performance in Yokohama's home series finale against the Nagoya Diamond Dolphins was a pivotal part of the young team's comeback effort.

The Diamond Dolphins took a 52-40 lead into the locker room at halftime at Yokohama International Swimming Pool.

Nagoya extended its lead to 58-42 on a Coty Clarke 3-pointer with 9:12 remaining in the third quarter.

From that point on, the B-Corsairs (2-4) were the better team and dominated, outsourcing the visitors 46-20 for the rest of the game. The result? An 88-78 comeback victory for Yokohama to salvage a series split.
"We talked at halftime to show our characteristic aggressiveness and to do our best, and we were able to make a comeback," Kawamura told reporters after the game.
Clarke paced Nagoya (4-2), which won the weekend opener 91-84 on Saturday, with 18 points.
Standout Performances by Kawamura, Teammates
In the third quarter alone, Kawamura recorded seven assists to ignite the offense. Throughout the quarter, the B-Corsairs put their stamp on the game with an aggressive, fast-paced offense combined with a tenacious defensive effort.

In the fourth quarter, Kawamura scored nine of his game-best 22 points to help seal the win.
B-Corsairs coach Taketo Aoki noted that defense was the driving force behind his team's comeback.
"As for the first half, we gave up 52 points because we did a lot of things that shouldn't have been done," Aoki stated. "In the second half, we were able to reduce the number of transition points considerably, so we were able to perform our own defense well."
Before the final seconds ticked off the game clock, this reporter observed the win raising the B-Corsairs' spirits and boosting their confidence.
In a 60-game season there are a variety of obstacles that each team will face, and overcoming adversity is a key test of a team's character.
For Aoki, the importance of Sunday's rally was significant.
"Until now, I think there were times when I would have looked down when we were [trailing by] 10 points," the coach said, "but the current team is a team that can keep fighting even if it is down by 10 points."
The B-Corsairs also received a big boost on Sunday from Kawamura's teammates Charles Jackson (20 points, 10 rebounds), Masaaki Morikawa (14 points, 12 of which came in the pivotal third quarter), Kai King (13 points) and Devin Oliver (11 points, 10 rebounds, eight assists).
Kawamura's Career Path
Kawamura made his B.League debut with the San-en NeoPhoenix in January 2019. He appeared in 11 games while still attending Tokai University as a student during the 2019-20 campaign.
He joined the B-Corsairs the next season and played in 16 games, then saw action in 32 more games for Yokohama in the 2021-22 season, averaging 10.0 points and 7.5 assists.
For his first three seasons, Kawamura was listed as a special designated player, one who's under the age of 22 as of March 11 during the season. This enables some players to continue attending school while gaining experience in their chosen profession.
In a September interview with Basketball King, a Japanese-language website, the 172-cm Kawamura outlined his top objective for the current season.
"My personal goal as a point guard is to keep producing results for a year without getting injured," Kawamura said, "so I want to keep standing on the court until the very end…"
Participating in the Japan men's national team's games this summer, including five FIBA Asia Cup contests, was a valuable experience for the young player.
Kawamura said he is eager to continue competing for the national team in the future.
"I think it is the role of the Japanese national team players to return to the team and give back to the team, rather than making the experience their own," he said, according to Basketball King. "In order to raise the level of the B. League, I would like to do my best."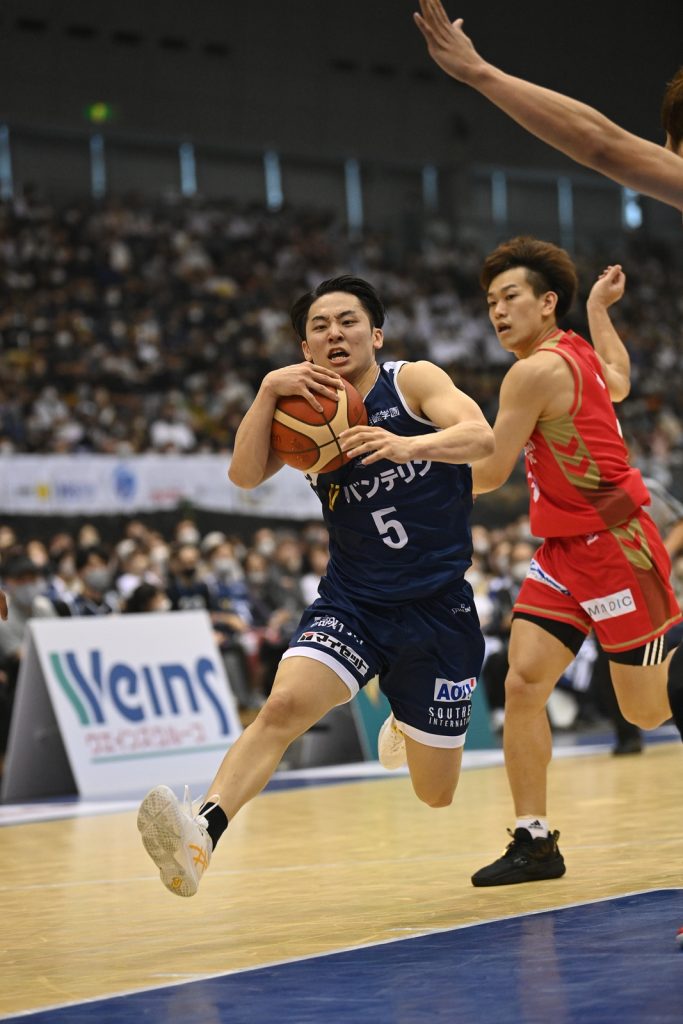 Already Recognized for Impressive Skills
With a knack for making simple and elaborate passes with equal proficiency and utilizing his quickness to slice through traffic to create scoring chances for himself and his teammates, Kawamura has established himself as the floor leader for the B-Corsairs this season.
Captain Kenta Morii and Oliver are Yokohama's other primary passers (based on overall assists).
In his postgame news conference on Sunday, Diamond Dolphins coach Shawn Dennis was asked to reflect on Kawamura's career to date and where he fits into the discussion about the B.League's top Japanese point guards.
"We all knew coming out of high school he was an extremely talented young man, who is still very young," Dennis said. "He's got a fire about him that's exceptional and I think that the national program has helped him evolve with his understanding of game management, and defensively he's tough, he doesn't back down."

Making split-second decisions with the ball in hands, Kawamura is a difficult player to defend.
"He's a helluva passer. He sees the floor," Dennis said. "As his perimeter shot continues to improve, he's only going to get better.
"And once that 3-point shot becomes a weapon for him, he's going to be very, very difficult to guard, not just in Japan, but on the international stage."
RELATED:
Sunday Standouts
Sunrockers Shibuya power forward Kevin Jones and Kawasaki Brave Thunders guard Yuma Fujii delivered two of the top individual performances in B1 on Sunday.
Jones poured in 50 points on 18-for-25 shooting, including five 3-pointers, and converted 9 of 11 free-throw attempts in the visiting Sunrockers' 96-93 overtime defeat to the Chiba Jets at Funabashi Arena.
Former Tochigi (now Utsunomiya) Brex star Ryan Rossiter scored a B.League first-division record 52 points on December 8, 2018, against the Ryukyu Golden Kings. Rossiter is now in his second season with the Alvark Tokyo.
On Sunday, the Jets' Yuki Togashi (26 points, nine assists) and John Mooney (20 points, 19 rebounds) were instrumental in the hosts' hard-fought win, and Chiba improved to 4-2 under first-year coach John Patrick. The Gunma Crane Thunders, also led by a first-year bench boss (Kota Mizuno), are tied with the Jets for the best-record in the eight-team East Division.
A former West Virginia University and NBA player (Cleveland Cavaliers), Jones had nine points in the series opener on Saturday, a 90-87 Shibuya win. Jones is averaging 19.2 points per game.
Fujii, who has suited up for the Brave Thunders since 2014, scored a season-high 26 points in the club's 93-65 away rout of the Fighting Eagles Nagoya on Sunday. In doing so, Kawasaki (4-2) handed Nagoya its first loss in six games this season.
The 30-year-old Fujii, one of the league's most dynamic smaller players (he is 178 cm), had a 9-for-10 shooting performance. With a sniper's aim, he was 5-for-5 from beyond the 3-point arc. He had 25 points in the Brave Thunders' season opener on October 1. The veteran backcourt star is averaging 15.3 points and 5.0 assists per game.
Three Teams Atop the West
The Fighting Eagles, who were promoted from B2 after the 2021-22 season, are tied with a pair of West Divisional rivals, the Ryukyu Golden Kings and Shimane Susanoo Magic, for the best record in the top flight.
Still Unbeaten
Only two teams in the B.League's first, second and third divisions, which have a combined total of 54 teams, are currently unbeaten this season.
The B3's Tryhoop Okayama and Kagoshima Rebnise both improved to 6-0 with victories on Sunday.
East Asia Super League Update
The East Asia Super League recently announced that its initial plan to hold four home-and-away series for the group phase of its inaugural 2022-23 season has been scrapped.
Instead, the eight teams, representing Japan (the B.League's representatives are Ryukyu and the Utsunomiya Brex), South Korea, Taiwan, the Philippines and Hong Kong, will compete in a weeklong tourney in Manila in early March.
EASL officials cited the COVID-19 pandemic as the reason for switching the competition format this year.


Author: Ed Odeven
Follow Ed on JAPAN Forward's [Japan Sports Notebook] here on Sundays, in [Odds and Evens] here during the week, and Twitter @ed_odeven.