Perrin Buford is Having an MVP-Caliber Season for the Shimane Susanoo Magic
The veteran forward, who joined the club in 2020, is the only player in the B.League in the top 10 in scoring, rebounding, assists, steals and blocks.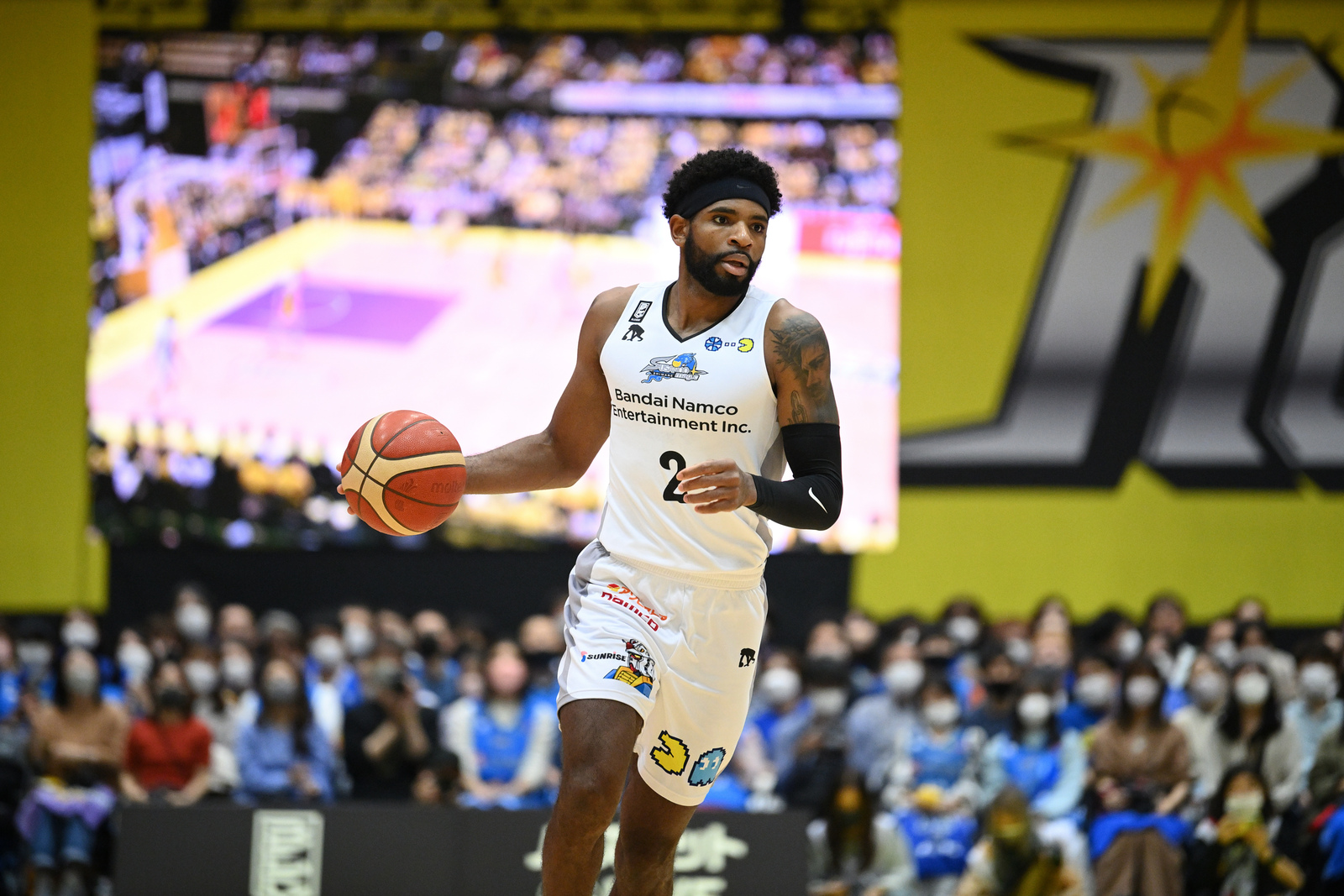 Perrin Buford has played in 102 regular-season games for the B.League's Shimane Susanoo Magic since joining the club two years ago. His impact has been profound.
Buford has helped transform the Susanoo Magic into one of the West's premier teams.
In Buford's time as a do-it-all small forward for Shimane, the club went 28-32 in 2020-21 (under a pair of head coaches, Yukinori Suzuki and Ryuji Kawai), then improved to 40-15 in New Zealand coach Paul Henare's first season at the helm in 2021-22.
Through Sunday, October 23, Shimane (6-2) is once again among the top teams in the West, tied with the Hiroshima Dragonflies and Nagoya Diamond Dolphins for the second-best record among the division's eight squads.
West powerhouse Ryukyu Golden Kings (7-1), who have the league's best record, won their fifth straight game on Sunday, a 77-67 road victory over the Akita Northern Happinets.
Buford's Road to Shimane
A 28-year-old native of Decatur, Alabama, Buford participated in two workouts for the Boston Celtics before the 2016 NBA Draft. Undrafted by an NBA club, Buford has embarked on an overseas career, going to Italy, Australia, Turkey, Puerto Rico, Russia, Spain and Turkey (again) before signing with Shimane in July 2020.

Buford, a Middle Tennessee State alum, averaged 14.8 points, 6.7 rebounds and 4.3 assists in 44 games in the pandemic-shortened 2020-21 campaign. He increased his output to 19.8 points, 7.8 rebounds and 6.0 assists in 50 games last (2021-22) season.
As the B.League season's opening month nears its finish, Buford is the only player in the 24-team league in the top 10 in scoring (19.9, fifth), rebounding (11.6, fourth), assists (7.5, third), steals (1.8, tied for ninth) and blocks (1.4, tied for fourth). He's also fourth in 3-point shooting percentage (51.9).
Eager to Compete
Before the season tipped off, Buford expressed his enthusiasm for the forthcoming challenge.
"I've been using this summer's offseason to train my body very hard in preparation for more high-level competition," the 198-cm Buford said in a team issued statement before adding, "It will be a very fun and exciting season."
At this stage of the season, Buford must be recognized as one of the top MVP candidates.
In last weekend's road trip to Tokyo, Buford had two banner performances. In the series opener against the Sunrockers Shibuya on Saturday, October 22, he scored 30 points on 11-for-11 shooting from the floor and was also perfect at the free-throw line (6-for-6) at Aoyama Gakuin Memorial Hall. He grabbed 17 rebounds, handed out 10 assists, blocked four shots and made two steals in Shimane's 95-79 victory. He had 12 points in the fourth quarter to help seal the Susanoo Magic's sixth straight win.
"I thought he was outstanding the whole game," Henare said of Buford. "He does a lot for us at both ends of the floor, and he's just evolving as a player. He's becoming a very, very good, high-level player right across the floor, and that's one of the pleasing things to see for him is that the work that he's putting in is paying off."
Big Expectations for Buford
Reviewing how Buford played in the series opener against the Sunrockers, Henare said meticulous preparation paid off for him and the team.
"The attention to detail in terms of how we scout and play our system, it's not going to be the first time he has a big game for us this season," the coach noted.
異次元のスタッツ🥶🥶🥶
シュートを1本も落とさずにトリプルダブル達成!!

島根#2 ペリン・ビュフォード(SF|198cm)
30 PTS|17 REB|10 AST|4 BLK|2 STL|FG 100%(11/11)|FT 100%(6/6)

【第4節 GAME1 vs SR渋谷】@susanoo_m|#Bリーグ pic.twitter.com/QNKvAq2dH5

— B.LEAGUE(Bリーグ) (@B_LEAGUE) October 22, 2022
In Sunday's rematch, Shibuya (5-3) earned a 102-95 overtime victory. Three veteran standouts led the way for the Sunrockers: James Michael McAdoo (25 points, 11 rebounds, seven assists), Kevin Jones (29 points, 12 boards) and Kosuke Ishii (14 points). Buford finished with 32 points, nine rebounds, six assists and six steals, while shooting guard Seiya Ando poured in 26 points.
"We had a chance to close out the game in the fourth quarter, but it didn't go well, and I think that was one of the reasons for our defeat," Henare, a former New Zealand national team coach, told reporters after the match. "We want to improve."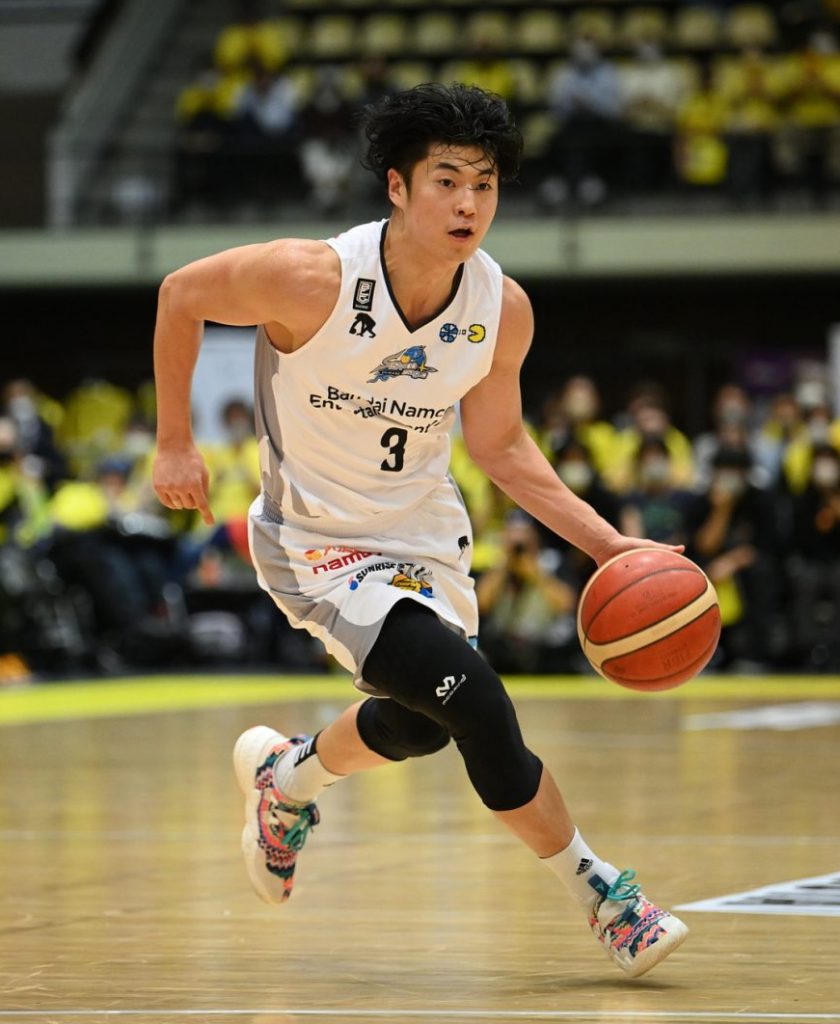 Ando paid tribute to the Sunrockers after the hard-fought game, saying "their intensity is among the best in the league."
He then said, "I respect them as a team that continues to [play this way]. Today, Shibuya's energy was more united than ours."
Shimane returns to action on Wednesday, October 26 against the visiting Shiga Lakes (2-6).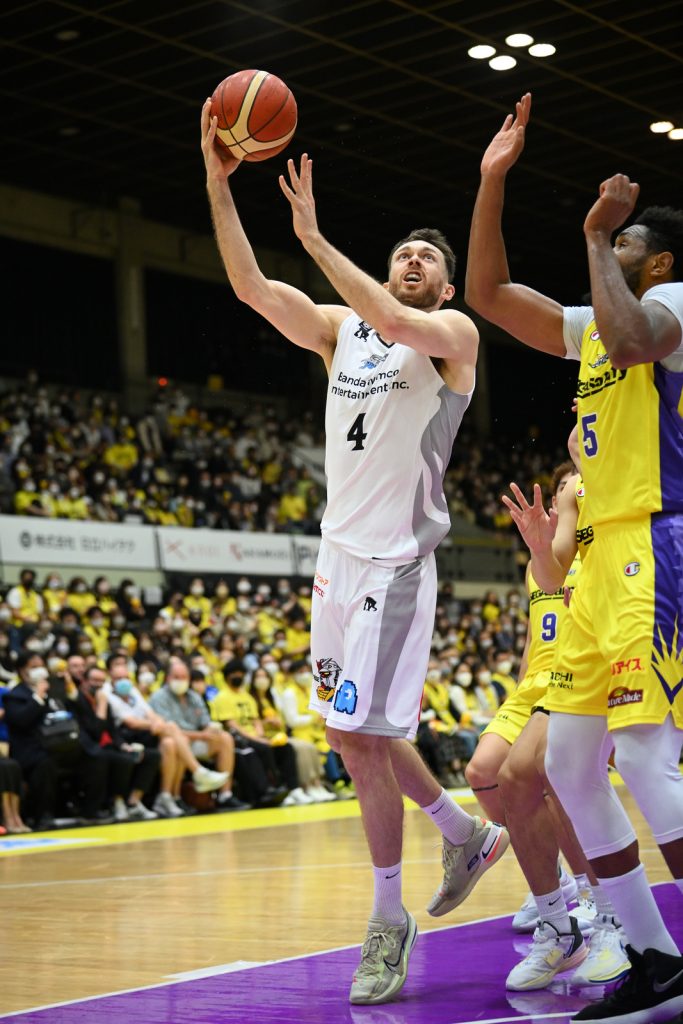 In addition to Buford, the team is receiving key contributions from captain Ando (13.5 points, 4.9 assists) and starting point guard Shota Tsuyama (10.6 points). In addition, Australian center Nick Kay and American power forward Reid Travis are both averaging 13.8 points per game.
Hannaryz Making Positive Strides
The Kyoto Hannaryz have raised their record to 4-4 under first-year bench boss Roy Rana by extending their winning streak to three on Sunday with an 88-64 home win over the Niigata Albirex BB. Jarrod Uthoff had 22 points, 12 rebounds and five blocks for the hosts, while Hannaryz playmaker Kanta Mizuno dished out a game-high eight assists.
Uthoff said, "We went into the match with energy. We slacked off a little bit before halftime, and the opponent scored three baskets in a row, but after that we adjusted as a team and did what we needed to do. What we did well led to victory."
Rana was pleased with his team's overall effort.
"We were able to play very well from the start, but there were times when we got relaxed in the middle, and there were parts [of the game] where the team didn't function properly," Rana said after the game. "We were able to play the basketball that we wanted to play well. I think it was a very big win."
Kyoto rookie guard Seiya Konishi, in his second season with the team, said he's starting to get acclimated to Rana's coaching style. Konishi contributed four points, four assists and a steal in 12-plus minutes off the bench.
"Until now, I've been playing basketball based on my own sense," Konishi told reporters. "But since the beginning of this year, I've been thinking hard about what kind of players Roy needs for the team and what he's looking for … so maybe that's how I'm getting playing time."
Around the League
Tryhoop Okayama improved to 8-0 with a 100-73 win over the Yamaguchi Patriots on Sunday, becoming the first B3 team with eight wins this season. … All 24 B1 teams are in action on Wednesday before an extended layoff (until November 19) as the Japan national team gears up for the next phase of 2023 FIBA World Cup Asian qualifiers. Japan plays at Bahrain on November 11 and at Kazakhstan three days later. Through August, Japan is 3-5 and is assigned to Group F for second-round play. Australia leads the six-nation group with an 8-0 record.
RELATED:
Author: Ed Odeven
Follow Ed on JAPAN Forward's [Japan Sports Notebook] here on Sundays, in [Odds and Evens] here during the week, and Twitter @ed_odeven.