Golden Kings, Brex Advance to B.League Championship Finals
Ryukyu ended Shimane's title hopes on the final play of their semifinal series, and Utsunomiya swept Kawasaki in the other series.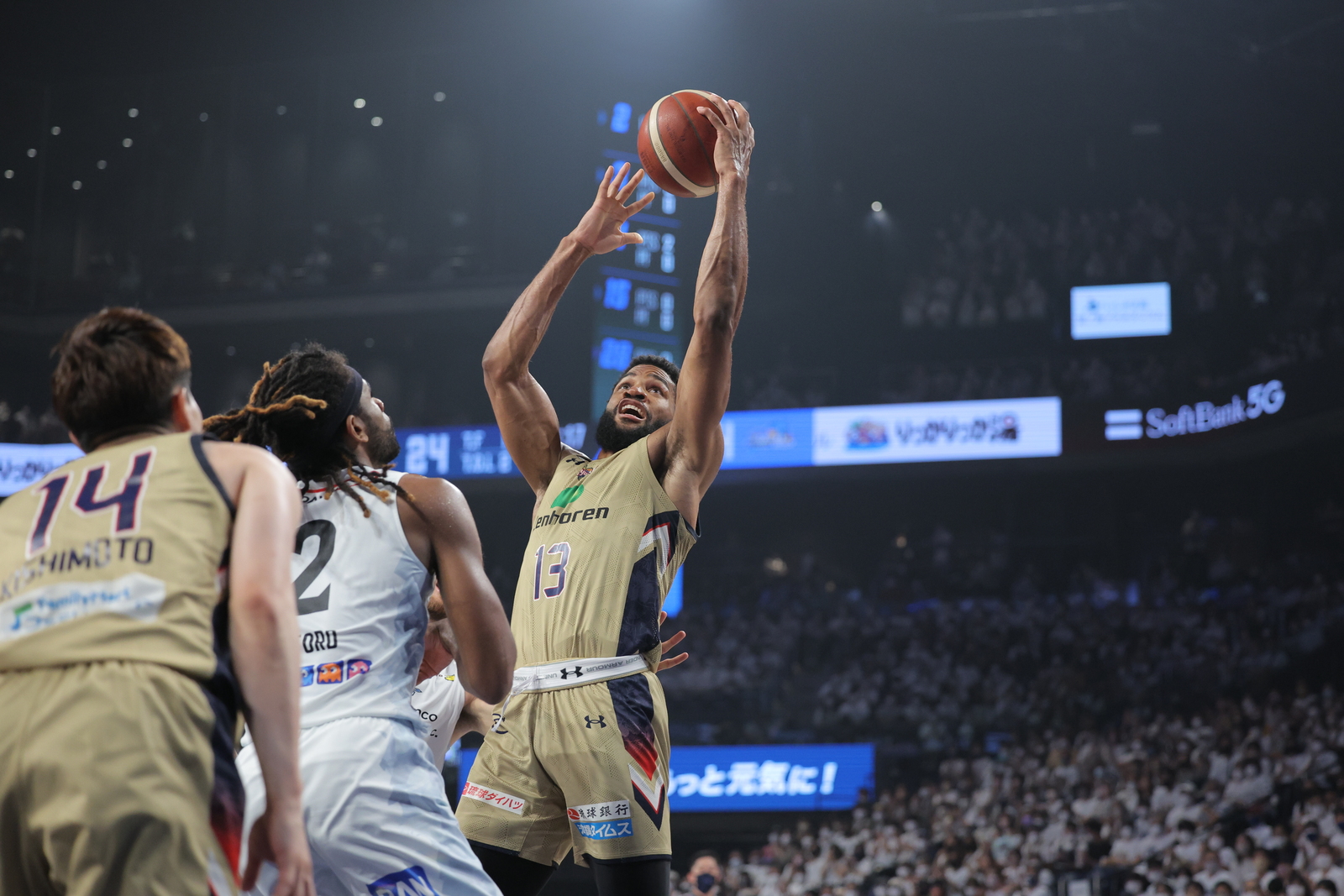 The final sequence produced a dream for the Ryukyu Golden Kings and heartbreak for the Shimane Susanoo Magic.
Ryukyu's Dwyane Evans grabbed an offensive rebound with 2 seconds left on the game clock and scored on an inside jumper at the buzzer, lifting the Golden Kings to a pulse-rising 72-70 victory over the Susanoo Magic in Game 2 of their B.League Championship best-of-three semifinals at Okinawa Arena on Sunday, May 22.

With the win, the Golden Kings, who had the league's best record in the regular season (49-7), advanced to face the Utsunomiya Brex in the best-of-three B.League Finals. Game 1 is on Saturday, May 28 at 12 PM at Tokyo Metropolitan Gymnasium. Game 2 is set for Sunday, May 29 at 4:05 PM. If necessary, Game 3 is on Tuesday, May 31 at 7:05 PM.

The Brex, who won the B.League's inaugural championship in 2017, reached the title series for the third time by eliminating the host Kawasaki Brave Thunders 77-73 in Game 2 on Sunday at Todoroki Arena. Coach Ryuzo Anzai's club was the championship runner-up team last year.
Before Evans' series-deciding shot, teammate Ryuichi Kishimoto missed a pull-up 3-pointer with about 3 seconds remaining before an announced crowd of 8,309.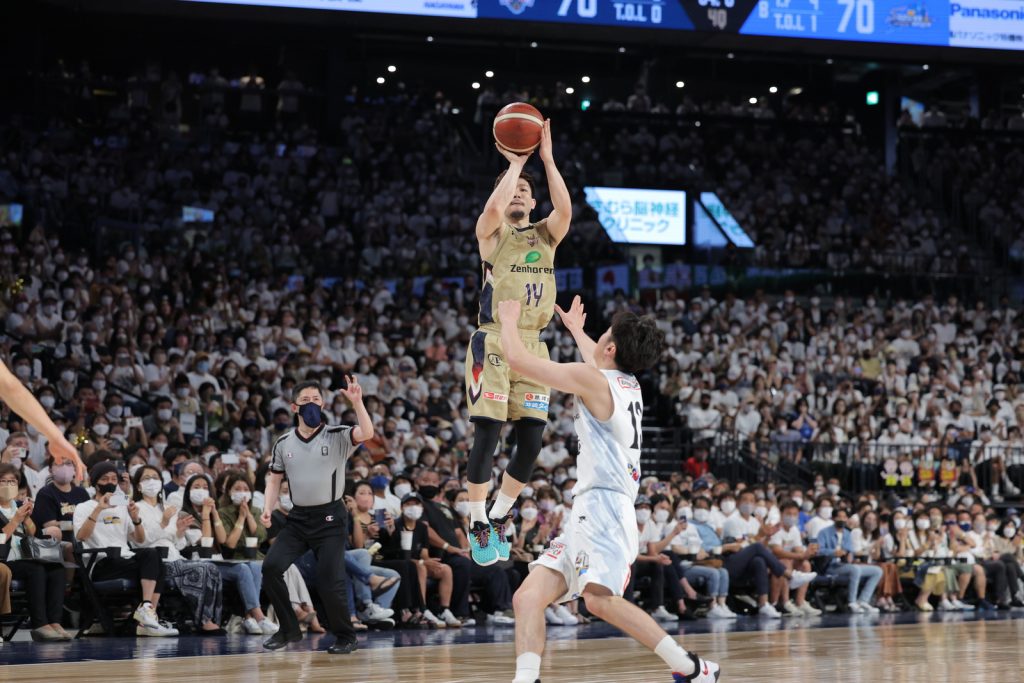 With 11 seconds left, Susanoo Magic small forward Perrin Buford made an inside jumper and tied it at 70-70.
It set the stage for a dramatic finish on the other end of the court.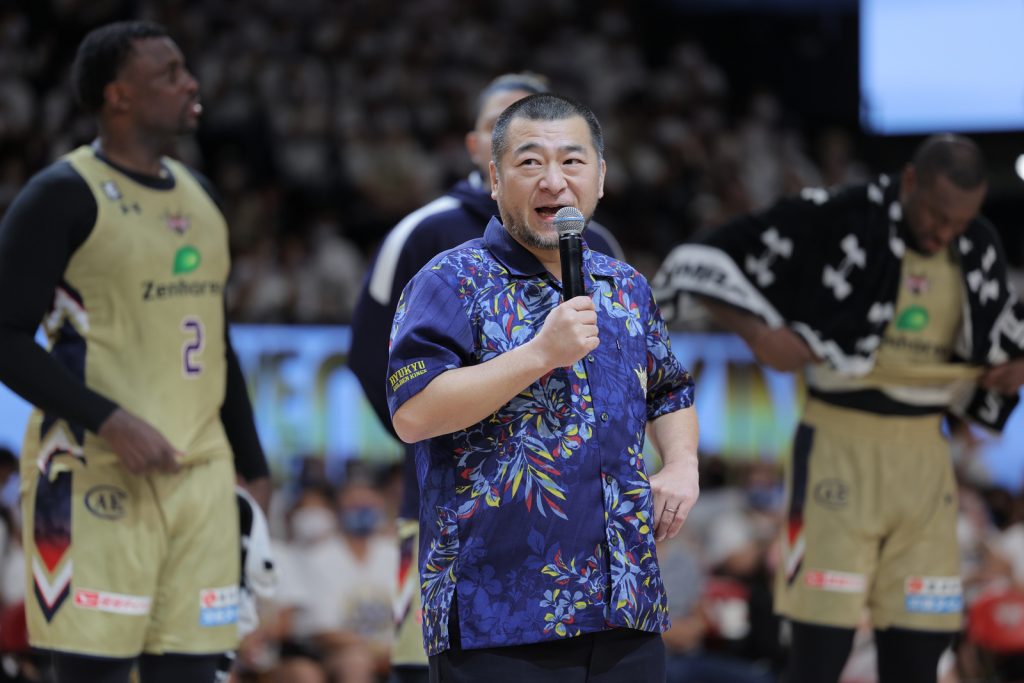 Without Evans' heroics, overtime would have decided the game. And if the Susanoo Magic had prevailed, a Game 3 would've been held on Tuesday, May 24.

Instead, the Golden Kings, guided by first-year bench boss Dai Oketani, celebrated their dramatic victory as soon as possible.
"When I look back on today, I think it was a game that will be a good memory," said Evans, a former All-Atlantic-10 Conference player for Saint Louis University. "I believed in the team throughout the season, and I think this is the result of everyone stepping up."
Kishimoto said, "I think it was a splendid game. With the end of today's game, I think we will be in good shape for the final. I've been frustrated at the [results of the] semifinals in the past, and we've advanced to the finals, so I hope we can get a satisfactory result for my colleagues who have competed with me."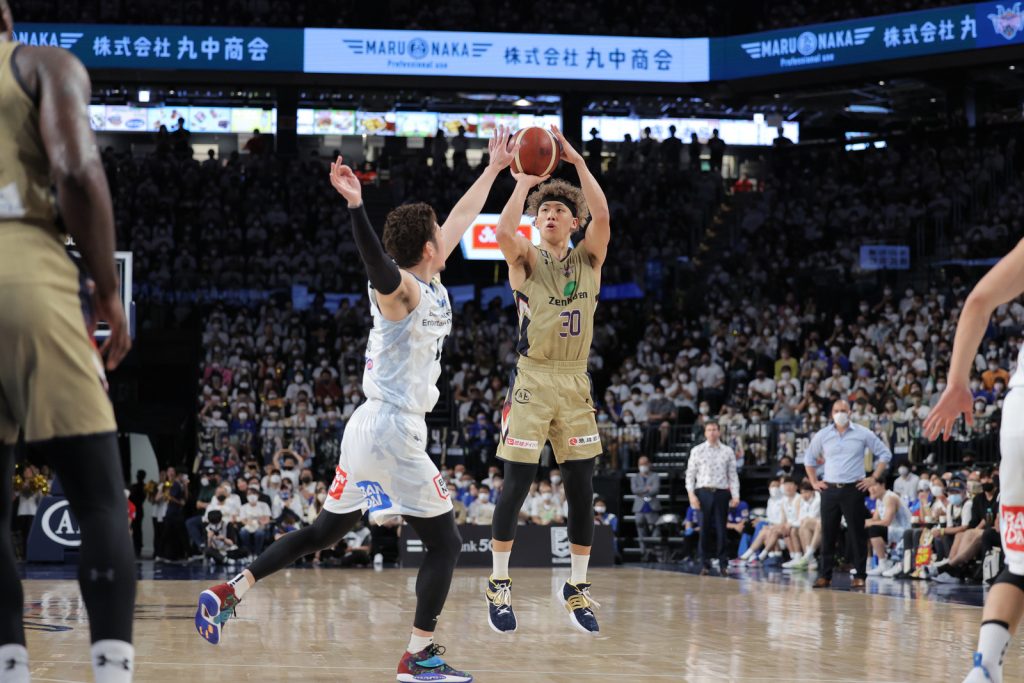 Sharpshooter Keita Imamura paced the Golden Kings with 25 points, including five 3-pointers. Allen Durham added 13 points and seven rebounds, Kishimoto had 12 points and five assists and Evans, who joined Rykyu in 2020, contributed 10 points, nine rebounds and five assists.

The Susanoo Magic, who went 40-15 in the regular season under first-year coach Paul Hanare, led 60-53 entering the fourth quarter.
The hosts' strong defense limited Shimane to 12 points in the final period.
Buford, who wrapped up his collegiate career at Middle Tennessee State in 2016, had 20 of his game-high 34 points in the first half. Teammate Reid Travis finished with 10 points.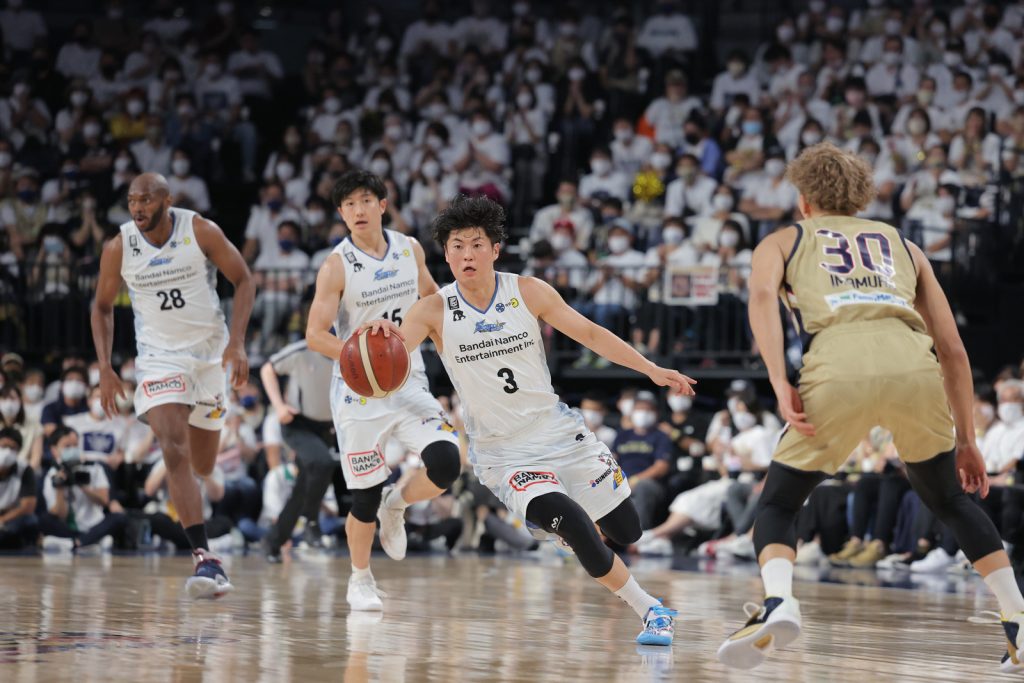 Two-time B.League champion guard Seiya Ando, a former Alvark Tokyo guard, entered the postseason averaging 15.7 points per game for Shimane.

The Golden Kings held Ando to six points on 2-for-12 shooting in Game 2.

Ryukyu's effective passing was another trademark of the series finale. The Golden Kings dished out 20 assists and held the Susanoo Magic to 10.
In the series opener, Ryukyu defeated Shimane 94-85.

Imamura, who canned 5 of 10 3s, led the Golden Kings with 21 points.
Durham sparked the hosts with 19 points and nine rebounds and dished out six assists. Kishimoto poured in 18 points, Evans had a 12-point, seven-rebound performance and Narito Namizato contributed 10 points.

Buford had 27 points, eight assists and five steals. Travis scored 20 points and Ryosuke Shirahama had a season-high 17. Ando finished with six points on 2-for-9 shooting.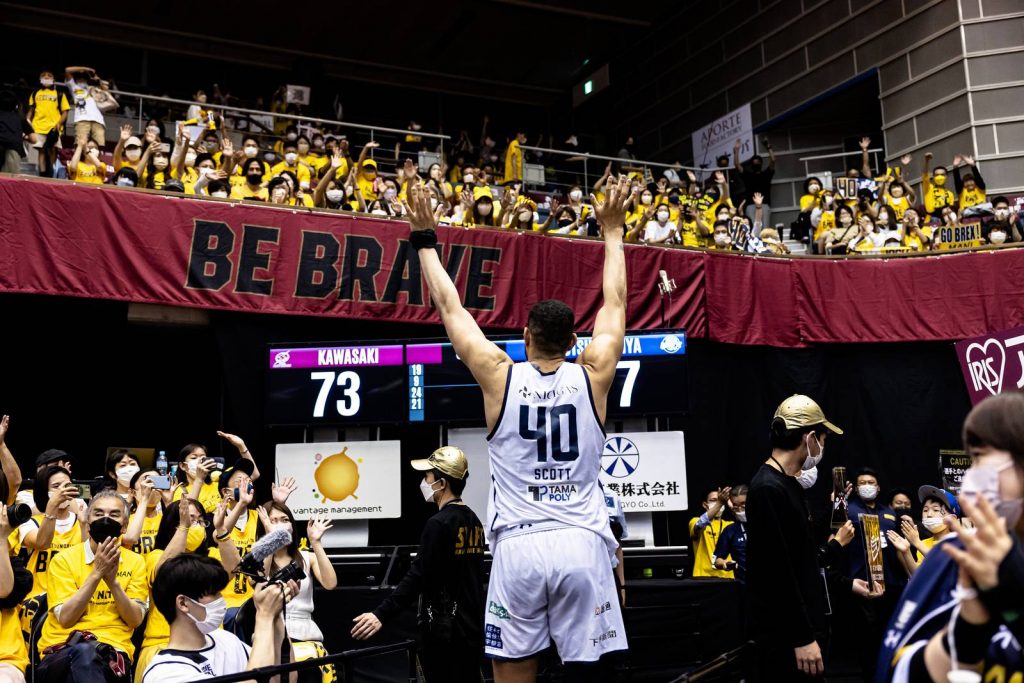 Brex Sweep Brave Thunders
Utsunomiya recorded 83-70 and 77-73 road wins over East rival Kawasaki on Saturday and Sunday to return to the championship round for the second straight year.

In Game 1, power forward Chase Fieler, a Florida Gulf Coast alum, paced the Brex (40-16 in the regular season) with 18 points. Teammate Josh Scott notched a double-double with 14 points and 17 rebounds. Playmaker Makoto Hiejima added 12 points and seven assists. Isaac Fotu and Seiji Ikaruga scored 11 points apiece.
Utsunomiya enhanced its chances of winning the series opener at the free-throw line, making 19 of 25 shots. Kawasaki was 7-for-10.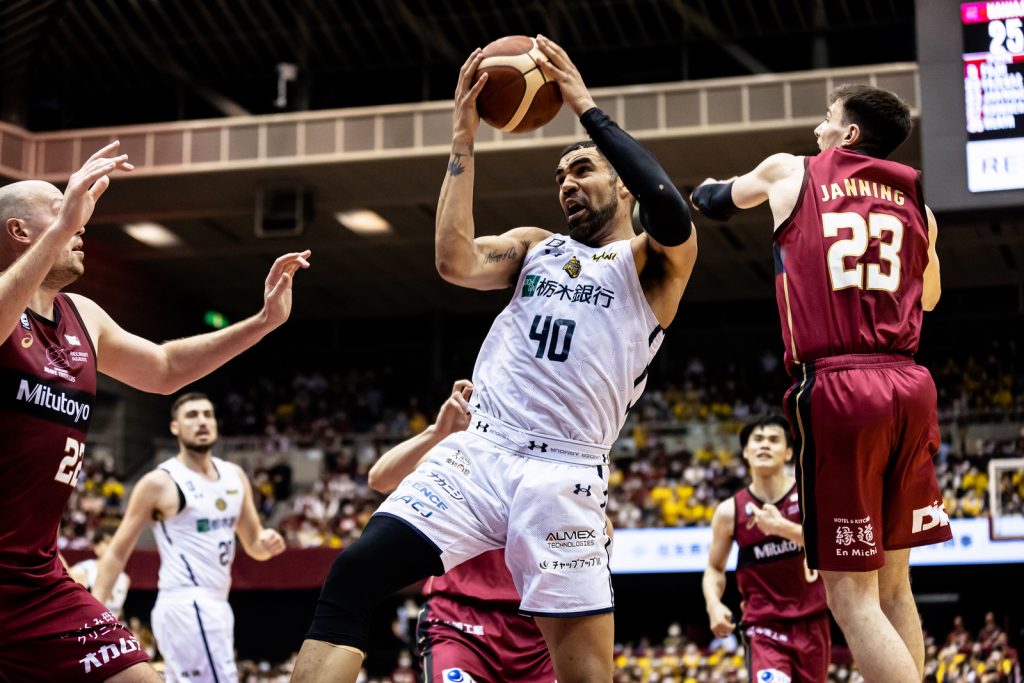 Matt Janning, who helped lead the Brave Thunders past the Nagoya Diamond Dolphins in the playoff quarterfinals, had a game-high 22 points. Nick Fazekas scored 20 and Naoya Kumagae had eight before fouling out. Jordan Heath grabbed 10 rebounds.

In Game 2, which featured 13 ties and 14 lead changes, Hiejima shined in an impactful 24-point, six-assist performance. Scott, a former University of Colorado standout, again had a strong effort at both ends of the floor, providing 17 points and 15 rebounds. Fieler chipped in with 12 points and nine boards and Ikaruga scored 10.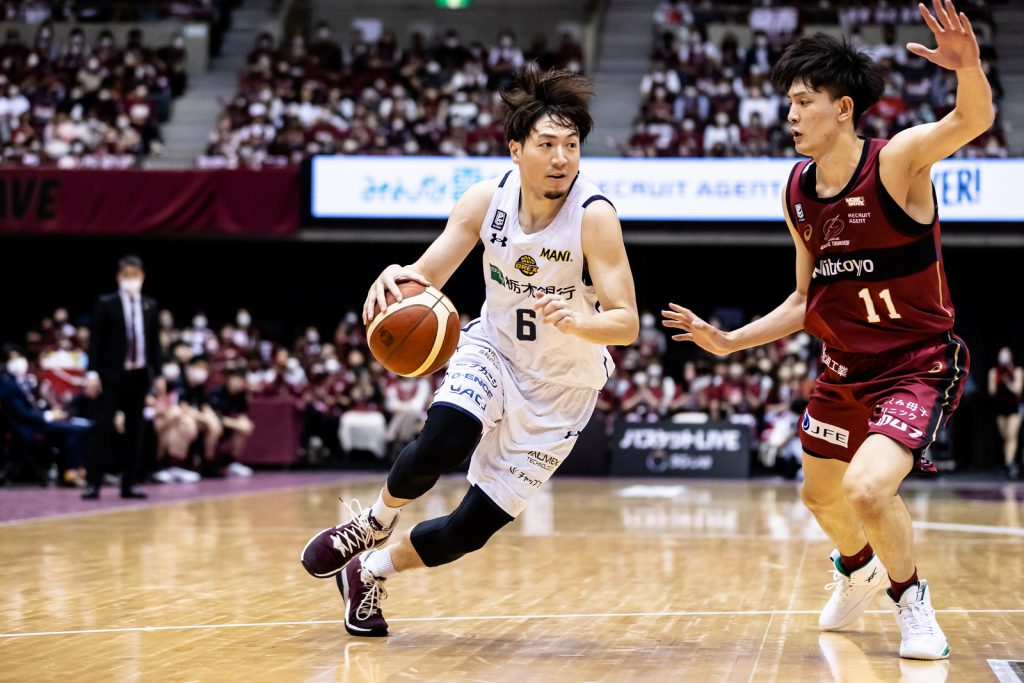 In the fourth quarter, Hiejima had 11 points, including 8-for-8 at the foul line.

When it was over, Hiejima said, "I thought the fourth quarter was the game, but I think it's a worthwhile victory for the team."
Utsunomiya outrebounded Kawasaki 44-35.
Fazekas had 24 points and 12 rebounds, Janning scored 22 points and Heath added 12 points and 11 rebounds.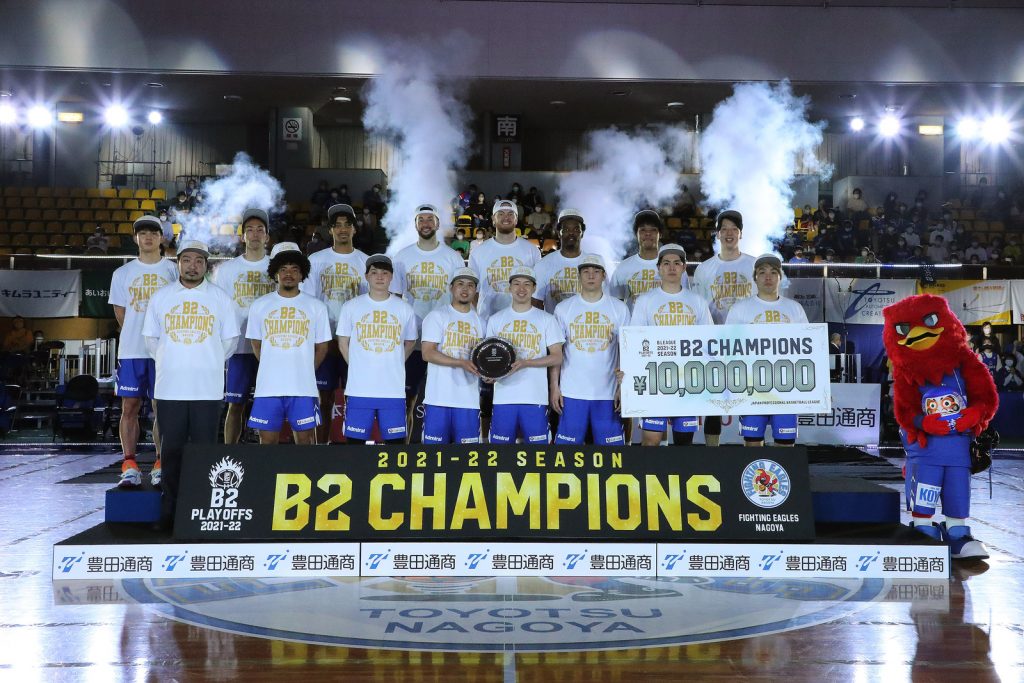 B2 Playoff Update
Fighting Eagles Overpower 89ers in Game 3 to Win Title
After the first two games were both decided by less than 10 points, Game 3 of the B2 championship series was a one-sided win for the Fighting Eagles Nagoya.
Sendai trailed 20-7 after the first quarter and never recovered in a 75-44 loss on Sunday.
The Fighting Eagles (42-8 in the regular season) raced out to a 23-7 lead after a 15-0 run that started in the first quarter.

Coach Taizo Kawabe's squad completed its quest to win the playoff title series after securing promotion to B1 for the first time by finishing in first place overall during the regular season. Sendai, the regular-season runner-up for best record, also earned promotion, returning to the B.League's top flight for the first time since the 2016-17 campaign.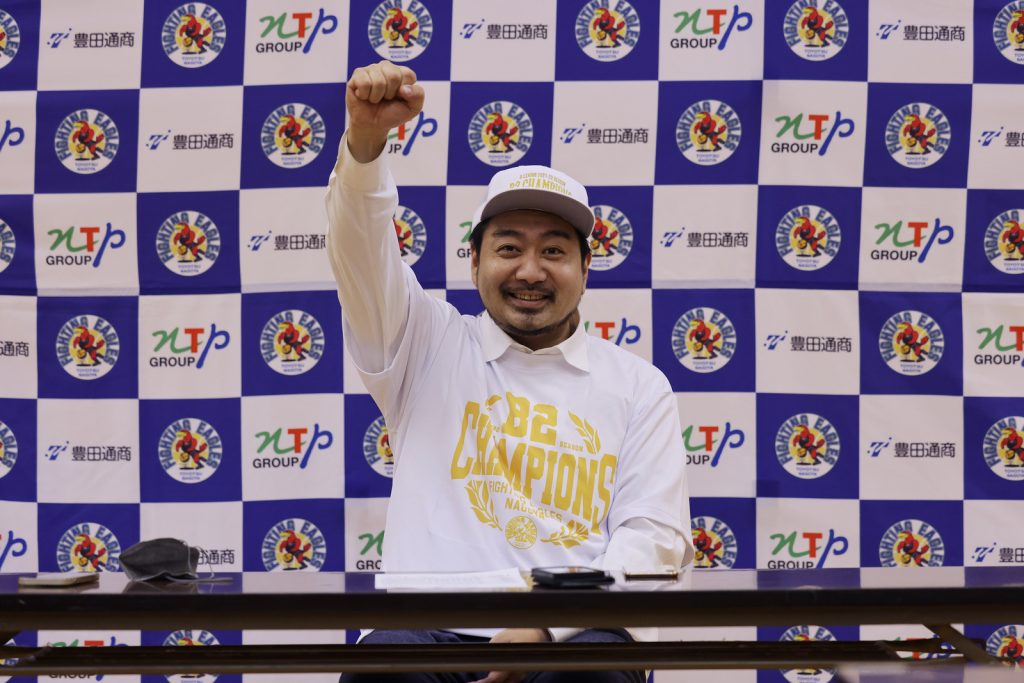 "I'm really happy that I was able to share the best scenery with the boosters," Kawabe commented after the series-clinching win.
"Thank you to all the players, staff, family members, front desk staff and sponsors who fought together for a long season," he added.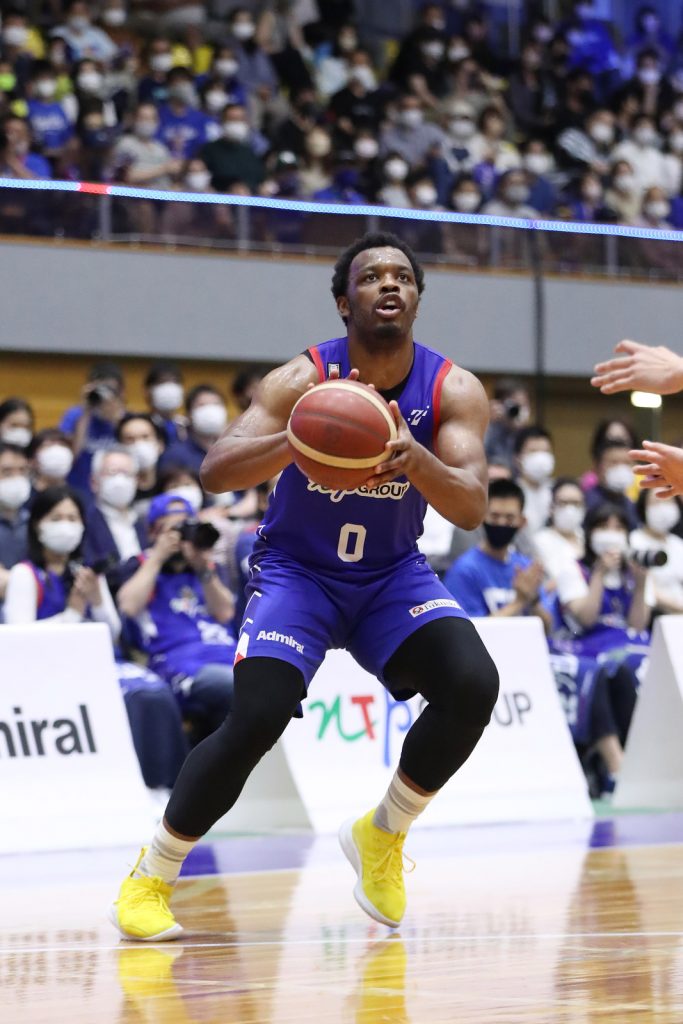 Andrew "Scootie" Randall sparked the Fighting Eagles with 23 points.
Nagoya's Luke Evans, who is featured on this episode of JAPAN Forward's Sports Talk, finished with 15 points and nine rebounds in Game 3. Gonzaga University alum Jeremy Johnson, a former college teammate of Rui Hachimura, provided 14 points, seven rebounds and four steals, while Reiya Nozaki handed out five assists.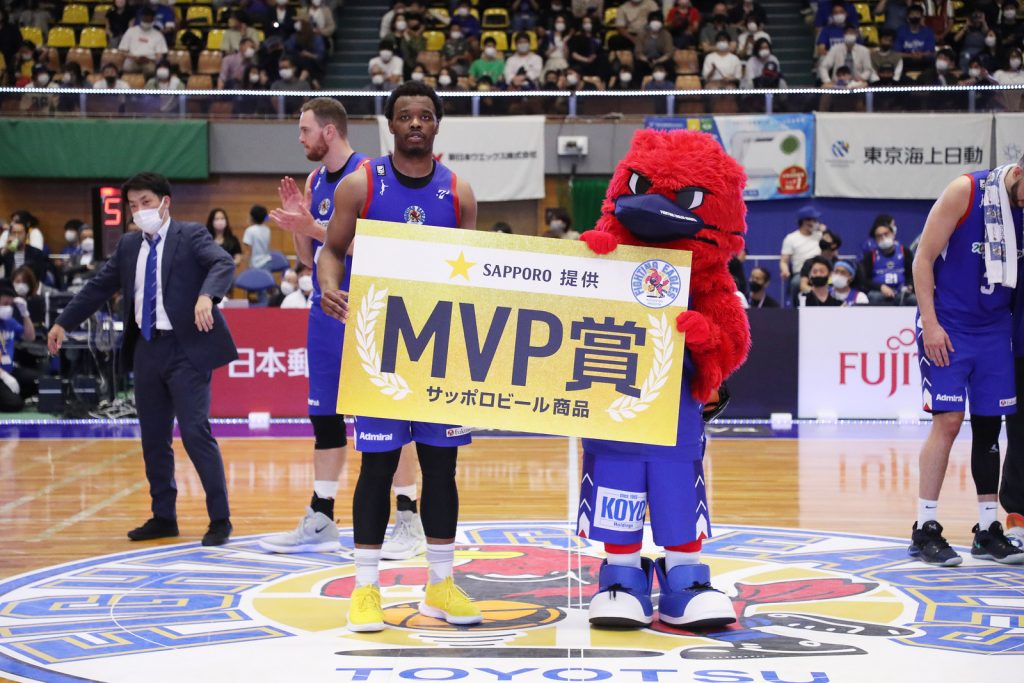 Randall, who played college ball at Temple University, was named the B2 playoffs MVP after averaging 15.7 points and 7.1 rebounds in seven postseason games.

The 89ers, who had a 38-15 regular-season record under first-year bench boss Hiroki Fujita, shot 30.9% (17-for-55) on Sunday.

Nagoya triumphed 81-73 in Game 1 on Friday.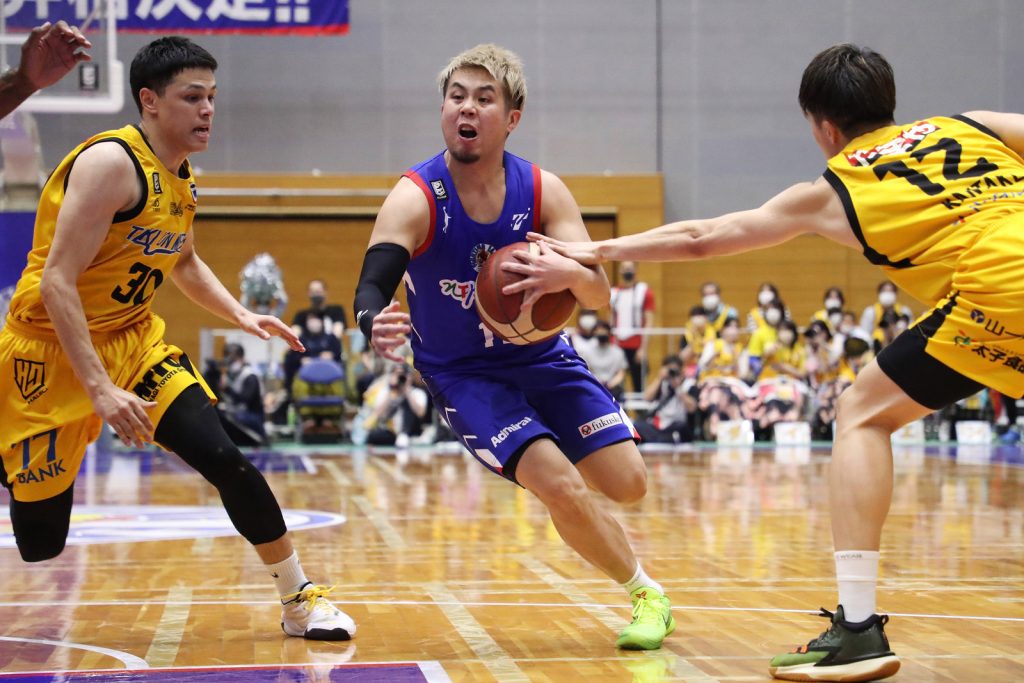 The Fighting Eagles led 31-15 after one quarter. Strong performances by Jones (20 points, eight rebounds), Randall (17 points, seven rebounds, five assists), Evans (16 points), Brian Qvale (14 points, seven boards), Ishikawa (seven points, six assists) and Nozaki (six assists, two steals) were key factors in the win.

Sendai's Justin Burrell had 19 points and 13 rebounds in the opener. He also had an uncharacteristic eight turnovers.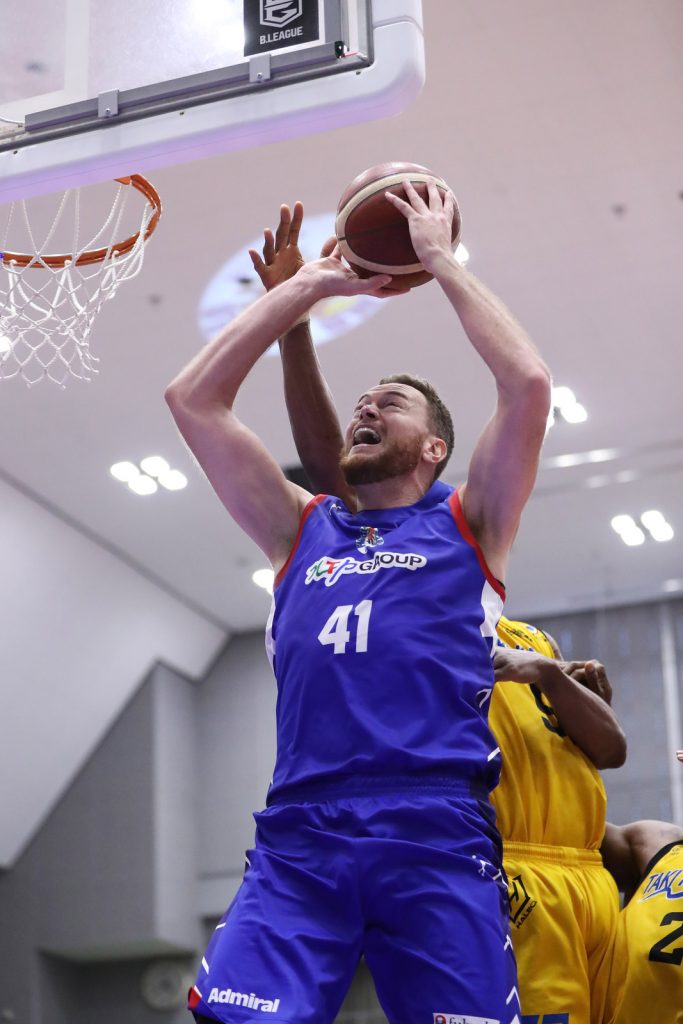 In Saturday's Game 2, the 89ers bounced back with a 69-64 triumph, holding the Fighting Eagles to 36.1% shooting (22 of 61) from the field.

Burrell led Sendai with a double-double (26 points, 12 rebounds) in the win.
Third-Place Series Canceled Due to Player's COVID-19 Infection
The Kagawa Five Arrows were declared winners by walkover for Games 1 and 2 of their B2 third-place series against the Kumamoto Volters in Takamatsu.
The series opener on Friday was called off after a Volters player had tested positive for the coronavirus in the run-up to Game 1. He had been in close contact with teammates in recent days. As a result, the walkover resulted in a 20-0 Kagawa win.

The same score entered the record book for Game 2 the next day.


Author: Ed Odeven

Follow Ed on JAPAN Forward's [Japan Sports Notebook] here on Sundays, in [Odds and Evens] here during the week, and Twitter @ed_odeven.

Subscribe to Our Newsletter