Golden Kings Complete Title Quest with Sweep of Jets in the B.League Finals
Ryukyu pulls away in the fourth quarter and denies Chiba's hopes of extending the series to a decisive Game 3. It's the Okinawa team's first title since 2016.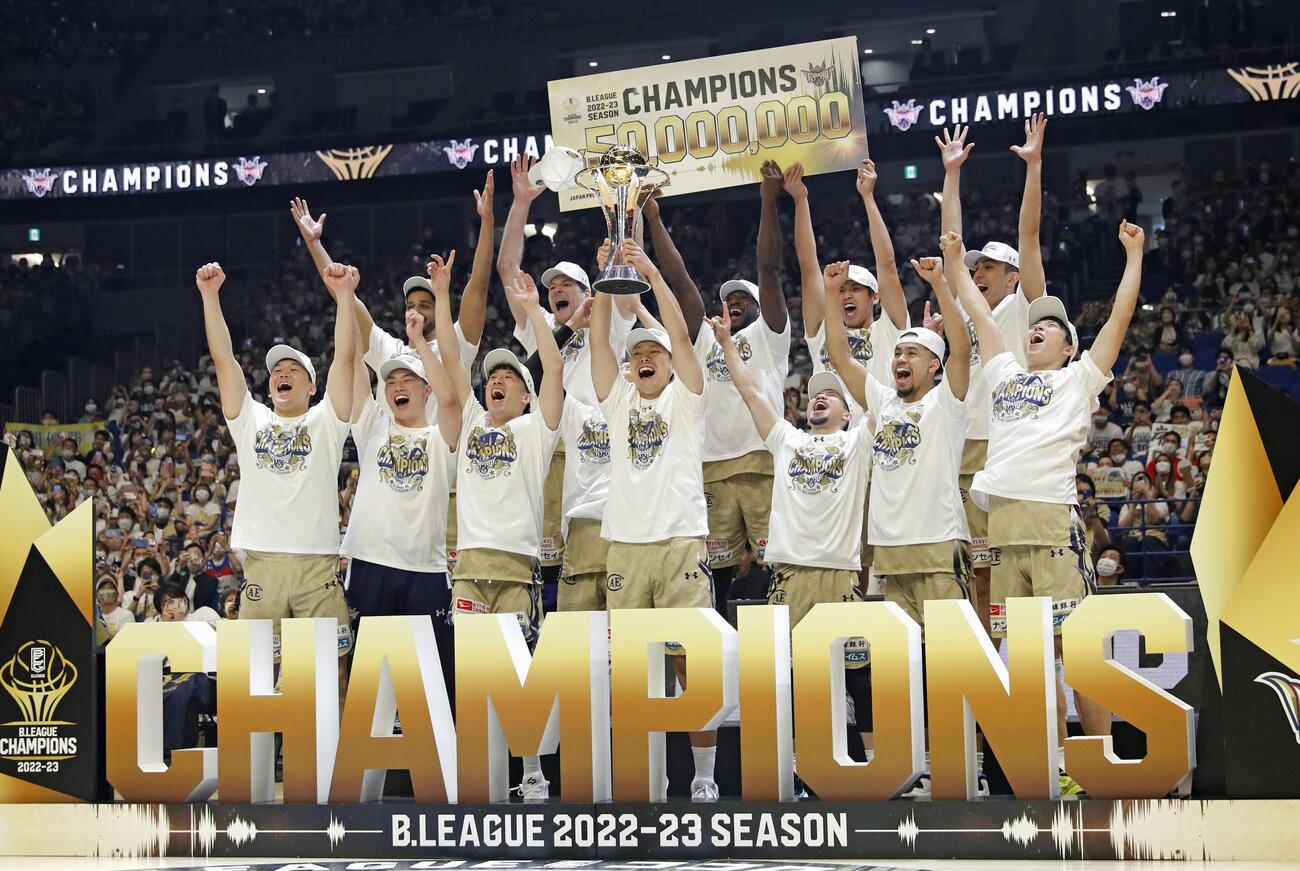 YOKOHAMA ― For two straight days, the Ryukyu Golden Kings were the better all-around team in the B.League Finals, making more big shots, grabbing more rebounds and defending more consistently.
Playing with a singular focus ― the desire to finish on top in the 2022-23 playoffs after finishing last season as the championship runner-up ― Ryukyu achieved its goal on Sunday, May 28.
Getting a huge boost from backup guard Koh Flippin, who scored 13 of his team-high 21 points in the fourth quarter and dished out eight assists, and receiving solid performances from several players, the Golden Kings defeated the Chiba Jets 88-73 in Game 2 of the championship series at Yokohama Arena.
Ryukyu starting center Jack Cooley made amends after fouling out in the series opener, delivering a dynamic 19-point, 15-rebound effort. Allen Durham contributed 13 points and seven rebounds for the title-winning squad, and he was named MVP of the playoffs after averaging 20.0 points and nine rebounds in six games in three playoff rounds.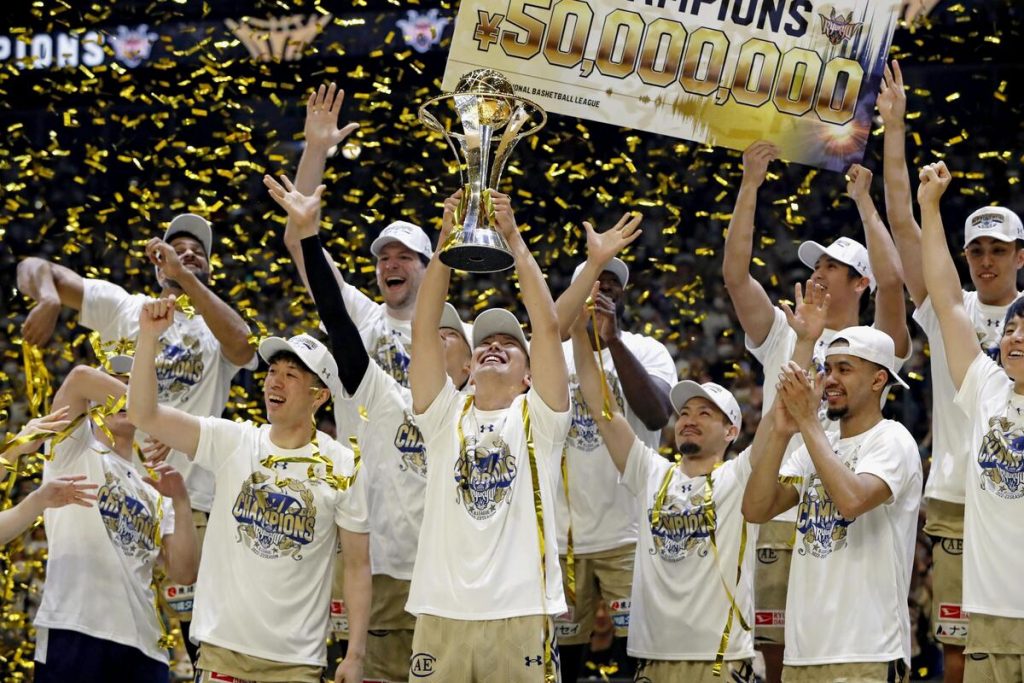 "I think the season started with collecting the missing pieces [from] last season," said Durham, who joined the Golden Kings in 2021. "We've worked on a lot of what it takes to be a champion.
"It was a season full of ups and downs, but we always had a hungry spirit, continued to persevere and worked together as a team. I am so proud of my teammates, coaches and the [team] staff."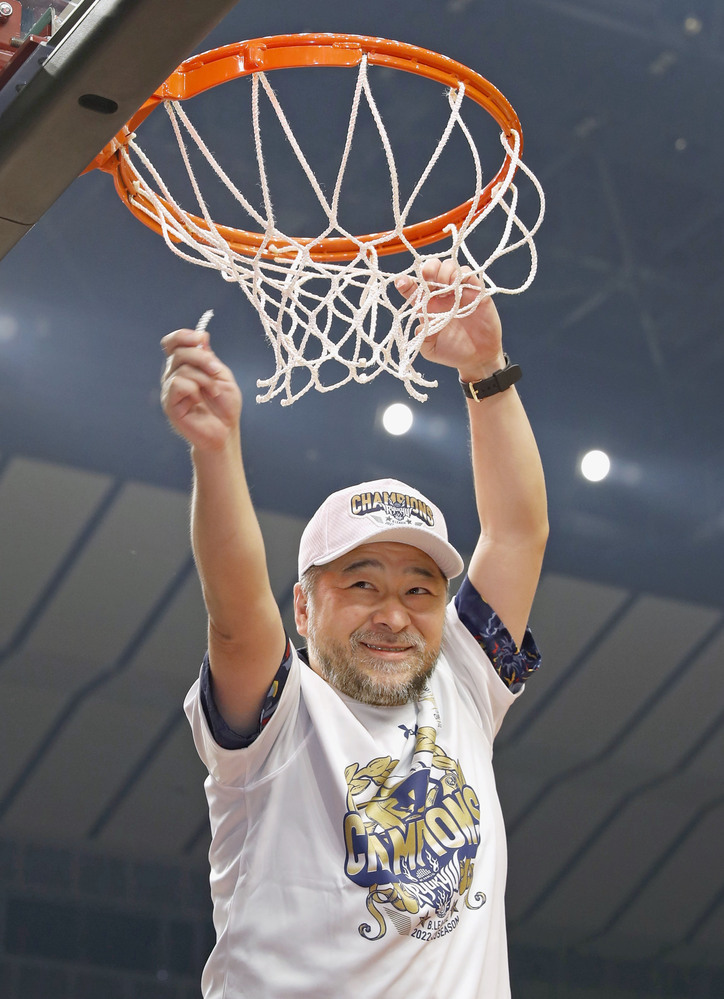 A Tradition of Excellence
A proud franchise that began play in the 2007-08 bj-league season, the Golden Kings captured their first of four titles in the now-disbanded league in the 2008-09 season. Usually, it's unheard of for a pro team to become so good, so fast.

Current Ryukyu head coach Dai Oketani guided the club from 2008-12, winning a second title in the final season of his first stint with the team. Tsutomu Isa followed as a title-winning bench boss in the 2013-14 and 2015-16 seasons.

Then the bj-league merged with the NBL to form the B.League, starting in the fall of 2016. And Oketani, after a few other coaching stops, returned to Okinawa for the 2021-22 season.

Reflecting on his team's accomplishment in the B.League Finals, the 45-year-old Oketani first noted that "this year, Chiba is definitely the strongest team in [league] history."

How did he put into words what had been the club's mission for two full seasons now ― that is, to finish on top again?

"I think the players really did their best according to the game plan," acknowledged Oketani in his post-game remarks. "We have been fighting as a team throughout the year, and the accumulation of that came out in the Finals.

"Everyone played with confidence, and I'm overwhelmed with emotion."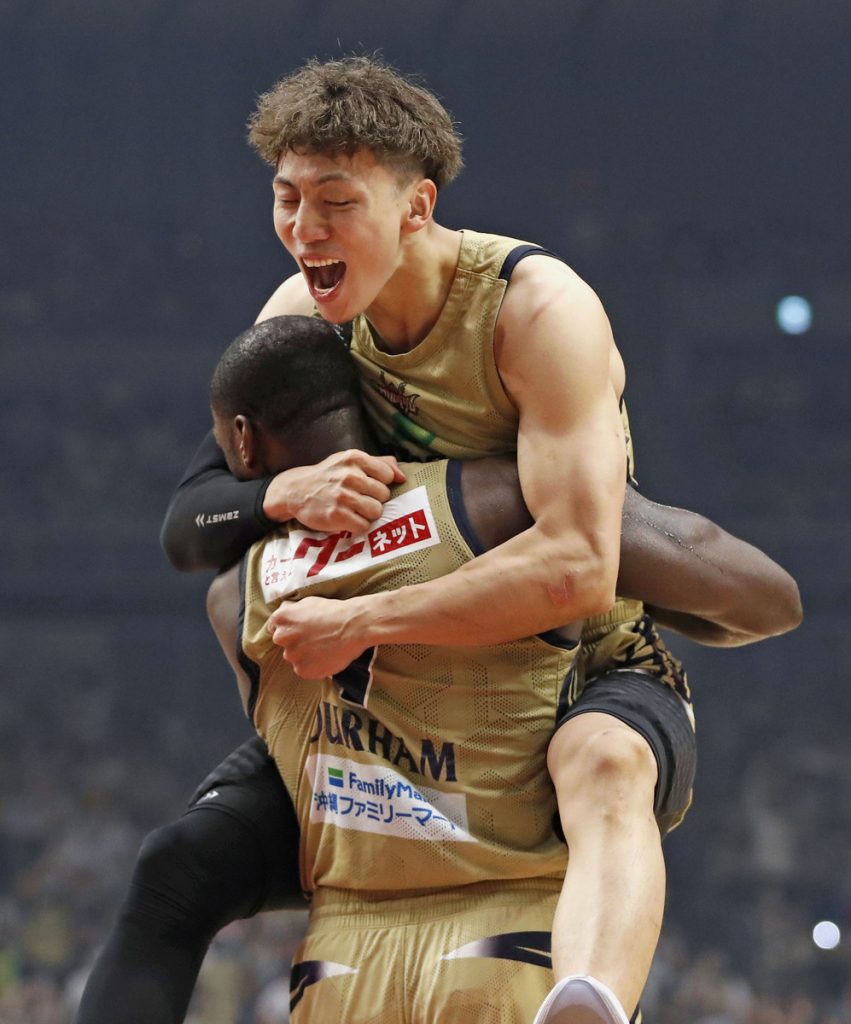 Basketball Culture in Okinawa
In the Golden Kings' three title-winning seasons with Oketani at the helm, they had a combined record of 128 wins and 37 losses in regular-season games.

The Kyoto-born basketball mentor paid tribute to the winning culture that permeates throughout the organization and is a major part of Okinawa's culture.
"As a professional team, we are rooted in the community and play basketball in a way that revitalizes everyone in the region and Okinawa through basketball," Oketani commented. "I'm very happy."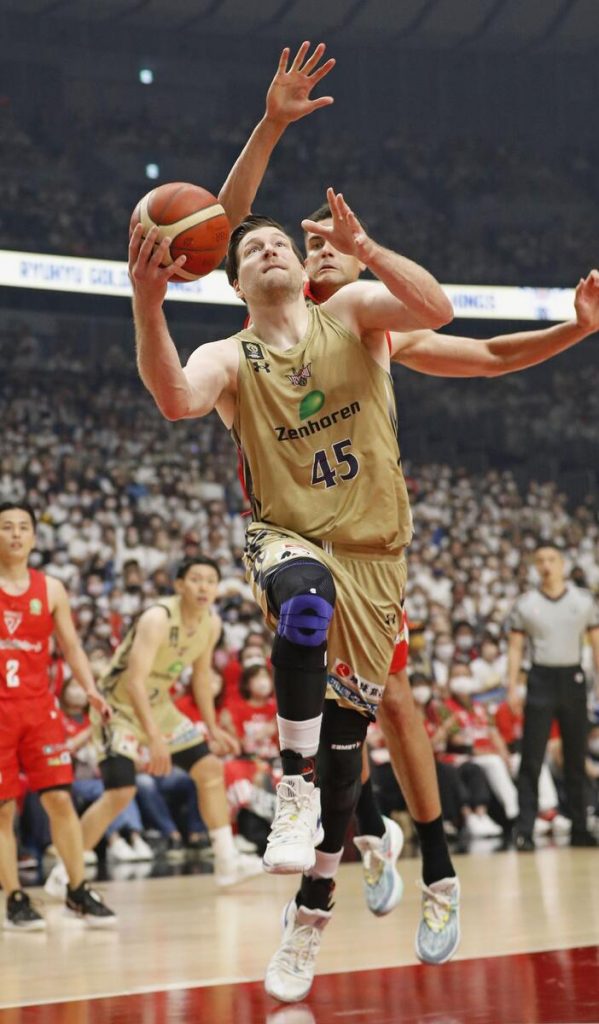 Ryukyu Shines on Offense in the Fourth Quarter
In Game 2, a crowd of 13,657 witnessed the Golden Kings' fierce determination and aggressive play at both ends of the floor.

Ryukyu, which led 57-54 after three quarters, seized control in the fourth quarter, making 8 of 12 shots from the floor and 12 of 15 free-throw attempts.

The Golden Kings put 31 points on the board in the fourth and held the Jets to 19.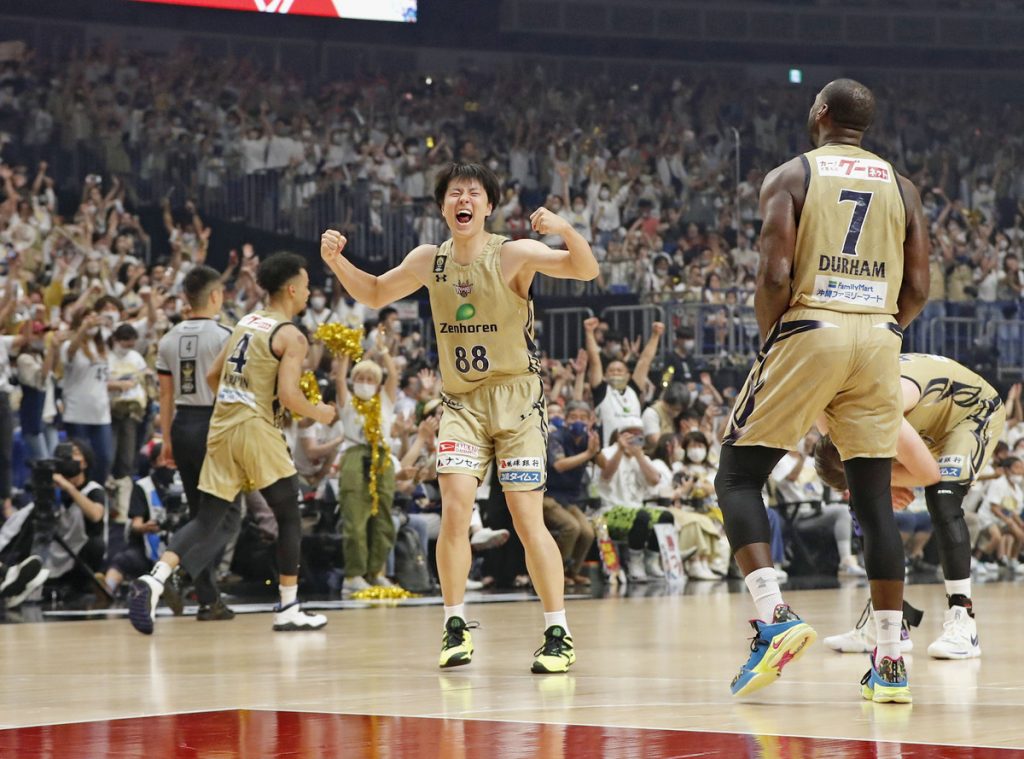 It added up to a title-clinching performance worthy of applause from the Okinawa-based team's rabid fans.

The Jets, who had a league-best 53-7 record in the regular season, were valiant in a double-overtime loss in Game 1 on Saturday, May 27, falling 96-93. In Game 2, they were held to 38.8% shooting (26 of 67, including 9 of 32 from 3-point range).

In short, Ryukyu (48-12 in the regular season) devised a defensive strategy to slow down the league's top-scoring offense (87.9 points per game) in a do-or-die game for Chiba.

The Jets had to win on Sunday to force a decisive Game 3 on Tuesday, May 30.
Instead, Flippin and his teammate didn't let that happen.

Or as Cooley said in his on-court interview in front of the big crowd: "We needed to win it today."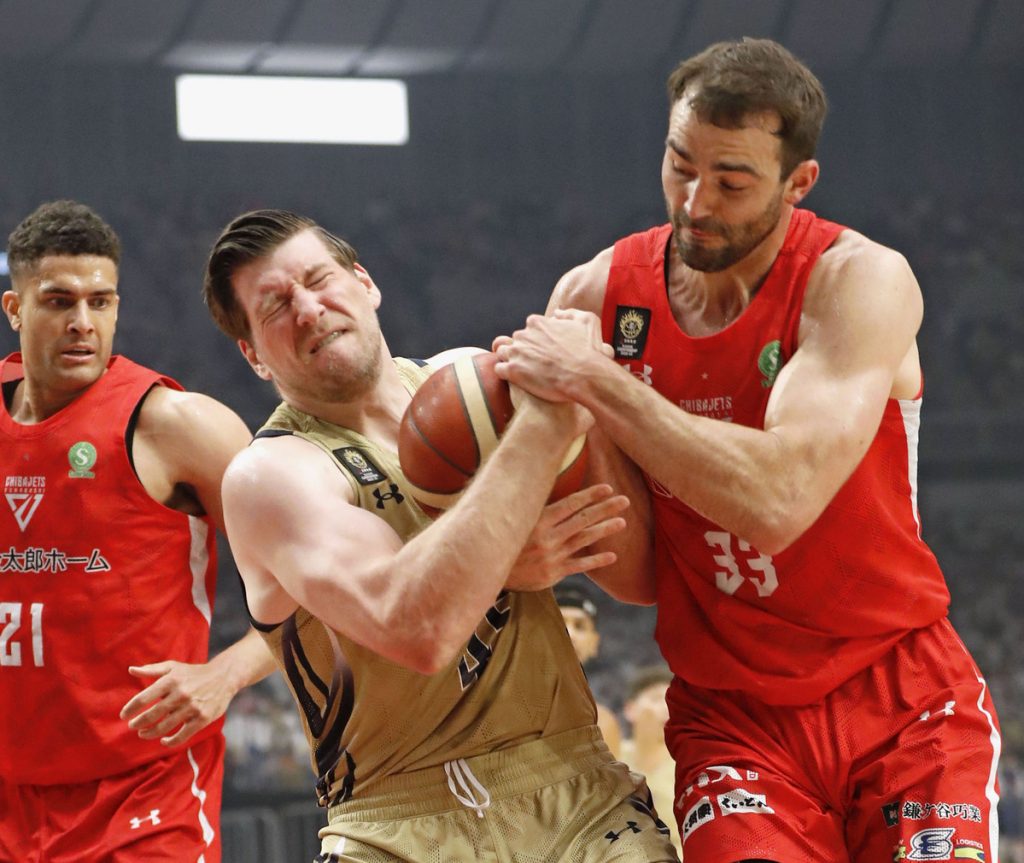 Ryukyu Responds to Every Challenge
The Jets pulled within 72-66 near the midway point of the fourth quarter, but they were overpowered by the Golden Kings the rest of the way.
Flippin nailed a 3-pointer from the left corner to make it 75-66, igniting the offense, and the Western Conference champions didn't let up. Durham made a nifty post-up move and scored inside to extend the lead to 79-68.

Vic Law brought the Jets within 79-71 on a 3-pointer with 2:09 left, but a Cooley layup extended the margin back to double digits seconds later.

Cooley put the finishing touches on the convincing victory with a muscular putback for the final two points with 50 seconds remaining.

"We had to play our best on every possession," Cooley said later.
When the final buzzer sounded, Golden Kings players and the coaching staff exchanged hugs, high-fives and smiles ― tears of joy, too.

Along with Flippin, Ryukyu forward Josh Duncan, who had 10 points in Game 2, also played on the Jets' 2020-21 championship team before joining the Golden Kings before the 2021-22 campaign.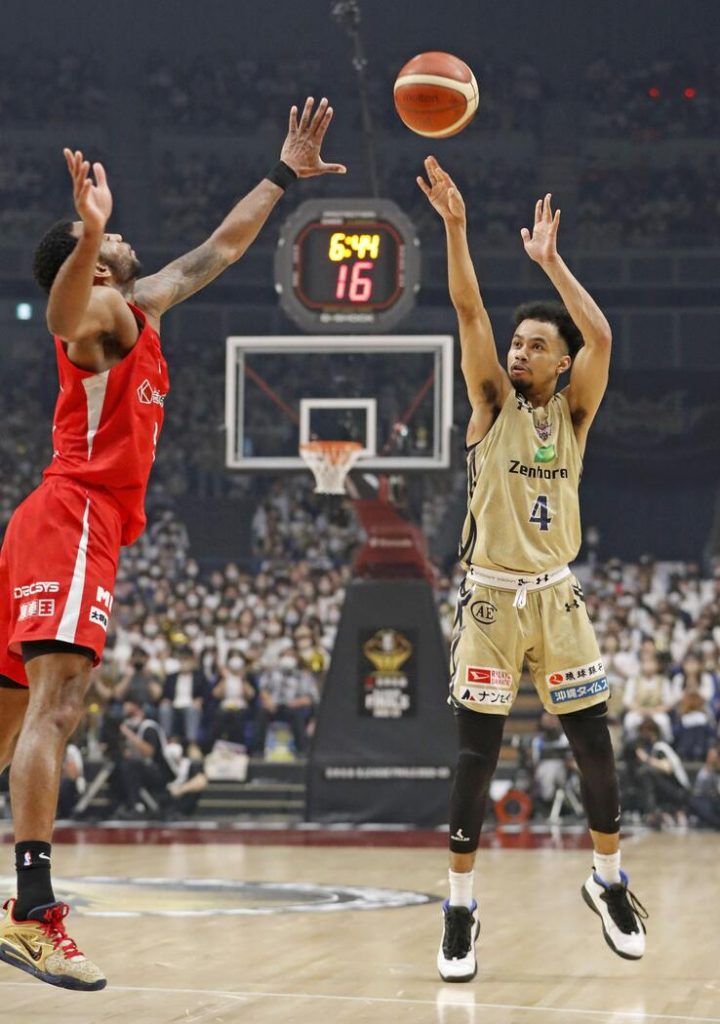 Flippin Comments on Game 2
Flippin, who was named Finals MVP, summed up his team's all-for-one approach by saying the versatile roster has a lot of players who can make an impact in any given game.

"It was a match that could have gone either way, and it was also a match where anyone could have been the hero," Flippin said. "We believe that we have fought for this victory for Okinawa."

He added: "I am very happy to win, and I think it was good for Okinawa."

In addition to the four players who scored in double figures, Ryukyu's Keita Imamura had eight points and Ryuichi Kishimoto and Yoshiyuki Matsuwaki both scored six.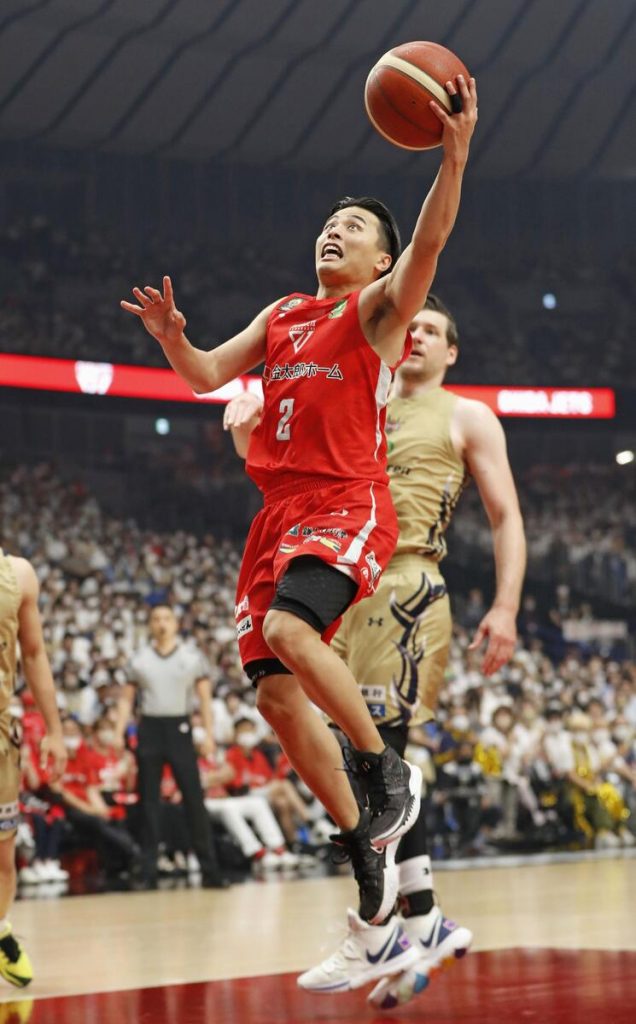 Leading Scorers for Chiba
After scoring a game-high 31 points in the opener, Jets floor leader Yuki Togashi again carried the scoring load for his team for big stretches. Togashi finished with 24 points. Teammates Christopher Smith and John Mooney added 14 and 13, respectively.

Jets coach John Patrick, in his first season at the helm, lamented that his team missed a number of open shots. But he also credited Flippin for stepping up and having a strong performance for the Golden Kings. The coach also said Ryukyu's interior strength was a factor.

Although the Jets didn't win the title, "it was a wonderful season," Patrick concluded.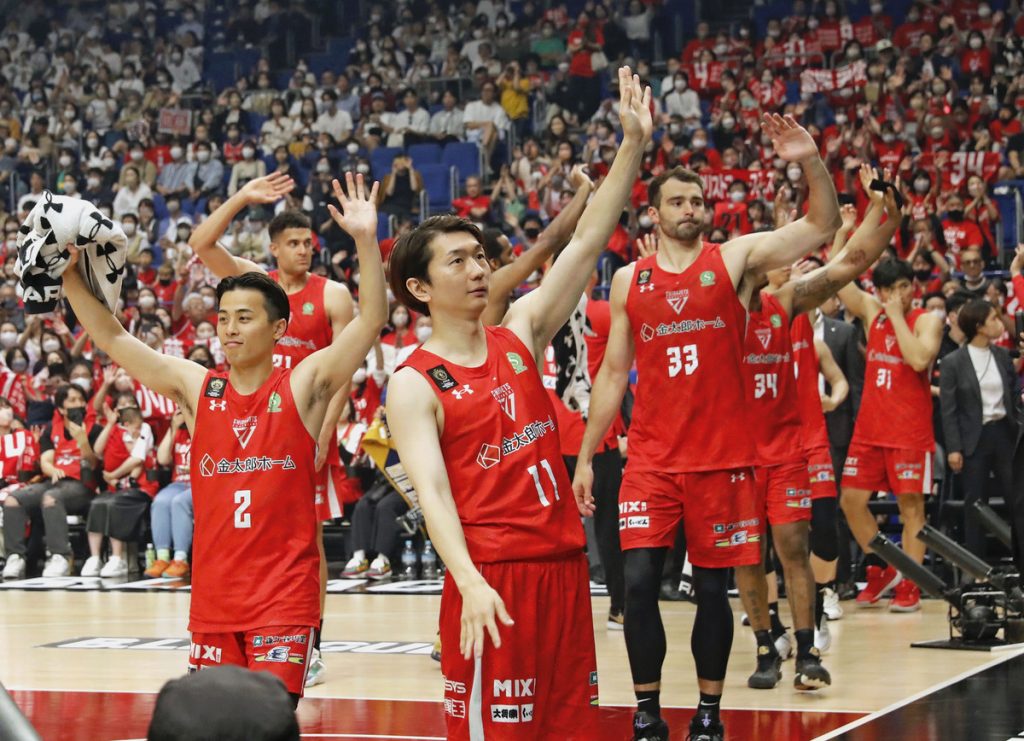 RELATED:
Author: Ed Odeven
Find Ed on JAPAN Forward's dedicated website, SportsLook. Follow his [Japan Sports Notebook] on Sundays, [Odds and Evens] during the week, and Twitter @ed_odeven.