Hazuki Watanabe Wins Balance Beam Title at World Gymnastics Championships
The 18-year-old became the second Japanese to earn the gold in the event in as many years at the World Gymnastics Championships after Urara Ashikawa's feat in 2021.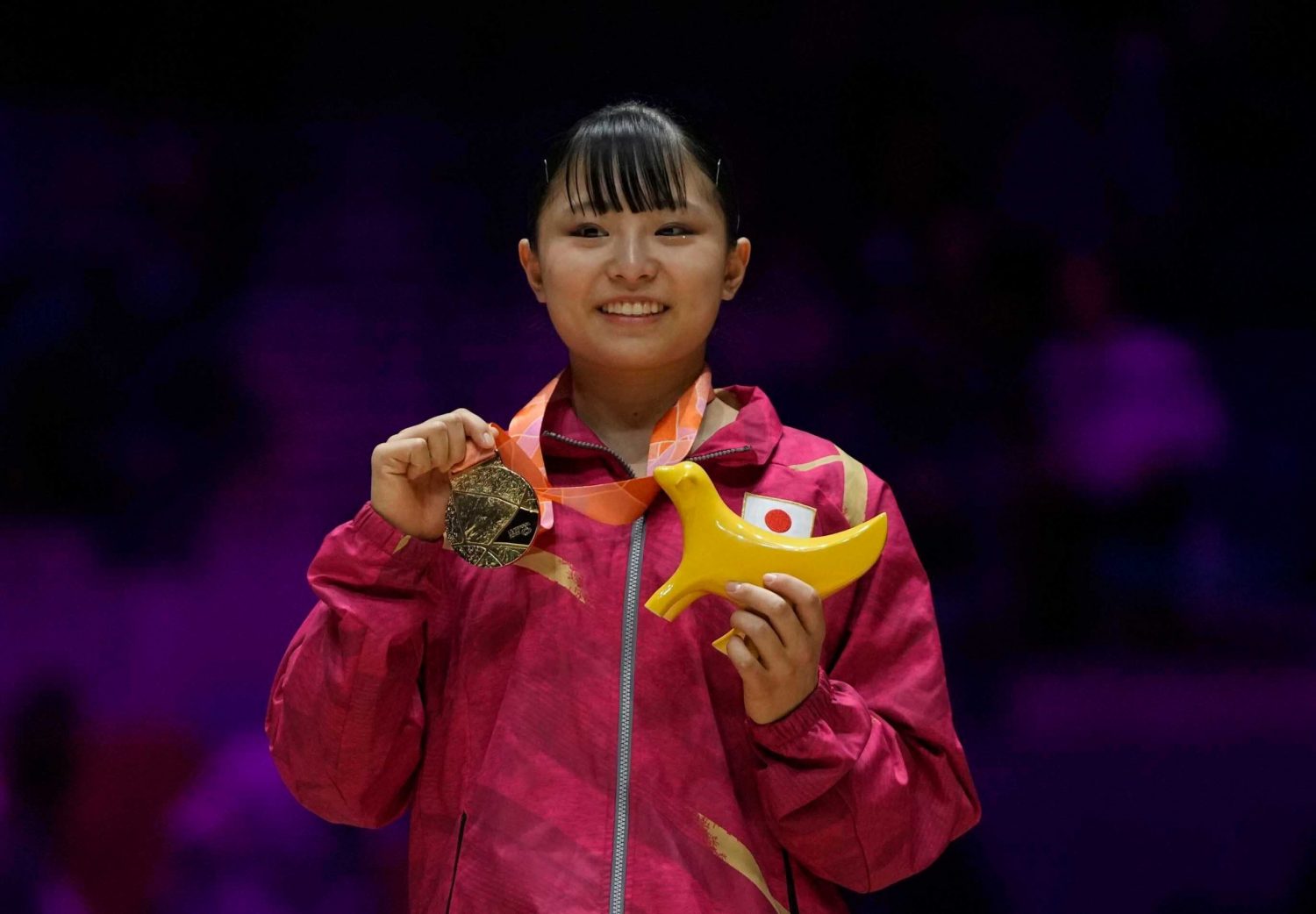 Hazuki Watanabe capitalized on her golden opportunity at the 2022 World Artistic Gymnastics Championships.
Originally selected as an alternate for the Japan national team for the global meet in Liverpool, England, Watanabe was then named a replacement for injured teammate Arisa Kasahara, who captured the women's all-around national title in April, then sustained a left knee injury in October.
Watanabe shined in the spotlight at M&S Bank Arena, winning the women's balance beam final (13.660 points) on Sunday, November 6, the final day of the nine-day meet. The Mie Prefecture native became the second Japanese woman to win the event in as many years. Urara Ashikawa claimed the title in October 2021 in Kitakyushu, Fukuoka Prefecture.
Ashikawa was 18 years and 7 months when she earned recognition as Japan's youngest female world champion in artistic gymnastics. Watanabe, born on August 7, 2004, is now the nation's youngest woman to become a gold medalist in the sport.
Watanabe beat Canada's Elisabeth Black (13.566) for the top spot on the podium. Meanwhile, Kyoto native Shoko Miyata, also 18, earned the bronze (13.533) in her world championships debut.
In 1954, Japanese gymnastics pioneer Keiko Tanaka triumphed in the balance beam final in Rome to become the first Asian woman to collect a world championships gold.
Looking back on her transformation from substitute to world champion in the course of a few weeks, Watanabe was overcome with emotion in the aftermath of her uplifting victory in Liverpool. (Watch her performance here.)
"I wasn't even imagining myself performing on this stage," was how Watanabe described her initial state of mind after being named a substitute, Kyodo News reported.
But the Nagoya-based Chukyo Gymnastics Club member produced her best performance in the pressure-filled arena, maintaining precise movement on twists, turns and tumbles on and above the 10-cm wide and 500-cm long apparatus.
This led her to proclaim: "The tears flowed because of the astonishment and happiness [I feel]."
'My Legs Were Shaking with the Nerves'
The balance beam is one of the most difficult surfaces in all of sports to perform on. Those who excel exhibit exceptional balance, timing and athleticism. Yet despite the pressure of representing her country on the global stage for the first time, Watanabe channeled her nervous energy and stayed focused.
Speaking to reporters after the event concluded, Watanabe noted that staying calm while performing was a challenge.
"I am very happy. This is my first world championship, my first big tournament, so my legs were shaking with the nerves," Watanabe admitted, according to Olympics.com. "Other gymnasts were falling and making big mistakes, but I was able to go through my routine OK. That was a real boost to my confidence."
Before Watanabe's stellar routine, China's Yushan Ou, American Skye Blakely and Brazil's Rebeca Andrade stumbled.
Gymnastics Championships Medal Update
After winning the men's all-around title on Friday, Daiki Hashimoto added to his Liverpool medal haul with a runner-up finish in the horizontal bar final. Earlier in the meet, he collected silver medals in the men's team competition and the floor exercise. He was the lone gymnast, male or female, to grab four medals at this year's world championships.
The reigning Olympic horizontal bar champ received 14.700 points on Sunday, placing behind American Brody Malone (14.800) and ahead of Brazil's Arthur Nory (14.466).
Japan finished with eight medals (two gold, three silver, three bronze) at the world championships, tying the United States for the most overall medals. But the US topped the medal standings with three gold, four silver and a bronze.

China also won three gold and collected two silver medals.
Host Britain had a successful showing with two gold, a silver and three bronze.

Author: Ed Odeven
Follow Ed on JAPAN Forward's [Japan Sports Notebook] here on Sundays, in [Odds and Evens] here during the week, and Twitter @ed_odeven.