[ICE TIME] Ilia Malinin a Clear Favorite for Title at US Championships
The only skater who has ever landed the quad axel, the 18-year-old Ilia Malinin finished third at the 2022 Grand Prix Final in Turin, Italy.
American Ilia Malinin, who finished third behind Shoma Uno and Sota Yamamoto at the Grand Prix Final in December 2022 in Italy, will attempt to win his first senior title at the US Figure Skating Championships in San Jose, California.
Other contenders competing for the men's crown will include Camden Pulkinen, 2020 bronze medalist Tomoki Hiwatashi, Jimmy Ma and Liam Kapeikis.
Malinin, 18, sounded ready and confident in a recent conference call with the media ahead of the event. The men's competition will get underway on Friday evening, January 27 with the short program at the SAP Center, home of the NHL's San Jose Sharks.
"I'm definitely preparing and always making sure that I'm healthy and that I'm staying on track practicing my program and everything is going to plan," he stated.
Malinin, who is based in Vienna, Virginia, was asked about his recent trip to California to work with coach Rafael Arutunian and choreographer Shae-Lynn Bourne.
"My main focus going into that week in California was to look at the programs just to see if everything is working out," Malinin commented. "With Shae-Lynn, we did a little bit of some corrections in the programs just to make everything feel a lot more fluid and more comfortable for me."

He added, "With Raphael, we did a lot of work technically and just a lot of focus on jumps and mental training to be prepared for nationals."
Malinin is using "I Put A Spell on You," for his short program this season and "Euphoria" for his free skate.
Beijing Olympic champion Nathan Chen won the last six titles (2017-22) at the US Championships, but is taking this season off to focus on his studies at Yale University.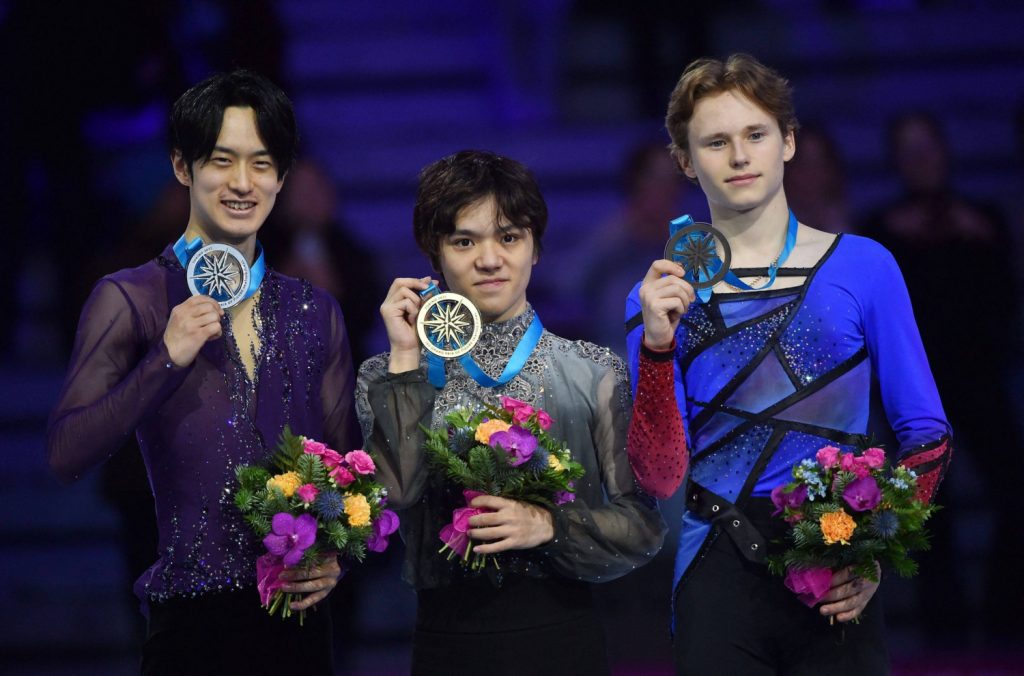 Grand Prix Final men's champion Shoma Uno (center), silver medalist Sota Yamamoto (left) and third-place finisher Ilia Malinin. (Massimo Pinca/REUTERS)
Ilia Malinin Draws Inspiration from Chen
Malinin talked about his admiration for Chen after seeing him train up close.
"When I visited him when he was preparing for worlds, I've seen how much he was putting into practice," Malinin remarked. "He was doing a lot of programs and he was working as hard as possible just to perfect every little detail.
"I'm feeling like I took inspiration from him and I'm trying to focus that on myself, especially even with these next years just to make sure that I'm picking every detail that I need to work on."
Malinin made history when he successfully landed a quadruple axel at the US International Figure Skating Classic in September 2022. He was questioned on whether the jump has become a burden for him.
"I think some people might think that, but to me my priority is to just focus on what I have been practicing and stick with what I have been doing," Malinin noted.
He continued by saying, "I am planning to attempt it there (at the US Championships), but again it all depends on the situation. It's always a huge risk to go for it when I'm not feeling my best.
"My main focus is to prioritize the rest of the program, just to stick with making sure that everything else is consistent and as clean as possible," Malinin continued. "We will see how that week goes with all the practices, and hopefully I'll be feeling pretty confident going into the free skate."


Malinin on the Value of Quad Axel
Since he is the only skater who has ever landed the quad axel, Malinin was queried about whether he felt the base value of the jump should be higher. Currently a quad axel is worth 12.50 points.
"I definitely agree with having the base value be a lot higher," Malinin stated, "[and] I think it was higher a couple of years ago (it was previously worth 15.00 points). I'm not sure what made it change. Maybe because people didn't want people to try it."
He added, "I think I was looking for a challenge, and seeing [Yuzuru] Hanyu and all these other skaters attempt it gave me the motivation to try it myself."
Malinin said he intends to keep including the quad axel in his free skate.
"Even with how low it (the base value) is, I definitely will keep trying it through the season," he stated, "so that when it does become a higher base value, I'll have it in pretty good condition and pretty consistent."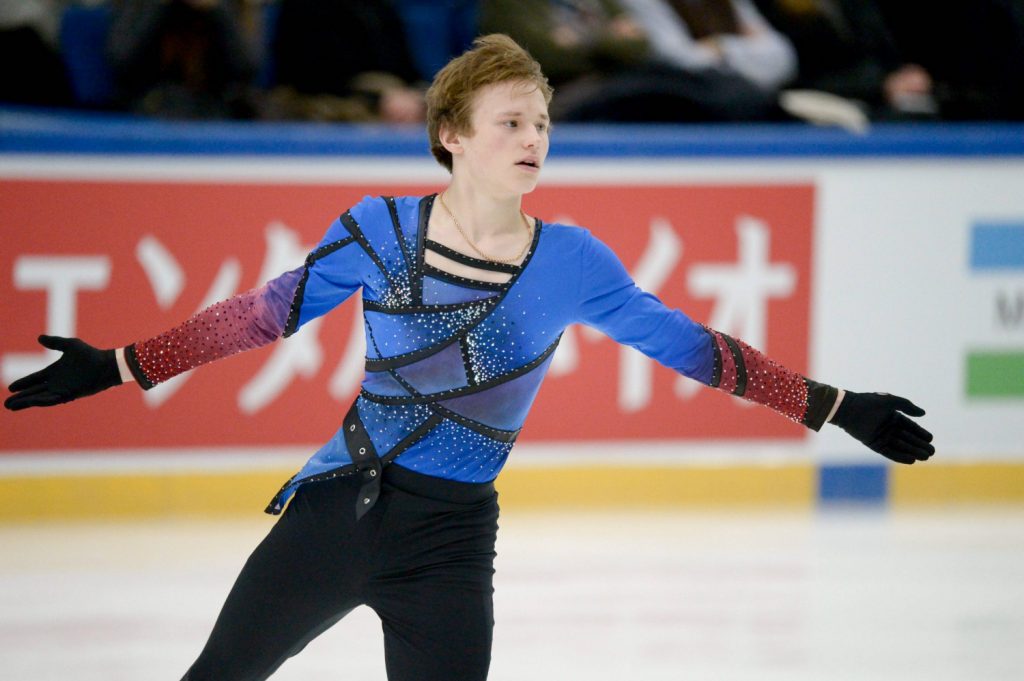 Ilia Malinin in action at the Grand Prix Espoo on November 26, 2022, in Espoo, Finland. Malinin. (Mikko Stig/Lehtikuva/via AP)
Room for Improvement
While Malinin, who won the 2022 world junior title, has sublime jumping skills, he still needs work on other parts of his programs if he is going to have a chance to challenge defending world champion Uno for the title at the world championships in Saitama in March.
"My main concern is the PCS (program component scores)," Malinin said. "The past couple of years they weren't at their highest. Me and my coaches and the team I am working with are always trying to take the time to try to improve it as much as possible, and really focus on the artistry and the creativeness, and all those little details that will come with skating."
Malinin admitted it is a challenge for him to raise the level of the rest of his programs to equal his jumping ability.
"Especially having the jumps, it's very hard to match both of them," Malinin remarked. "I'm always working on how to improve it and I'm definitely proud of myself with how much I have done since this past year."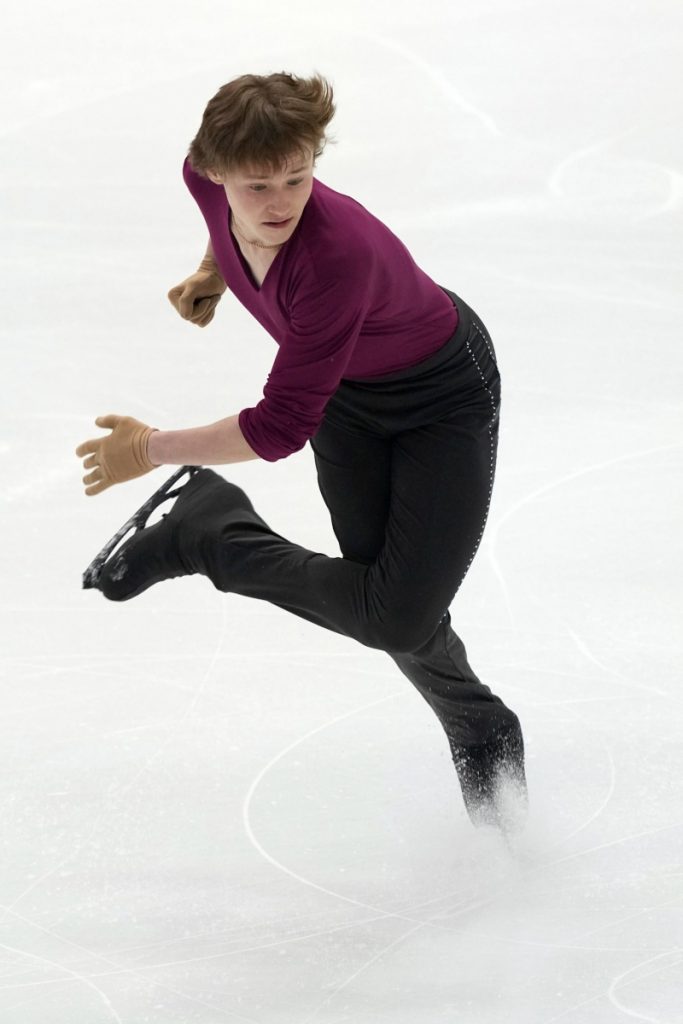 Higher Hopes for Jumps and Artistry
The American skater added, "This season, in general, I think that I've made a huge step and there's many years to come before the Olympics. I hope I'll have both the jumps and the choreography and all the artistry and the PCS to as high of a level as possible."
Malinin said he is making a concerted effort to work on his artistry.
"I'm spending a lot more time every day, even before I practice for warmup, doing run-throughs without jumps and spins just to focus on the choreography and all the details," Malinin stated. "During a warmup I spend a longer time just having nice lines and simple steps to have it so everything is nice and looks good."
Benefits of Attending School
Unlike many elite skaters who study online, Malinin attends high school as a regular student and feels that doing so has positively impacted his development.
"I think it has definitely helped me with my social life and just having a little bit more social things in my life," Malinin said. "If I was to do online school, I would only be at the rink every day and it would be really hard for me to try to make new friends or just have time to even just go outside and just enjoy the weather.

"School has helped me to open up and try new things, and find what people do in their daily life, and try those things as well."
Before concluding the conference call, Malinin was asked about the possibility of one day landing a quintuple jump, something he has discussed with Arutunian.
"It is definitely in the back of my mind right now," Malinin admitted.

He added, "It's very hard to think of it at this moment since I'm still in the middle of the season. I still have a lot in front of me.

"The main goal is to stay healthy and in as good a shape as possible. After the season, I'll think about it, and we'll see, maybe we'll see one."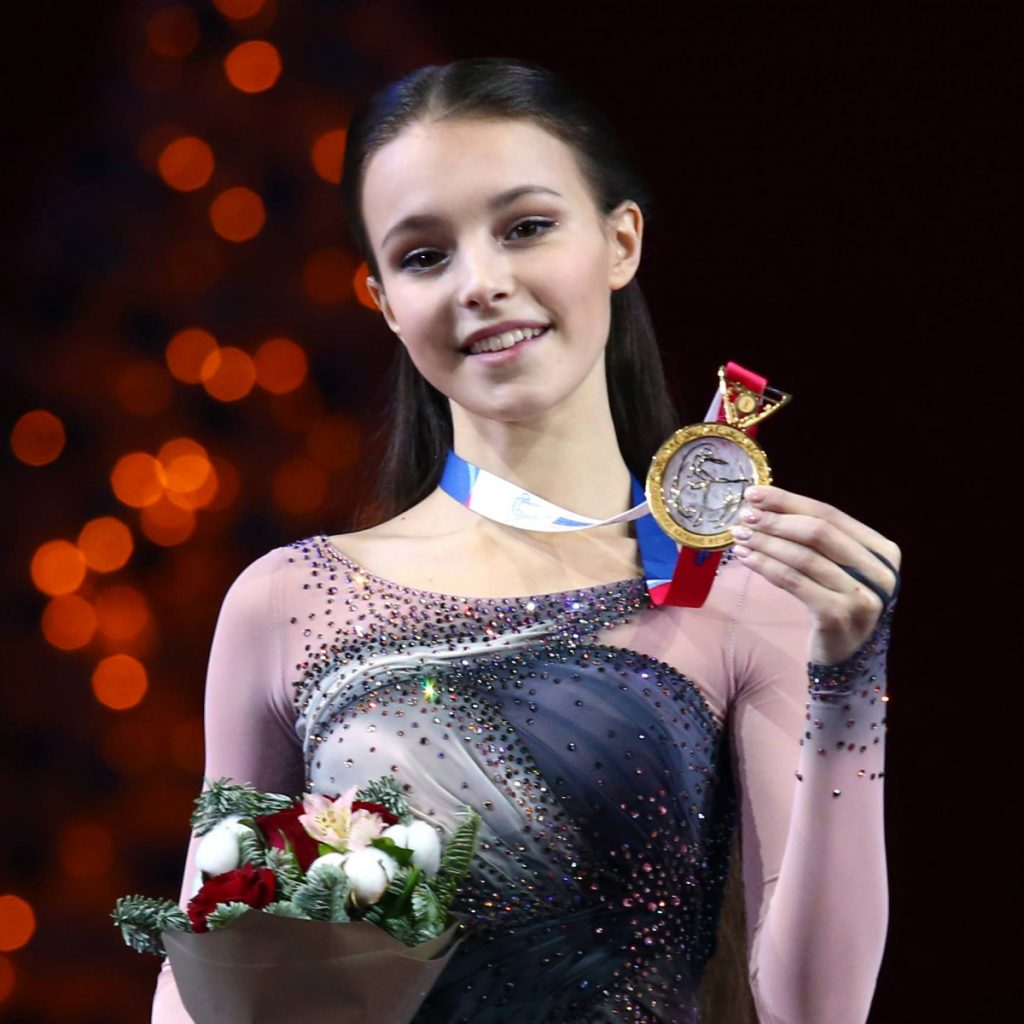 Anna Shcherbakova in a 2021 file photo. (Yuuliya/CC BY-SA 4.0/via WIKIMEDIA COMMONS)
Shcherbakova to be Excluded From ISU Awards Ceremony If She Wins
Beijing Olympic champion Anna Shcherbakova is one of the nominees in the Most Valuable Skater category for the upcoming ISU Awards on February 5. It was revealed recently that the Ukrainian Figure Skating Federation asked ISU to remove Shcherbakova as a candidate.
"At its meeting in October 2022, the ISU Council considered the issue of nominations for the ISU Skating Awards 2022," the ISU said, according to a statement posted on the Ukrainian federation website on January 6, and translated into English on fs-gossips.com.
"The Council was informed that there is no legal basis to exclude Russian and Belarusian skaters who meet the criteria for the respective award categories, and therefore decided that any skaters (from these countries) may be included in the applicant lists."

Furthermore, the translated statement said: "The jury will make its decisions based on the established criteria and voting results."
At the same time, the ISU declared that it was determined that if any of the representatives of the specified countries won, they would not be allowed to be present at the award ceremony.


Author: Jack Gallagher
The author is a veteran sports journalist and one of the world's foremost figure skating experts. Find articles and podcasts by Jack on his author page, and find him on Twitter @sportsjapan.