[ICE TIME] World Champion Kaori Sakamoto Cruises to Victory at Skate America
Sakamoto outscored Isabeau Levito and Amber Glenn for a successful start to her season. Japanese compatriot Kao Miura earned the silver in the men's event.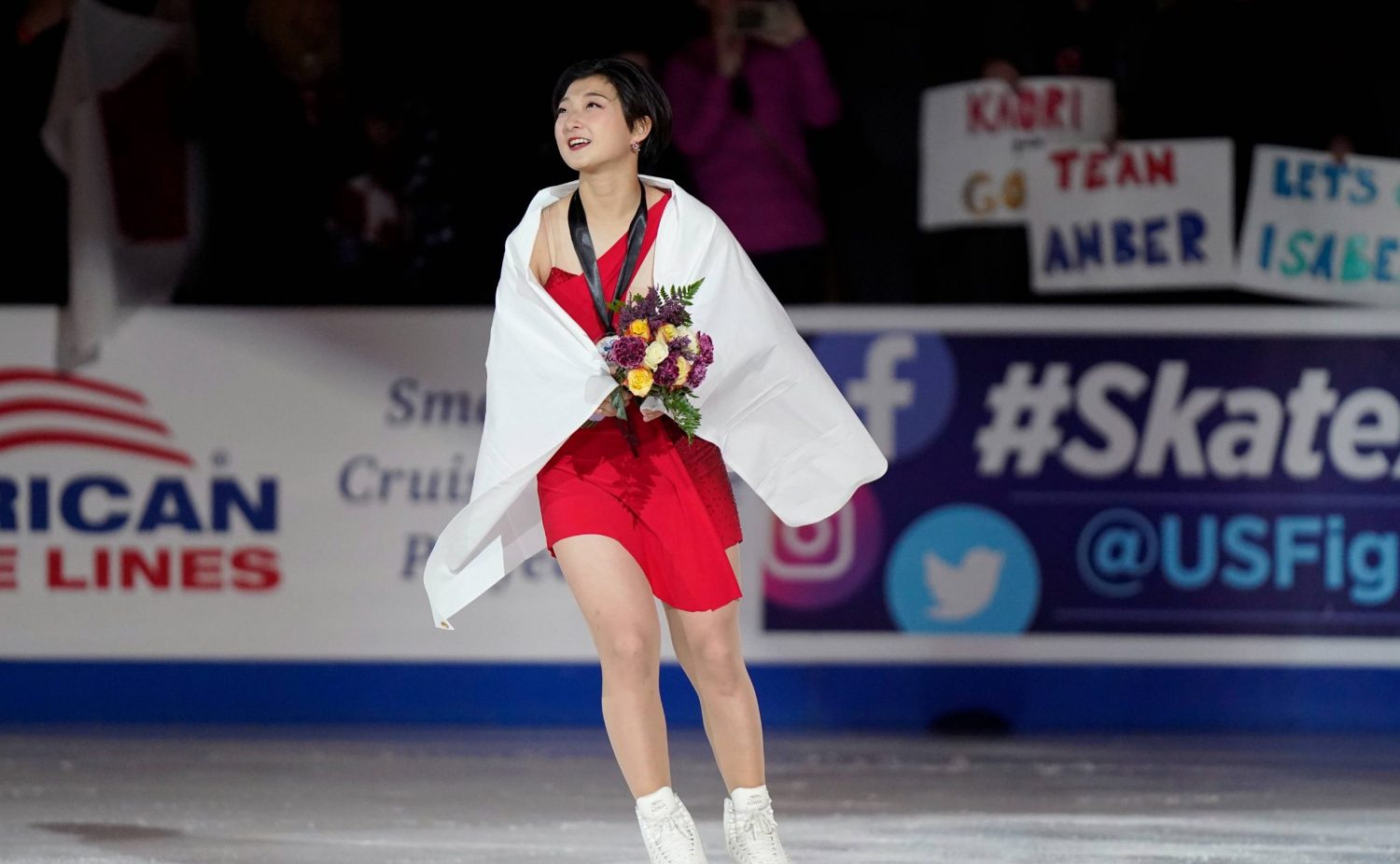 After dominating the Junior Grand Prix season, Japan got off to a rocket start in the senior campaign as world champion Kaori Sakamoto won the women's event at the season-opening Skate America in Norwood, Massachusetts, on Sunday, October 23, while Kao Miura took second place in the men's competition on Saturday.
The 22-year-old Sakamoto led wire-to-wire, finishing with a total score of 217.61 points. World junior champion Isabeau Levito of the United States came in second at 206.66, while her compatriot Amber Glenn was third on 197.61.
Ilia Malinin of the US claimed the men's title with 280.37, landing a massive quadruple axel in his free skate in front of the home crowd. Miura, last season's Japan junior champion, finished with a tally of 273.19, while South Korea's Junhwan Cha came in third at 264.05.
Sakamoto, the bronze medalist at the Beijing Olympics earlier this year, skated to "Elastic Heart" in her free skate and landed six triples on the way to victory. She earned level fours on all of her spins and a level three on her step sequence.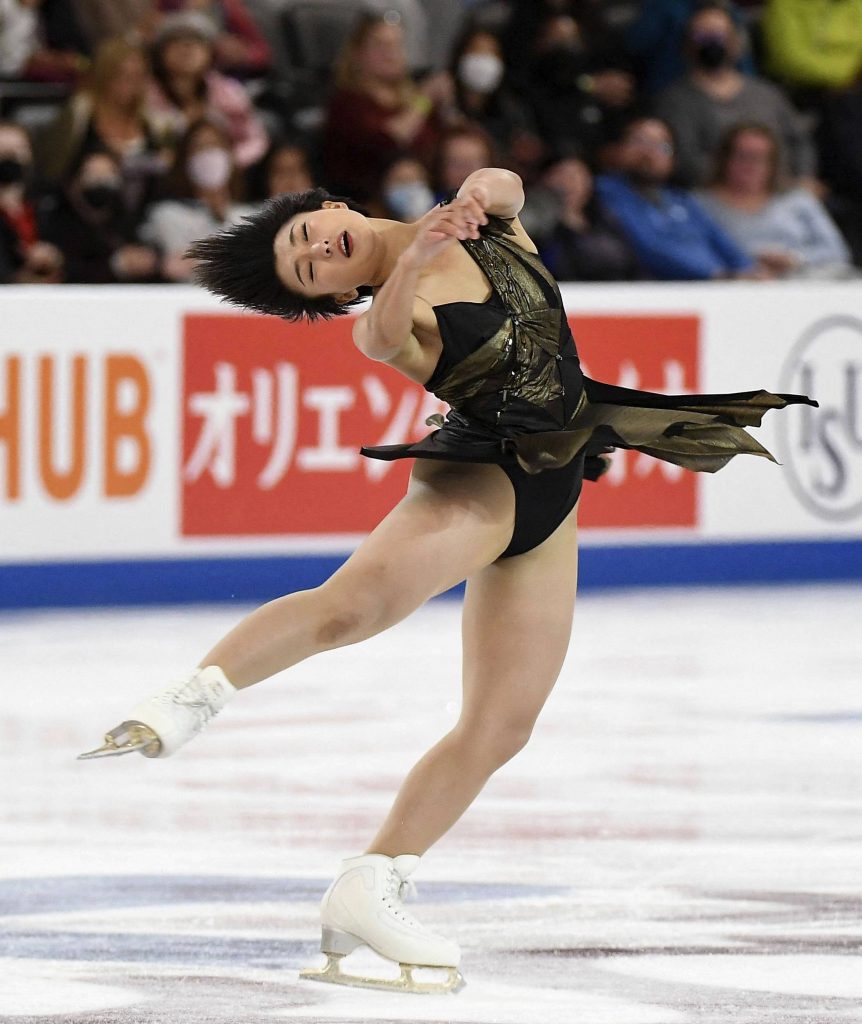 The lone blemish on the Kobe native's scoresheet was an under-rotation on a triple toe loop late in her program.
"This is actually my fifth time to come to Skate America and the first time to win a gold medal," said Sakamoto, who became the sixth Japanese woman to win the crown at Skate America.
"So I am truly delighted about that," Sakamoto stated. "After the short program I was very determined to make sure I could do my triple/triple combination and I focused on that."
Sakamoto Impresses Announcers
NBC analyst Tara Lipinski liked what she saw from Sakamoto in her free skate.
"That was world champion skating right there," Lipinski commented."
Fellow NBC analyst Johnny Weir relayed an interesting story about Sakamoto.
"I have toured with Kaori for many years," Weir remarked. "I remember her telling me when she was much younger, 'I don't want to skate like anybody else, I want to skate like me. I am different than everyone.' It so shows. She has been true to herself for her entire career."
Added Weir, "Now that she's coming off the best season of her life, she is just one-upping herself in the style and beauty department."
Lipinski was effusive in her praise of Sakamoto.
"I love her style. She has this bit of a wild child style out there. It's not textbook, it's not traditional, and I don't ever want her to change it because it is so her and so distinct and so unique."

Tara Lipinski on Sakamoto
Miura Slips from Top Spot
The 17-year-old Miura led after the short program, but could not hold off the self-proclaimed "Quad God" Malinin in the free skate. Miura fell on his opening triple loop to the soundtrack from "Beauty and the Beast," but recovered to land three other quads and five triples.
His jumping prowess aside, Miura still has work to do in other areas, as witnessed by his receiving just a level two on one of his spins and step sequence.
"I was in top form coming in so I was able to do very well here," Miura noted. "I know there were some mistakes that will give me something to work on for my next competition."
Miura will travel to Mississauga, Ontario, this week to compete at Skate Canada.
"This is the first time for me to do two overseas Grand Prix," Miura stated. "I learned a lot here and hope to use it at Skate Canada."
Other Results from Skate America
Sena Miyake (215.74) was eighth in his international GP debut, while Koshiro Shimada (215.12) placed ninth.
Rino Matsuike was eighth after the women's short program, but withdrew before the free skate for medical reasons.
Kana Muramoto and Daisuke Takahashi placed sixth in ice dance with 169.68 in the competition won by Americans Madison Chock and Evan Bates with 202.80.
Skate Canada Up Next
The GP series moves to Canada this week (October 28-29) where world champion Shoma Uno will join Miura in the men's lineup. They will take on the likes of China's Boyang Jin and Italy's Matteo Rizzo.
The Hinomaru will have three women in the field in Ontario. Rika Kihira, slowly working her way back from a serious ankle injury, Rinka Watanabe and Yuhana Yokoi will battle for honors with South Korea's Young You and Starr Andrews of the US.
World pairs silver medalists Riku Miura and Ryuichi Kihara will take the ice against Canada's Kelly Ann Laurin and Loucas Ethier, who finished third at Skate America.
Misato Komatsubara and Tim Koleto will pull on the boots in ice dance, where the roster will include Canada's Piper Gilles and Paul Poirier.
Osaka Tabbed for Junior GP Next Season
Some good news arrived when the International Skating Union announced recently that Japan would host its first Junior Grand Prix since the 2016 season with Osaka selected as the site.
Just to show you how much water has gone under the bridge since the last time Japan hosted that JGP in Yokohama in September of 2016, Sakamoto, Marin Honda and Mako Yamashita swept the podium.
Ice Time has always believed that Japan should host a JGP every season. The event in Yokohama was sold out every day and the atmosphere was great. Enough of having these JGPs in rinks with few spectators. Skating needs to continually build up new fans, and getting them out to a JGP is a good way to do it.
Valieva Captures Russian GP Opener
Kamila Valieva won the first event in the Russian Grand Prix series in Moscow on Sunday with a total score of 244.66, ahead of compatriot Sofia Akateva, who had 236.68. Anastasia Zinina was third on 200.43.
The 16-year-old Valieva had some pointed comments afterward about her dark free skate that depicts her feelings about the controversy she became embroiled in at the Beijing Games.
"I read a lot of hate towards the coaches," Valieva was quoted as saying by Russian media at the event in comments that were translated and posted on fs-gossips.com.
"I am glad to share this, I am ready to skate this program. If I were not ready, I would say so," Valieva added.
Then Valieva really let her feelings fly.
"The opinion of the fans does not affect me," Valieva continued. "Only the opinion of my coaches and authoritative people are important to me. I am not a flower for everyone to like."
The six-event Russian GP series travels to Sochi, site of the 2014 Olympics, this week.
Meanwhile, Russian media had reported earlier that the results of the Russian Anti-Doping Agency's (RUSADA) probe into the Valieva doping case would be revealed on October 22. However, the organization announced on October 21 that because Valieva is a minor, the result of the investigation and any punishment from it would remain confidential.
So eight months after the scandal at the Winter Olympics, the results of the team event, where Valieva led Russia to the gold, remain in limbo.

Author: Jack Gallagher
The author is a veteran sports journalist and one of the world's foremost figure skating experts. Find articles and podcasts by Jack on his author page, here, and find him on Twitter @sportsjapan.