[JAPAN SPORTS NOTEBOOK] Mina Sato Brings Enthusiasm and Hunger for Success to Keirin
Bursting with energy and speed, the 23-year-old is building an impressive résumé, including back-to-back silver medals at the world championships.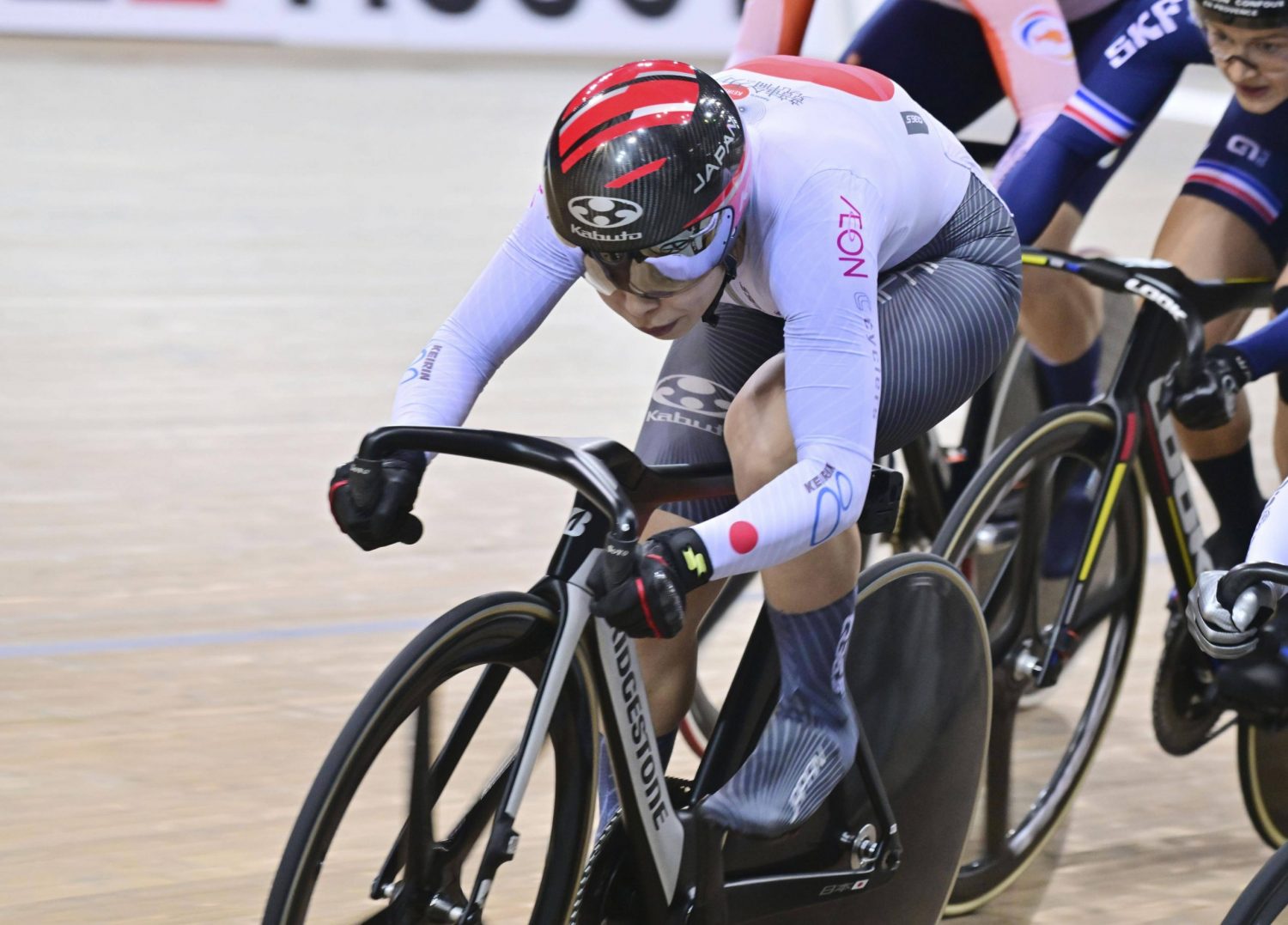 Decades ago, the American comedians Bud Abbott and Lou Costello weighed in on a universal longing: having a purpose in life. They choose a specific word ("niche," pronounced by many as nee-sh, and by others like "rich" but with a different consonant at the start) to lightheartedly make their point.
The two men's dialogue on their popular 1940s radio show brings to mind 23-year-old keirin cyclist Mina Sato's career to date, which includes back-to-back silver medals in the women's final at the UCI Track Cycling World Championships.
Abbott: "If you're lucky, you'll find your proper niche in life."
Costello: "You're right. Why, if I can find my ― What will I find?"
Abbott: "A niche, a niche. You'll find a niche."
Costello: "Abbott, when I find an itch, I scratch it!"
Abbott: "No, no, I'm talking about a niche in life. A niche is what everyone is looking for. Anyone who is successful has found a niche."
Sato finished runner-up in the aforementioned tournament on Sunday, October 16 in Saint-Quentin-en-Yvelines, France, near Paris. She placed 0.042 seconds behind German champion Lea Friedrich in the final.
En route to the final, Sato competed in a first-round heat, a first-round repechage race, the quarterfinals and the second round. Twenty-eight women contested for the keirin title on the fifth and final day of the world championships.
After placing third in her first-round heat, from which the top two in each heat automatically qualified for the quarterfinals, Sato excelled in the repechage, winning it with a top time of 11.062 seconds. She was also No. 1 in her quarterfinal heat (10.948 seconds).
On a winning roll, she then placed first in her second-round heat (11.080 seconds) to book a spot in the final.
Reaction after the Keirin Final
Finishing oh-so close to achieving her first keirin world title, Sato was disappointed.
"There remains a bit of a gap [between first and second]. I'm filled with frustration, but it is also proof that I'm getting stronger," Sato was quoted as saying by Kyodo News after the final. "Last year, she [Friedrich] was looking behind her shoulder before the finish line convinced of her win. This year, I managed to put up a good race."
Sato's quest for the title kept pressure on Friedrich, adding drama to the closing portion of the race.
"Friedrich attacked with two laps to go," Cyclingnews.com reported. "It looked as if Mina Sato, who was the best from the quarterfinals, would make the pass on the final half lap, but the German surged again and crossed the finish [line] for another rainbow jersey."
A New Benchmark for Japanese Women
In October 2021, Sato secured a runner-up finish, 0.068 seconds behind Friedrich in the six-woman final in Roubaix, France. She became the first Japanese woman to earn a medal at the world championships, which was postponed from the spring to October and moved from Turkmenistan to France due to the global pandemic.
Now, with back-to-back silver medals in her specialized race, a six-lap expedition, it's clear that Sato has found her niche.
It wouldn't be beyond the realm of possibility to expect her to compete in multiple Olympic Games over the next decade or beyond.

Keirin has been included as a men's sport at the world championships since 1980 and the Olympics since 2000. For women, it was added to the world championships in 2002 and the Olympics in 2012.
A Career on a Bike
Sato, who hails from Chigasaki, Kanagawa Prefecture, became an avid cyclist as a junior-high school student. At age 18, she graduated from the Japan Keirin School in January 2017, embarking on a career in the fast-paced sport.
This year, Sato has demonstrated her cycling skills have improved as she's gained more experience in the sport, which relies on speed, energy and precise synergy between rider and bicycle. In May, Sato was the runner-up at the UCI Track Nations Cup in Milton, Ontario. In June, she triumphed at the 2022 Asian Track Cycling Championships in New Delhi.
She's also enjoyed success on the domestic circuit since making her debut in July 2018.
After a victory in the Stage Girls Dream Race at Kawasaki Velodrome on September 21, Sato discussed her successful strategy.

"Before the race, I thought I would fight according to the situation, whether it was going to be ahead or rolling," Sato said, according to Nikkan Sports. "I was convinced of the victory at the second [lap], and then I felt like I could push it as far as I could."
Sato purchased a car for her parents and a Gucci bag with her prize money, the sports publication reported.
Current and Future Opportunities
In addition to opportunities to compete in races throughout Japan, Sato's blossoming career coincides with the sport's growing presence on the global stage. Union Cycliste Internationale, the sport's global governing body, launched the UCI Track Champions League last year.
The inaugural season, held in November and December, featured four meets in Spain, Lithuania and England (two).
Sato earned a seventh-place finish in London in the fourth meet. Plenty of motivation to push her to do even better this year.
This year's five-round circuit will start on November 12 in Mallorca, Spain.

"With five rounds over four consecutive weekends, there will be little time to draw breath as the best track specialists in the world chase one of the four overall titles at stake in this second edition of the UCI Track Champions League," said David Lappartient, UCI's president.
Soccer
Ventforet Claim Emperor's Cup Title
Ventforet Kofu defeated Sanfrecce Hiroshima 5-4 in a penalty shootout in the Emperor's Cup final on Sunday, October 16 at Yokohama's Nissan Stadium, giving the J.League second-division side its first title in the tourney's 101-year history.
Sanfrecce finished as the tournament's runners-up for the sixth time in the J.League era, which kicked off in 1993.
Kofu's Kazushi Mitsuhira scored in the 26th minute, and Hiroshima's Takumu Kawamura tied it at 1-1 in the 84th. Neither club scored in extra time, forcing the match to be decided by a shootout.
All five Ventforet shooters then hit their target, starting with the Brazilian forward Willian Lira.
Ventforet goalkeeper Kohei Kawata made two key saves to help his team secure the win, first turning aside a 118th-minute penalty kick by Makoto Mitsuta following teammate Hideomi Yamamoto's handball violation. Kawata also thwarted Sanfrecce's fourth penalty shootout attempt.
"I'm so happy to be able to win a title with this club," Kawata said, according to Kyodo News. "Yamamoto has been such a great player for this club. When I saw it was his handball, I didn't want to let things end like that."
Kofu became the first J2 team to play in the final since Montedio Yamagata in 2014, when they fell 3-1 to Gamba Osaka.
RELATED:
Yokohama FC's Nakamura Announces Retirement
Shunsuke Nakamura is retiring at the end of Yokohama FC's season.
The 44-year-old midfielder issued a statement through the J.League second-division club on Tuesday, October 18.
"I could carry on battling as a footballer thanks to the really huge support I've received," said Nakamura, who has only appeared in five games this season. "I want to thank everyone."
Nakamura's career began with Yokohama F. Marinos in 1997, and he played for the J.League club through 2002, winning the league MVP accolade in 2000. With the 2002 season underway, he moved overseas to play for Italian Serie A side Reggina. He joined Scottish team Celtic FC in 2005. And in his four seasons in Scotland, the club won three league titles.
After one more season in Europe, with Spain's Espanyol from 2009-10, Nakamura rejoined Marinos, for whom he played from 2010-17 in his second stint with the club. He earned his second J.League MVP trophy in 2013, when he scored 10 goals.

Since 2019, he has played for Yokohama FC, which travels to face Roasso Kumamoto for its final game of the season on Sunday, October 23. Nakamura could make his final appearance in the game.
"It's been 40 years since I began kicking a ball when I was in kindergarten," said Nakamura, who has 73 goals in J1 in 408 matches, in the statement. "I had lots of anguish and setbacks but there was always someone who gave me a supporting push."
Nakamura made 98 appearances with the Japan national team, including at the 2006 and 2010 World Cups. He scored 24 goals for the Samurai Blue.
Hasegawa Shines in Manchester City Debut
Manchester City midfielder Yui Hasegawa's 88th-minute shot from long distance flew into the bottom of the net, giving her a goal in her debut with the Women's Super League team against English rival Leicester on Sunday, October 16.
Hasegawa, 25, scored the final goal of Manchester City's 4-0 home win at Academy Stadium.
Manchester City manager Gareth Taylor said he's impressed with Hasegawa's development as a player and potential to make a big impact for the club.
"It's very rare your holding midfielder is expected to [score], but it was a great debut from [Yui]," Taylor said, according to an article posted on the team website. "She really grew into the game and showed her class. The goal is an added bonus."
Taylor added, "She has the ability to play in all the positions we have in midfield, she's creative and good technically and can score goals."
Hasegawa played for another Women's Super League squad, West Ham United, last season.
Basketball
NBA season debuts for Hachimura, Watanabe
Washington Wizards forward Rui Hachimura came off the bench in the team's season-opening, 114-07 road victory over the Indiana Pacers on Thursday, October 19. Hachimura had seven points, five rebounds and a block along with three turnovers in 24 minutes.
Hachimura, who's in his fourth NBA season, was one of three Wizards backups who played 20-plus minutes. The others: Will Barton and Delon Wright.

In related news, Brooklyn Nets forward Yuta Watanabe was scoreless in his first game of the 2022-23 season, playing eight-plus minutes against the New Orleans Pelicans on Thursday.

Watanabe missed his only shot from the field, a 3-point attempt, in the Nets' 130-108 home loss. And he was 0-for-2 from the free-throw line.
Career Milestone for Jets' Togashi
Chiba Jets guard Yuki Togashi, sank his 700th B.League career 3-pointer on Sunday, October 16 against the visiting Sunrockers Shibuya.
He became the first player in league history with that many 3-pointers.
Togashi, one of the league's most popular players since its inception in 2016 and the 2018-19 regular-season MVP, finished with a season-high 26 points, including five 3s, in the Jets' 96-93 victory.
"I am very happy to have made 700 3-point shots," Togashi said. "This is a strength in my game and [that's how] I made it the fastest."
In other B.League-related news, retired forward Lawrence "Trend" Blackledge, who suited up for the Osaka Evessa, Kyoto Hannaryz, Iwate Big Bulls, Ehime Orange Vikings, San-en NeoPhoenix between 2010-18, has joined the NBA G League's Salt Lake Stars as an assistant coach. The Stars season gets underway on November 4.
Briefly…
Chiba Lotte Marines hurler Roki Sasaki pitched one of the greatest games in pro baseball history on April 10, striking out 19, including 13 in a row, in a perfect game against the visiting Orix Buffaloes. Now, one of NPB's historic artifacts will be on display in the United States at the National Baseball Hall of Fame and Museum in Cooperstown, New York. A Sasaki autographed ball from that unforgettable game has been given to the American institution, the Baseball Hall of Fame announced on Thursday, October 20.
Miho Takagi triumphed for the seventh straight year in the women's 1,500 meters at the All Japan Speed Skating Single Distances Championships on Friday, October 21 in Nagano. Takagi, who collected gold in the 1,000 and hauled in three silver medals at this year's Beijing Olympics, including in the 1,500, completed the race in 1 minute, 53.34 seconds, a meet record.
Quote of the Week
"I'm filled with joy to have skated at the end [of my career] on the stage I've dreamed of. It was a happy moment, and no others can take its place."
―Speedskater Nao Kodaira, the 2018 Olympic gold medalist in the women's 500 meters on winning the final race of her career, the 500 (37.49 seconds), at the national championships in Nagano, her hometown, on October 22. Kodaira, 36, retired on the day she extended her winning streak in the event to eight at nationals.

Author: Ed Odeven
Follow Ed on JAPAN Forward's [Japan Sports Notebook] here on Sundays, in [Odds and Evens] here during the week, and Twitter @ed_odeven.