[ICE TIME] Yuzuru Hanyu's Performance in Beijing Increased His Legend
"Hanyu showed us that he is not just a skater. He is a legend. What he tried to do was not just for himself, it's to push the boundary of figure skating forward." ―Benoit Richaud
After an unfortunate error in the men's short program at the Beijing Games, two-time Olympic champion Yuzuru Hanyu found himself in fourth place and faced a dilemma going into the free skate: attempt a historic quadruple axel, a jump never before landed in competition? Or play it safe, land his patented triple axel and make the podium for a third time.
The 27-year-old superstar chose the former and the rest is history. Hanyu fell on the quad axel and again on the ensuing quad salchow, and his medal chances evaporated. He finished fourth behind American Nathan Chen and compatriots Yuma Kagiyama and Shoma Uno.
Ice Time wanted to know what those in the skating community thought about Hanyu's decision and how it would affect his legacy in the end.
The responses were unanimous: Hanyu burnished his legend by trying the quad axel instead of taking the conservative option. That would have seen him become just the third man to make the Olympic singles podium three times, after Sweden's Gillis Grafstrom (four medals ― three gold, one silver) and Russia's Evgeni Plushenko (three medals ― one gold, two silver).
"In an era and system where world and Olympic champions change quite often, for Yuzu to have maintained top spot or at least top billing for so long ーeven as Nathan began to close the gapー means he has been one of, if not the greatest of all time," ISU Junior Grand Prix announcer Ted Barton wrote to Ice Time in an email. "Yuzu's skill and quality is always shocking."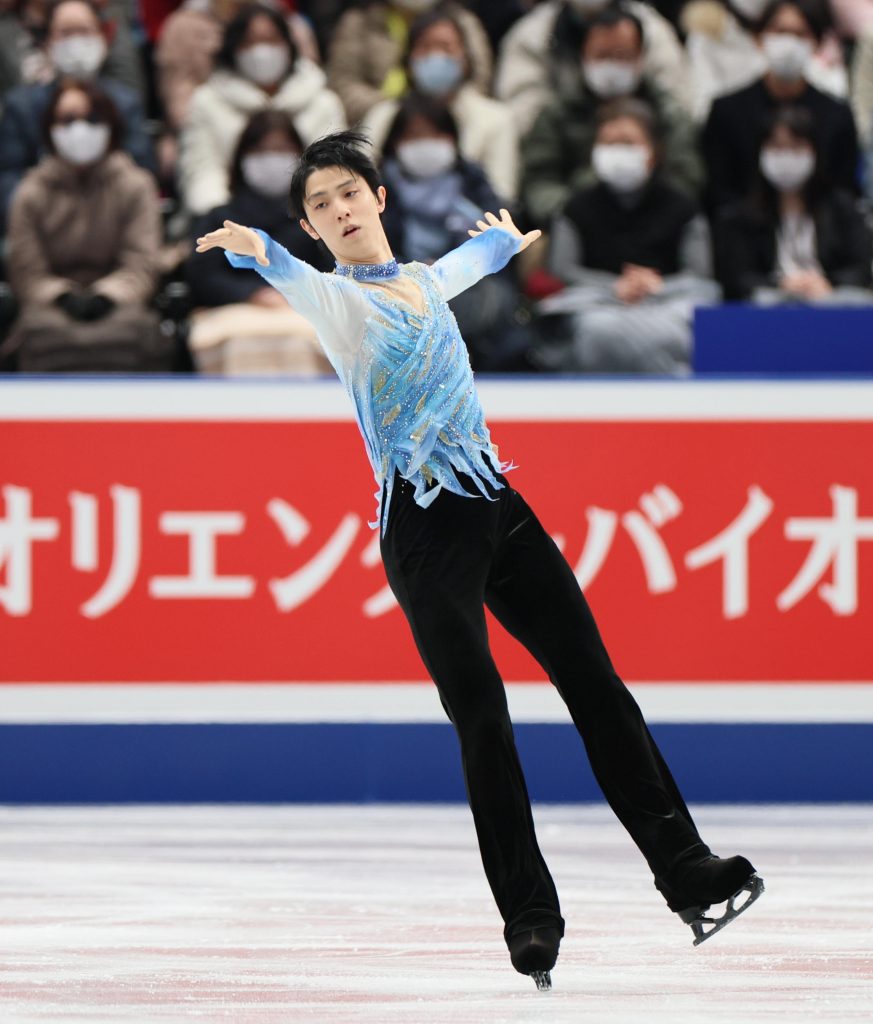 Barton theorized that with the gold out of reach, perhaps Hanyu knew he still had a chance to do something incredible once more on the Olympic stage.
"The unusual mistake in the short program took Yuzu out of gold medal contention, and if Yuzu is thinking at all about the end of his competitive career, at some point maybe this opened the door in his mind to try something not ever done in Olympic competition," Barton commented.
"He has always broken barriers in our sport technically, and mostly in overall remarkable performances," Barton continued.
"Staying at the same level might not be in his DNA, so he tried to break a new barrier. All of what I have said is just a guess, but his greatness is real."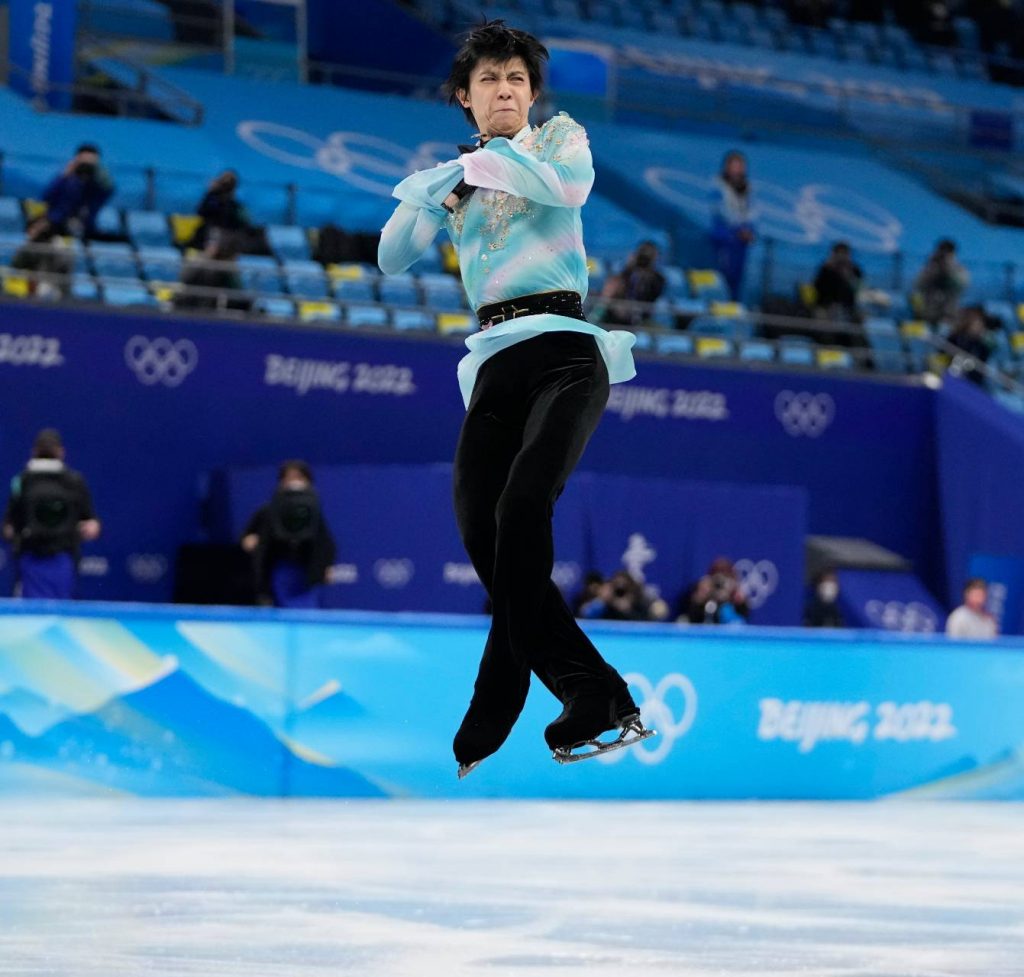 The Best in Modern Times
Legendary skating writer Phil Hersh, who has covered every Olympics since 1980, believes the fourth-place finish in China won't impact Hanyu's reputation at all.
"Yuzuru Hanyu's legacy in the sport was not affected by his finishing fourth in Beijing after winning the two previous titles," Hersh wrote in an email to Ice Time.
Hersh said that in the past seven decades, Hanyu is unquestionably the best man to pull on the boots anywhere.
"Although comparing achievements in different eras is very difficult, Hanyu is unquestionably the greatest men's singles skater of at least the 70 years since [American] Dick Button, the previous man to win two straight Olympics," Hersh proclaimed.
"And Hanyu's impact already is similar to what Button's would become in his decades as a TV commentator and promoter after his competitive career ended: both drew fans to the sport by the tens of thousands."
Hersh cited Hanyu's fusion of skating's two most integral elements in his praise for the living legend.
"At his best, Hanyu reached unmatched combined levels of artistry and athletic skill," Hersh noted. "His global renown among figure skating followers also is singular. If he had social media accounts, he undoubtedly would have millions of followers."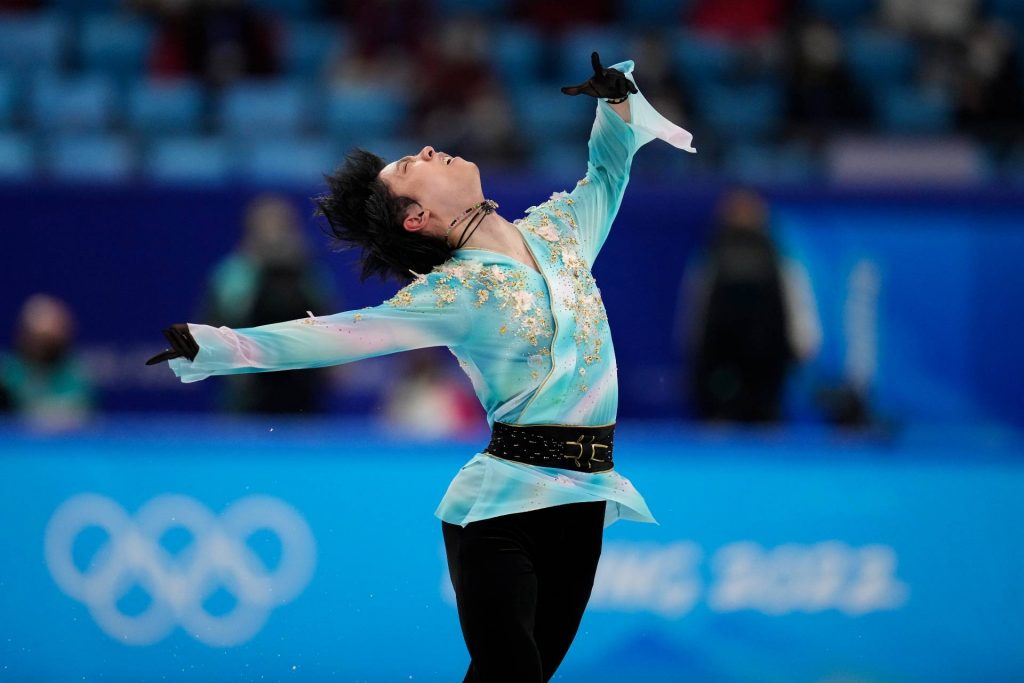 Hiwatashi's Insights on Hanyu
Tomoki Hiwatashi, the 2019 world junior champion from the United States, provided an elite skater's take on watching Hanyu try the 4.5-revolution jump on the sport's biggest stage.
"His axel was amazing. Probably the best I've seen from anyone in the world right now," Hiwatashi, the US bronze medalist in 2020, said. "He's an inspiration to not just me but every skater in the world and it was great seeing him for three Olympics consecutively. I really enjoyed watching him!"
Benoit Richaud, the gifted French choreographer who is one of the biggest names in skating now, said that Hanyu's attempt at the quad axel over adding another medal to his collection illustrated his true greatness.
"For me, at this Olympics Games, Yuzuru Hanyu showed us that he is not just a skater. He is a legend," Richaud told Ice Time.
"What he tried to do was not just for himself, it's to push the boundary of figure skating forward."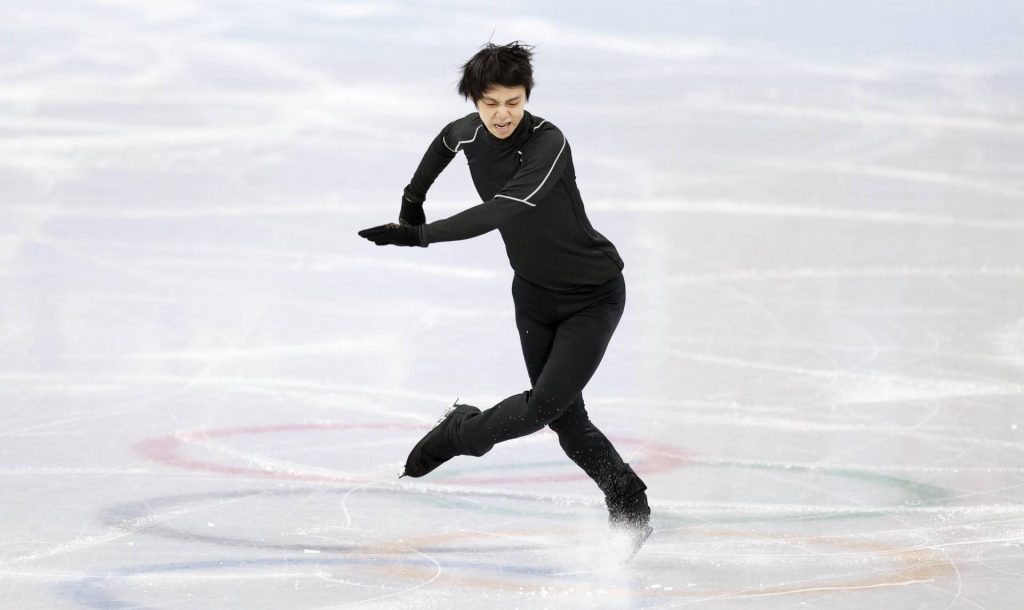 Hanyu's Global Fame
Richaud spoke about the global impact the Sendai native has on skating.
"Yuzuru Hanyu skates for the community. Yuzuru Hanyu skates for the people. Yuzuru Hanyu skates for the Earth," Richaud stated. "That is what I feel when I see him. That is why I am not surprised that he tried to do that at an Olympic Games."
Richaud credited Hanyu's vision with the decision not to take the easy route.
"Of course, if he had gone for the triple axel, he would have got the podium," Richaud commented. "But I think his mind is much more in front than just the Olympics Games. He has already won the gold medal two times. I think he has nothing to prove to anyone.
"What I like is that he has just the kind of blood, who just wants to do more and develop more, to try new things."
Richaud, who has worked with many Japanese skaters in his career, hopes the day will come when he can collaborate on something special with the biggest name of all in the sport.
"Let's not forget that he (Hanyu) is a legend. That is what he became for me yesterday," Richaud remarked. "For me, before he was an amazing champion, a two-time Olympic champion. I really admire him. I hope that one day I will be able to work with him to try to develop something new. Something spiritual and something related to art. He is an artist."
World Junior Championships On the Move
Russia's Match TV reported Monday that the World Junior Championships, originally slated to be held in Bulgaria next month but postponed due to issues with the ongoing pandemic, will be relocated to another country in the coming days.
The International Skating Union announced the postponement of the event on February 12, and floated the possibility that it might be rescheduled for May. After further discussions, the ISU has apparently reconsidered and decided to go in a different direction.
According to the report, several countries have indicated an interest in hosting the world juniors. It said that applications would be accepted until February 23, with a decision to follow not long after.
Ice Time is very happy to learn of this development. The cancellation of last year's world juniors was unfortunate. To have this important competition for young skaters called off two years in a row would be unconscionable.


Author: Jack Gallagher
The author is a veteran sports journalist and one of the world's foremost figure skating experts. Find articles and podcasts by Jack on his author page, here, and find him on Twitter @sportsjapan.