[JAPAN SPORTS NOTEBOOK] Hakone Ekiden Triumph Fulfills Triple Crown Quest for Komazawa Coach
Hiroaki Oyagi led Komazawa to eight Hakone Ekiden titles. He finished his final season at the helm with victories in Japan's three premier college ekiden races.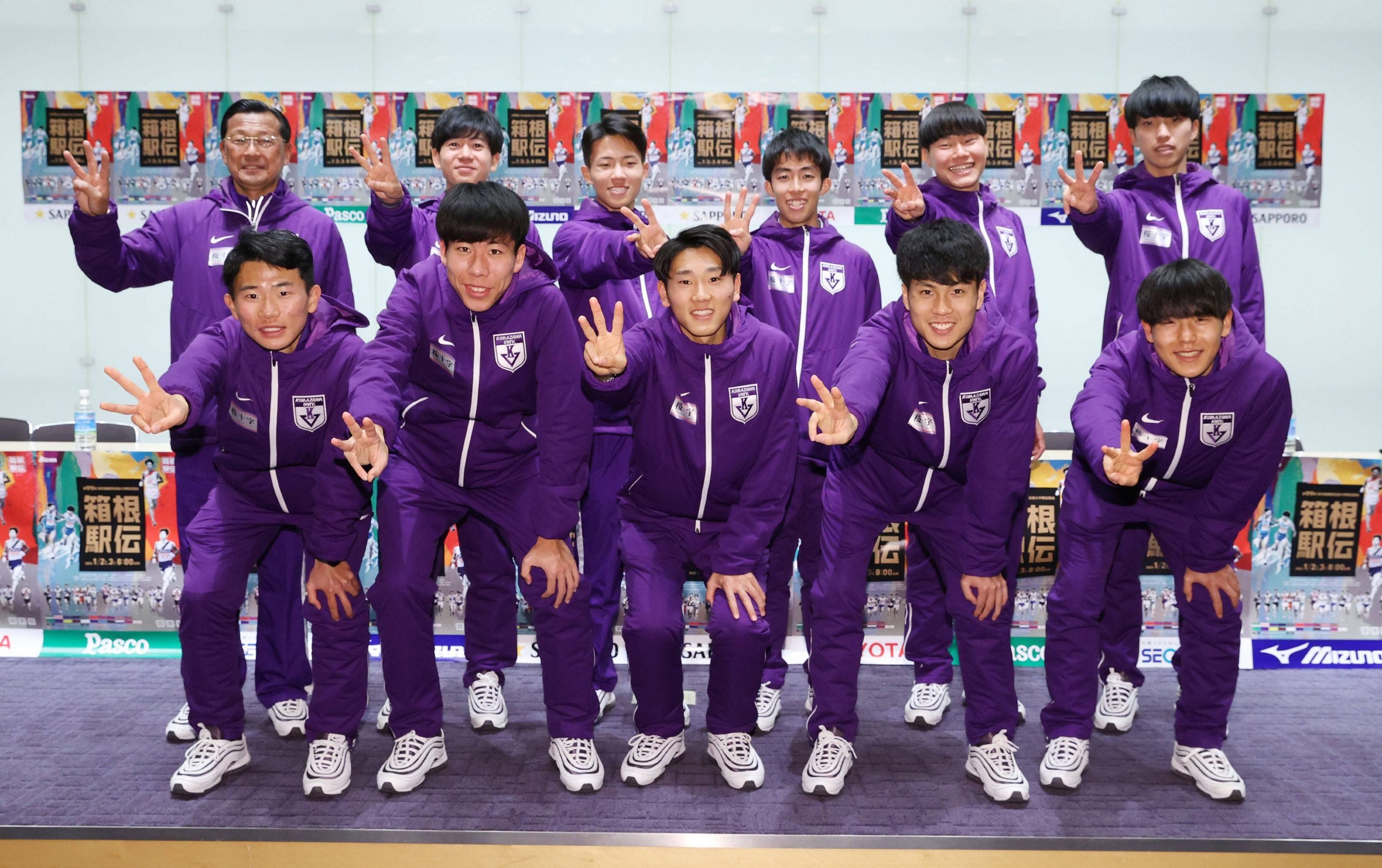 A New Year tradition began in 1920, and the Hakone Ekiden, a two-day distance relay race, has been held every year since except five times in the 1940s.

The 99th edition of the January 2-3 event, which is officially known as the Tokyo-Hakone Round-Trip College Ekiden Race, delivered several notable achievements. One is a storybook finish to Komazawa University head coach Hiroaki Oyagi's career.

Oyagi stepped down as coach after guiding Komazawa to the storied running program's eighth Hakone Ekiden title. The school had won its most recent event title in 2021, followed by Aoyama Gakuin University grabbing the crown in January 2022.

This time, Oyagi's team completed a season-long quest: to sweep the nation's Triple Crown college ekiden races. Komazawa, which had triumphed in October's Izumo Invitational and November's All-Japan Collegiate Championship, achieved its goal in 10 hours, 47 minutes, 11 seconds for the two-day, 217.1-km race, a 21-school competition.
In doing so, Komazawa became the fifth school to achieve the coveted Triple Crown.

"I'm so happy that I was given the gift of a Triple Crown by my boys," retiring Komazawa mentor Oyagi was quoted as saying by The Yomiuri Shimbun.
Details of 2023 Hakone Ekiden
The opening day of the race is a 107.5-km, five-leg journey from Otemachi in Tokyo's Chiyoda Ward to Hakone, Kanagawa Prefecture.
Takuma Yamakawa reached the finish line in first place after the fifth leg on Monday, January 2, as Komazawa held a 30-second lead over Chuo University. Komazawa's overall time on the first day: 5:23:11.

Day 2's return to the nation's capital is a 109.6-km run, with five runners for each university team completing one leg.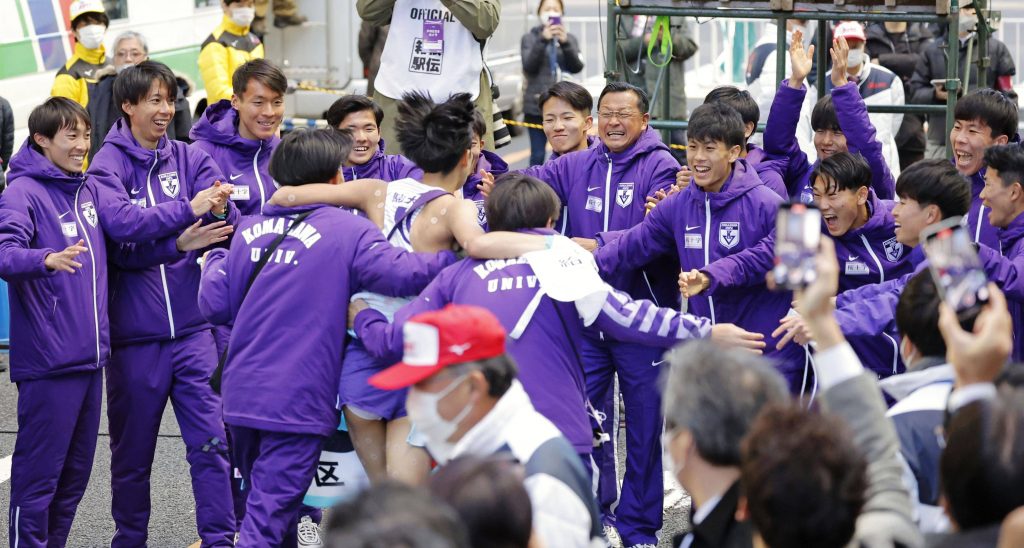 For Komazawa, a strategic push to build a seemingly insurmountable lead entering the Hakone Ekiden's 10th and final leg paid off.

Team captain Chikara Yamano ran the ninth leg, and by the end of his 23.1-km leg from Totsuka to Tsurumi, Kanagawa Prefecture, Komazawa owned a 30-second advantage over second-place Chuo University.

Oyagi's message to Yamano proved to be an important one.

"My manager told me to make things easier for [Hibiki] Aogaki, so I ran hard to extend the lead," Yamano told reporters, according to Kyodo News. "To win the Hakone Ekiden was my goal since I came to this university. I continued to train hard."
After Yamano's successful effort, Aogaki ran the anchor leg for Komazawa from Tsurumi to Otemachi. Aogaki reached the finish line 1:42 before the runner-up, Chuo's Takumi Sukegawa, winning the last leg and sealing Komazawa's title.

After the victory, Aogaki described the pressure he faced during the final leg.

"I felt under pressure the entire way because I knew my performance would determine how we finish," Aogaki was quoted as saying by The Yomiuri Shimbun. He added, "I want to thank my teammates, who got the sash to me the way they did."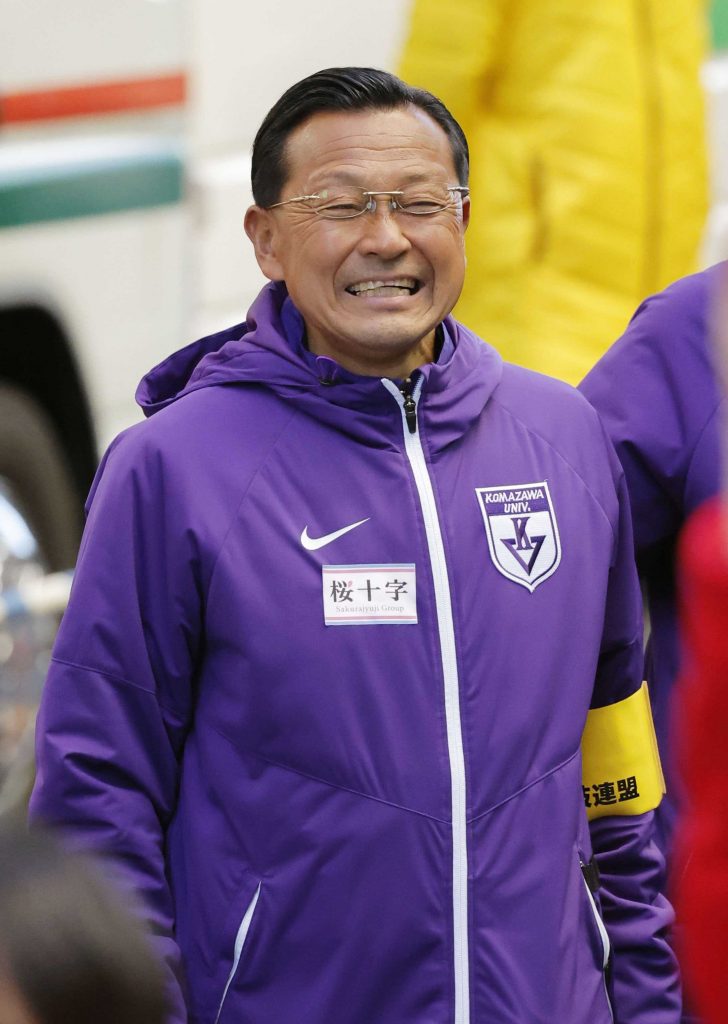 A Feeling of Satisfaction
Oyagi, 64, took over as head coach at Komazawa University, his alma mater, in April 1995. He guided the school to eight Hakone Ekiden titles, including four straight from 2002-05.

In his post-race news conference, he explained with emotion why the Triple Crown quest meant so much to him.

"There is no other coach who is as happy as this," Oyagi admitted, according to published reports.
American Football
Fujitsu Wins Second Consecutive Rice Bowl
X League powerhouse Fujitsu Frontiers overcame a 14-0 deficit early in the second quarter and rallied for a 29-21 victory over the Panasonic Impulse in the Rice Bowl on Tuesday, January 3 at Tokyo Dome.

The Rice Bowl serves as the American football league's national championship game, and the 2023 edition featured a rematch of last January's showcase. In that game, Fujitsu edged Panasonic 24-18.
This time, running back Trashaun Nixon, a former New Mexico State linebacker, led Fujitsu with 188 yards rushing on 28 carries. He rushed for three touchdowns, including the game's final TD, a 4-yard carry, at the 8:41 mark of the fourth quarter. (Watch Rice Bowl highlights here.)
Rice Bowl MVP Nixon praised the effort of Fujitsu's blockers, who created space and running lanes for him.

"Thanks to the offensive line for working hard," Nixon said.
Frontiers quarterback Tsubasa Takagi completed 17 of 28 passes for 160 yards and a touchdown.

Panasonic running back Victor Mitchell carried the ball 15 times for 135 yards and a pair of touchdowns. His second TD covered 73 yards and the Impulse led 14-0 after 20 seconds of play in the second quarter.
Defense Steps up for Frontiers
Fujitsu's defense played a pivotal role in the team's comeback. Impulse QB Jaylon Henderson was held to 12-for-32 and 121 passing yards.

"It was a tough game," Frontiers head coach Yo Yamamoto told reporters. "Our players did what they had to do at the right time. That resulted in the win."
Baseball
Japan's WBC Roster Begins to Take Shape
Veteran MLB players Yu Darvish and Seiya Suzuki are set to appear in their second World Baseball Classics in March. Adding star power to the lineup, Shohei Ohtani (Los Angeles Angels), Munetaka Murakami (Tokyo Yakult Swallows), Yoshinobu Yamamoto (Orix Buffaloes) and Roki Sasaki (Chiba Lotte Marines) were also among the first 12 players picked for Japan's 30-man WBC roster.

Samurai Japan manager Hideki Kuriyama announced the names at a news conference on Friday, January 6 in Tokyo. He also mentioned that the rest of the team's roster will be released over the next couple weeks.

Ohtani said he's determined to achieve his ultimate goal in March.

"Amazing players are on the team," Ohtani was quoted as saying by The Asahi Shimbun about Japan's roster at a news conference. "I will just give it my best to win the championship and nothing else."
In addition, outfielder Masataka Yoshida, who joined the Boston Red Sox in the offseason, will also be joining the talented cast of Samurai Japan players.

"We'll ask him to wear the Japan shirt," Kuriyama said, according to Kyodo News. "We won't have position players join midway through [from the semifinals in the United States], and we have been asking them to join up as early as possible."

Yoshida informed Kuriyama that he wanted to play in the WBC, which was first held in 2006, the manager said.
Japan Still No. 1 in World Rankings
In related news, Japan is No. 1 in the latest World Baseball Softball Confederation's baseball rankings, which were released on New Year's Eve.

Japan's reign as world No. 1 began in 2014. The end-of-year rankings take into account all points amassed since 2018, according to the WBSC website.

Taiwan is No. 2 in the rankings, followed by the United States, South Korea and Mexico.
Sailing
Cruising Club of America to Honor Horie
Octogenarian sailor Kenichi Horie is the 2023 winner of the Cruising Club of America's Blue Water Medal, the organization announced on Tuesday, January 3.
By himself, Horie completed a nonstop voyage across the Pacific Ocean from San Francisco Bay to Kii Channel, located between Wakayama and Tokushima Prefectures, in June 2022. Starting in late March, Horie traveled 8,500 kilometers aboard Suntory Mermaid III, a 6-meter long, 990-kilogram aluminum yacht.
Horie, 83, is delighted to be chosen for the prestigious accolade.

"I was amazed to find out about your invitation to receive the Blue Water Medal," Horie said. Then he added, "I feel as if I am dreaming. I would like to express my gratitude for such an honor."
In a news release on the CCA website, Horie's courageous journey was detailed in the broader context of the organization's recognition of sailing achievements. The Blue Water Medal was first awarded in 1923, and there have been 95 award winners since its inception.

"[It] is the highest honor bestowed by the CCA. It celebrates 'meritorious seamanship and adventure upon the sea, displayed by amateur sailors of all nationalities,' " the article stated.
'A National Hero'
In listing Horie's accomplishments as a sailor for many decades, the CCA noted the following:
There are very few sailors who can genuinely be called a national hero, but Kenichi Horie of Japan is certainly one of them. For six decades, this intrepid sailor and environmentalist has traveled the world's oceans, always in very small vessels and often single-handed. He has circumnavigated three times: once westabout, once eastabout, and once longitudinally. Two of these have been solo, non-stop voyages, and the westabout passage in 1973-1974 set a world record at the time of 275 days.
On March 4, Horie will be presented the Blue Water Medal at a Cruising Club of America's annual awards dinner in New York.
RELATED:
Golf
Higa Receives Invitation to Play in 2023 Masters
Kazuki Higa, the Japan Golf Tour's 2022 Order of Merit recipient who won four titles on the domestic tour last year, has accepted an invitation to play in the Masters.
The Augusta National Golf Club issued special invitations to Higa and Vanderbilt University sophomore Gordon Sargent, the 2022 NCAA men's golf champion. On Thursday, January 5, the world-famous golf club made the announcement.

"The Masters Tournament prioritizes opportunities to elevate both amateur and professional golf around the world," Augusta National chairman Fred Ridley said. "Thus, we have extended invitations to two deserving players not otherwise qualified. … We look forward to hosting them at Augusta National in April."
The Masters gets underway on April 6.
Soccer
Mitoma Scores in Brighton's First Match of 2023
Winger Kaoru Mitoma found his target in English Premier League club Brighton's first match of the year, helping lead the Seagulls to a 4-1 victory over Everton on Tuesday, January 3.
Mitoma, who played for Japan at the 2022 FIFA World Cup, blasted a shot from the box into the net in the 14th minute, scoring Brighton's first goal of the game. It was his third goal of the 2022-23 Premier League season.

Describing what happened on the play, Mitoma told reporters: "I had a decent amount of space and was able to set it up with my first touch."
Before the match, Brighton manager Roberto De Zerbi commended Mitoma for his effort and performance this season.
"He changes the game. He has the quality to [do so]," De Zerbi was quoted as saying by British newspaper Sussex World. "For us and our style of play, he is very important."
Basketball
Lineups Announced for B.League All-Star Game
Fan balloting determined the starting lineups for the 2023 B.League All-Star Game in Mito, Ibaraki Prefecture, on Saturday, January 14. Tipoff is 7:15 PM at Adastria Mito Arena.

For B.Black, the starting five are: guards Yuki Kawamura (Yokohama B-Corsairs) and Ryusei Shinoyama (Kawasaki Brave Thunders), guard/forward Keita Imamura (Ryukyu Golden Kings), power forward Sebastian Saiz (Alvark Tokyo) and center Jack Cooley (Ryukyu Golden Kings).
The starting five for B.White are: guards Makoto Hiejima (Utsunomiya Brex) and Yuki Togashi (Chiba Jets), forwards Kosuke Kanamaru (San-en NeoPhoenix) and Dwayne Evans (Hiroshima Dragonflies) and center Josh Scott (Brex).
All-Star Backups
Also chosen to represent their teams for the B.Black All-Star squad were the following: Yuma Fujii (Brave Thunders), Ryan Rossiter (Alvark), Tenketsu Harimoto (Nagoya Diamond Dolphins), Atsunobu Hirao (Ibaraki Robots), Leo Vendrame (Sunrockers Shibuya), Joshua Smith (Toyama Grouses), Ko Kumagai (Shinshu Brave Warriors), Yuto Otsuka (Altiri Chiba) and Naoki Uto (Bambitious Nara).

The B.White's reserves are: Perrin Buford (Shimane Susanoo Magic), Gavin Edwards (Jets), Avi Koki Schafer (SeaHorses Mikawa), Narito Namizato (Gunma Crane Thunders), Takatoshi Furukawa (Akita Northern Happinets), Masaya Karimata (Nagasaki Velca), Noboru Hasegawa (Northern Happinets), Ryoma Hashimoto (Levanga Hokkaido) and Seiya Ando (Dragonflies).
Hina Suzuki Providing a Spark for University of North Alabama
Graduate student Hina Suzuki is one of the University of North Alabama women's basketball team's top players.

Suzuki, a Hamamatsu native, is averaging 13.9 points and 6.0 assists for the ASUN Conference (formerly known as the Atlantic Sun Conference) team. The Lions improved to 6-7 overall (1-1 in league play) with an 87-52 victory over Bellarmine on Thursday, January 5.

Suzuki sparked North Alabama with a team-best 19 points and added three steals.
Last season, her second in a Lions uniform, Suzuki averaged 7.8 points and 4.5 assists in 29 games.

Suzuki began her collegiate career at Kwansei University in Japan, playing two seasons in her homeland before arriving in Alabama for the 2020-21 season.

🚨Hina Suzuki is your ASUN Conference Player of the Week after a pair of 20-plus point performances, including a career-high 28 points at Pitt‼️

🔗 https://t.co/OaBWdmmiGr#RoarLions | #RaiseTheRoar 🦁🔥 pic.twitter.com/iEuhX8XMsA

— North Alabama Athletics (@UNAAthletics) December 26, 2022

The 160-cm guard was named the ASUN Women's Basketball Player of the Week on December 26, recognizing her role after a pair of road games before Christmas. Suzuki scored 22 points and handed out five assists at Georgia State on December 19. Two days later, she had a season-best 28 points and eight assists at Pittsburgh.


Author: Ed Odeven
Follow Ed on JAPAN Forward's [Japan Sports Notebook] here on Sundays, in [Odds and Evens] here during the week, and Twitter @ed_odeven.

Subscribe to Our Newsletter