Kyogo Furuhashi Bags Brace in Scottish League Cup Final
Japanese striker Kyogo Furuhashi scores in the 44th and 56th minutes in Celtic FC's 2-1 victory over Rangers, giving the storied club its 21st League Cup title.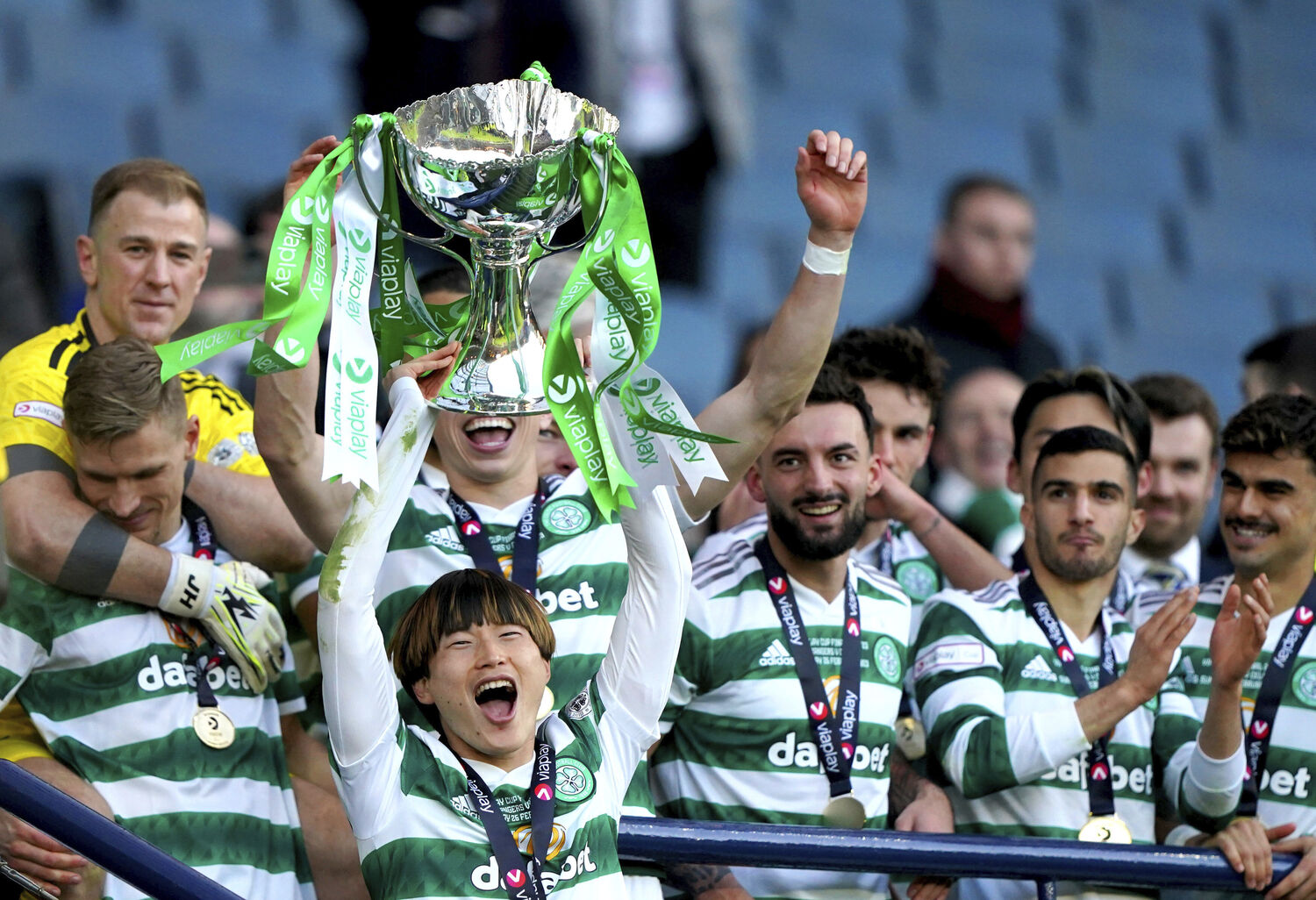 Kyogo Furuhashi delivered a giant reminder on Sunday, February 26 of why Celtic FC wanted to sign him in 2021.
What happened? The talented striker hit his target twice in the Scottish League Cup final, lifting Celtic FC to a 2-1 triumph over Rangers in Glasgow.
Furuhashi, who leads the Scottish Premiership with 19 goals in 24 matches, scored the tourney finale's opening goal in the 44th minute.
Then the 28-year-old made it 2-0 in the 56th minute at Hampden Park.
"He is a superstar. I can't talk highly enough about him," Celtic captain Callum McGregor said of Furuhashi, according to The Associated Press.
Alfredo Morelos scored Rangers' lone goal in the 64th minute.
With Furuhashi supplying the offensive spark, Celtic FC, which was founded in 1877, won the Scottish League Cup for the 21st time.
Celtic FC manager Ange Postecoglou, who joined the storied franchise in the summer of 2021, noted that Furuhashi's execution ― producing two goals from close range ― determined the outcome of the match.
"It's a cup final and rarely will one side dominate, although I thought we were fantastic in terms of our football in such a big game with the atmosphere the way it was, we scored two excellent goals," Postecoglou was quoted as saying by the BBC.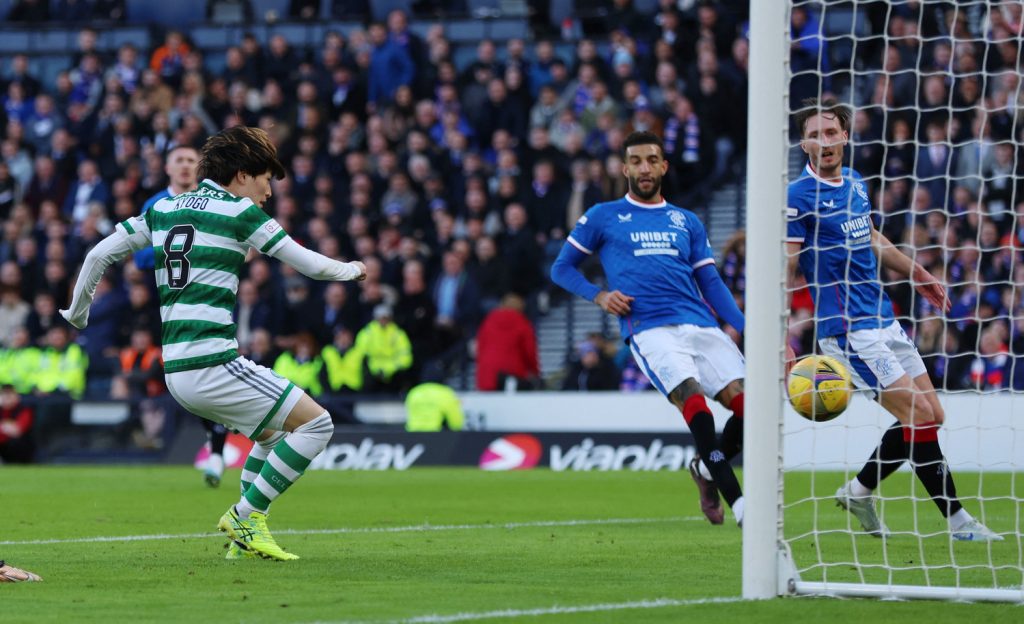 Furuhashi Steps Up Again in High-Pressure Match
Furuhashi's performance in Sunday's Scottish League Cup final was reminiscent ― nearly identical, in fact ― to his match-deciding role in Celtic FC's 2-1 win over Hibernian in the 2021 tournament final that December at the same venue. The Nara native scored the tying goal in the 52nd minute, then delivered the winner in the 72nd.
Comparing Furuhashi's performance in the two matches, Postecoglou had this to say, according to The Herald, a Scottish newspaper: "The measure of players at this club is often how you perform in big games. He (Furahashi) has played in two finals for us now and scored four goals."
Postecoglou added, "He's been fantastic from the day he walked in."
While some players buckle under pressure, Postecoglou insisted that Furunashi embraces the opposite approach.
"He's such a clever player and he wants the big moments," Postecoglou told reporters, according to The Herald.
With Furuhashi thriving throughout the season, he and his teammates have built a seemingly insurmountable nine-point lead atop the Scottish Premiership. Reigning champion Celtic FC, with 24 wins in 26 matches, has 73 points, followed by Rangers (64).
Each of the 12 teams will play 38 matches in the Scottish Premiership season.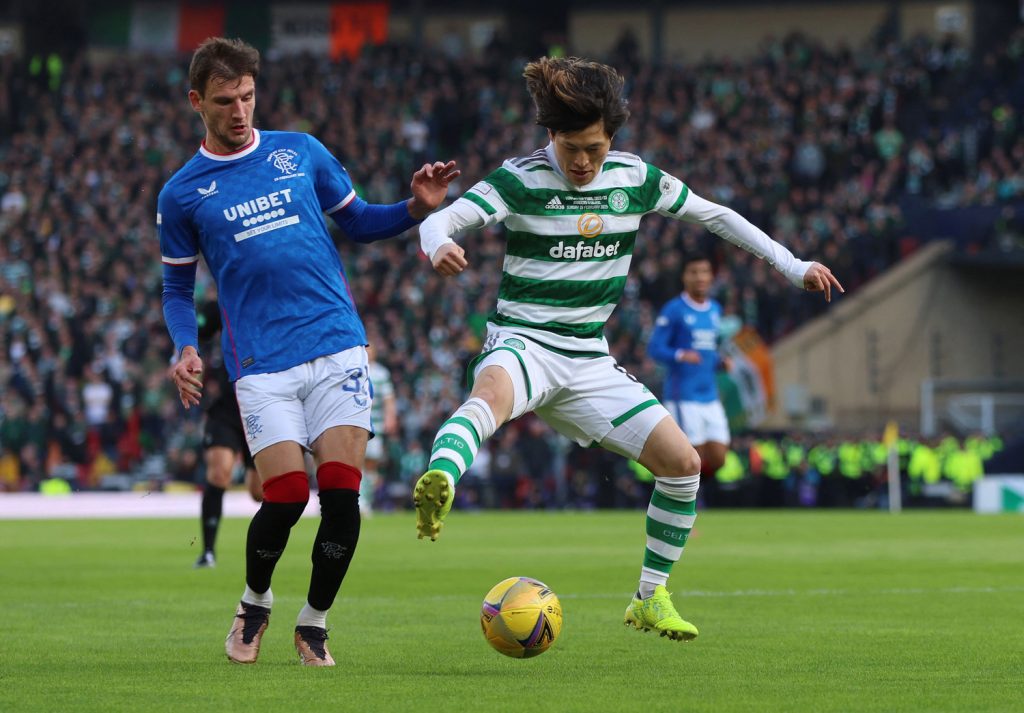 Staying Humble, Staying Focused
When Sunday's match ended, Furuhashi took a moment to remind reporters that his focus is on the team's objectives, not individual glory.
"I am just happy and humble that I was able to score two goals in this final and we were able to win the cup once more," Furuhashi said, according to The Scotsman, a national newspaper. "But I have to say it was because of the effort of the entire team and fans that we were able to win this cup."
That said, Furuhashi, who began his career with FC Gifu in 2017, welcomes every opportunity to boot the ball into the net.
"I'm a striker, it's my duty to score as many goals as possible and take advantage of as many chances as I can," Furuhashi declared, according to The Scotsman. "I had chances before I scored which I missed, so I was happy to go on and score two goals in this game."
At the going rate, it would surprise nobody if a statue of Furuhashi is erected in Glasgow someday.
RELATED:
Author: Ed Odeven
Find Ed on JAPAN Forward's dedicated website, SportsLook. Follow his [Japan Sports Notebook] on Sundays, [Odds and Evens] during the week, and Twitter @ed_odeven.