[ODDS and EVENS] Tsubasa Endoh Battles Leukemia with Support from Soccer Community
Tsubasa Endoh, a former University of Maryland player who launched his pro career with MLS club Toronto FC in 2016, is undergoing chemotherapy in Japan.
Four years after moving to the United States, Tsubasa Endoh was on the cusp of becoming a professional soccer player.
At the MLS Player Combine before he began his pro career, Endoh reflected on his journey from Japan to Major League Soccer.
"I didn't expect myself to be at this level right now," Endoh said in an interview with the MLS website in February 2016. "When I first came over to the USA, I had no idea where Maryland even was. I didn't even know they were a Division I school when I first went to that camp.
"But now I'm here, I have a great chance to be a pro and I think I've experienced things that people don't really get to experience. I think I should be proud of myself for adapting to a new environment, new culture, new food, new people, new language. It's not done yet, but it's been a good moment, a fun moment. A period I'll remember for my whole life."
Toronto FC selected the University of Maryland player with the ninth overall pick in the 2016 MLS SuperDraft in Baltimore.
Since then, the Tokyo native has plied his craft for several years in Canada, the United States and Australia, with the bulk of his time spent with the team that drafted him. From 2016-21, the midfielder appeared in 66 MLS matches (42 starts) for Toronto FC.
Endoh, 29, last played for LA Galaxy II, a team from the lower-tier MLS Next Pro circuit, in 2022. And he scored a pair of goals in his debut last August in a 2-0 victory over Monterey Bay FC.


Endoh Diagnosed with Leukemia
Weeks later, Endoh revealed on social media that he's coping with a serious health issue.

On December 27, Endoh shared the following news via his Twitter account: "This is a personal matter but I wanted to share this news with you guys. I was diagnosed with acute leukemia on the second of December. I was honestly shocked at first and it was really hard to accept the whole situation."
He went on: "I am back in Japan and I have already started my chemotherapy treatment. It's gonna be a hell of a journey and it's surely the hardest moment in my life, but I'm determined to fight this and come back stronger than ever."
The 2023 MLS season begins on Saturday, February 25, five days after Endoh offered another update on his health.
My third cycle of chemo starts tomorrow! Lets go 💪
——————
明日から3クール目が始まります!
——————#Onavance pic.twitter.com/9AqjcYXvmh

— Tsubasa Εndoh | 遠藤 翼 (@tsubasa_endoh) February 20, 2023
During Endoh's fight to eradicate leukemia from his body, he's received encouragement from former teammates, some of whom have encouraged the public at large to do the same.
It's a reminder of the best of humanity, people coming together to help one another.
Wearing No 31
Goalkeeper Quentin Westberg, who suited up for Toronto FC from 2019-22, said he's wearing No 31 this season in tribute to Endoh.
Westberg, who now plays for the MLS side Atlanta United, explained his support for Endoh in an Instagram post.
"Wearing #31 this year feels special, inspired by the best to ever wear it @tsubasa_endoh," Westberg wrote. "Tsuba is among the best teammates and men I have ever been around all these years.
"He brings people together, always easy going and the last one to give up despite the challenges he has faced in his career. His dedication and energy are contagious to whomever crosses paths with him.
"Yet he is up against a different kind of adversity, acute leukemia."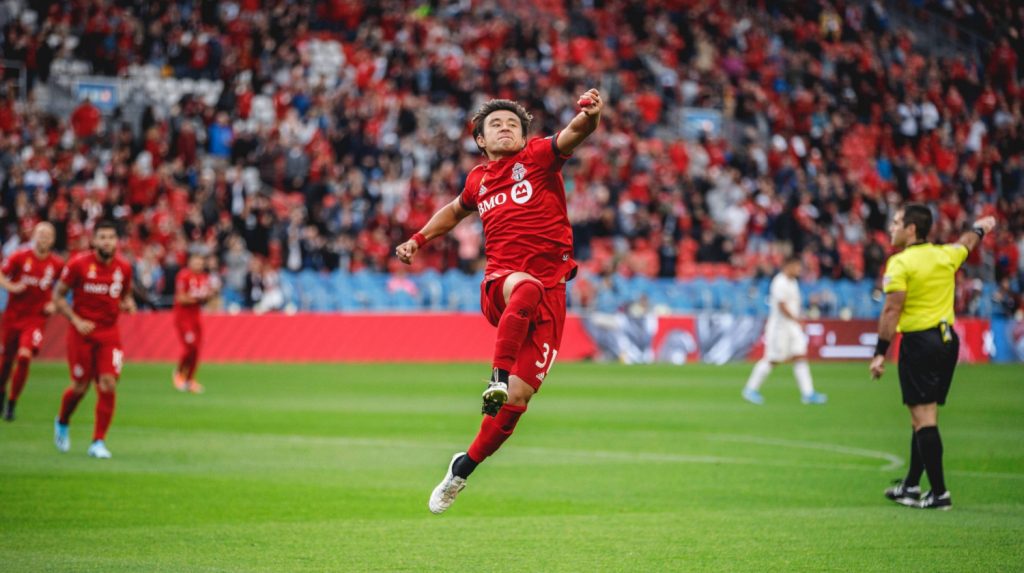 Soccer Rivals Unite to Support Endoh
Whenever they face one another, MLS rivals Toronto FC and LA Galaxy are committed to beating one another. After all, it's the nature of their existence. Suffering a loss or settling for a draw is never the objective.
But in support of Endoh, both teams have repeated the same act: using social media as a catalyst to spread the word that Endoh is undergoing treatment for leukemia.
The following tweet shows Toronto FC and LA Galaxy players rallying around Endoh in a unified stance just days before their new season kicks off.
We're all with you, @tsubasa_endoh ❤️ pic.twitter.com/4E40qnaSIy

— Toronto FC (@TorontoFC) February 19, 2023
Similarly, LA Galaxy shared its support for the veteran player before its February 18 preseason match against Toronto FC.

Photos, of course, can be powerful symbols ― and images can ignite movements (positive or negative) or prompt people to take action. In this case, the hope is that people will lend a helping hand for Endoh's medical bills.
We're all with you, @tsubasa_endoh ❤️

Help Tsubasa in his fight against acute Leukemia: https://t.co/i0vDN7piNx#LAGalaxy x @TorontoFC pic.twitter.com/PjAtZBW8nt

— LA Galaxy (@LAGalaxy) February 19, 2023
As of 7 PM JST on Friday, February 24, a Go Fund Me page set up to assist Endoh has raised $44,031 USD (¥5.94 million JPY) from 314 donors. Longtime University of Maryland soccer coach Sasho Cirovski launched the initiative in late December with a stated goal of raising $100,000 USD (¥13.51 million JPY).

"He is a small guy with a huge heart," Cirovski wrote of Endoh before adding, "He was a joy to coach and is a beloved teammate."
The coach added: "If you are able to, please help Tsubasa Endoh beat leukemia. Any support is appreciated."

Author: Ed Odeven
Find Ed on JAPAN Forward's dedicated website, SportsLook. Follow his [Japan Sports Notebook] on Sundays, [Odds and Evens] during the week, and Twitter @ed_odeven.