Mitakeumi steamrolled over veteran Okinoumi on Monday, January 17 to remain undefeated and one win ahead of yokozuna Terunofuji on Day 9 of the New Year Grand Sumo Tournament.
Sekiwake Mitakeumi faced little resistance from the struggling No. 4 maegashira and used a frontal force-out to overpower his opponent and improve to 9-0. Okinoumi dropped to 2-7.
Mitakeumi is now on his longest winning streak since July of 2018 when he captured his first championship. He went 11-0 to start that tournament.
The Dewanoumi stable wrestler will be trying to avoid faltering in the second half of this tournament, something that has plagued his title hopes in the past.
He won't have to contend with ozeki Takakeisho, who was injured and withdrew from the 15-day basho at Ryogoku Kokugikan in the first week. The tournament's other ozeki, Shodai, is far from peak form.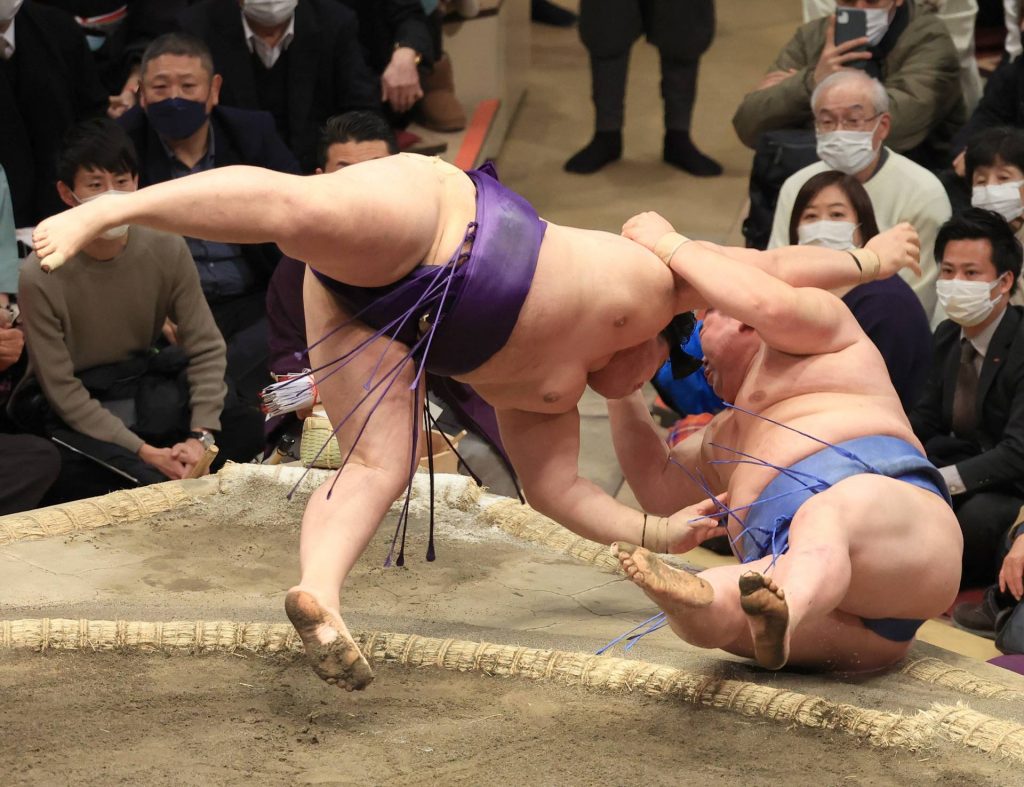 Shodai was handed his fourth defeat in his last five bouts when he was upended by Meisei to drop to 4-5.
It was a spectacular display of sumo by komusubi Meisei, who used a frontal crush-out at the edge to topple Shodai and improve to 4-5.
"I decided to go chest-to-chest and it feels great to beat an ozeki," said Meisei. "I'll just take it one match at a time from here on in."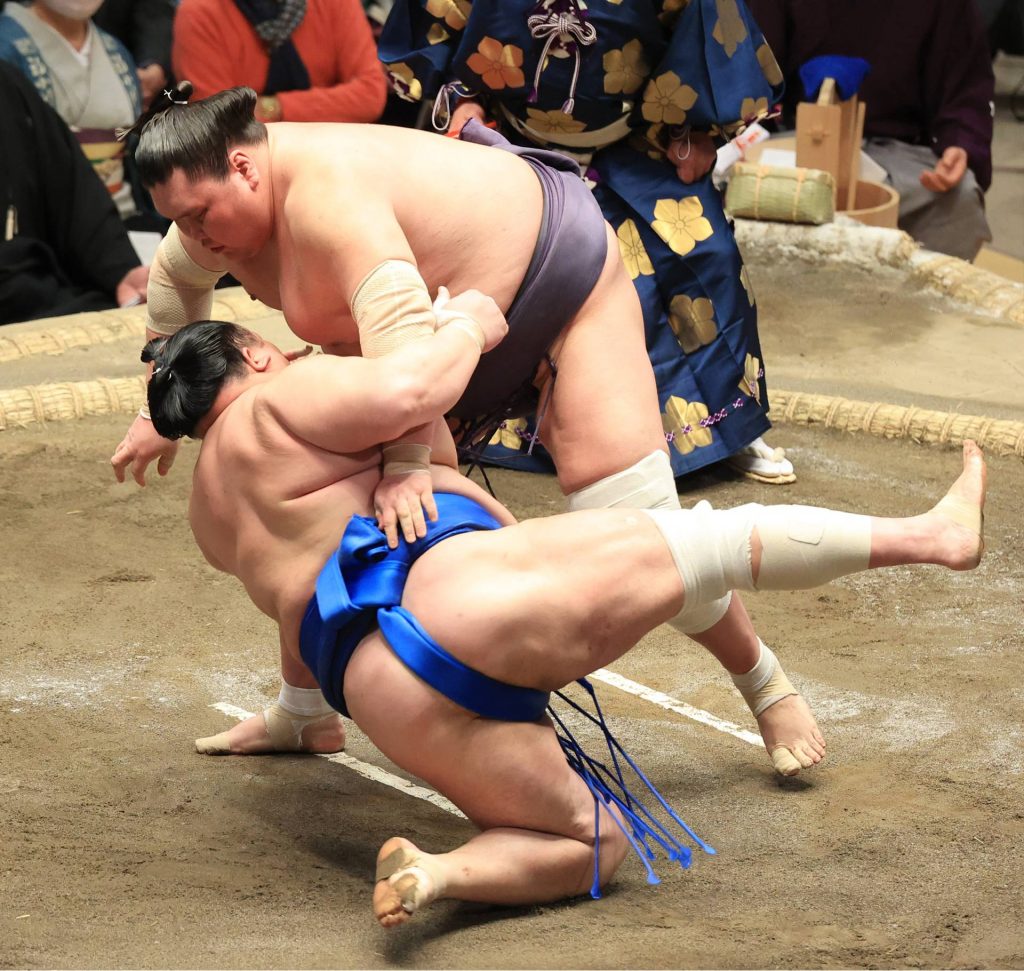 In the day's final bout, grand champion Terunofuji wrapped up a winning record when he deployed a textbook underarm throw to send Hokutofuji sprawling to the dirt surface.
Terunofuji got an inside left-hand grip on the belt of the No. 4 maegashira and from there it was just a matter of time until the lone yokozuna improved to 8-1. Hokutofuji, who will face Mitakeumi on Day 10, dropped to 3-6.
Terunofuji is gunning for his third straight Emperor's Cup since being promoted to sumo's highest rank in July of 2021. His only blemish so far was a Day 6 loss to Tamawashi.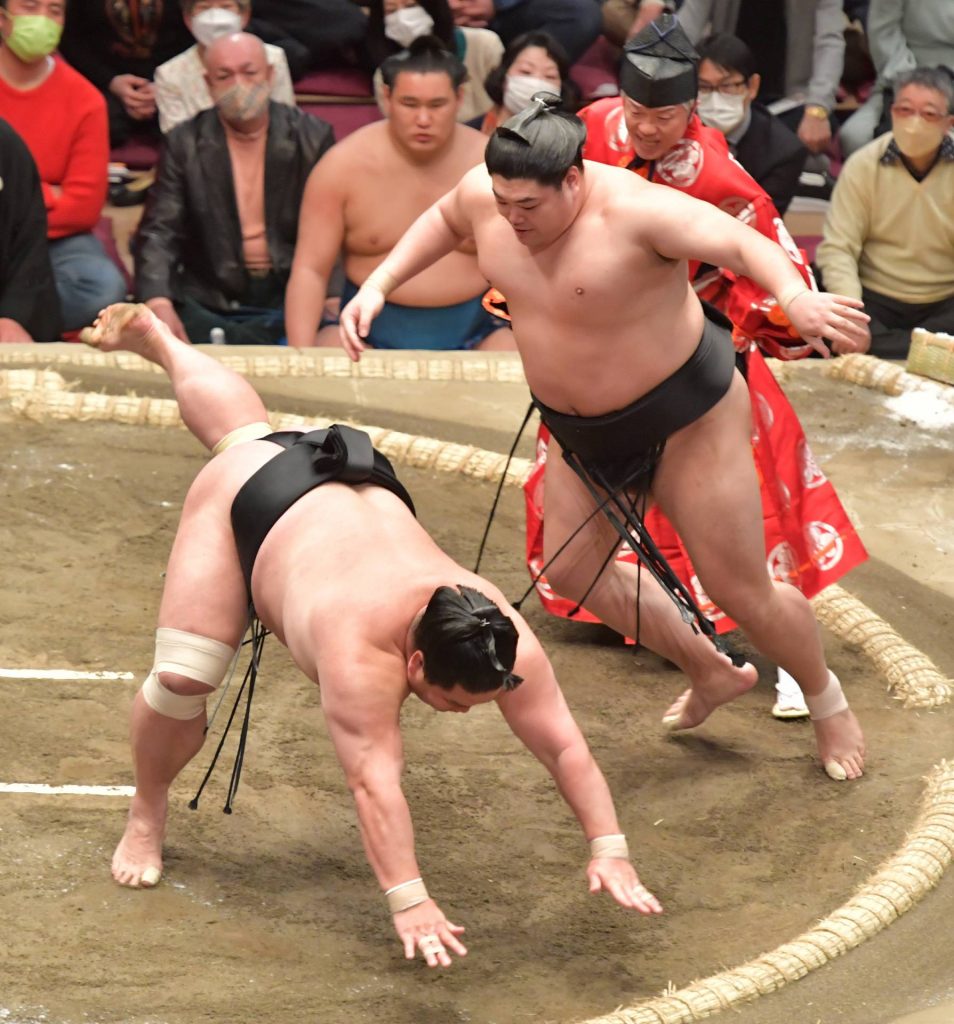 A group of four wrestlers ー Abi, Takarafuji as well as rank-and-filers Kotoeko and Kotonowaka ー are two wins off the pace at 7-2.
No. 6 maegashira Abi put a halt to his two-match losing skid when he used a hand pull-down maneuver to defeat struggling 10th-ranked maegashira Myogiryu.
Abi picked up his seventh win while Myogiryu lost his fifth straight bout and dropped to 4-5.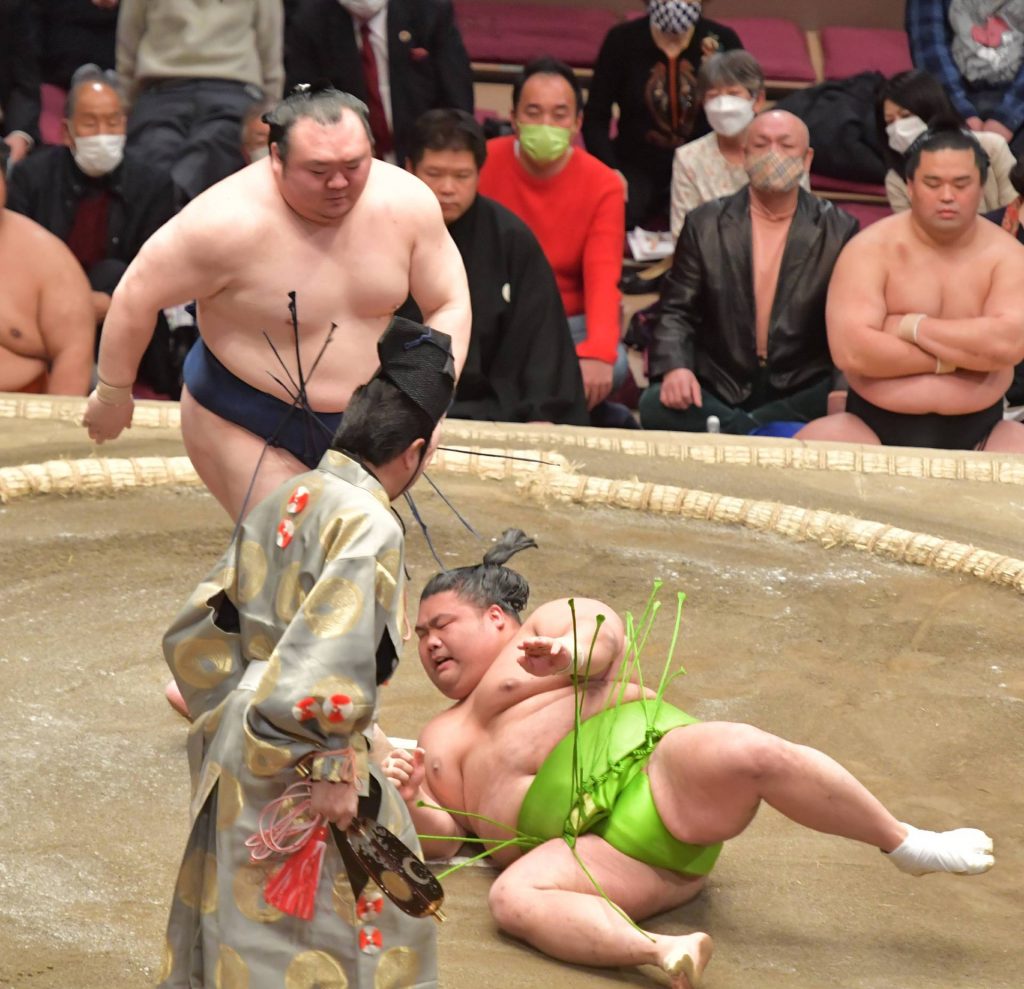 Seventh-ranked Takarafuji fought off an arm throw attempt by Akua and used a thrust-down technique to defeat the No. 10 maegashira and improve to 7-2. Akua has struggled mightily and dropped to 1-7.
Top maegashira Wakatakakage fought off several thrusts to the head and overpowered veteran Tamawashi to win for the second day in a row and improve to 4-5. No. 3 maegashira Tamawashi was handed his third loss against six wins.
Mongolian Hoshoryu, a No. 6 maegashira, used a frontal force-out to send Endo out over the edge while picking up his sixth win against three losses. Like Myogiryu, third-ranked maegashira Endo is also slumping and was handed his fifth straight loss to drop to 2-7.
Fifth-ranked maegashira Onosho saw his record drop to 6-3 when Takanosho got his right hand under the arm of his opponent and used a push-out technique to earn his fifth win.
In earlier bouts, two rank-and-filers kept pace with impressive wins.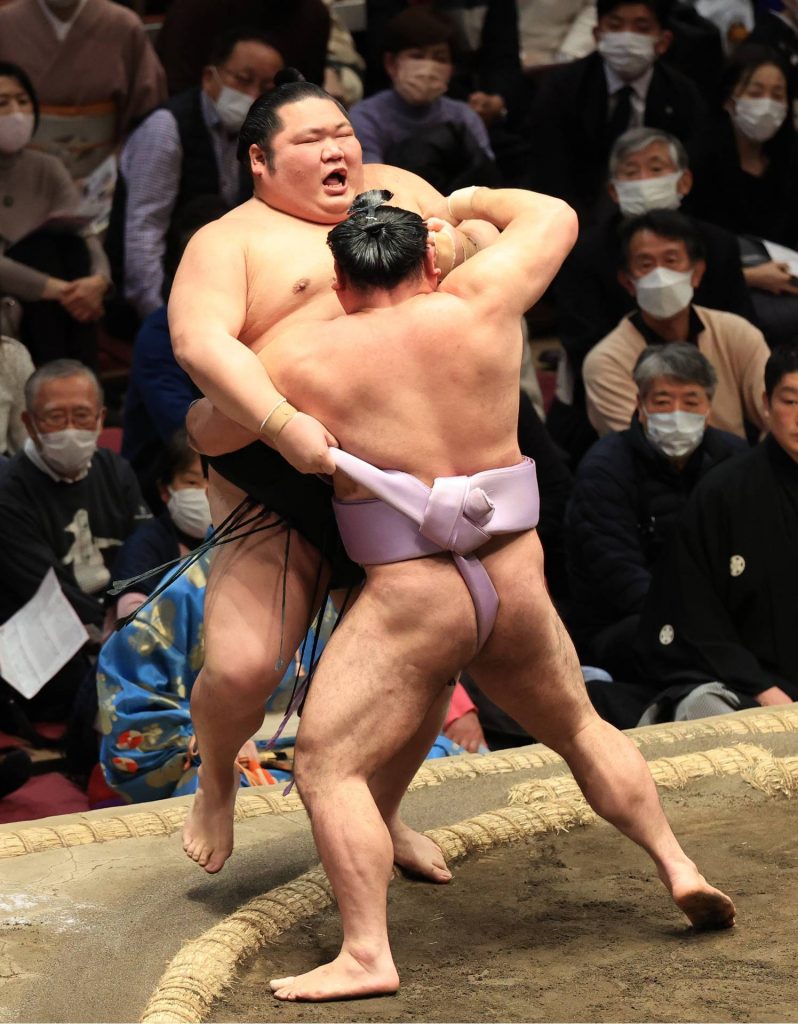 Kotoeko forced out Chiyotairyu (3-6) to improve to 7-2, while Kotonowaka overpowered Tochinoshin (4-5) to pick up his seventh win.
Three Stars
First Star: Meisei. In the day's biggest upset, Meisei overpowered ozeki Shodai with a beautiful "yoritaoshi" victory to improve to 4-5.
Second Star: Wakatakakage. The top maegashira was all business in a clutch win over a tough opponent in veteran Tamawashi, who lost for only the third time.
Third Star. Mitakeumi. In keeping his perfect record, sekiwake Mitakeumi showed poise with a one-sided win over Okinoumi.


Author: Jim Armstrong
The author is a longtime journalist who has covered sports in Japan for more than 25 years. You can find his articles here, on JAPAN Forward.