Mitakeumi was handed his first loss of the New Year Grand Sumo Tournament on Tuesday, January 18 to fall into a two-way tie for the lead with grand champion Terunofuji.
No. 4 maegashira Hokutofuji locked up the arms of Mitakeumi immediately after the face-off and then got both arms around the sekiwake to drive him out to his first loss.
Mitakeumi, bidding for his third career championship, dropped to 9-1 while Hokutofuji improved to 4-6.
After breezing through the first half of the tournament with ease, Mitakeumi will face tougher opponents over the remaining five days.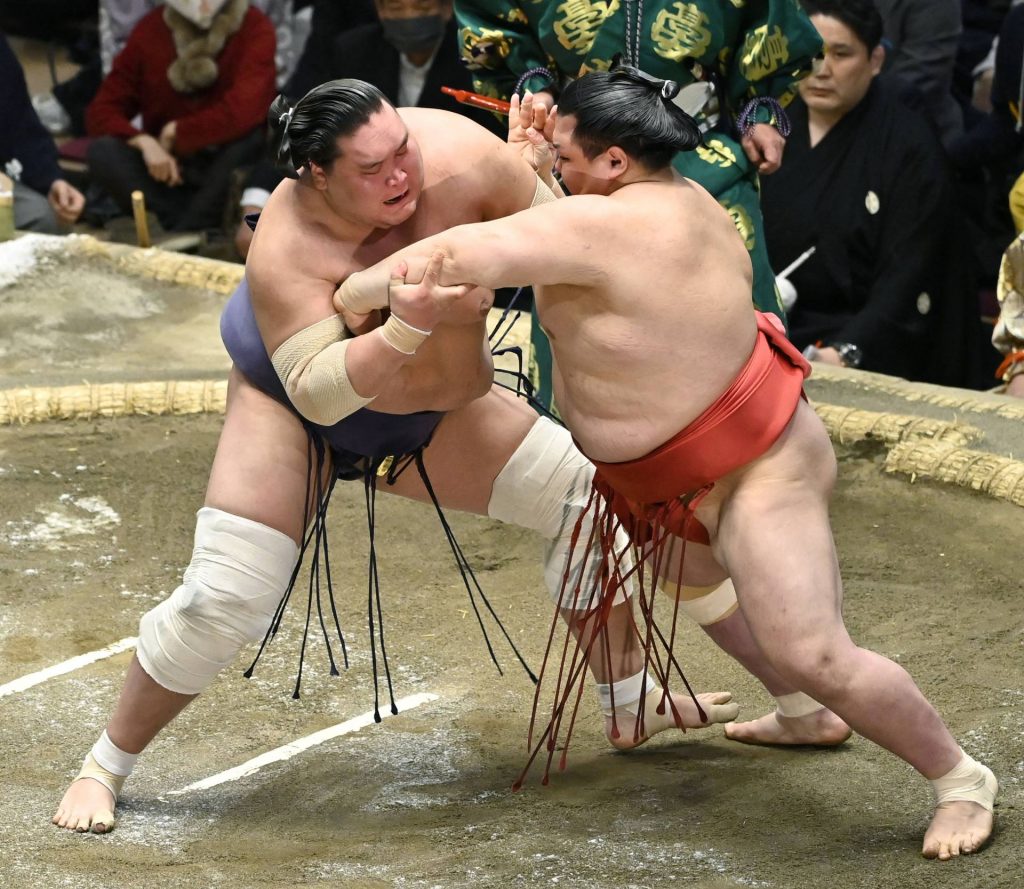 In the day's final bout at Ryogoku Kokugikan, grand champion Terunofuji coasted to a one-sided frontal force-out victory over fifth-ranked maegashira Onosho (6-4) to improve to 9-1.
Lone grand champion Terunofuji is aiming for his third straight Emperor's Cup at sumo's highest rank and will be able to breathe a little easier now that he is tied with Mitakeumi, who will face struggling ozeki Shodai on Day 11.
Rank-and-filers Abi and Takarafuji are both one win back at 8-2 and very much in contention.
In other bouts, ozeki Shodai's nightmare tourney continued when he was shoved out by sekiwake Takanosho (6-4) to fall to an unflattering 4-6.
"It's always good to beat an ozeki," Takanosho said. "If I concentrate on my sumo and not think about anything else, I can continue to get good results."
With Takakeisho out due to injury and Shodai struggling mightily it will be yet another tournament in which the ozeki wrestlers underachieve, something which will not please sumo officials.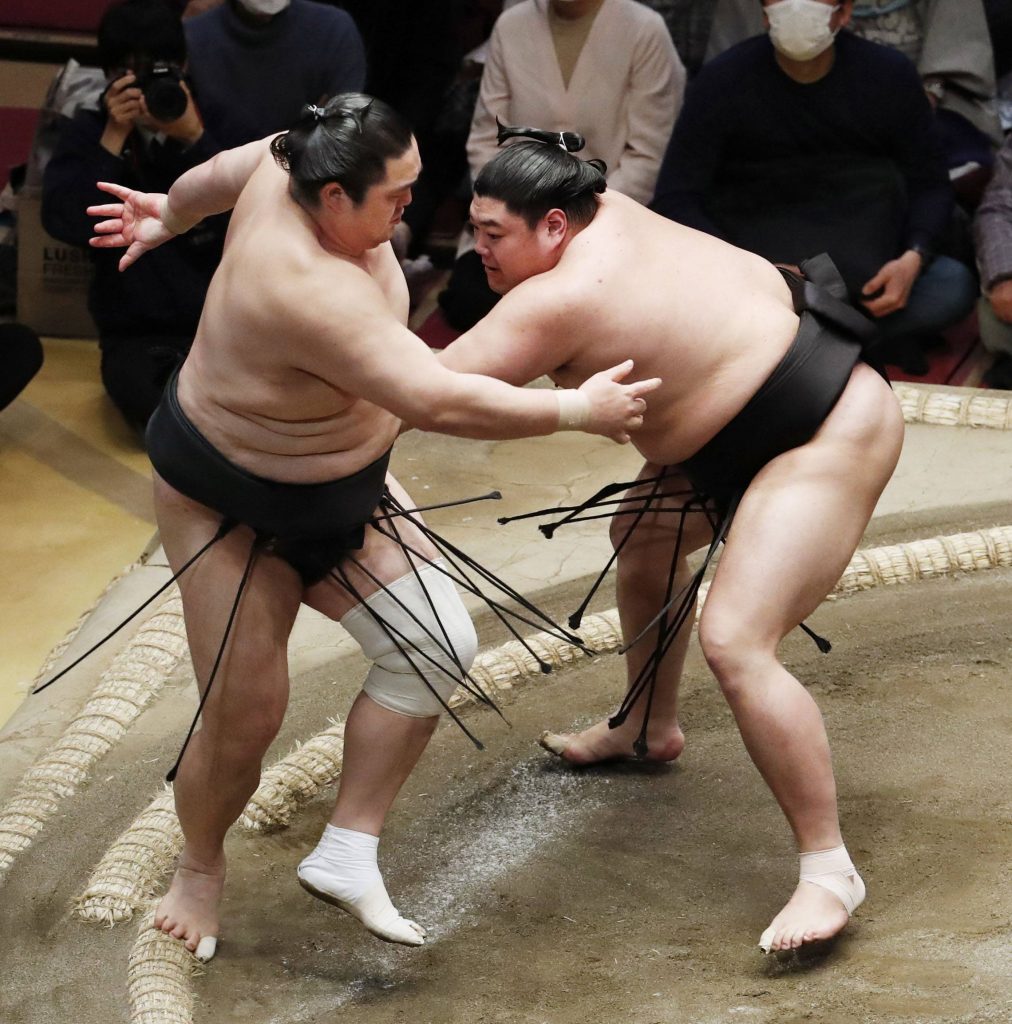 No. 6 maegashira Abi stayed in the title chase and wrapped up a winning record when he spun Okinoumi around and shoved the fourth-ranked veteran out to post a record of 8-2. Okinoumi fell to 2-8.
"I've had injury problems before but things are better now," Abi said. "I'm not thinking about the championship yet and will just concentrate on my next bout."
No. 7 maegashira Takarafuji also wrapped up a winning record and improved to 8-2 when he fought off a barrage of arm thrusts but Ichiyamamoto and shoved the No. 14 maegashira out over the edge to his sixth loss against four wins.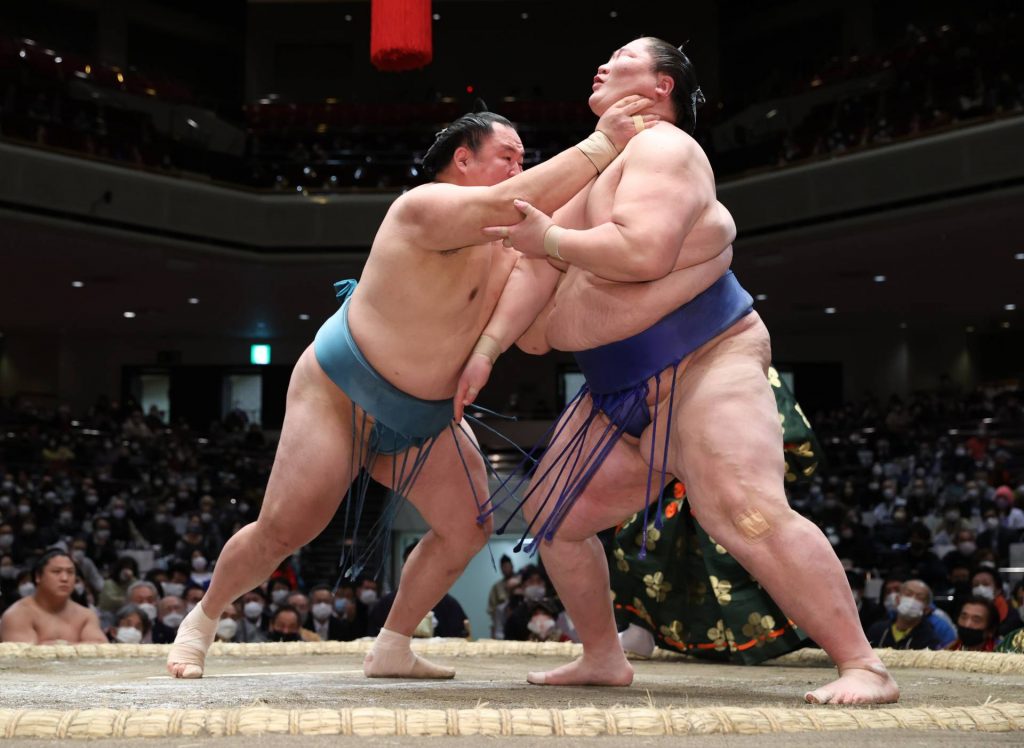 Third-ranked maegashira Tamawashi bounced back from a loss the previous day to shove out Mongolian compatriot Ichinojo and pick up his seventh win against three losses.
No. 2 maegashira Ichinojo stands at 5-5.
Unorthodox grappler Ura went in low against Daieisho and drove the komusubi out with a frontal crush-out to improve to 5-5. It's been a disappointing tournament thus far for Daieisho, who saw his record fall to 3-7.
In a battle of top maegashira, Mongolian Kiribayama swatted down Wakatakakage to pick up his fourth win against six losses.
Wakatakakage, who had won four of his last five bouts, fell to 4-6.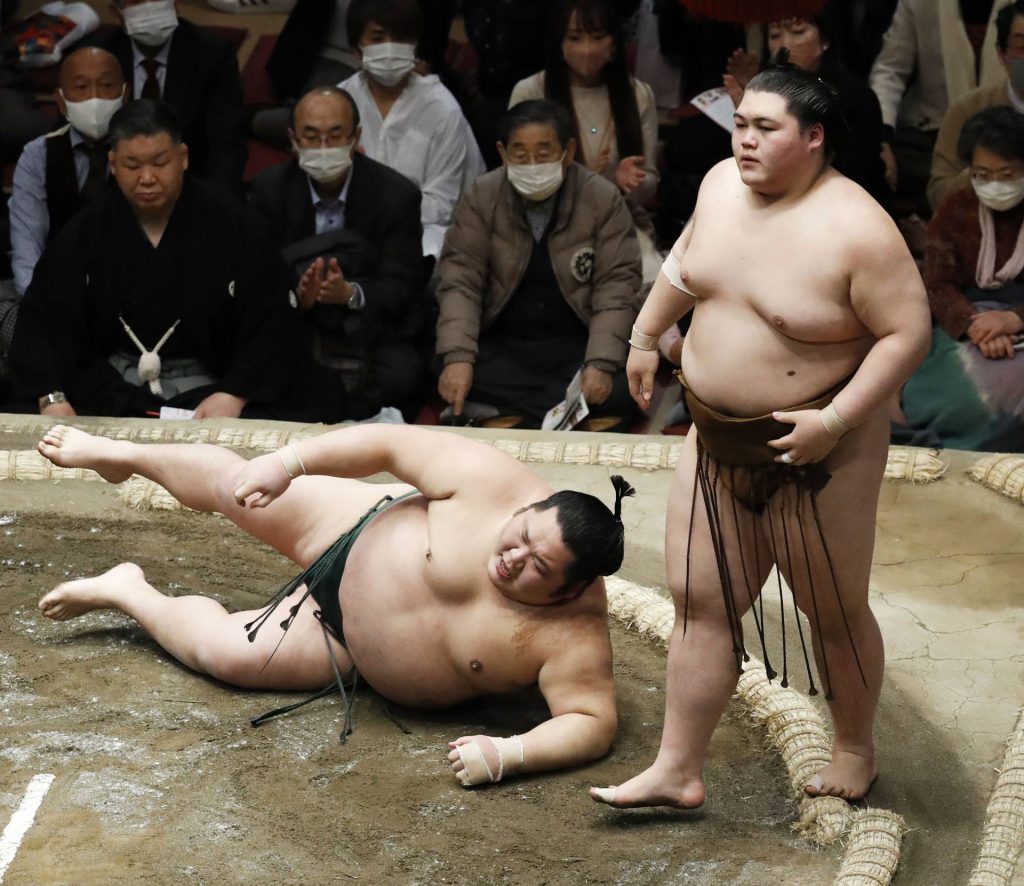 Further down the ranks, makuuchi division debutante Oho took a big step closer to wrapping up a winning record when he swatted down Choyotairyu to improve to 7-3. Chiyotairyu, a No. 12 maegashira, fell to 3-7.
No. 18 maegashira Oho, the grandson of legendary yokozuna Taiho, has looked solid in his first tournament in the elite division and can wrap up a winning record on Wednesday in his bout against juryo grappler Kotokuzan.
Three Stars
First Star: Hokutofuji. By locking the arms of Mitakeumi shortly after the face-off, the No. 4 maegashira took away the thrusting attack of his opponent to pick up the day's biggest upset.
Second Star: Abi. With a clutch win over Okinoumi, the No. 6 maegashira stayed in the thick of the title chance and will be force to be reckoned with over the final five day.
Third Star: Takanosho. Even though Shodai is struggling, any victory for a sekiwake over an ozeki is worthy of honorable mention.


Author: Jim Armstrong
The author is a longtime journalist who has covered sports in Japan for more than 25 years. You can find his articles here, on JAPAN Forward.