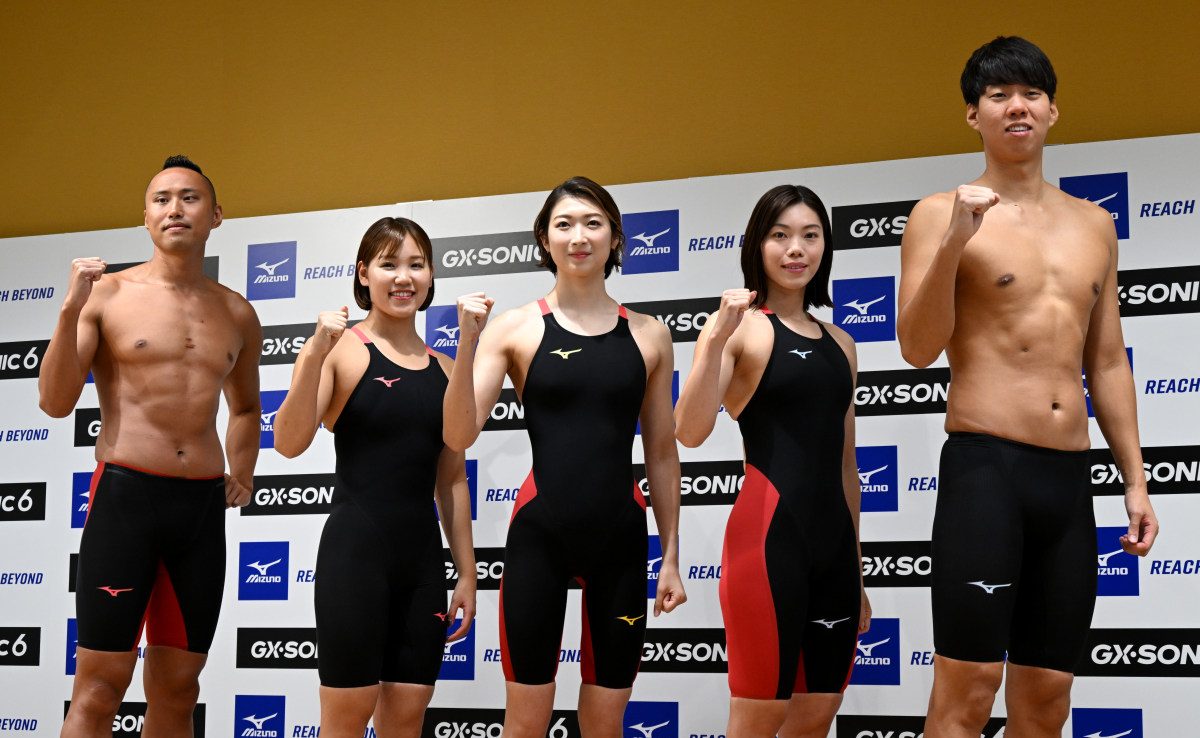 Mizuno Corporation's latest competitive swimwear GX·SONIC 6 is the sixth edition of its GX·SONIC series. Specifically designed for top-tier swimmers, every detail has been fine-tuned. In competitive swimming, an improvement of a mere 0.01 seconds could be a record-breaker.
This latest edition is even more water-repellent and therefore 6.2% lighter in water than its predecessor. This means athletes can maintain a position closer to the water's surface, ensuring optimal propulsion efficiency and a better shot at breaking records.
The development of the swimwear's materials began in collaboration with chemical giant Toray Industries, Inc about three years ago.


Tailored for Top Athletes
The new swimwear comes in three different styles. This allows swimmers to choose one that provides them with the most comfort and freedom of movement. Additionally, the women's version features redesigned shoulder straps to minimize any hindrance to the movement of the shoulder blades.
Given the green light from World Aquatics, GX·SONIC 6 is set to make its debut at the Asian Games. The event begins on September 23 in Hangzhou, China. According to Mizuno, it saw a 19% increase in the proportion of its swimwear worn by male swimmers during the World Aquatics Championships in Fukuoka in July.
The GX·SONIC 6 will be available to the general public in Japan and the rest of Asia in September That will be followed by a release in the United States, Italy and Spain in November.
A Vital Role
During the World Aquatics Championships in July, Japanese competitors failed to win any medals, while China made significant strides. At Mizuno's GX·SONIC 6 unveiling event, members of the Japanese swimming team conveyed their renewed resolve to perform better at the Asian Games.
The swimmers agreed that while their techniques were important, high-performance swimwear played a vital role in supporting their execution.
"I'm determined to win the gold medal at the Asian Games in this swimwear." — Shinri Shioura (freestyle)
"I want to have both past and new swimwear options so that I can choose strategically depending on the race." — Rikako Ikee (freestyle and butterfly)
"In preparing to compete against the three-time breaststroke champion Qin Haiyang [China], I realized the importance of having my performance supported by good swimwear." — Ippei Watanabe (breaststroke)
"My goal is to achieve a personal best at the Asian Games with this new swimwear." — Reona Aoki (breaststroke)
"At the Asian Games, I hope to win a medal, inspire others and compete well against my Chinese rival." — Rio Shirai (freestyle and backstroke)
After making its debut at the Asian Games, Mizuno's cutting-edge competitive swimwear will take to the water again at the 2024 Paris Summer Olympics.
RELATED:

Author: Hidemitsu Kaito
Hidemitsu Kaito is a staff writer at JAPAN Forward. In addition to his other duties, he has been covering the sport of lacrosse internationally and in Japan since 1989.