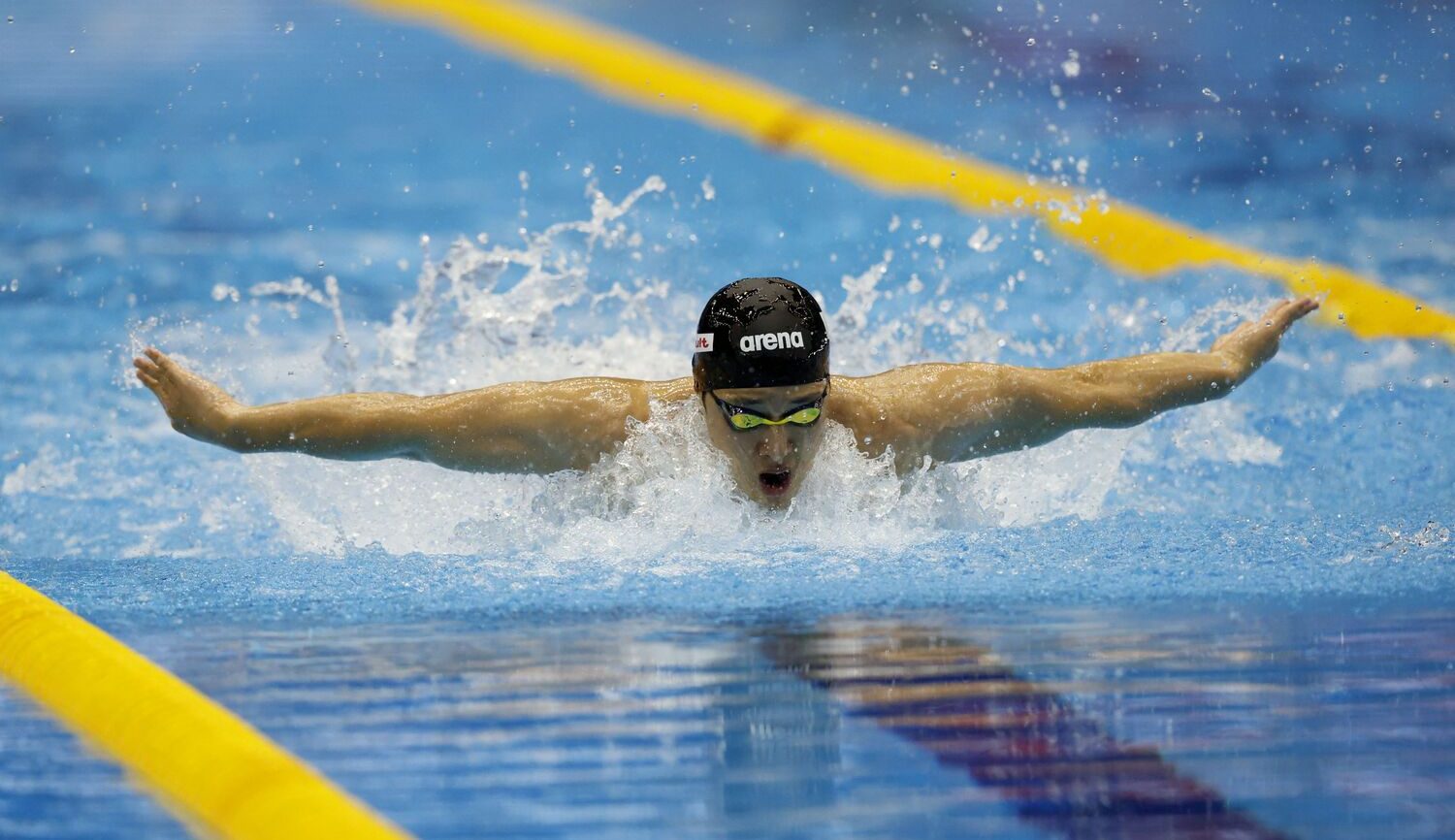 The 2023 edition of the World Aquatics Championships (July 14-30) marks the 12th time this global meet has been held in the 21st century. Events are staged in open water swimming, diving, high diving, water polo, artistic swimming (formerly known as synchronized swimming) and swimming.

In six of those tournaments, Japan's swimmers have collected at least one gold medal. Daiya Seto grabbed the gold in the men's 200- and 400-meter individual medley events in 2019 in Gwangju, South Korea, making him the most recent Japanese swimmer to be crowned world champion.

Seto won the 400 IM in 2013 in Barcelona for his first world title. He was also a world champion in 2015 in the 400 IM in Kazan, Russia, where teammates Natsumi Hoshi (women's 200-meter butterfly) and Kanako Watanabe (women's 200-meter breaststroke) also took home gold. And Seto added another medal to his collection with a third-place finish in the 400 IM on Sunday, July 23.

Kosuke Kitajima, who will be inducted into the International Swimming Hall of Fame in Fort Lauderdale, Florida, in September, had a breakthrough performance on the global stage at the 2003 World Championships in Barcelona, winning both the men's 100- and 200-meter breaststroke finals.

Also of note, Kitajima became the 200 breaststroke world champion again at the worlds in 2007 in Melbourne, Australia. And Junya Koga earned the title in the men's 100 backstroke in 2009 in Rome.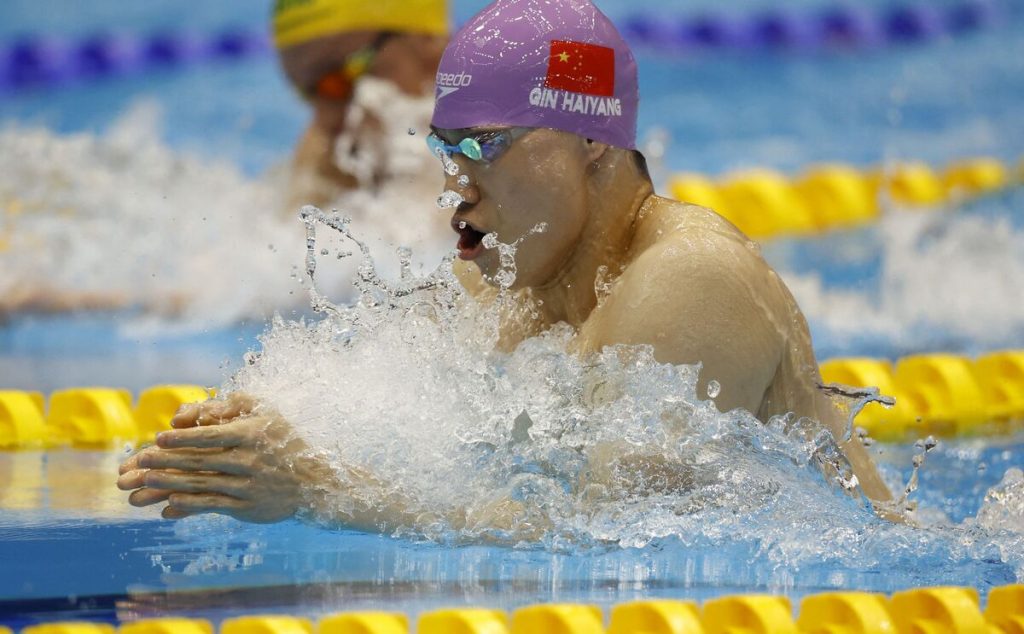 Medal Leaders at the World Aquatics Championships
Entering the final day of this year's meet (Sunday, July 30), the host nation had zero gold medals in swimming events in Fukuoka.

Japan was, however, tied with the United States for the third-most gold medals (four) in all aquatics disciplines.

In the overall medal count, China was first with 37 (20 gold, seven silver, 10 bronze) and tied with Team USA for overall medals. The Americans had 18 silver and 15 bronze through the penultimate day of the tournament. (Check out the full medal table on the World Aquatics website.)

Australia has had great success in Fukuoka, winning 15 gold medals to go along with seven silver and three bronze. To put it another way, of the six nations with double-digit medal counts, Australia has the highest percentage (60%, or 15 of 25) of overall medals being gold.
Japan's Gold Medalists at the 2023 World Aquatics Championships
Japan's top artistic swimmer, Yukiko Inui, won the women's solo technical routine and solo free routine events for the second year in a row. The previous meet, postponed from 2021 to 2022, was held in Budapest.
Artistic swimming siblings Tomoka Sato and Yotaro Sato earned the gold in the mixed duet technical competition.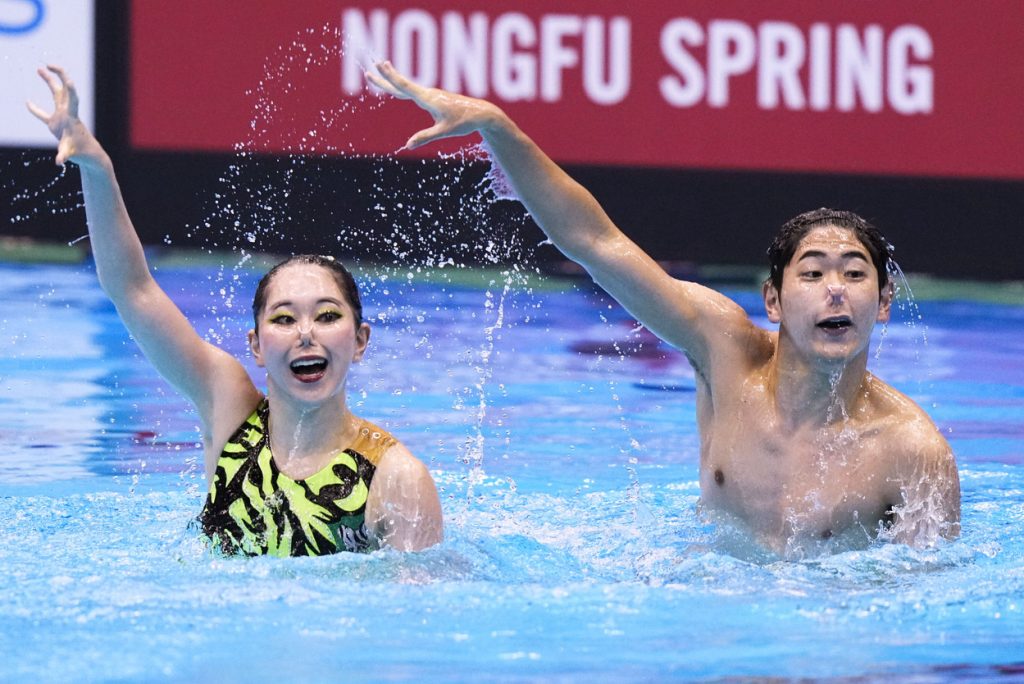 Additionally, Moe Higa and Mashiro Yasunaga teamed up to win the gold in the women's duet technical final.
And there you have it: four artistic swimming gold medals for the host nation.
How Have Japan's Tokyo Olympic Swimming Medalists Performed in Fukuoka?
Japan's overall medal haul at the Tokyo Games in 2021 was the nation's Olympic record of 58, including 27 gold. Of that staggering total, three were achieved in the swimming pool: Yui Ohashi won the women's 200 and 400 IM races, and Tomoru Honda collected the silver in the men's 200 butterfly.
In Fukuoka, Ohashi finished sixth in the 200 IM final on Monday, July 24.

"I was a bit nervous today," Ohashi admitted after the race.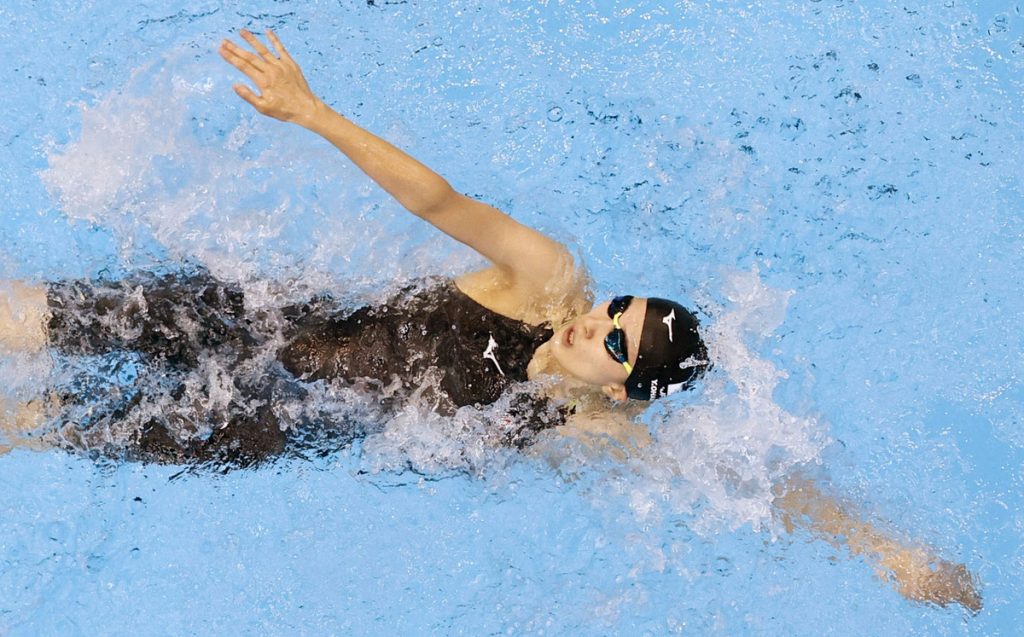 "It was my first final since Tokyo," Ohashi was quoted as saying by Kyodo News. "I'll prepare to be able to swim in the final again next year."
Honda, bronze medalist at worlds in 2022, earned another spot on the victory podium a year later. He placed third on Wednesday in 1 minute, 53.66 seconds. France's Leon Marchand triumphed in 1:52.43.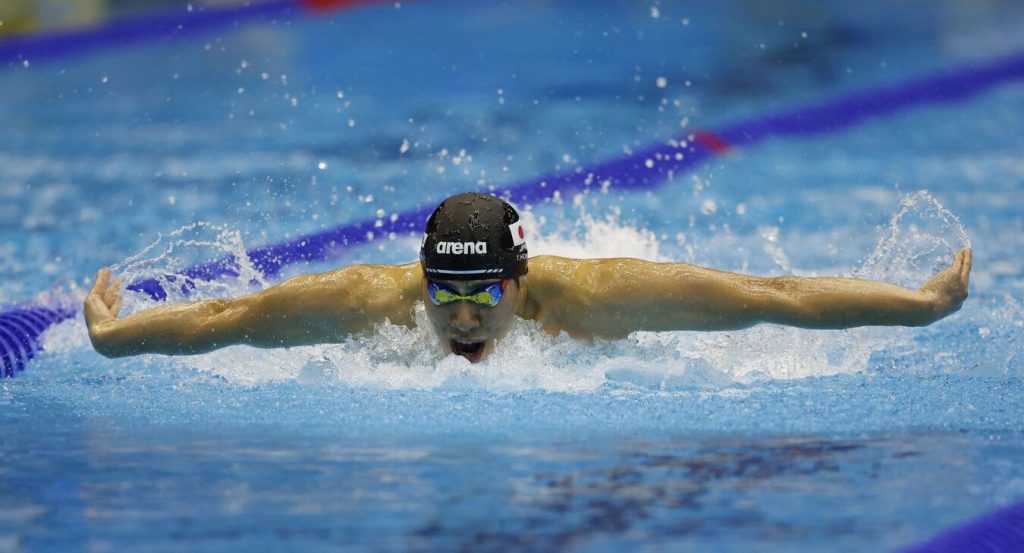 For Honda, it was a satisfying accomplishment.

"The fact that I am able to compete properly on this stage gives me confidence," Honda said in a post-race interview with Nippon Television. "There are more things to reflect on, but in many ways, I think I pushed aside the pressure and finished third."
RELATED:
Sumo
Hoshoryu Promoted to Ozeki
Mongolian wrestler Hoshoryu earned promotion to sumo's second-highest rank of ozeki on Wednesday, July 26 in Nagoya.

Three days earlier, Hoshoryu won his first Emperor's Cup at the Nagoya Grand Sumo Tournament, finishing the basho with a 12-3 record.
Looking ahead, Hoshoryu vows to be a successful ozeki.
"I will do my utmost never to tarnish the reputation of the ozeki rank," Hoshoryu said, according to Kyodo News.

Hoshoryu, 24, will make his ozeki debut at the Autumn Grand Sumo Tournament in Tokyo. The 15-day tourney gets underway on September 10.
RELATED: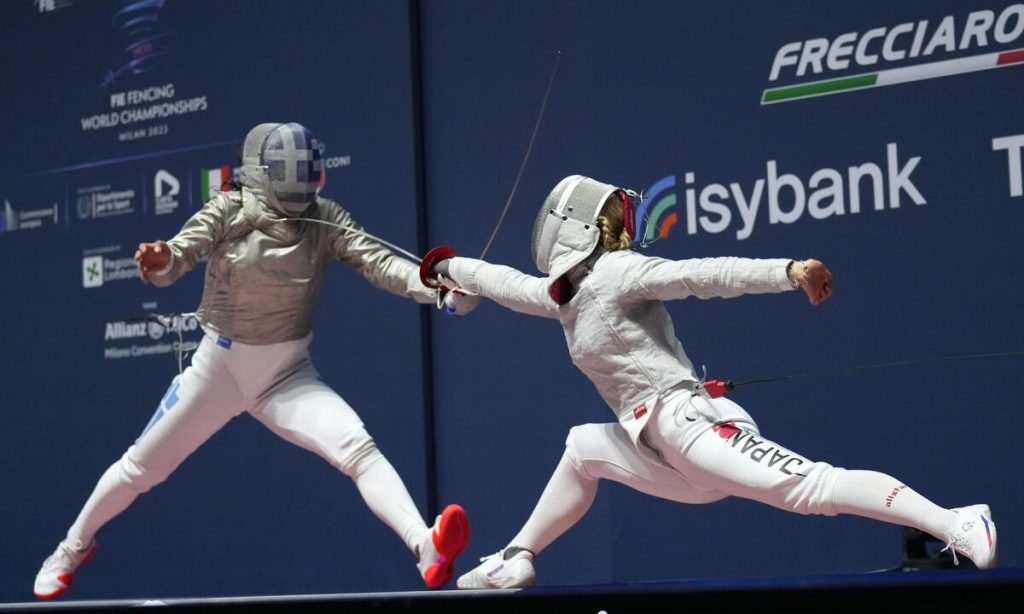 Fencing
Emura Defends World Title in Milan
Tokyo Olympian Misaki Emura captured her first world title in July 2022, defeating then-world No 1 Anna Bashta of Azerbaijan 15-10 in the women's sabre championship match in Cairo.

Emura added to her trophy collection with a 15-11 triumph over Greek opponent Despina Georgiadou in the gold-medal match on Thursday, July 27 at the Fencing World Championships in Milan.
Earlier, Emura trailed 14-13 against Greece's Theodora Gkountoura in their semifinal match, but she overcame the one-point deficit. It ended with Emura on top by a 15-14 score.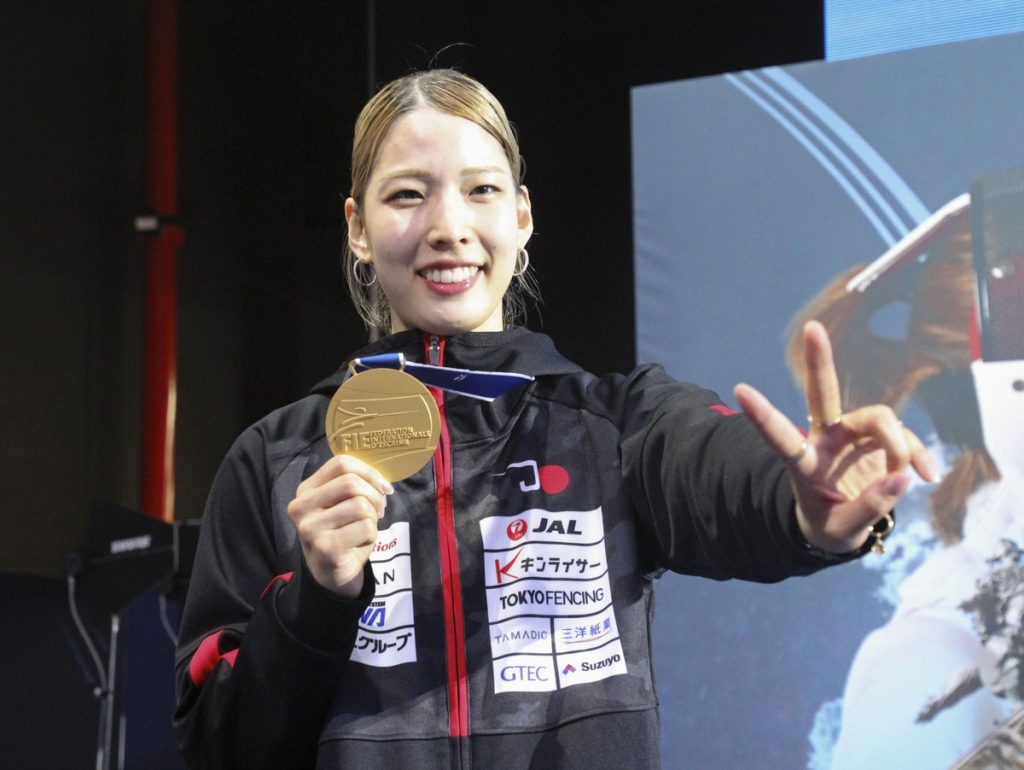 After winning her second consecutive world title, the pride of Oita Prefecture reflected on her performance in the Italian city.

"I can't believe it!" an ecstatic Emura told reporters in Milan. "For a long time, my fencing was not that good. But in the final, everything changed, and I just decided to believe in myself.
"Believing in myself is very difficult in general, but during the final, I made it. Japan has a long history, and today I am proud because I added something more to my country's history. Now, my next goal is a gold medal in Paris."
RELATED: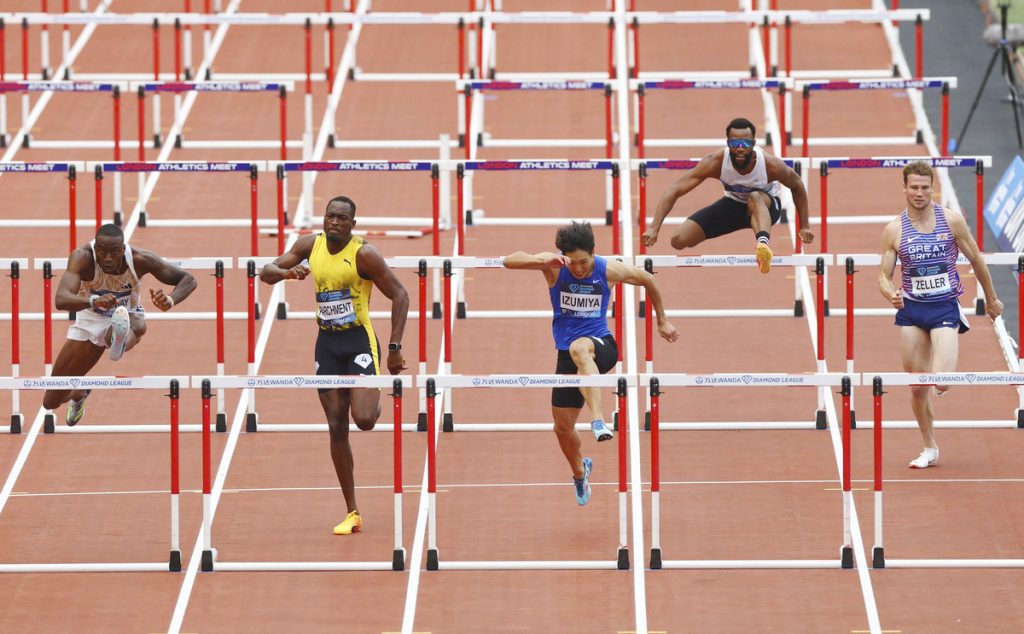 Track and Field
Hurdler Izumiya Places Second in London Meet
Shunsuke Izumiya, a 110-meter hurdler, recorded his second top-three finish in a Diamond League meet this year on Sunday, July 23.

Izumiya placed second in the London meet in 13.06 seconds at Olympic Stadium. Americans Grant Holloway and Jamal Britt finished first and third, respectively, in 13.01 and 13.25.

As of July 25, the 23-year-old Izumiya is ranked fifth in the world in the 110-meter hurdles.
RELATED: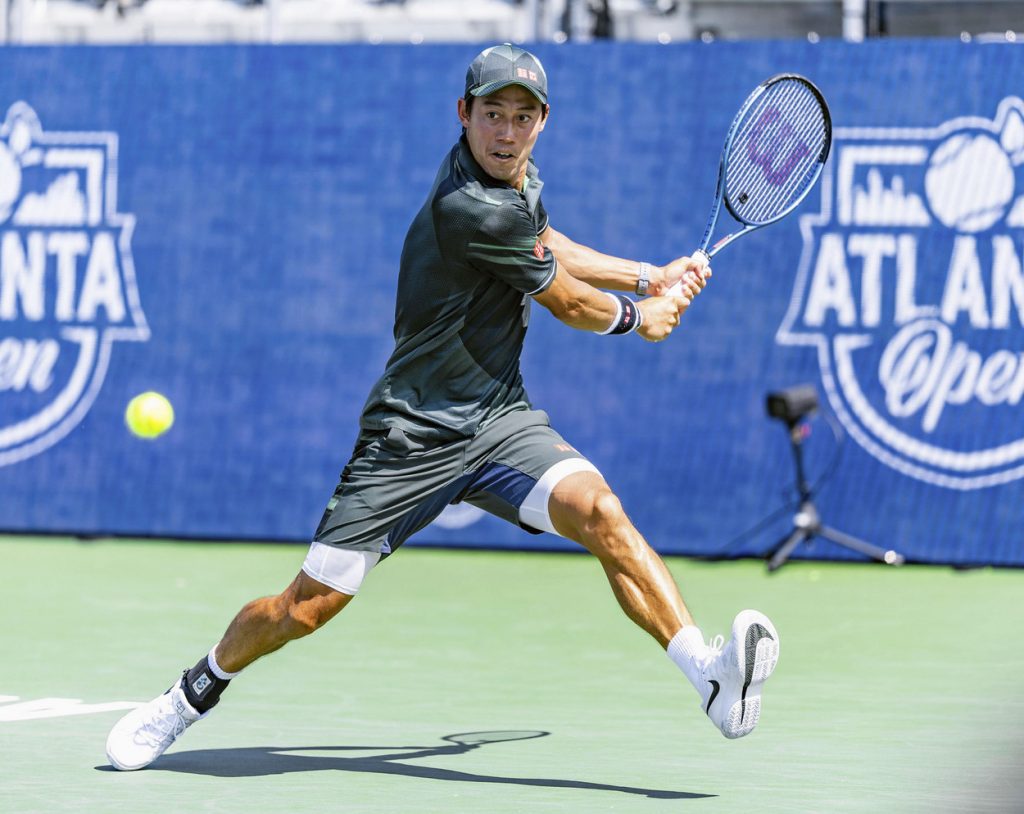 Tennis
Nishikori Falls in Atlanta Open Quarterfinals
Top seed Taylor Fritz of the United States defeated Kei Nishikori 6-4, 6-2 in the Atlanta Open men's singles quarterfinals on Friday, July 28.
In Nishikori's first ATP Tour tournament since October 2021, he defeated Australia's Jordan Thompson 7-6 (7-5), 7-6 (7-5) in the first round. He then prevailed 6-4, 7-6 (7-3) over China's Jungcheng Shang in the second round to reach the quarterfinals.

"It was a tough battle, but I was very excited on the court," Nishikori said, according to the Atlanta Open website, after beating Shang. "I felt pretty good, especially playing under [the lights], I felt very good on the court today."
Nishikori, who had arthroscopic surgery on his left hip in January 2022, made his comeback after a 20-month absence from competition at the ATP Challenger Tour's Caribbean Open in June in Puerto Rico.
RELATED: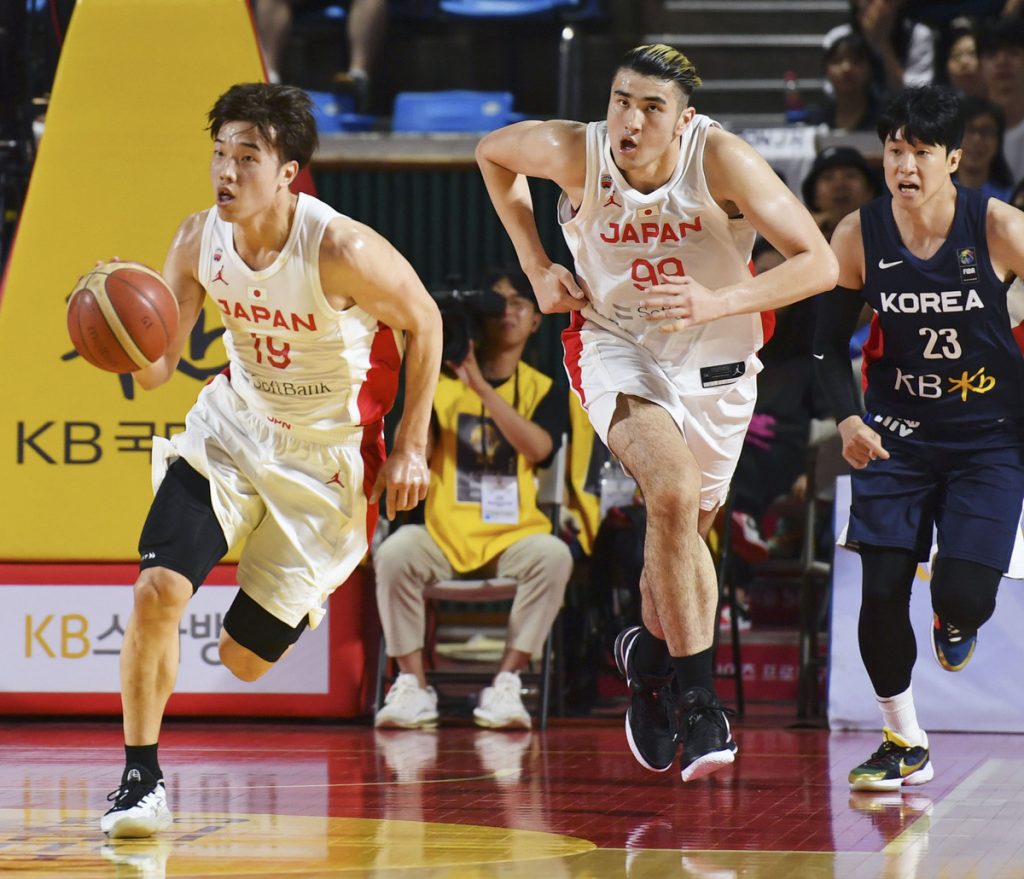 Basketball
Japan Men Split a Pair of Exhibition Games with South Korea
In Seoul, the Japan men's national basketball team bounced back from a seven-point defeat to South Korea on July 22 by winning 85-80 the next day.

Keisei Tominaga led Japan with 13 points in the weekend opener. Teammate Hirotaka Yoshii added 10 points and Hugh Watanabe and Yudai Nishida both scored eight in Japan's 76-69 defeat.

Hoon Heo had a game-high 22 points for South Korea, which outrebounded Japan 42-25.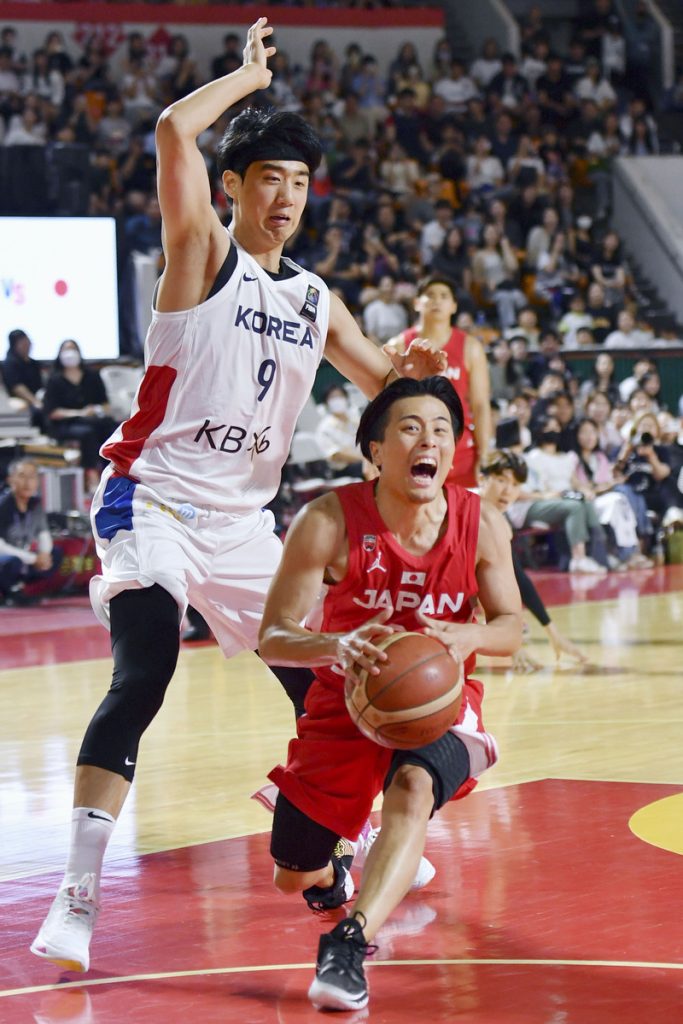 In the Sunday rematch, Shuta Hara paced Japan with 14 points, Yuki Togashi poured in 13 and Tominaga had 12.

Japan also improved in the rebounding department, grabbing 34 boards and holding the hosts to 31.

Up next: Japan plays host to New Zealand on August 2 and 4 in Ota, Gunma Prefecture, as preparations for the FIBA Basketball World Cup continue. Both matches tip off at 7 PM.
RELATED: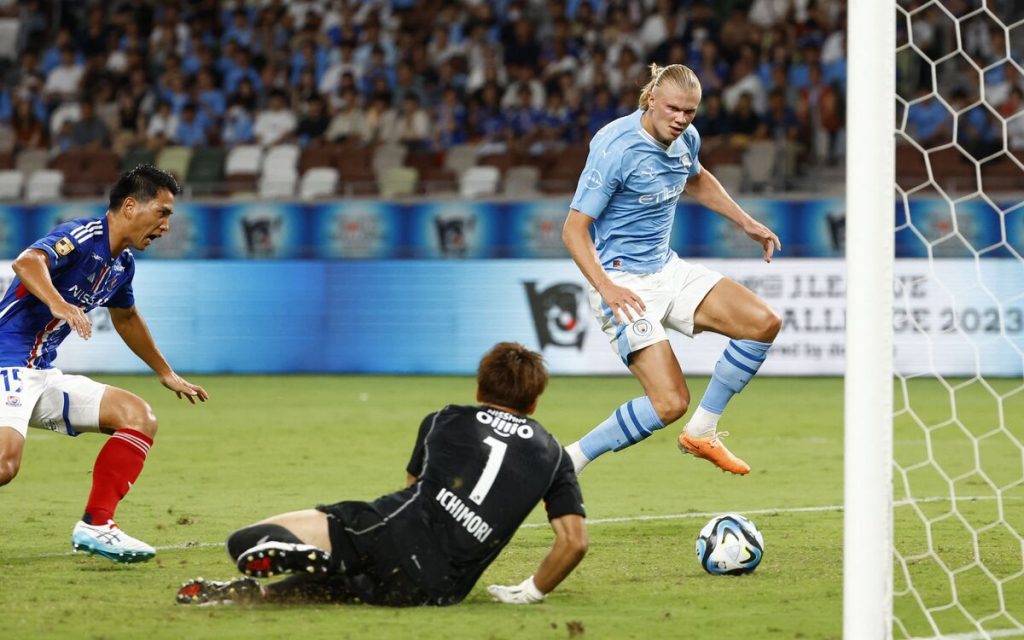 Soccer
Highlights from International Club Friendlies
Star striker Erling Haaland had a pair of second-half goals in Manchester City's 5-3 triumph over Yokohama F. Marinos on Sunday, July 23. The friendly, held at National Stadium in the Japanese capital, also featured goals from Marinos' Anderson Lopes, Ken Matsubara and Kenta Inoue and Manchester City's John Stones, Julian Alvarez and Rodri.

On Friday, July 28, Shinji Kagawa notched the match-winning goal in the 79th minute as Cerezo Osaka downed Paris Saint-Germain 3-2 at Yanmar Stadium in Osaka in another high-profile friendly.
Bayern Munich topped Kawasaki Frontale 1-0 on Saturday, July 29 at National Stadium. Josip Stanisic had the lone goal in the 57th minute.

"It was the tough game we expected," Stanisic commented after the match. "We knew they were aggressive but also play good football, [and] we tried to play out from the back. We won and kept a clean sheet, even if there was a bit of luck involved at times.
"For me, every goal is beautiful because I don't score that many."

Frontale coach Toru Oniki called it a "good opportunity to play against a great team."

Analyzing how the match unfolded, Oniki described Frontale's German opponent as having "a very high intensity in their game."

And how did Frontale respond to Bayern Munich?

"We were able to exert pressure and win possession," Oniki told reporters. "But Bayern of course have a lot of quality and quick players. We didn't keep it tight enough and left too much space."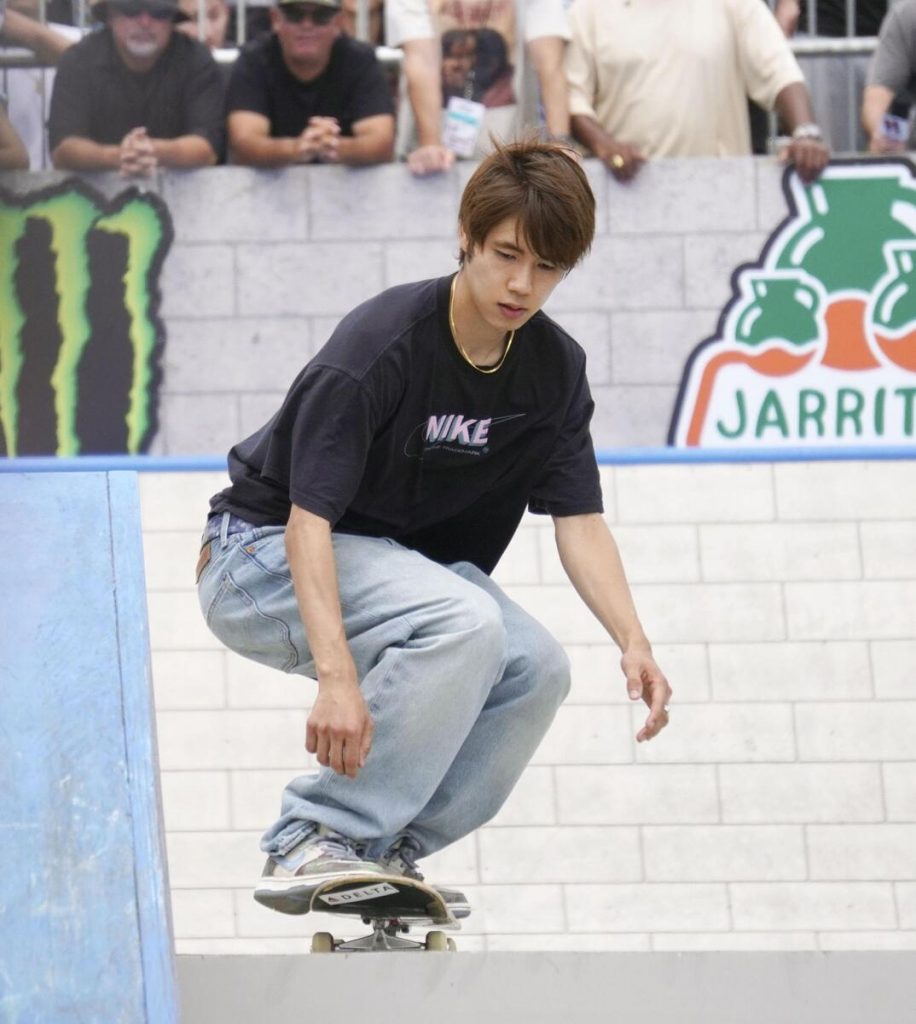 Quotes of the Week
"I'm filled with joy. It was great to pull off the trick I was aiming to do."
―Yuto Horigome said after capturing the gold medal in the men's skateboard street event at X Games California in Los Angeles on July 23.
"When Naoya [Inoue] was shadowboxing, I could almost see [Stephen] Fulton in front of him. He had an increasingly clear image of Fulton in his mind and it looked as if he was actually fighting his opponent at our gym."
―Shingo Inoue, Naoya's father and trainer, on his son's training sessions at Ohashi Boxing Gym in Yokohama in the run-up to his super bantamweight title fight against Fulton on July 25, The Asahi Shimbun reported.
RELATED:

Author: Ed Odeven
Find Ed on JAPAN Forward's dedicated website, SportsLook. Follow his [Japan Sports Notebook] on Sundays, [Odds and Evens] during the week, and Twitter @ed_odeven.