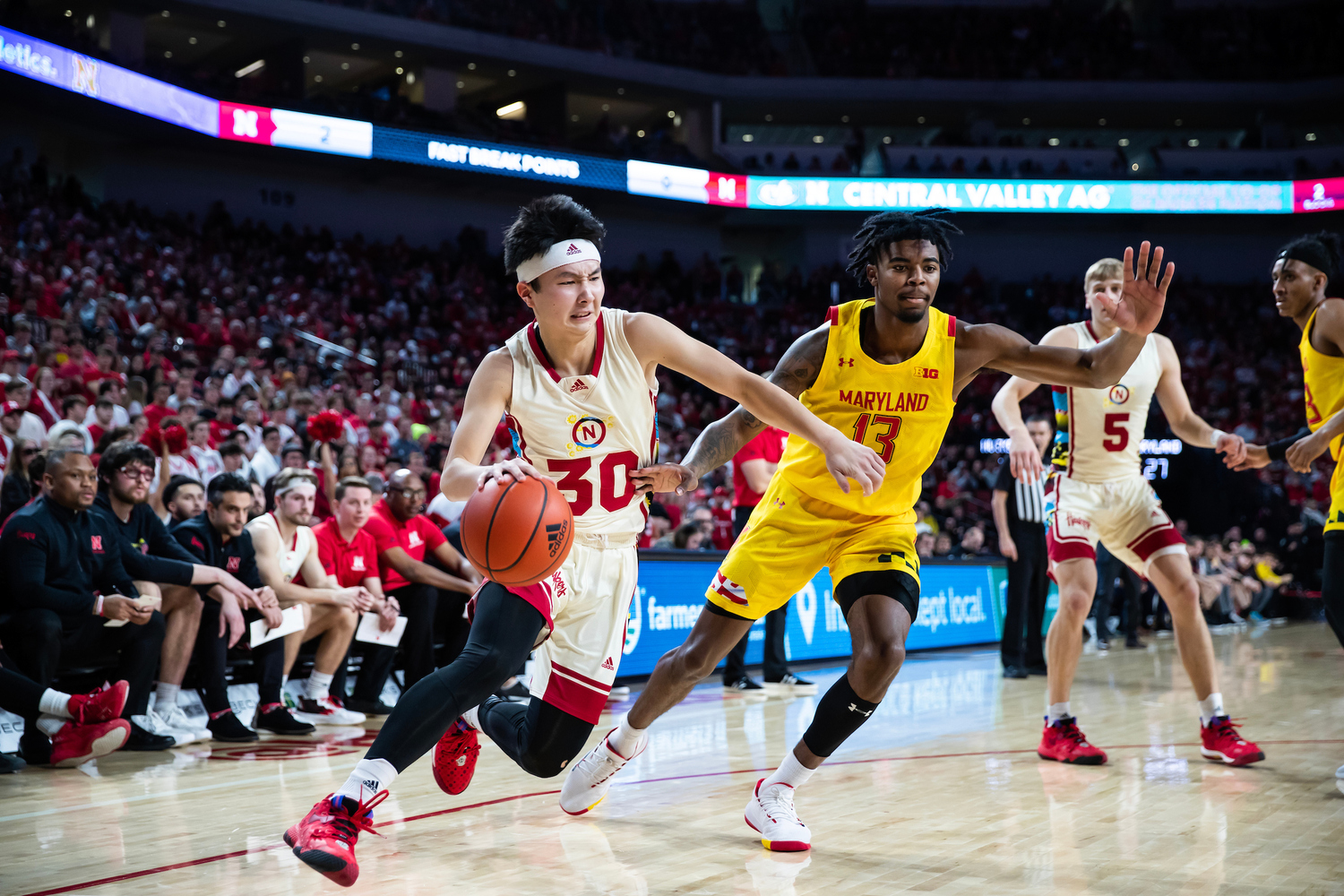 After being inserted into the University of Nebraska men's basketball team's starting lineup on January 18, sharpshooter Keisei Tominaga scored in double digits in 12 of the team's next 13 games.

Tominaga's skills as a showcased scorer generated excitement and produced one of the most entertaining stories of the 2022-23 NCAA college hoops season. In doing so, he played a major role in helping the Cornhuskers collect six victories in their final eight Big Ten Conference regular-season games.

Nebraska fell 78–75 to the University of Minnesota in the opening round of the Big Ten Conference Tournament on Wednesday, March 8 in Chicago. Tominaga paced the Cornhuskers with 23 points. On the final play, his potential game-tying 3-point attempt from halfcourt rattled off the rim but didn't fall through the net.
"Yeah, I thought it was going to go in, but it didn't," Tominaga told reporters in a postgame news conference at the United Center.

Nebraska's season may still have another chapter. Although the Cornhuskers (16-16) won't qualify to participate in the NCAA Tournament, an invitation to the less-prestigious NIT is still possible. The NIT bracket will be unveiled on Sunday, March 12.
The Cornhuskers rode a sustained wave of momentum from Tominaga's offensive contributions in the season's closing weeks.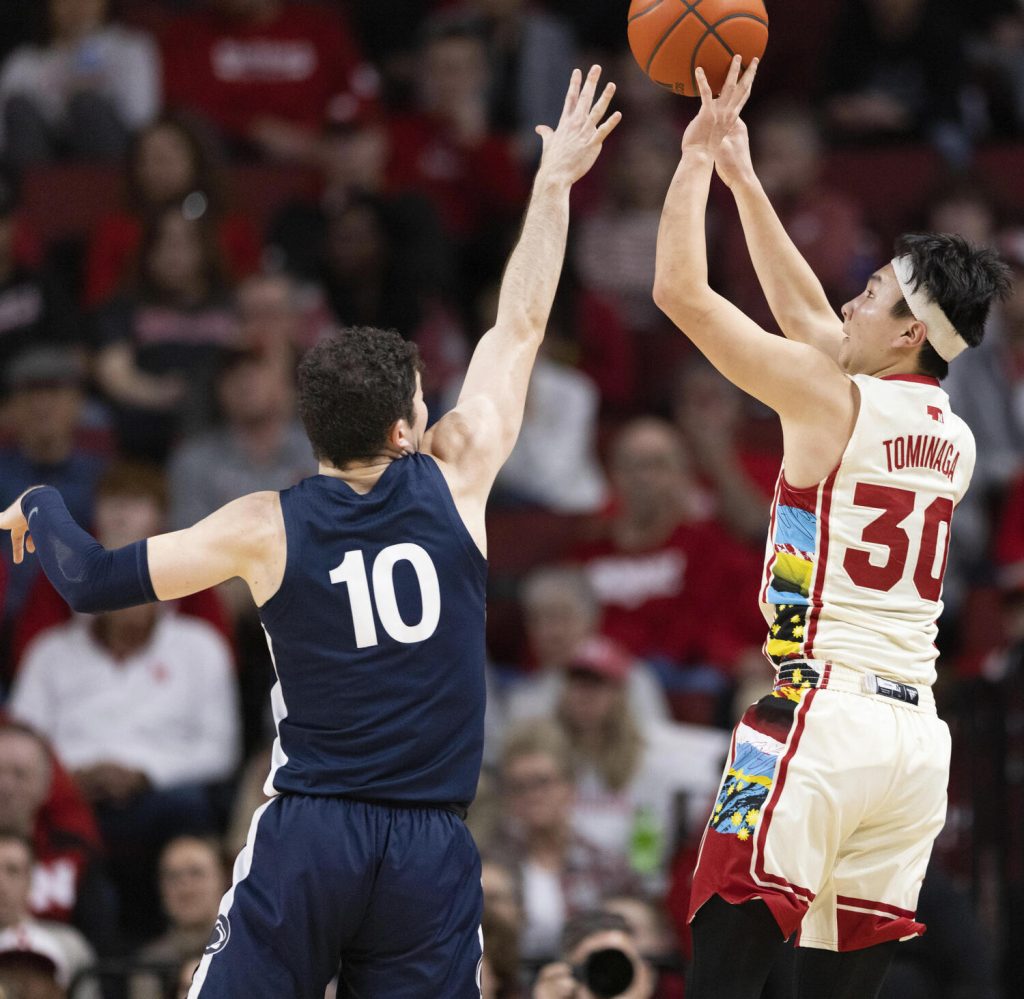 An Impressive Stretch of Games on Offense
Tominaga averaged 20.3 points in the past nine games through March 8, including a Nebraska career-high 30 against Penn State in a 72-63 home win on February 5.
The sharpshooter credited his teammates for being an integral part of his successful night.
"I think our movement at the beginning of the game was very good," Tominaga pointed out after the game. "We shared the ball with each other, so that's why I think I got in a rhythm easily."

Teammate Jamarques Lawrence said the Cornhuskers offense operated with a plan that worked.

"Most of our plays are for Keisei to get him going, "Lawrence told reporters. "When he's going, you see how that goes. That was the plan."


Passion and Energy
After the victory over Penn State, Nebraska coach Fred Hoiberg talked about the energy that Tominaga brings to the court.
"It is infectious," Hoiberg said. "You see that when he hits those shots, when he gets to the end of the lane and hits those circus shots, you see the bench go crazy for him, you see his teammates out on the floor. It's just fun to have a guy play with that much passion and energy."

Tominaga is currently a junior eligibility-wise, but several published reports indicate he is expected to graduate this spring. He can pursue a pro career in Japan or elsewhere. Or he can return to play one more season for the Cornhuskers.
After Nebrasaka's Big Ten Tournament loss to Minnesota, Tominaga said he hasn't made a decision yet.
Tominaga has elevated his stock as a player, improving his scoring average from 5.7 points per game in 2021-22 (his first season at Nebraska) to 13.1 ppg this season. But additional time as a college player makes sense from a development standpoint.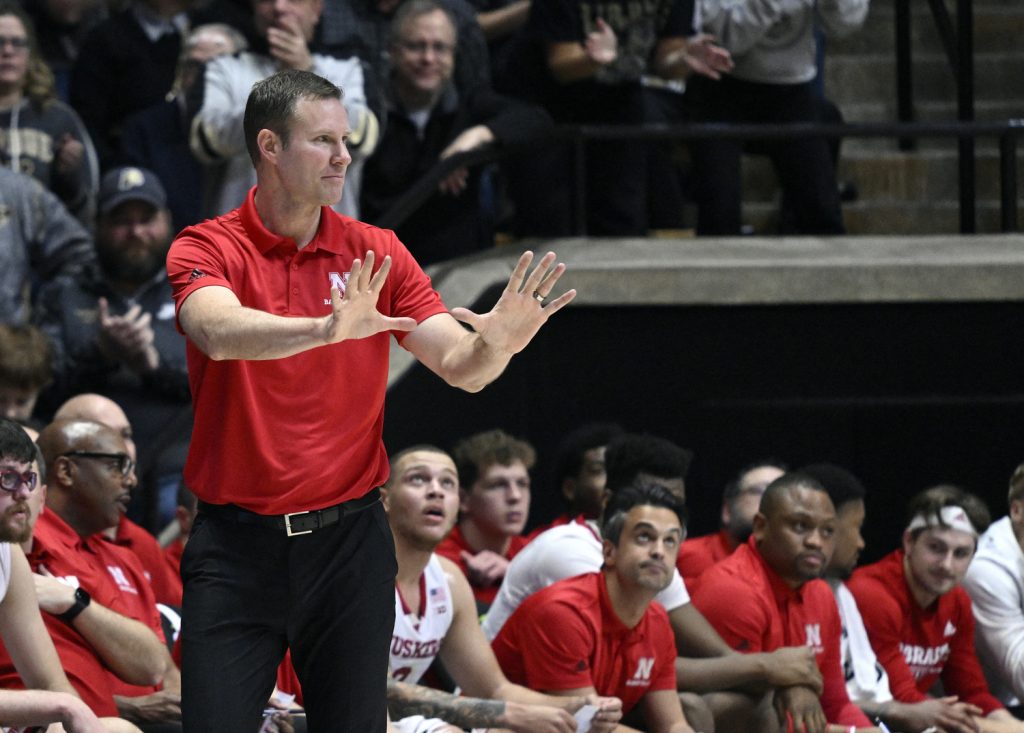 Hoiberg, who had a 10-year career as an NBA player and later coached the Chicago Bulls, said Tominaga's commitment to working hard has helped him take his game to the next level.
"He just goes out and goes to work, [and] he's gonna be in the gym tomorrow twice," Hoiberg told reporters in February. "Practice and then he'll come back for an extra session. As a player, what he's doing right now speaks for itself. But I think more as a person. I've absolutely loved coaching him and getting to know him.
"He's got a heck of a future in front of him."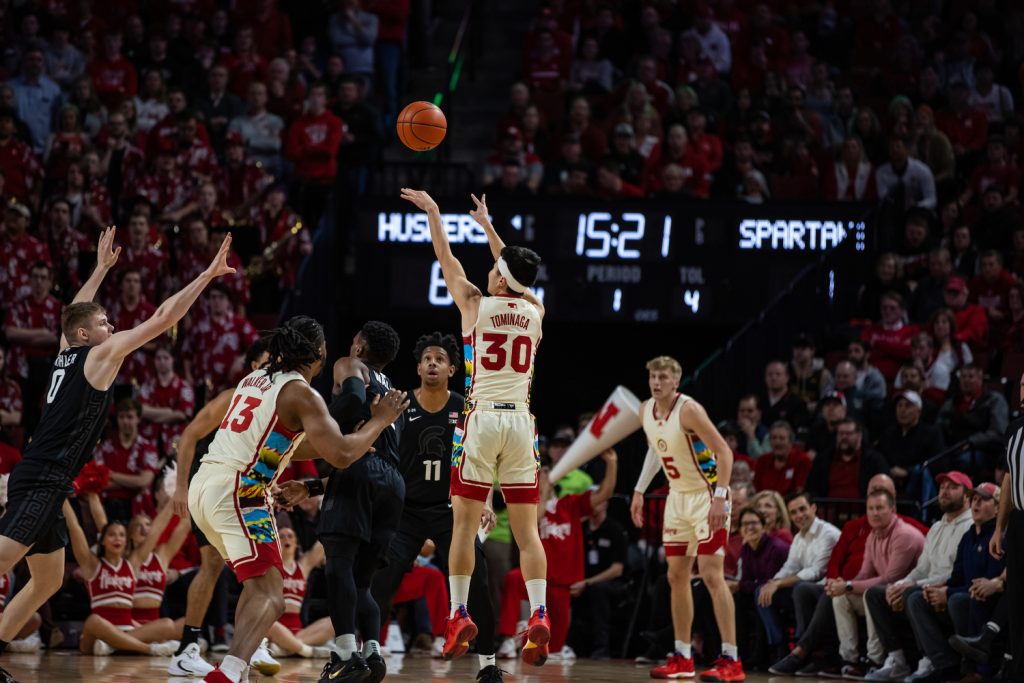 Tominaga's Shooting Skills
Tominaga's ability to knock down long-range shots on a consistent basis ― a staple of the modern era of basketball ― increases the odds that he'll have a shot at playing in the NBA in the future.

Nicknamed the "Japanese Steph Curry," Tominaga's game includes more than a trace of the NBA great's influence.

His nickname: The Japanese @StephenCurry30.

His number: 3⃣0⃣, obviously@BTNJourney features @HuskerHoops' electric G @KeiseiTominaga. pic.twitter.com/RYxa4KldVH

— Big Ten Network (@BigTenNetwork) February 16, 2023

In other words, Tominaga is a fearless sniper on the perimeter, always ready to release a shot ― and with supreme confidence in his ability.
Is the 188-cm Tominaga an NBA prospect?
"You look at what the league is all about right now," Hoiberg was recently quoted as saying by On3.com. "Analytics, shooting, floor spacing. Those players are so good. There's more room in the NBA [and] there's more space. If you can shoot it at a high level, you're gonna have a chance."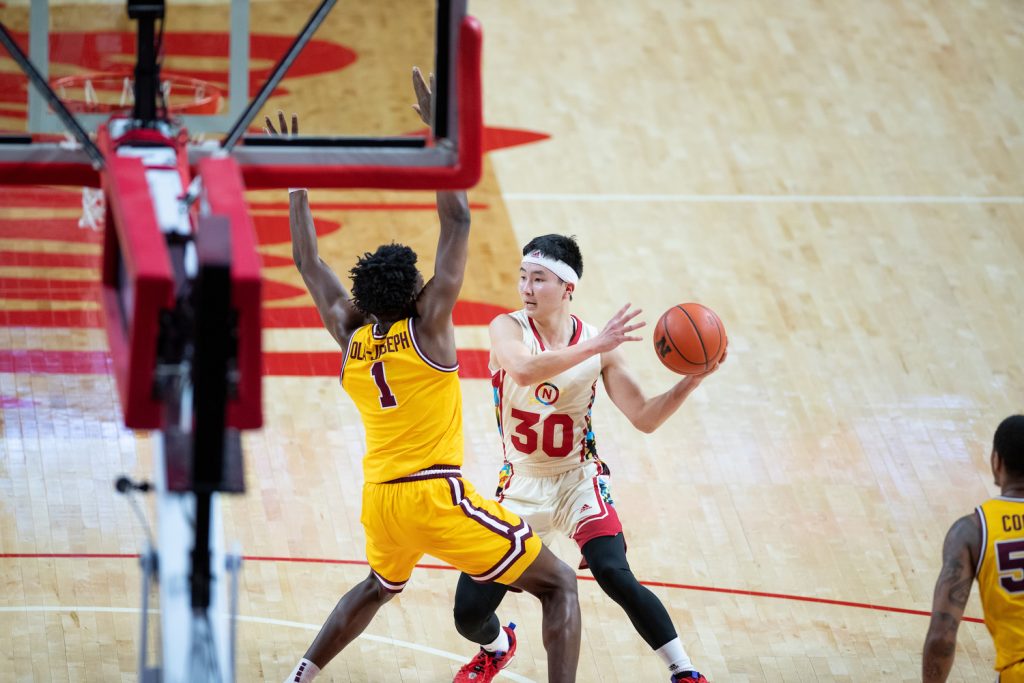 Tominaga's Best Stretch of the Season
In Tominaga's past nine games, he shot 43% (28-for-65) from 3-point range. And don't forget this: He was Nebraska's leading scorer in Big Ten Conference play (14.2 ppg) in 20 games.

Tominaga was named an honorable mention selection to both the coaches and media's 2022-23 All-Big Ten Men's Basketball Teams. (Check out video highlights of Tominaga's dynamic play in Nebraska's seven February games.)
Fans and media, opposing players and coaches ― and yes, Tominaga's teammates and Hoiberg, too ― all said again and again how impressed they've been with the Nagoya native's play of late.
For example, after the University of Wisconsin's 73-63 overtime loss to Nebraska on February 11, Badgers coach Greg Gard credited Tominaga for stepping up to lift his team, which overcame a 17-point second-half halftime deficit. Instrumental in the team's comeback, Tominaga poured in 17 of his 22 points in the second half and overtime.
"We fouled too much in the first half," Gard said after the game. "That gives the team confidence to get to the free-throw line and then Tominaga, I'll give him credit, he's had some tough shots, but it's not surprising because that's how he plays. He plays off that momentum and they feed off that momentum. We didn't do a good enough job with him."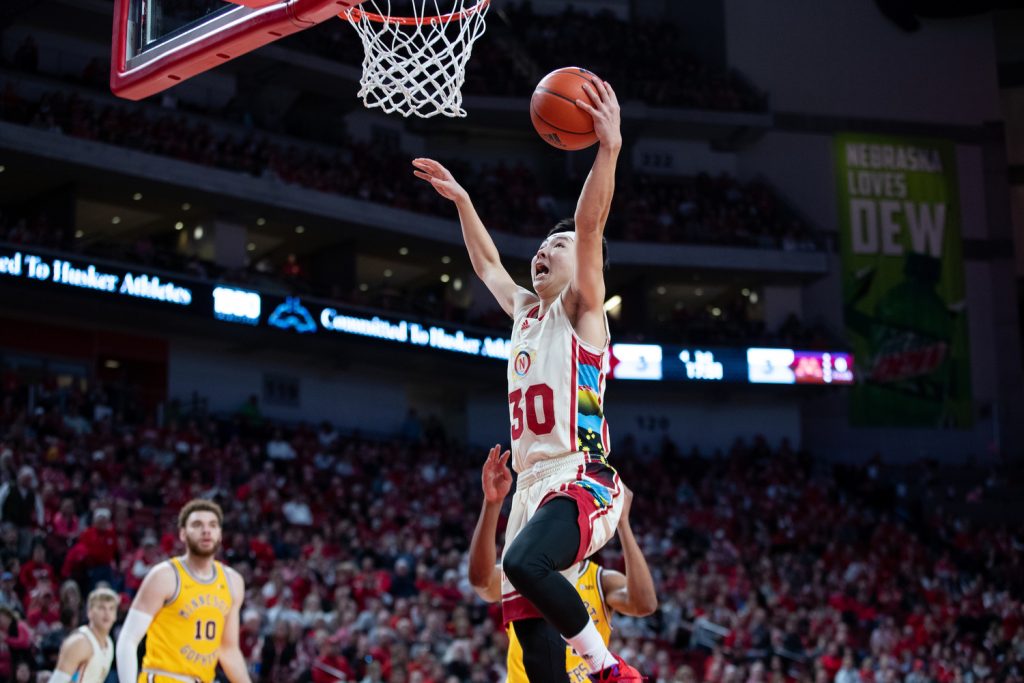 Additional Insights from Coach Hoiberg
After Tominaga stretched his double-digit scoring streak to seven games on February 25, Hoiberg analyzed his skill set. At the same time, he outlined focal points of improvement for the Japanese guard.
"Keisei is more than just a shooter. You see his cutting and his IQ and the way he competes," Hoiberg said, according to On3. "So I think strength and body, those are things that he'll have to continue to work on … and he just continues to get better every time he steps on the floor. Never count out a competitor."
Putting Tominaga's rise to stardom this season in context, Hoiberg noted in a short Big Ten Network video feature that past experiences, including for Japan's 3x3 men's squad at the Tokyo Olympics two years ago, helped in his maturation process as a player.
"Keisei has played on the biggest stage, and I think that is the reason he's such a confident player and never backs down from anybody. He's represented his home country in 3x3 where he was the best player on the floor."
RELATED:
Author: Ed Odeven
Find Ed on JAPAN Forward's dedicated website, SportsLook. Follow his [Japan Sports Notebook] on Sundays, [Odds and Evens] during the week, and Twitter @ed_odeven.