[JAPAN SPORTS NOTEBOOK] Kosuke Kitajima to be Inducted into International Swimming Hall of Fame in September
A four-time Olympic gold medalist, Kosuke Kitajima became the first swimmer to claim the breaststroke golden double in consecutive Summer Games.
Retired four-time Olympian Kosuke Kitajima had a spectacular swimming career.

Now, more than a decade after his final Olympic race at the 2012 London Games, the Tokyo native will be enshrined at the International Swimming Hall of Fame in Fort Lauderdale, Florida. The announcement came on Tuesday, March 14.
Indeed, Kitajima, 40, is one of the biggest names in aquatic sports in the 21st century. And he'll have his proper day in the spotlight as part of the ISHOF's Class of 2023 induction ceremony on September 30.

It's a star-studded cast of names. Fittingly, American Michael Phelps, who owns a record 28 Olympic medals, including 23 golds, and Phelps' longtime coach Bob Bowman will be inducted together.

The rest of the Class of 2023 includes:
swimmers Cesar Cielo (Brazil), Missy Franklin (United States) and Kristy Coventry (Zimbabwe) 
diver Minxia Wu (China)
synchronized (artistic) swimmer Natalia Ischenko (Russia)
water polo player Heather Petri (United States)
open water swimmer Stephane LeCat (France)
coach Chris Carver (United States)
contributor Sam Ramsamy (South Africa)
Paralympian Trischa Zorn (United States)
Kitajima famously won the 100-meter and 200-meter men's breaststroke double at the 2004 Athens Olympics, then did it again at the 2008 Beijing Summer Games.
It was a remarkable achievement. He became the first swimmer to record the breaststroke golden double in consecutive Olympic Games.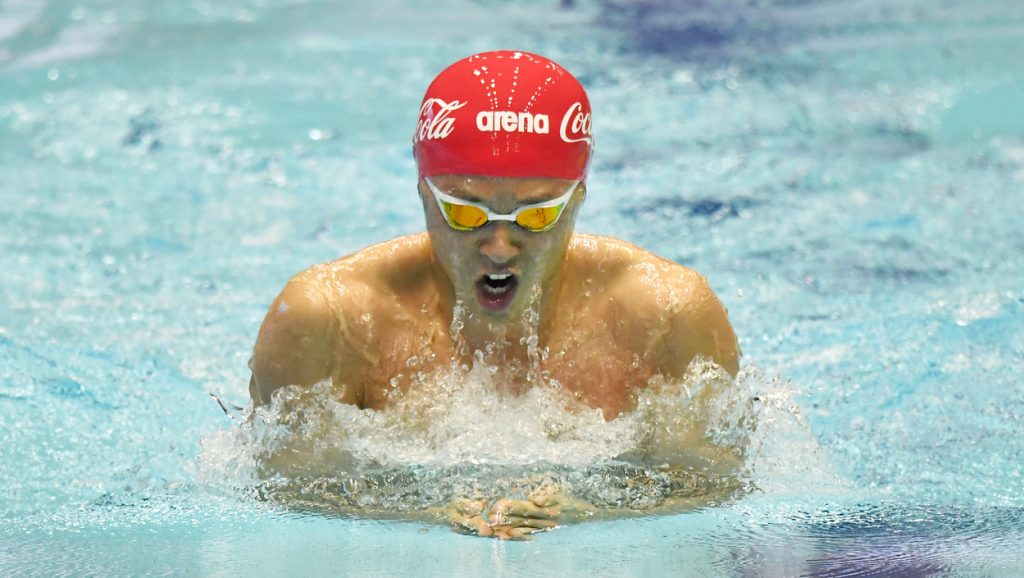 Kosuke Kitajima: Rise to Stardom on Global Stage
In his Olympic debut in Sydney in 2000, Kitajima, still a high-school student at the time, finished fourth in the 100 and 17th in the 200.
Three years later, he transformed into a bona-fide pool superstar. At the 2003 World Aquatics Championships in Barcelona, Kitajima clocked 59.78 seconds and 2 minutes, 9.42 seconds in the 100 and 200, world records in both events, and a pair of headline-grabbing victories.
Speaking to Olympics.com in 2022, Kitajima reflected on how his competitive drive pushed him to great heights in his chosen profession. Specifically, he revealed how he felt he needed to be in a certain state of mind to achieve excellence.

"I can only compete when my innermost heart is burning with passion," Kitajima told the website.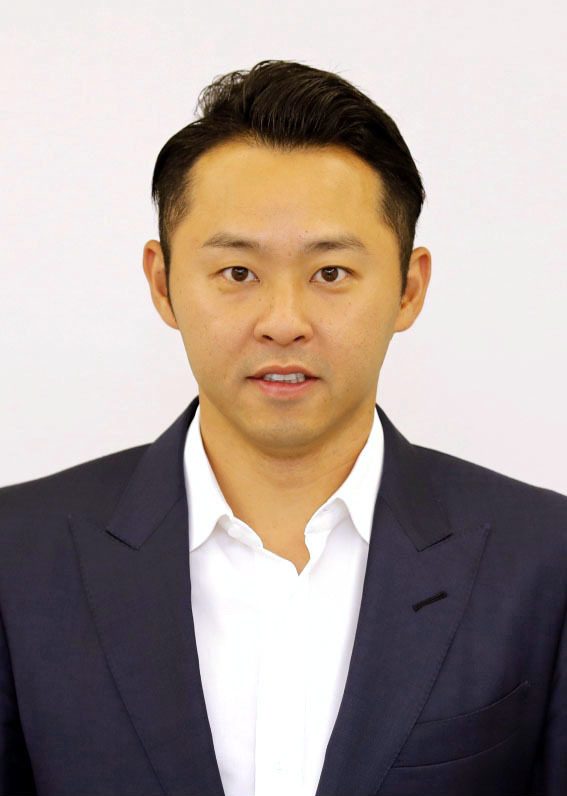 Kitajima retired in 2016 after he was unable to qualify for that year's Rio de Janeiro Olympics. He ended his career with seven Olympic medals, including a pair of bronze (2004, 2008) and a silver (2012) in the 4x100 medley relay.

In the fierce competition in the pool, his never-ending quest for perfection produced a landmark milestone in the Chinese capital. That is where he became the first swimmer to break the 59-second barrier in the 100-meter breaststroke. Kitajima won his second gold in the event with a then-world record time of 58.91.
"To be able to swim that race despite not being 100 percent confident of winning was very satisfying," Kitajima told reporters in April 2016, looking back on his career on the day he announced his retirement. "But I even remember the races I lost when I was at elementary school."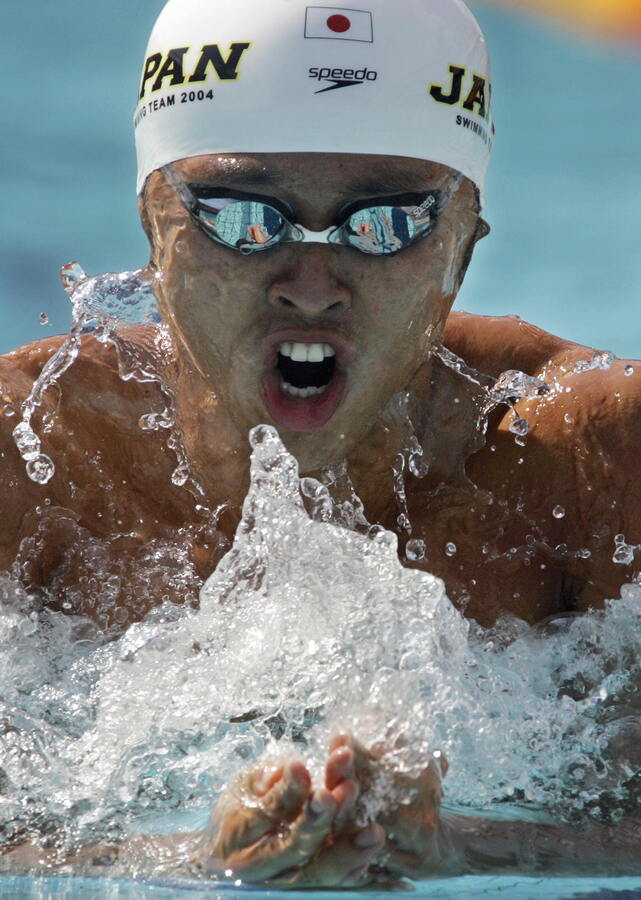 Hirai Focused on Harnessing Kitajima's Strengths
In a 2003 article I wrote for Swimming Technique magazine, Normasa Hirai, Kitajima's longtime coach, talked about his pupil's development into a world-class competitor.
"His strength is that he really has strong ankles," Hirai said
A baseball pitcher's wrist is vital to getting movement on pitches. Similarly, a swimmer's ankle snap is a key component of propelling the athlete's movement, Hirai mentioned in the interview, referring to the portion of the race when the swimmer flips at the wall and continues racing.
A quick snippet from my 2003 article underscores the significance of the ankle snap as a fundamental part of the race: "Essentially, the kinetic energy of the snap to the kick to the glide serves as a catalyst for the most important part of the race, the actual breaststroke."
How did Hirai evaluate Kitajim's ankle snap?
"He had it naturally," Hirai commented before adding, [Kitajima] originally had this ability, so we put more attention to developing it.
"When I met him for the first time, I knew a lot about the strengths and weaknesses of his swimming techniques, but I thought the ankle snap was really a strength for him," the coach continued.
"So I encouraged him to develop the ankle snap instead of finding out his weaknesses. I know gliding is a really important factor to have higher speed, but when I met him and saw his strengths, I knew that the ankle snap could be applied to him. "
The coach went on: "I just put more attention on developing his strengths rather than changing his weaknesses."
Hirai's approach proved to be correct.
Kosuke Kitajima became one of Japan's greatest Olympians.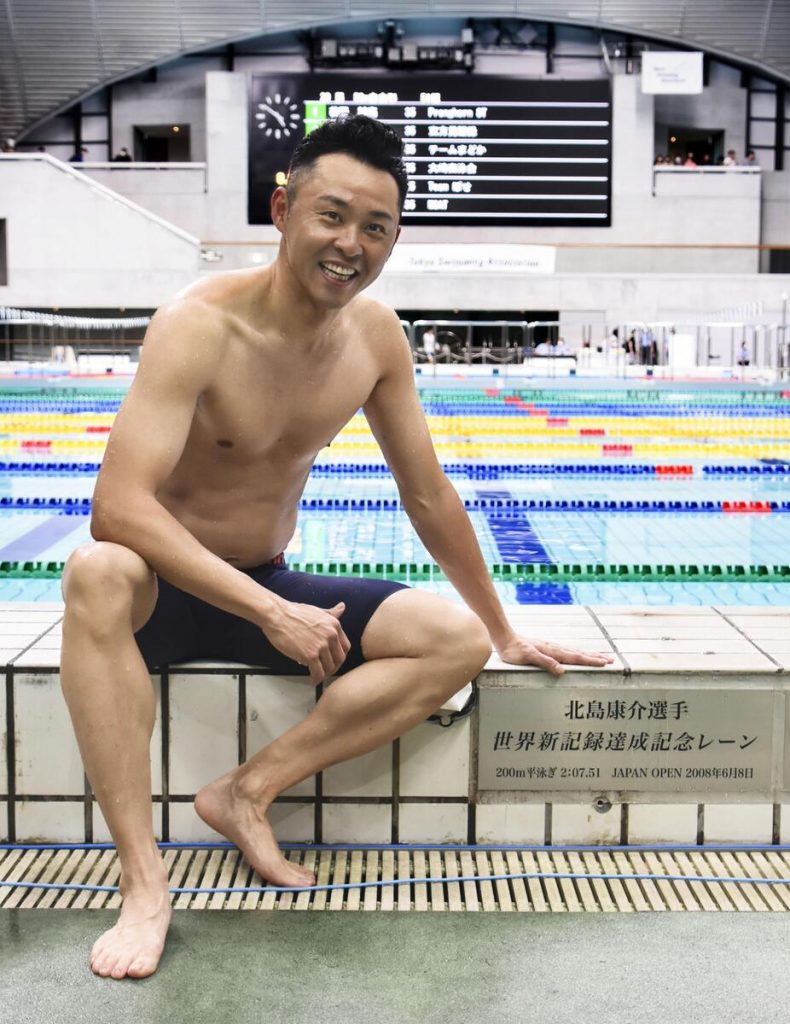 Kitajima Appears in First Race in Seven Years
Kitajima competed in the men's 50-meter breaststroke in the Tokyo Masters tournament on Saturday, March 18, beating five 18-year-olds in his race. He was clocked in 29.00 seconds in his first race since April 2016.
The race took place at Tokyo Tatsumi International Swimming Center, which will close its doors at the end of the month and be reconfigured into an ice rink. It opened as a sports venue in 1993.
"I was very nervous and anxious, but I'm glad to be able to see Kosuke Kitajima swimming energetically again," Kitajima said, according to Kyodo News after the race.
RELATED: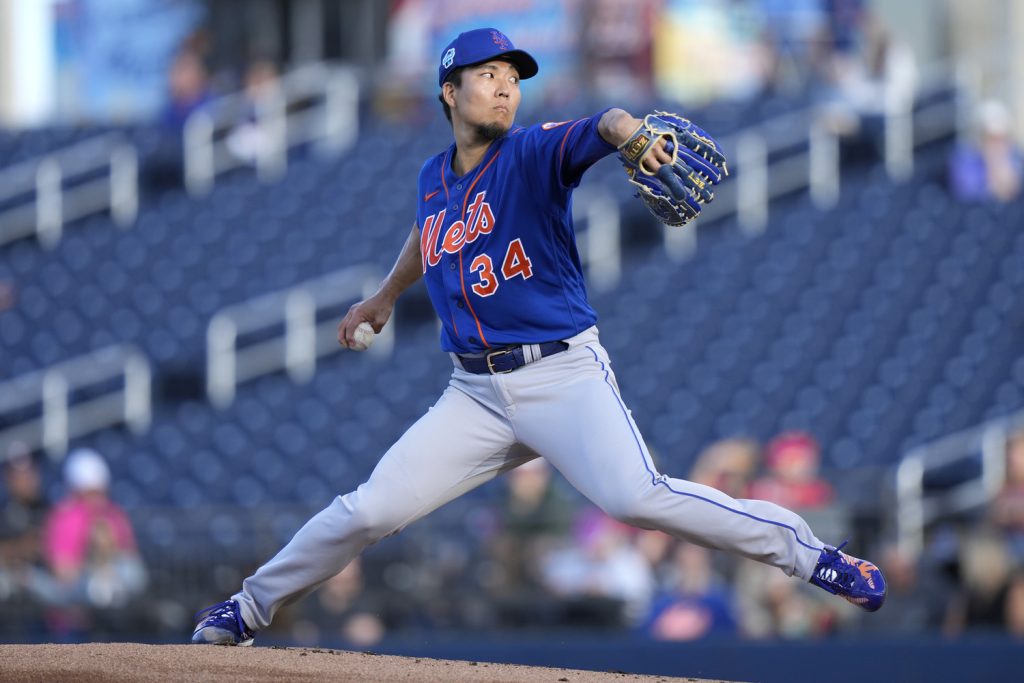 Baseball
Mets Pitcher Senga Back in Action After Dealing with Finger Tendinitis
New York Mets pitcher Kodai Senga missed a scheduled start on March 11 due to pain in his right index finger. It was described as tendinitis in numerous published reports.
Five days later, the former Fukuoka SoftBank Hawks standout pitched in a game. Senga started against the Washington Nationals on Thursday, March 16 in a Grapefruit League game in West Palm Beach, Florida.
The Nationals beat the Mets 3-0. Senga threw 57 pitches in three innings, giving up three hits and a run. He struck out five.
The right-hander's fastball was clocked at 97 mph (156 kph) on the radar gun.

After his pitching appearance, Senga told reporters that he has tinkered with a couple of his pitches since he played for the Hawks.
"The cutter and sweeper slider are new grips that I developed this offseason, so going into this outing those are pitches I wanted to work on," Senga was quoted as saying by the New York Post. "But it just naturally happened."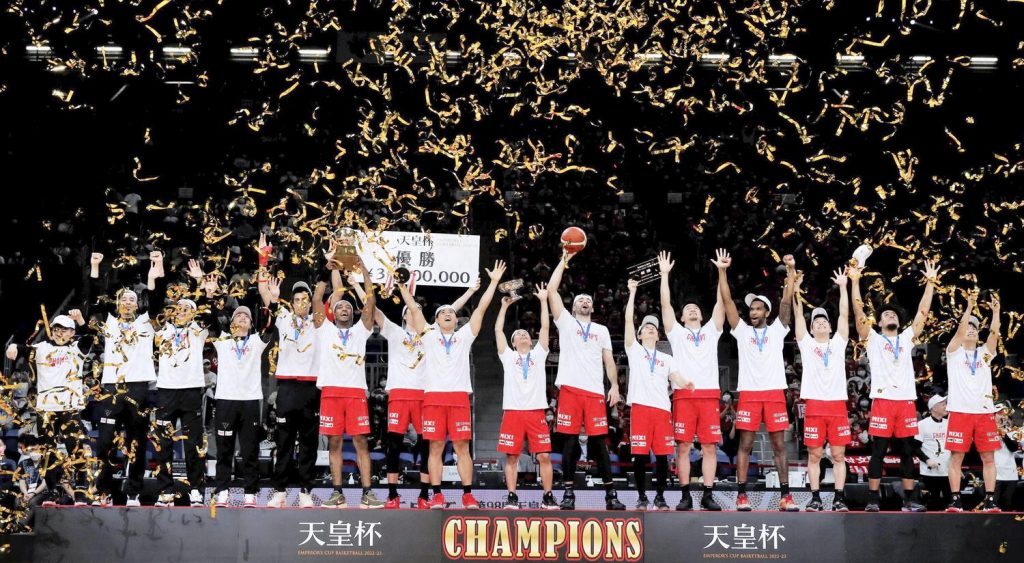 Basketball
Chiba Jets Capture Fourth Emperor's Cup Title
The B.League's Chiba Jets defeated the Ryukyu Golden Kings 87-76 in the 98th All Japan Basketball Championship final on Sunday, March 12 at Tokyo's Ariake Colosseum.
For the Jets, it was their first Emperor's Cup title since 2019, when they won the tournament for the third year in a row.
Chiba used an 11-0 run in the first quarter to take an 11-3 advantage.
Jets coach John Patrick's squad led 46-39 at halftime.
Swingman Shuta Hara paced Chiba with 20 points, including 4-for-8 from 3-point range. Point guard Yuki Togashi, who was selected as game MVP, contributed 19 points, eight assists and two steals. Togashi nailed four 3s. John Mooney added 17 points and grabbed 12 rebounds.
For Ryukyu, Keita Imamura scored 17 points, Hayato Maki poured in 14, Allen Durham added 13 and 11 rebounds, and Ryuichi Kishimoto had 10 points.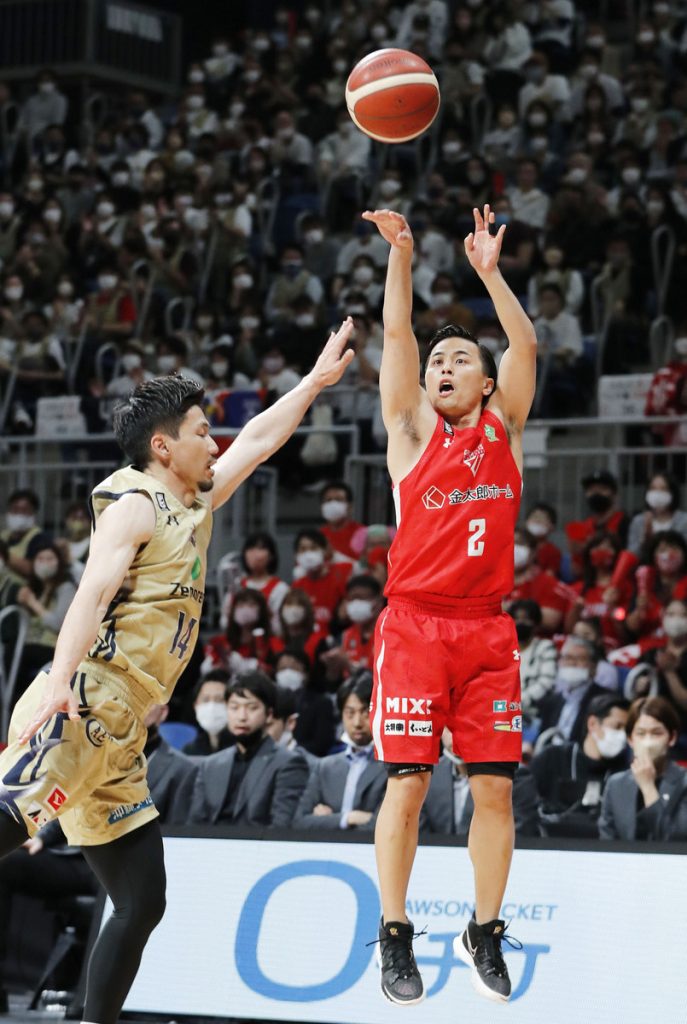 After the game, the Japan Basketball Association announced the tourney's Best Five Team. Jets standouts Togashi, Hara and Mooney were selected along with Imamura and Yokohama B-Corsairs playmaker Yuki Kawamura.
"I'm happy to have won the Emperor's Cup after a long time, but this is not the only goal for the team, so I'll do my best to continue to win more and more [games]," Togashi told NHK after the game.
He added, "Thanks to the [fans'] support, we were able to play in a great atmosphere, and I was really happy."
Jets Extend B.League Record Win Streak to 23
Three days after winning the Emperor's Cup, the Chiba Jets were back in action in the B.League.

The Jets earned a 94-80 home victory over the Levanga Hokkaido on Wednesday, March 15, stretching their league record winning streak to 22 games.

Chiba, playing without sidelined frontcourt stars Gavin Edwards and Vic Law, got a big boost from Togashi, who scored a game-high 33 points. Togashi canned 11 of 19 shots from the floor, including six 3-pointers.
As a team, the Jets' long-distance shooting (19-for-40 on 3-point attempts) was a key factor in the win.
Christopher Smith chipped in with 20 points and seven assists for the Jets, who had four players reach double figures in points.
On Saturday, March 18, the Jets (37-4, a league-best record) won their 23rd in a row, edging the host Kyoto Hannaryz 93-91 in overtime in the teams' series opener.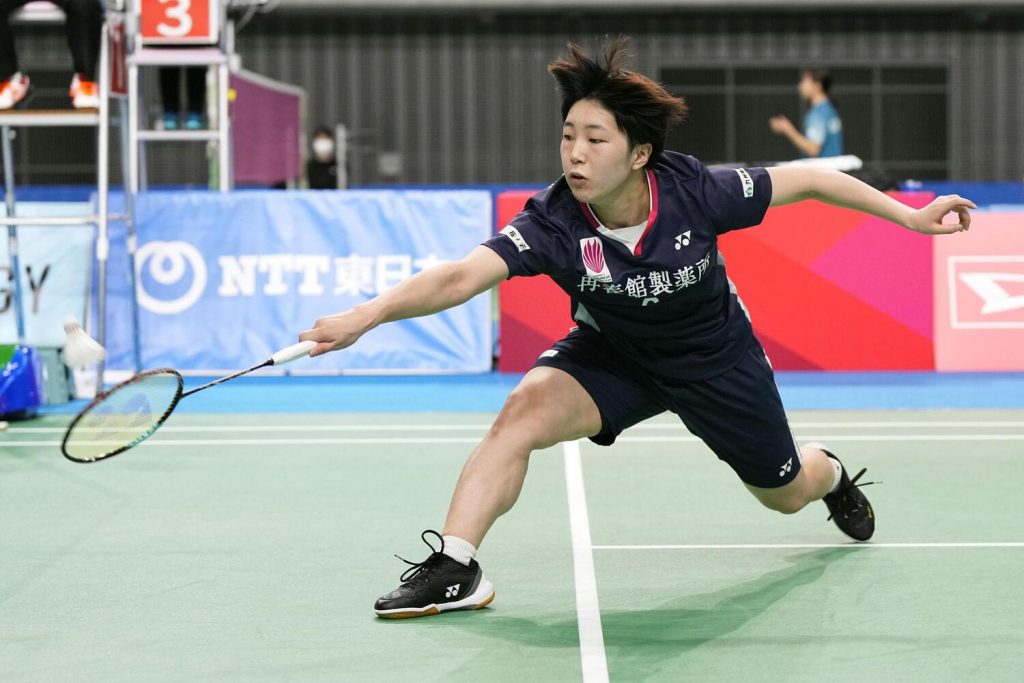 Badminton
Yamaguchi Collects Fourth German Open Title
Akane Yamaguchi, the world's top-ranked women's singles player, made quick work of South Korea's world No. 2 Se Young An in the German Open final on Sunday, March 12.
Yamaguchi dispatched An 21-11, 21-14 in 34 minutes in Mulheim to win the tournament for the fourth time. Her previous German Open titles came in 2017, 2018 and 2019.
At the India Open in January, An defeated Yamaguchi in three sets in the women's final.
Yamaguchi avenged that loss weeks later in Germany.
"I always enjoy playing the German Open because I perform well in this hall and could win this title for the fourth time now. I am very happy about this week," Yamaguchi told reporters after the match.
Top-seeded Yamaguchi was in the running for a title in two consecutive weeks. Yamaguchi lost to China's Yu Fei Chen 21-17, 21-8 in the All England Open semifinals on March 18.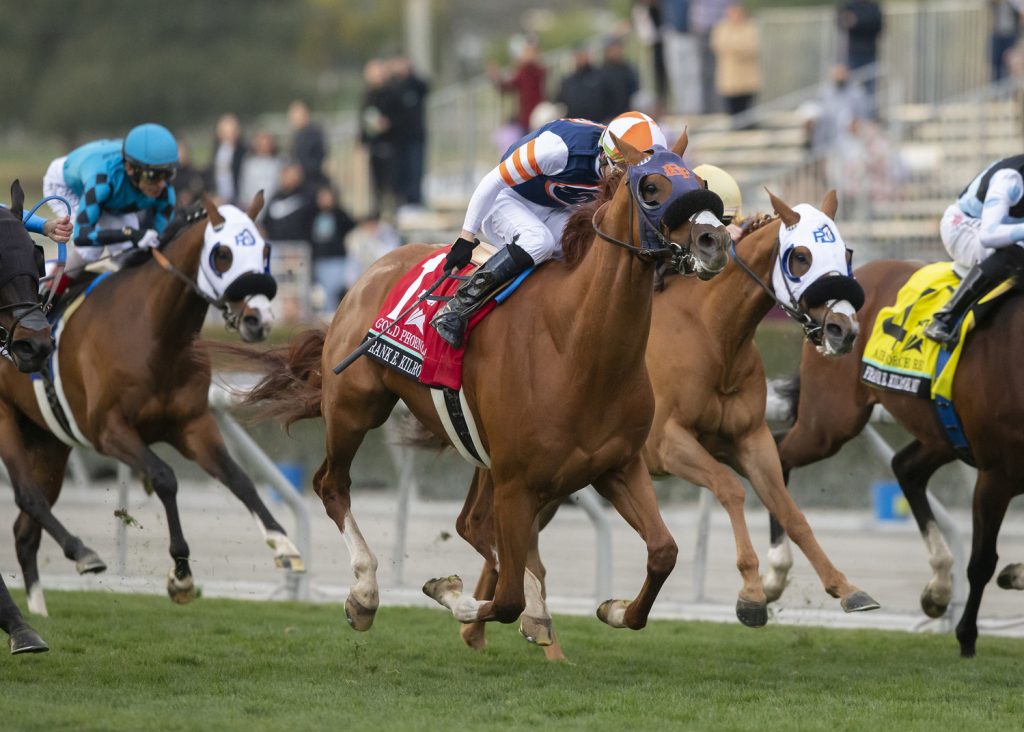 Horse Racing
Kimura Continues to Impress at Santa Anita Park
Two months after collecting his first victory of the winter racing season at Santa Anita Park in Southern California, jockey Kazushi Kimura has experienced additional success in recent races there.
The Hokkaido native, who has won back-to-back jockey season titles at Toronto's Woodbine Racetrack, has placed third or better in eight races in March (through March 18), including a pair of victories aboard Gold Phoenix and Left Hand Man on March 4.
In the Grade 1 Frank E Kilroe Mile, Gold Phoenix edged Du Jour by a neck's length, a victory that Phil D'Amato, the horse's trainer, was thrilled about.
"This kid has ridden two horses for me now and both wins," D'Amato was quoted as saying of Kimura by the Los Angeles Times. He saved every inch of ground, waited, split horses and did everything I told him. … I can't say enough about the great ride."
Kimura also offered his impressions of the race.
"This horse hadn't run since the Breeders' Cup (in November) and it's the first time I've ridden him. I just wanted to get a good position at the break and maybe we'll get lucky and finish second or third," Kimura told reporters. "I was sitting right behind Joe Bravo (Cabo Spirit) and at the three-eighths, I was looking for a good position. He was looking around and once we hit the lane, we saw the opening between horses and he exploded."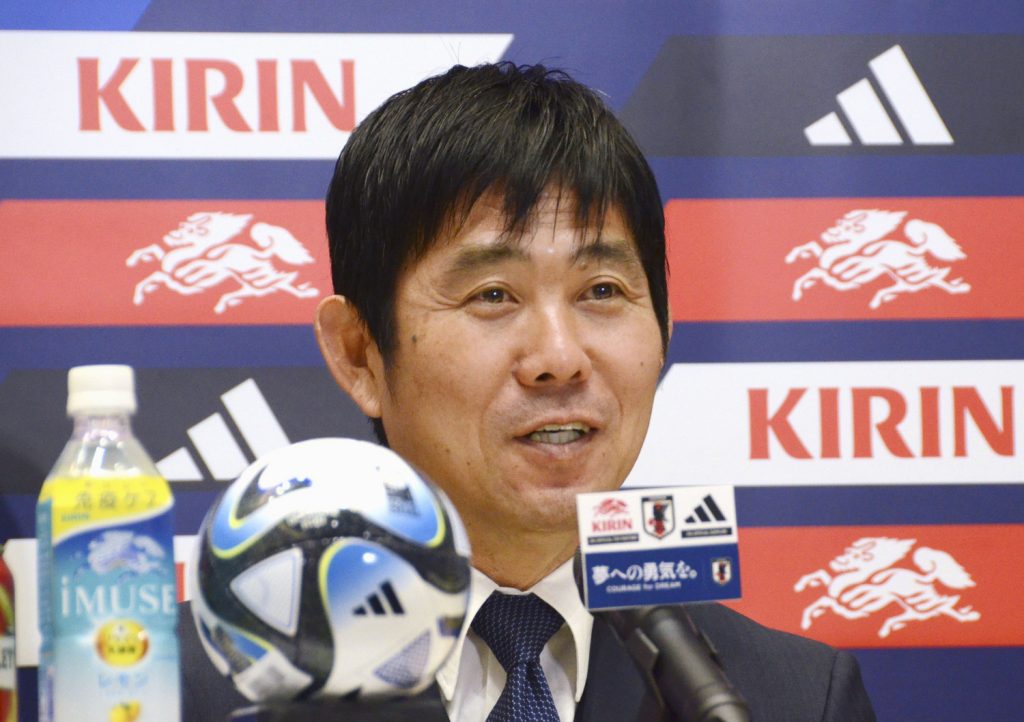 Soccer
Samurai Blue Preparing to Face Uruguay, Colombia
The Japan men's national soccer team, aka Samurai Blue, is preparing to play its first matches since the 2022 FIFA World Cup on Friday, March 24 (against Uruguay in Tokyo) and Tuesday, March 28 (against Colombia in Osaka).
At a news conference on Wednesday, March 15, manager Hajime Moriyasu discussed his decision to give several players, including Austria-based forward Keito Nakamura, their first call-ups to the national team for the two friendlies.
"I want to have a bigger, deeper pool of players to enable us to make the strongest national team in the future," Moriyasu said, according to Kyodo News. "I want the players who got their call-ups this time to make their presence felt."
Japan's complete roster for the two matches is posted on the Japan Football Association website.

Author: Ed Odeven
Find Ed on JAPAN Forward's dedicated website, SportsLook. Follow his [Japan Sports Notebook] on Sundays, [Odds and Evens] during the week, and Twitter @ed_odeven.