Munetaka Murakami entered the 2022 Nippon Professional Baseball season as one of the league's premier power hitters.

On Sunday, July 31 and Tuesday, August 2 (with an off-day in between), the Tokyo Yakult Swallows superstar brandished his reputation with a remarkable display of hitting: home runs in five straight at-bats, an NPB record.

Twenty players had homered in four consecutive at-bats before Murakami rewrote the record.

Murakami currently leads NPB with 39 homers.

A season ago, he belted 39 round-trippers for the Japan Series champion Swallows, sharing the Central League lead with Kazuma Okamoto of the Yomiuri Giants.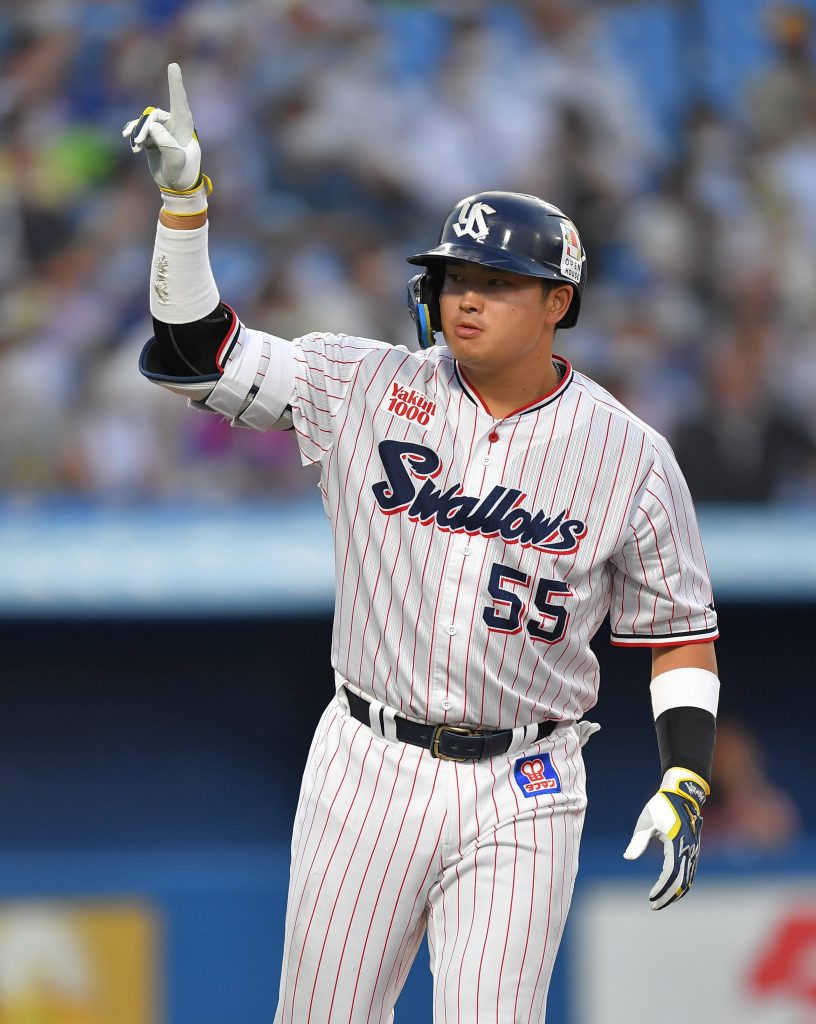 Sunday Heroics
At Koshien Stadium on Sunday, Murakami smacked his 35th, 36th and 37th homers of 2022 against the Hanshin Tigers, lifting the Swallows to a 4-2 win in 11 innings. He drove in all four Yakult runs.

In the seventh inning, the 22-year-old cleanup hitter ripped a solo shot to left off Tigers reliever Yuta Watanabe to pull the Swallows within 2-1.

With one out in the top of the ninth, the Kumamoto native hammered a pitch from Suguru Iwazaki over the right-field fence, tying the game at 2-2.

In the 11th, the 2021 CL MVP hit a two-run homer to left off Tigers rookie Daichi Ishii.

Tuesday Milestone
Two days later, Murakami became the 21st NPB player to record homers in four consecutive at-bats, when he clubbed Chunichi Dragons starter Yuya Yanagi's 2-1 pitch over the right-field fence in the first inning for a bases-empty homer at Jingu Stadium. Tetsuto Yamada homered earlier in the inning. Murakami's clout gave the Swallows a 2-0 lead.

"I was thinking of hitting four straight. Last night, I dreamed I hit a home run, so I went to the plate thinking it might happen," Murakami said later, according to Kyodo News. "I was able to concentrate like usual, and wanted to put a good swing on a fat pitch if I got one. I got one and I did."

Murakami shattered the NPB record in the third inning, feasting on another Yanagi offering and sending the full-count pitch for a ride to left-center beyond the playing field. The Swallows led 4-0 at that point.

"I came to the plate thinking five straight would be pretty cool, so I was kind of looking to hit another one there," Murakami was quoted as saying by Kyodo News.

His streak ended in the sixth inning, when he connected on a 3-2 pitch from Yanagi for a double, then scored Yakult's final run in a 5-0 shutout victory.

Murakami made history and by all visible signs was in an upbeat mood after the game.

"The first one was a perfect home run that could be said to be 'the best of the year,' and the second one was a good follow-through and a good [swing] even though I was losing my balance, so both were really good home runs," Murakami said during his post-game hero interview, Sports Hochi reported.

RELATED:
Author: Ed Odeven
Follow Ed on JAPAN Forward's [Japan Sports Notebook] here on Sundays, in [Odds and Evens] here during the week, and Twitter @ed_odeven.