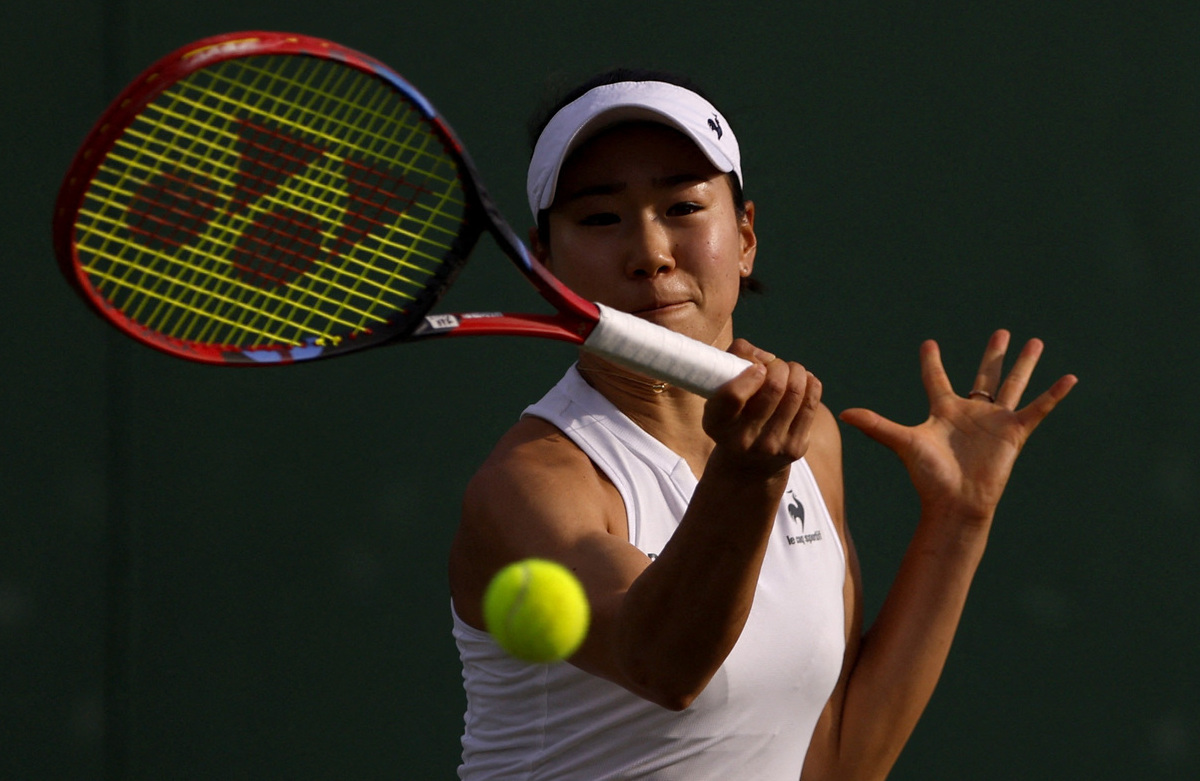 Nao Hibino completed a memorable day at the Prague Open with a victory in the women's doubles final. She teamed up with Oksana Kalashnikova for a 6-7 (7-9), 7-5, 10-3 decision over Quinn Gleason and Elixane Lechemia on Monday, August 7.

Earlier on the same day, Hibino upset Czech fourth seed Linda Noskova 6-4, 6-1 to win the tournament's singles final. Hibino held a 4-1 lead in the second set and a 30-0 advantage in the sixth game when rain forced the match to be delayed.
When play resumed, Hibino picked up where she left off and put the finishing touches on her title-winning effort.
The Aichi Prefecture native climbed 52 spots (from No 136 to No 84) in the WTA Tour's singles rankings, which were released after the tournament wrapped up on Monday.


Lifting her third career Hologic WTA Tour title!

Nao Hibino wins the @livesportprague trophy with a 6-4, 6-1 defeat of No.4 seed Noskova 🏆#LPO2023 pic.twitter.com/YARrrlrilL

— wta (@WTA) August 7, 2023
Rain Disruptions for Nao Hibino and Opponents
"I'm really grateful to have made it to the final today," Hibino, 28, told reporters in the Czech capital. "It was a tough week with all the rain."
Tournament organizers had to call off all matches on Saturday, August 5 due to rain.
On Sunday, Hibino faced Romania's Jaqueline Cristian in the semifinals.
The match carried over to Monday with Hibino leading 5-2 in the decisive third set. There were three rain delays during Sunday's portion of the match.
It took Hibino only 5 minutes to finish off Cristian and win the match, 6-4, 6-7 (2-7), 6-3 to secure a spot in the final.
Facing the 71st-ranked Noskova, who is 10 years her junior, Hibino rallied after dropping the first three games of the opening set. Momentum shifted to Hibino in a big way as she was victorious in 12 of the last 14 games.
In short, it was a 71-minute demolition. "Smart anticipation and shot selection" were hallmarks of Hibino's performance, according to the WTA Tour website's news report.
Windy conditions also impacted the match.
"I struggled with the wind throughout the entire match, my opponent clearly dealt with that better," Noskova told reporters.
She added, "I made a lot of mistakes and missed out on lots of chances, like in the first set when it was 3-2. If I would have won a few more balls it could have really changed the outcome of the match."
Hibino Achieves a Goal
"Coming back to the Top 100 was my biggest goal of the year," Hibino commented. "It feels amazing. I'm very happy with my performance in singles and doubles."
Reflecting on playing singles and doubles finals on the same day along with dealing with rain delays, she added: "I was very tired, I was very nervous because I'd never stopped with the score 5-2 like this. It was difficult to stay focused. My leg is heavy, but I was telling myself, 'One point at a time.' I tried to hit back as much as I can."


Make some extra room in the suitcase 🧳

Nao Hibino follows up her Prague singles victory with the doubles title win, alongside partner @OksKalashnikova 🏆#LPO2023 pic.twitter.com/Zt6EK5sCNE

— wta (@WTA) August 7, 2023
Talking About Titles
Hibino earned her third career WTA Tour doubles title at the Prague Open. Before winning in the Czech capital, her most recent title was in September 2019, when she teamed up with Misaki Doi to win the Japan Women's Open in Hiroshima.
Also in Hiroshima, Hibino defeated Doi in the women's final at that same tourney. And before Monday's rain-delayed championship match in Prague, that was her most recent WTA singles title.
Now, Hibino has three career singles titles on the top-tier professional tennis circuit, too.
Moreover, Hibino's win in Prague was the first WTA Tour singles title by a Japanese player since Naomi Osaka triumphed at the 2021 Australian Open.

Author: Ed Odeven
Find Ed on JAPAN Forward's dedicated website, SportsLook. Follow his [Japan Sports Notebook] on Sundays, [Odds and Evens] during the week, and Twitter @ed_odeven.