[ODDS and EVENS] Okayama GT Provides a Vivid Look at Nismo's Effective Teamwork
Veteran drivers Ronnie Quintarelli and Tsugio Matsuda and Nismo's racing crew effectively cope with bad weather to win the rain-shortened Okayama GT.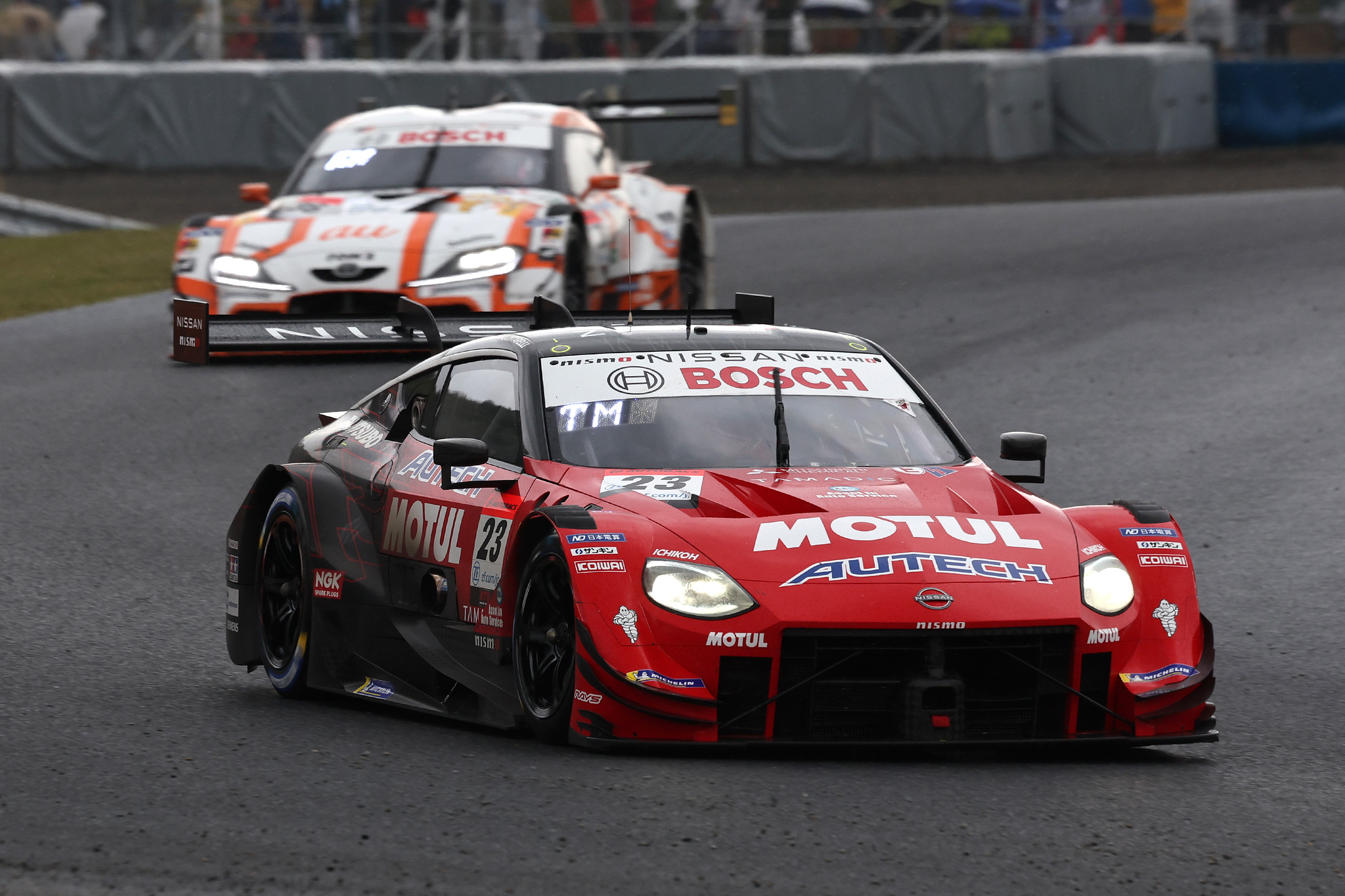 As fans were reminded while watching Super GT's season-opening Okayama GT 300-km race, drivers and high-tech automobiles need synergy in order to achieve success.
A win is a combined effort of a team's driver(s) ― the number varies in different racing circuits around the world ― and the fine-tuned racing machine that the team's mechanics and other specialists work on throughout the week and on race day during pit stops.
Humans and machines must also be equipped to handle Mother Nature's impact on a race.

The Okayama race on Sunday, April 16, featuring Super GT's top class of cars (GT 500; the GT 300 is the second tier), highlighted how rain can become a major factor in a race's outcome. Nismo's two drivers, Ronnie Quintarelli and Tsugio Matsuda, benefited from earning pole position for their No 23 Motul Autech Z a day earlier and leading at key moments in the race.

The longtime teammates collected the winner's trophy in the rain-shortened race (61 of 82 laps were completed). Okayama International Circuit officials made their decision based on safety concerns with lightning strikes flashing before their eyes.
When the race was called, Quintarelli and Matsuda had completed their day's work with the fastest time (2 hours, 44 minutes, 47.342 seconds) among 15 teams. That placed them 1.496 seconds ahead of NDDP Racing's Katsumasa Chiyo and Mitsunori Takaboshi, who both got behind the wheel of the Niterra Motul Z No 3 car, during the afternoon event. Arta Mugen NSX-GT's No 8 Honda ride (Tomoki Nojiri, Toshiki Oyu) finished third.
NDDP Racing is also under the Nismo (Nissan Motorsports International) umbrella, giving the auto giant an impressive 1-2 finish to open the season.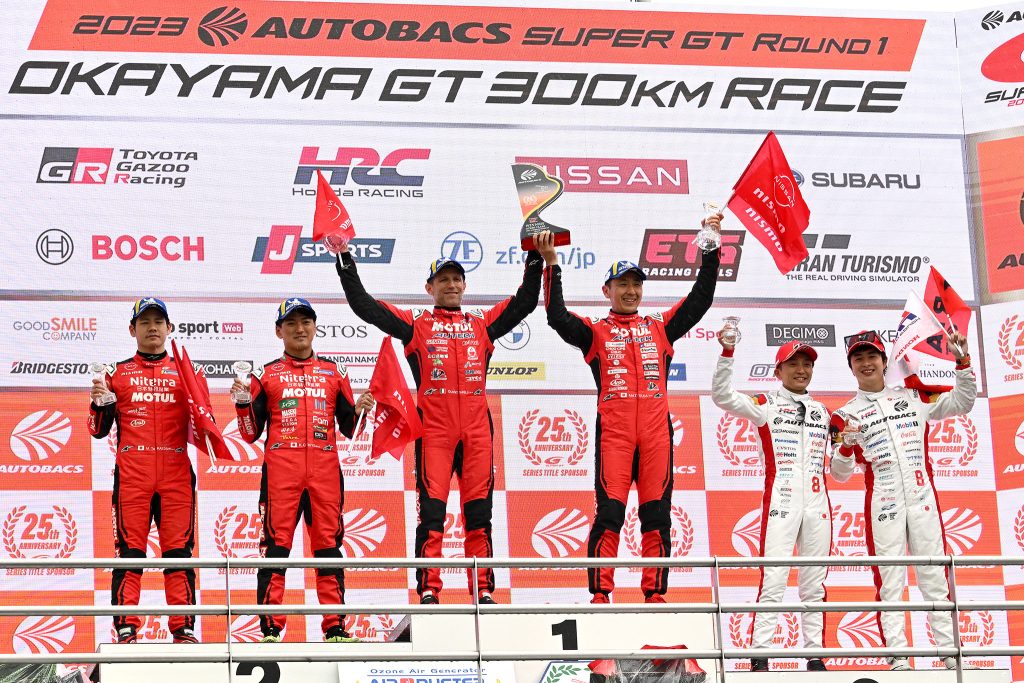 A Perfect Strategy
Quintarelli praised the meticulous work of Nismo's racing crew for making his victory a possibility.

"The race started with dry track conditions, and then the rain started," the Italian driver commented after the race. "On the slick tires it was very easy to slip, so I ran carefully, but it was difficult just after we changed to rain tires. But [after the tires were warmed up] it was possible to really move ahead with good speed."

Quintarelli added, "The team strategy was really perfect this time. Everything about the car and the staff's work was perfect this weekend."

En route to his 18th Super GT career victory, but first to open a Super GT season since 2016, Quintarelli and his team relied on astute timing to make weather-related adjustments. Switching to rain tires on lap 15 during a pit stop, Quintarelli slipped from first to third place, and then dropped back to sixth place a few laps later.

But as he noted above, the warm tires were a key in moving to the front of the pack again.

Which is exactly what occurred on lap 41's first corner, with Quintarelli overtaking the then-leader, AU Tom's GR Supra No 36, steered by Sho Tsuboi.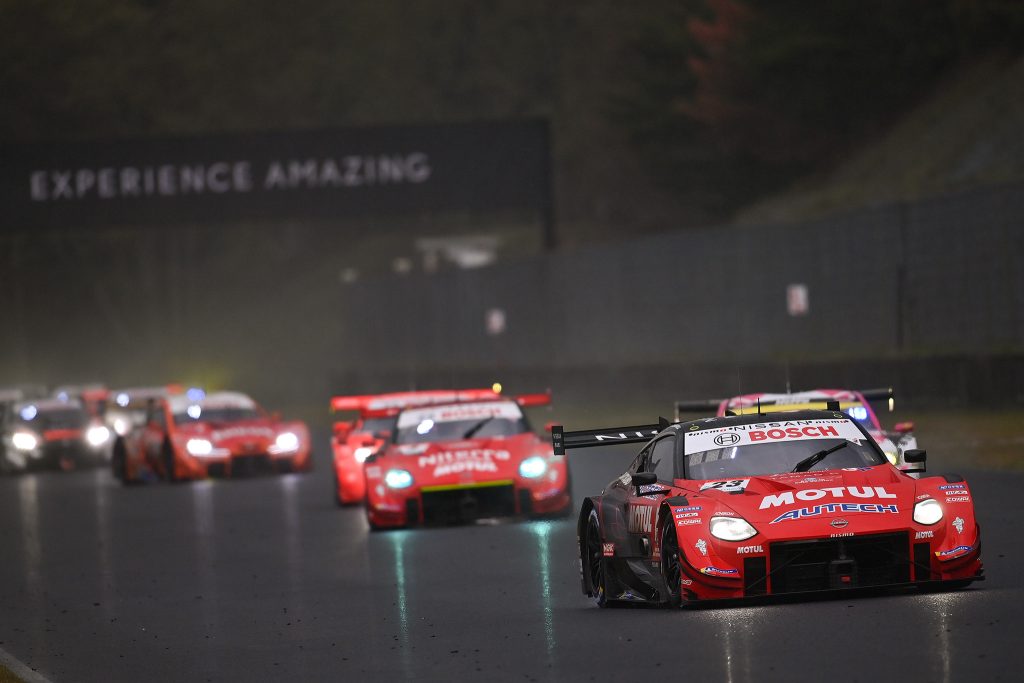 Matsuda Takes Over for Quintarelli
In 2011, Quinatarelli won his first Super GT season title, then repeated the next year with Mola teammate Masataka Yanagida. He achieved back-to-back titles with Matsuda in 2014 and 2015, and they remain a formidable pairing in 2023.
Quintarelli's four season titles are the all-time record in Super GT, which was known as the Japanese Grand Touring Championship until 2004. The circuit launched in 1993 under the former name.

On Sunday, Matsuda secured his all-time best 24th Super GT race win after inheriting the lead from Quintarelli on lap 46.
It was a collective effort from Nismo team members.

Matsuda communicated effectively with his racing crew and they made timely decisions to change tires based on weather conditions.
For instance, Matsuda returned to the pits on lap 50 to switch back to rain tires.

On lap 55, lightning strikes and heavier rain forced a break in the action, and a red flag signaled the stoppage.

But Matsuda, then in sixth place, was in prime position to make a move to the front after the restart at 3:35 PM.
Why?

Other cars hadn't yet switched back to rain tires, which were needed with precipitation increasing in intensity. That gave the No 23 car a clear path back to the lead position. And what might have appeared to be a tenuous position was strong enough when the race ended on lap 62.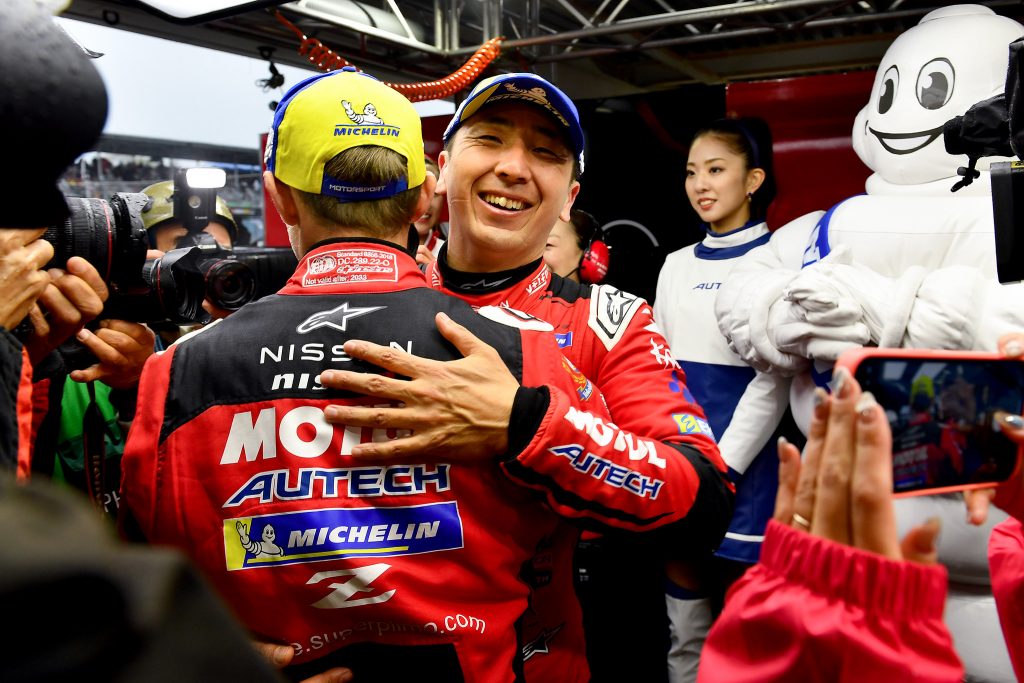 Acknowledgment of Luck
For Quintarelli and Matsuda, luck and smart planning were complementary elements in the season-opening race.
And I was reminded of legendary MLB executive Branch Rickey's observation from decades ago: "Luck is the residue of design."
In his post-race comments to the press, Matsuda didn't downplay the luck factor, noting racing conditions were "very precarious" for him.
"I didn't expect the conditions to be so unpredictable," Matsuda said. "But I think luck was on our side and the team's pit decisions were spot on."
He added, "I want to thank the entire crew of the No 23 car, [and] I am glad that we were able to start this season in such a good way after all the hard work we put in last season."

What else was on Matsuda's mind after the race?

"I want to thank the many people who came out to watch the race despite the rain," he said.
Upcoming Races
The second of eight races on Super GT's 2023 calendar is scheduled for May 4 at Fuji Speedway in Oyama, Shizuoka Prefecture. As is customary, qualifying is penciled in for the day before the race.

After that, five races, including a pair in August, are on the docket before the season finale.

The 2023 season is set to wrap up on November 5 at Mobility Resort Motegi, formerly known as Twin Ring Motegi, in Motegi, Tochigi Prefecture.

Follow racing news in English throughout the season on Super GT's website.

Author: Ed Odeven
Find Ed on JAPAN Forward's dedicated website, SportsLook. Follow his [Japan Sports Notebook] on Sundays, [Odds and Evens] during the week, and Twitter @ed_odeven.