[ODDS and EVENS] Youth and Determination Propel Asa Ando to Improve as an Elite Alpine Skier
Disappointment is a powerful motivational tool for an athlete that the 25-year-old Ando can use to improve her performance as she aims to put Japan on the map of elite skiers on the world circuit.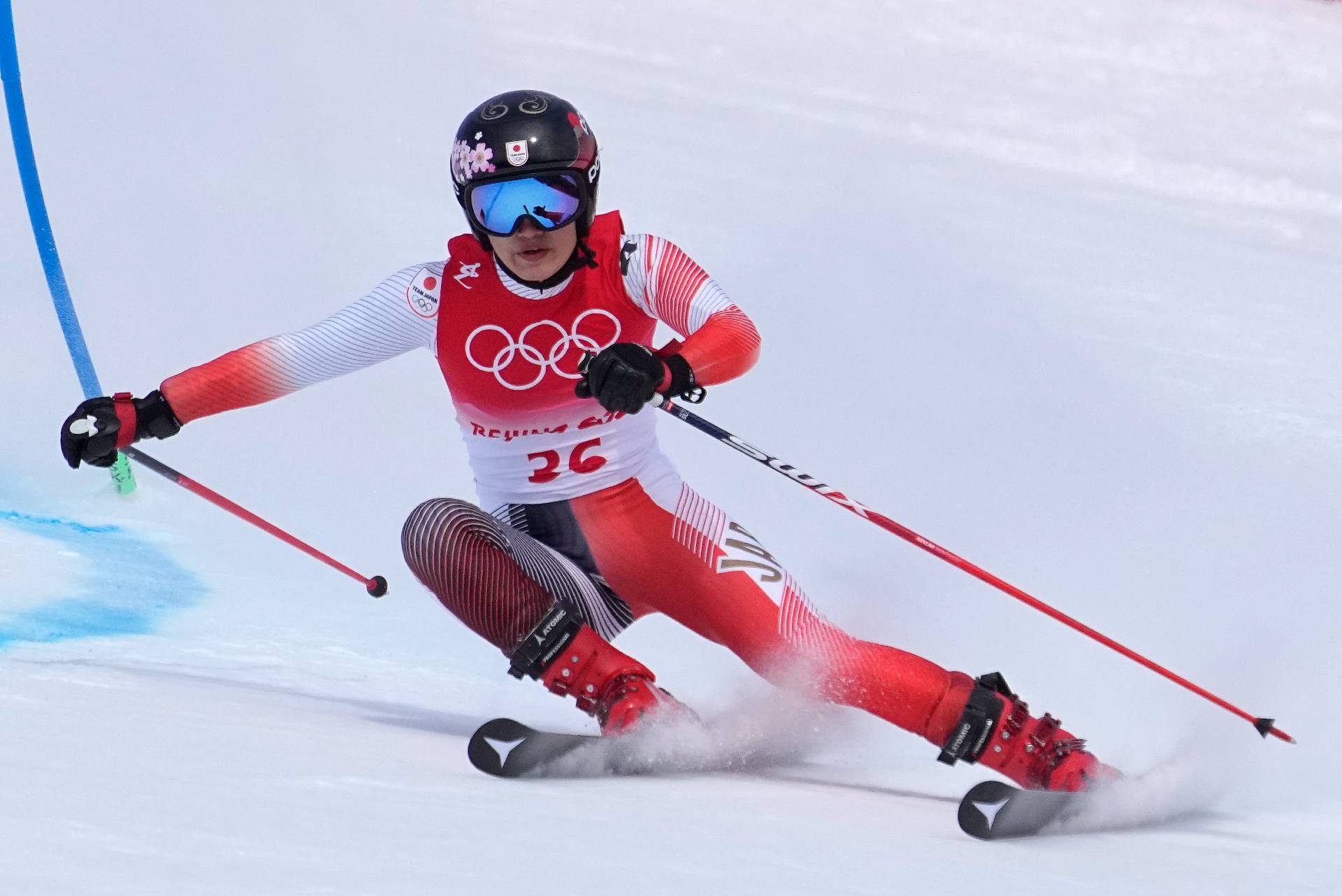 Like a climber painstakingly taking step after step to scale to the summit at Mount Fuji, Alpine skier Asa Ando is striving to reach the top in her specialty.
It's a yearslong quest for Ando, and a snapshot of the story that defines the lives of so many Olympians. In short, it's a never-ending process of competitions and training sessions, positive results and setbacks.
As a 21-year-old, Ando made her Olympic debut at the 2018 Pyeongchang Winter Games and didn't finish her slalom run. A missed early turn spelled disaster for her.

Speaking to reporters after her Olympic experience of about 12 seconds, Ando summed it up this way: "I basically just came here and it was all over before I knew it. I wasn't as nervous as I thought I would be. I need to work on my turns and get stronger physically over the next four years. I want another shot."
Such disappointment is a powerful motivation tool for an athlete. And it provided an important measuring stick for Ando, who has continued to work hard to improve her all-around skills on the ski course.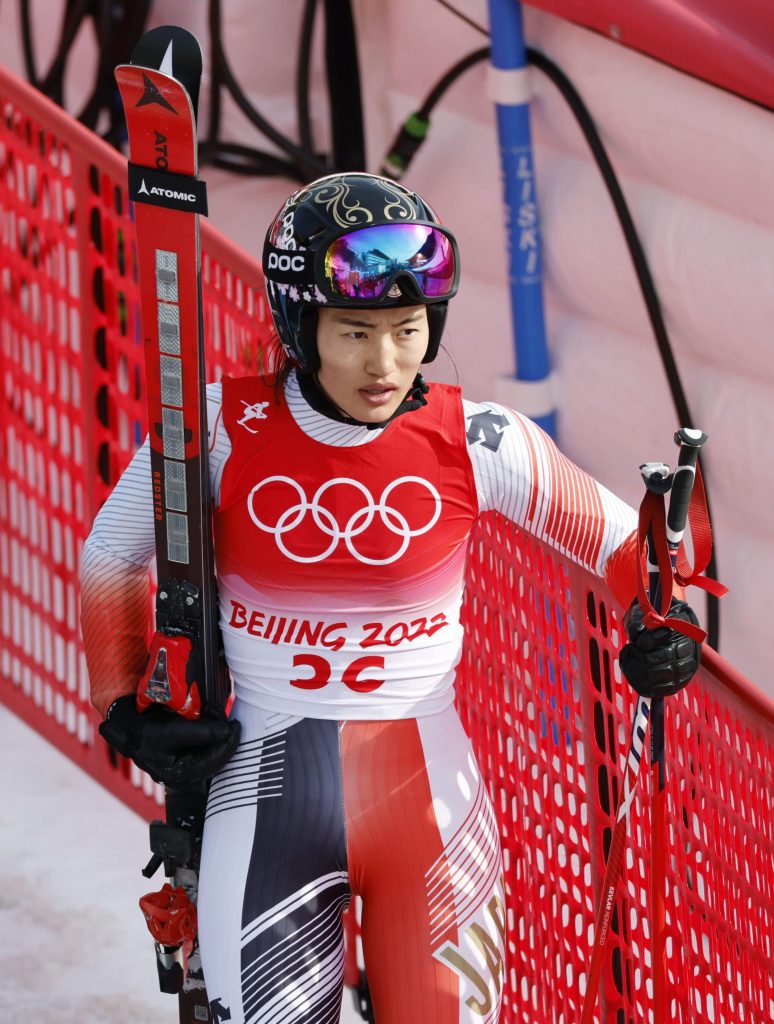 Sparse History of Japanese Elite Skiers
Ando, who was born in Asahikawa, Hokkaido Prefecture, returned to the Olympics for the second time this month.
Before flying to Beijing, she had the memory of an important achievement last year to look back on as a sign of her development in skiing.
In February 2021, Ando finished 10th overall in the women's slalom at the Alpine World Ski Championships in Cortina d'Ampezzo, Italy. In doing so, she established a new standard of excellence for the current era of Japanese Alpine skiers, the first woman from her homeland to place in the top 10 in either the Olympics or world championships.
And what did that feat mean to her?

"I'm overjoyed and shocked," Ando told reporters at the ski resort in northern Italy. "I was careful not to time my turns too early. I could run relatively calmly for the first one, the second I can't recall."
Since Japan made its Winter Olympic debut at the 1928 St. Moritz Games in Switzerland, the nation's athletes have amassed 58 total medals, including 14 gold, entering this year's Beijing Games.
Only one Japanese Olympian, however, has ever collected a medal in Alpine skiing. Chiharu Igaya took home a silver from the men's slalom at the 1956 Cortina d'Ampezzo Winter Games.

A bit more history is appropriate to put Igaya's feat in its proper context.

Emiko Okazaki placed 13th in the women's slalom at the 1972 Sapporo Winter Games, the highest finish by a Japanese Alpine skier at the elite competition level before Ando's breakthrough performance last year. In the downhill category, Emi Kawabata became the first (and only) Japanese woman to date to earn a podium finish in a World Cup Alpine skiing race by placing third in a downhill event in St. Anton, Austria, in December 1993.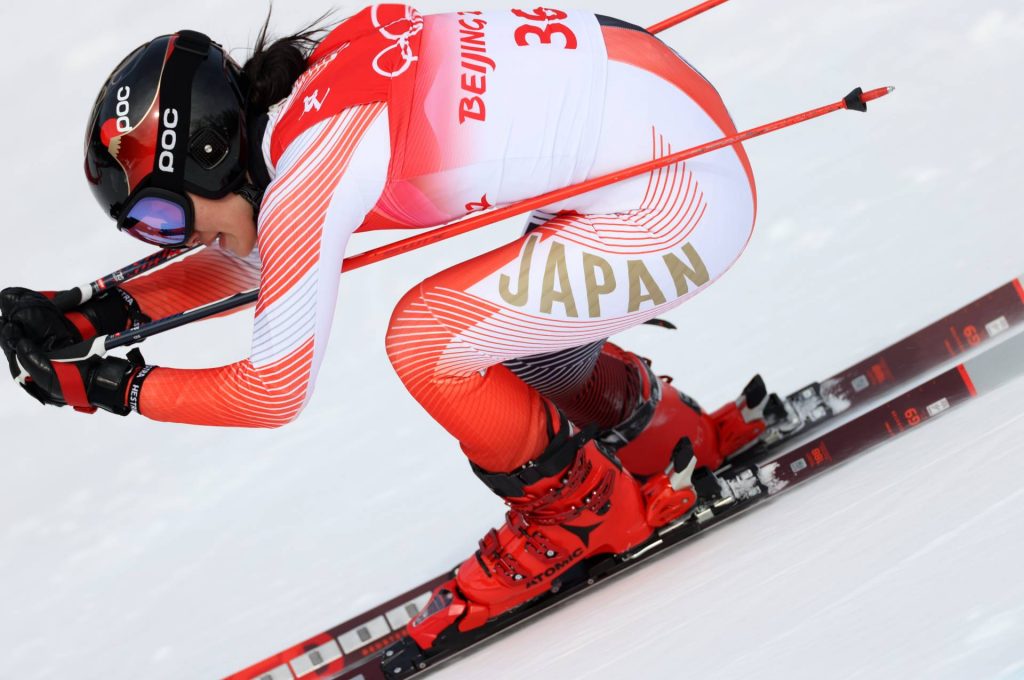 Ando at the Beijing Olympics
Ando placed 24th among 49 finishers in the two-run giant slalom event on Monday, February 7 at the Yanqing National Alpine Skiing Centre. She had a combined time of 2 minutes, 0.99 seconds. She was clocked in 1:01.43 on the first run and 59.56 on the latter.
Sweden's Sara Hector, sparked by her best time in the first run (57.56) captured the gold in 1:55.69.
"I got the feeling of snow and I understood the course," Ando was quoted as saying by The Yomiuri Shimbun. "I want to attack with a strong feeling."
The event is a formidable test of speed and body control. On the first run, for example, there were 47 sets of gates (poles) through which each skier must pass.

On the second run, there were 46 gates.
"[The second time] the steep slope was not bad," Ando pointed out. "However, there were not enough turns to accelerate more and more…"
Ando came close to earning the best-ever finish for a Japanese woman in an Olympic giant slalom competition. Harue Okitsu placed 22nd in the event at the 1972 Sapporo Winter Games, and also took the 16th place in the slalom and 40th in the downhill.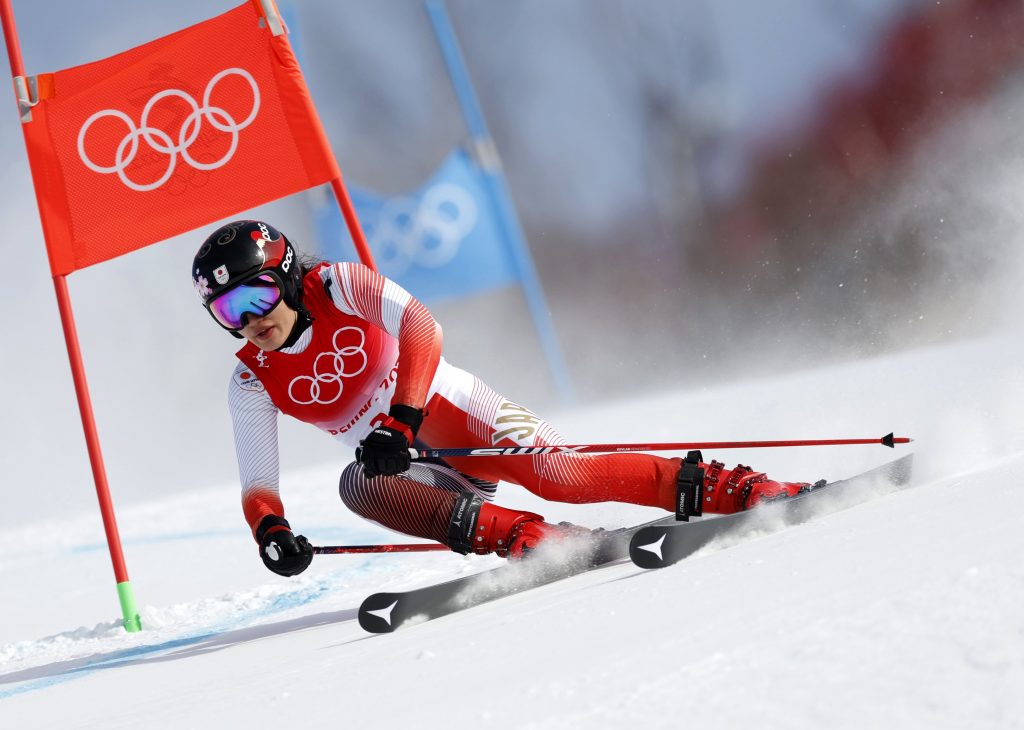 In the most basic breakdown between the slalom and the giant slalom, here are a couple key differences: The giant slalom course stretches longer from start to finish, while gates are also placed farther apart and are wider.
Ando returned to the slopes at Yanqing National Alpine Skiing Centre on Wednesday, February 9 for women's slalom qualifying. It didn't go well, as Ando didn't complete her run.

Clearly, lingering back pain from the giant slalom competition two days earlier had an impact on her performance. But Ando was determined to cope with the pain and compete.

"I will come out in any condition," she told reporters, referring to her fierce competitive spirit.

For Ando, perseverance and a determination to strive for excellence are simultaneous acts.
She's the type of athlete who's easy to root for.

And she's still only 25 years old. Expect bigger things from Asa Ando on the ski course in the years to come.

Author: Ed Odeven
Follow Ed on JAPAN Forward's [Japan Sports Notebook] here on Sundays, in [Odds and Evens] here during the week, and Twitter @ed_odeven.