Patient Yokozuna Terunofuji Defeats Kiribayama for First Win at Nagoya Basho
The grand champion fought off a series of moves to bounce back from a Day 1 loss.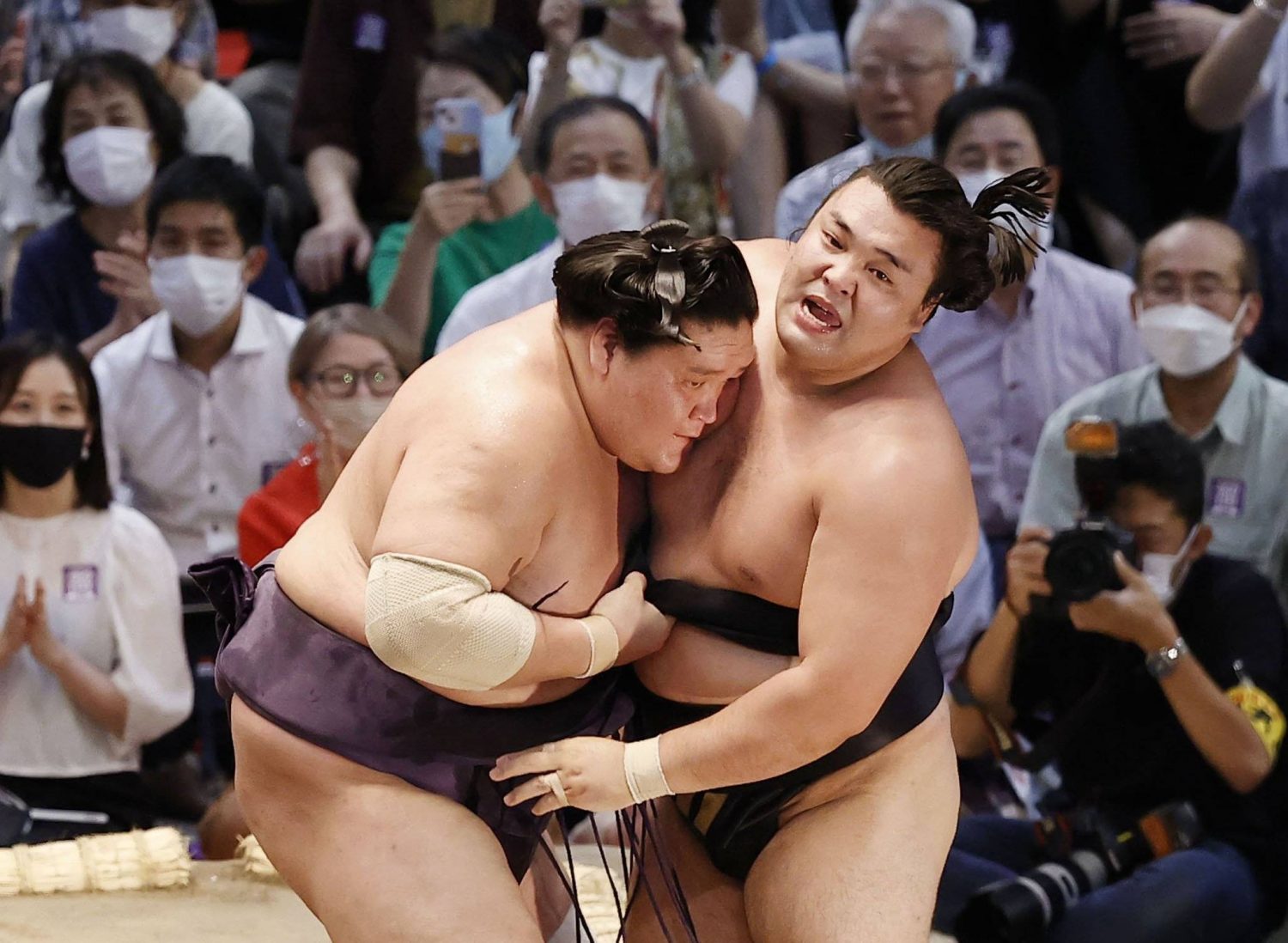 Grand champion Terunofuji outlasted Mongolian compatriot Kiribayama to pick up his first win on Monday, July 11, the second day of the Nagoya Grand Sumo Tournament.
Terunofuji defended well against the top maegashira who tried a variety of techniques before the yokozuna got a grip on the belt and shoved his opponent out to give both wrestlers a 1-1 record.
Terunofuji won his seventh Emperor's Cup in the previous tournament in May when he also lost on the opening day and struggled in the first half before a dominant second week sealed the trophy.
In other major bouts, Kotonowaka made it back-to-back wins over ozeki when he turned Mitakeumi around after the face-off with a right-hand grip on the belt and shoved his opponent out over the straw ridge.
No. 2 maegashira Kotonowaka, who beat Shodai on the opening day, continues to impress with wins over the struggling ozeki and improved to 2-0.
"I went on the attack right away," said Kotonowaka. "I didn't want to be pulled down by the ozeki so I decided to go chest-to-chest. I don't want to think too much about the wins and will just concentrate on executing my sumo."
Kotonowaka will go for an ozeki sweep when he faces Takakeisho on Day 3 at Aichi Prefectural Gymnasium.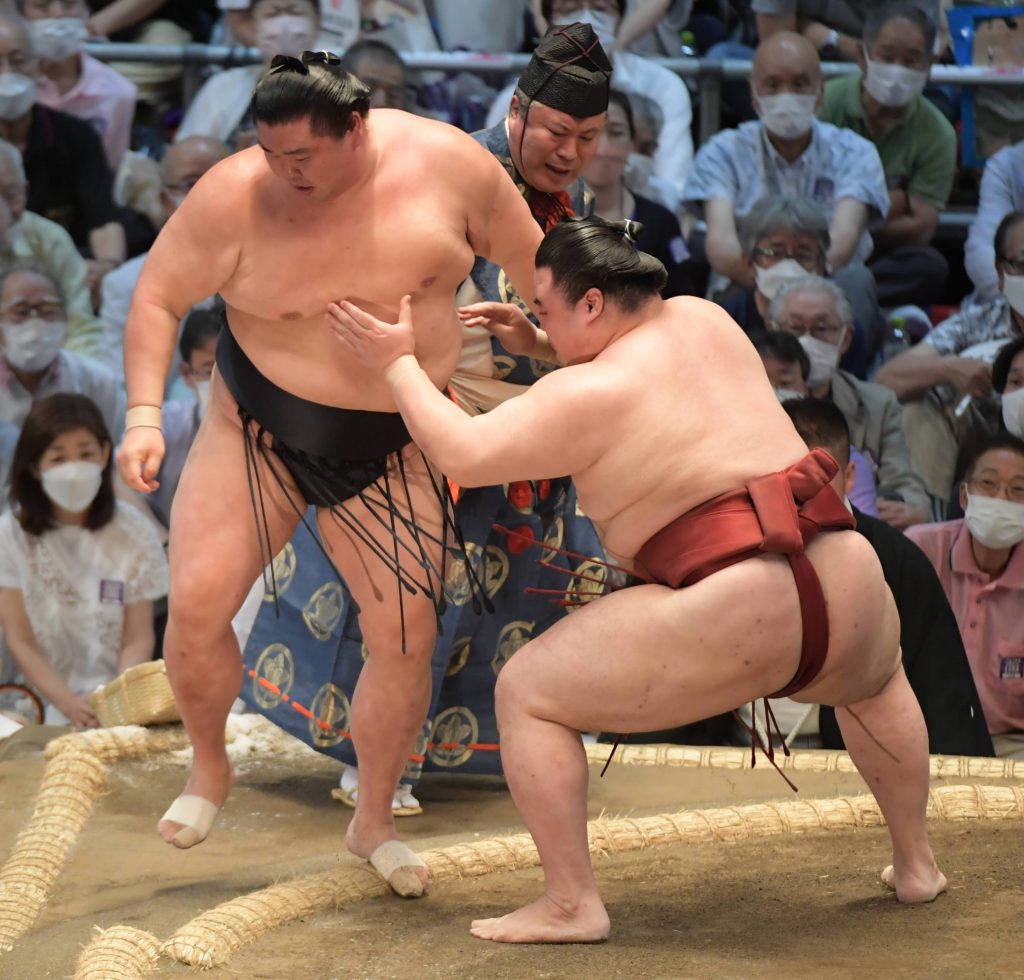 Takanosho Impresses in Win Over Shodai
Top maegashira Takanosho improved to a perfect 5-0 against Shodai with a dominant push-out win over the struggling ozeki, who put up little resistance and fell to 0-2.
Takanosho, who hopes to compete for the title in this tournament as he did in the previous meet, started off with a thrust to the neck and had little trouble forcing out his opponent to pick up his first win of the 15-day basho.
"I just went all out and stayed on the attack," Takanosho said. "I got a double-arm grip and that gave me the stability to win. I feel a lot of confidence in my sumo and hope I can continue with this winning vibe."
Takanosho will take on Terunofuji on Day 3 with a chance to make a big statement about his title ambitions.
Shodai, meanwhile, needs at least eight wins in the Nagoya meet to maintain his ozeki status for the next tournament and will need to turn his fortunes around soon.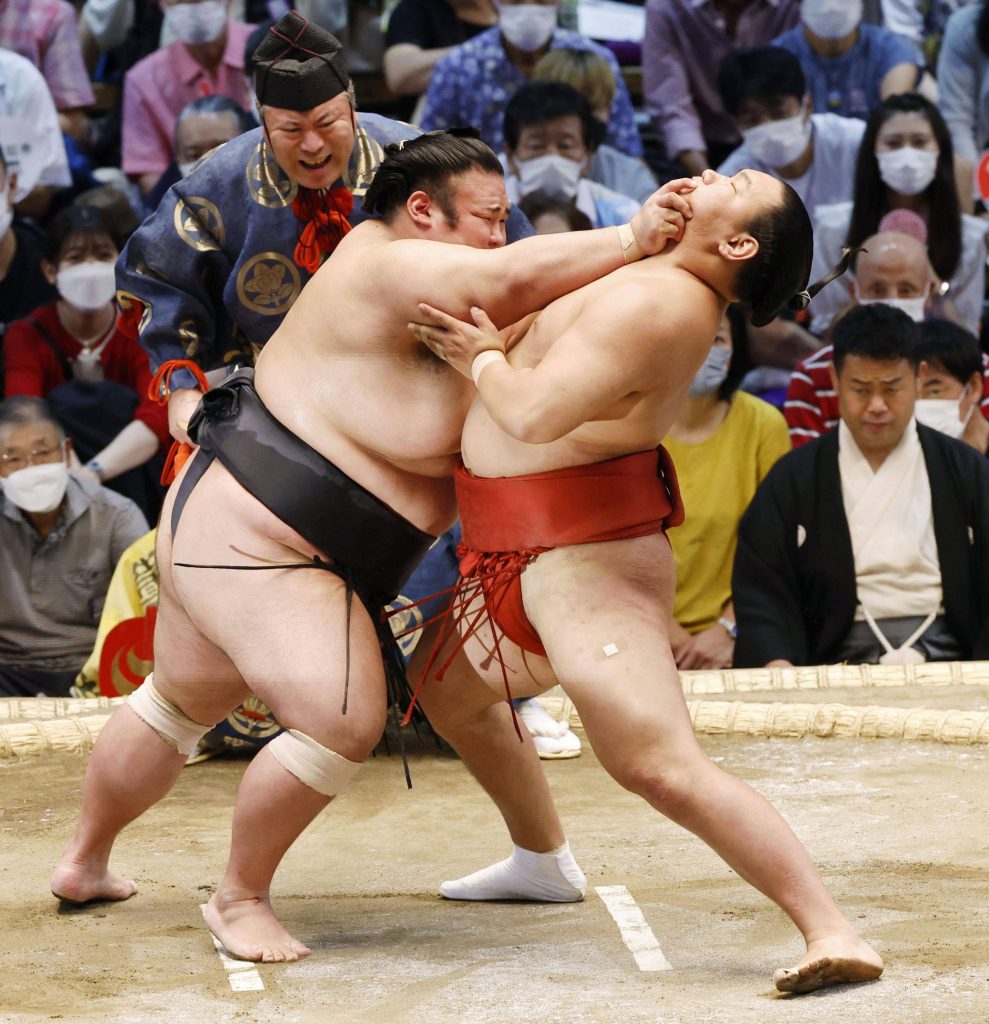 Ozeki Takakeisho used a right-hand thrust to the neck and then deployed an arm-lock throw to defeat komusubi Hoshoryu, who appeared to lose his footing and fell to 1-1.
Takakeisho, the only ozeki to post a winning record in the previous tournament, improved to 1-1.
Mongolian No. 2 maegashira Ichinojo, who missed the previous tournament due to a COVID-19 infection, thrust out winless sekiwake Daieisho in a matter of seconds to pick up his second straight win.
Tamawashi absorbed a crushing blow at the face-off and used a right-hand shove to send Wakatakakage sprawling to the dirt surface.
Sekiwake Wakatakakage came into the tournament with high hopes, but an 0-2 record is not the start he envisioned. No. 3 maegashira Tamawashi improved to 2-0.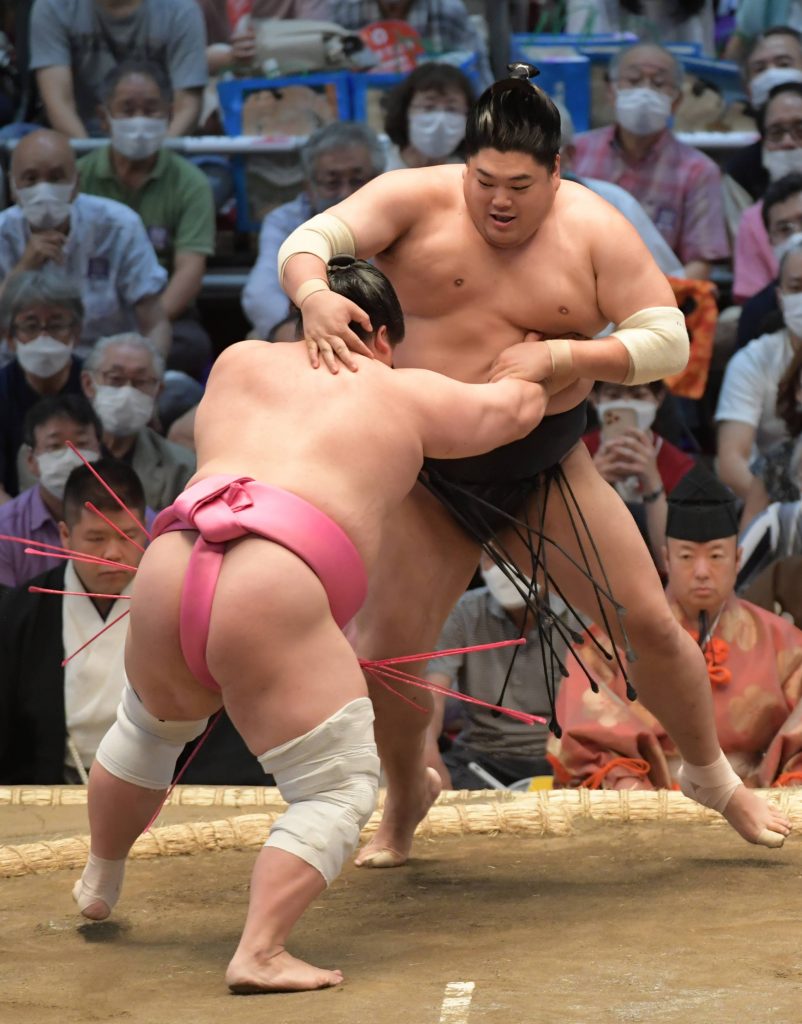 No. 3 maegashira Ura stepped to his side at the face-off and then shoved out Abi to give both wrestlers a record of 1-1.
Komusubi Abi, who beat Terunofuji on the opening day, was caught off guard by the evasive move at the face-off and never recovered.
Further down the ranks, No. 6 maegashira Hokutofuji overpowered Tobizaru when he used a left-hand outside grip to send the sixth-ranked maegashira tumbling off the raised ring to give both wrestlers a 1-1 record.
Bulgarian Aoiyama, a No. 6 maegashira, used a powerful arm thrust to the chest to bulldoze fifth-ranked Endo (1-1) back out of the ring and improve to 2-0.
Author: Jim Armstrong
The author is a longtime journalist who has covered sports in Japan for more than 25 years. You can find his articles here.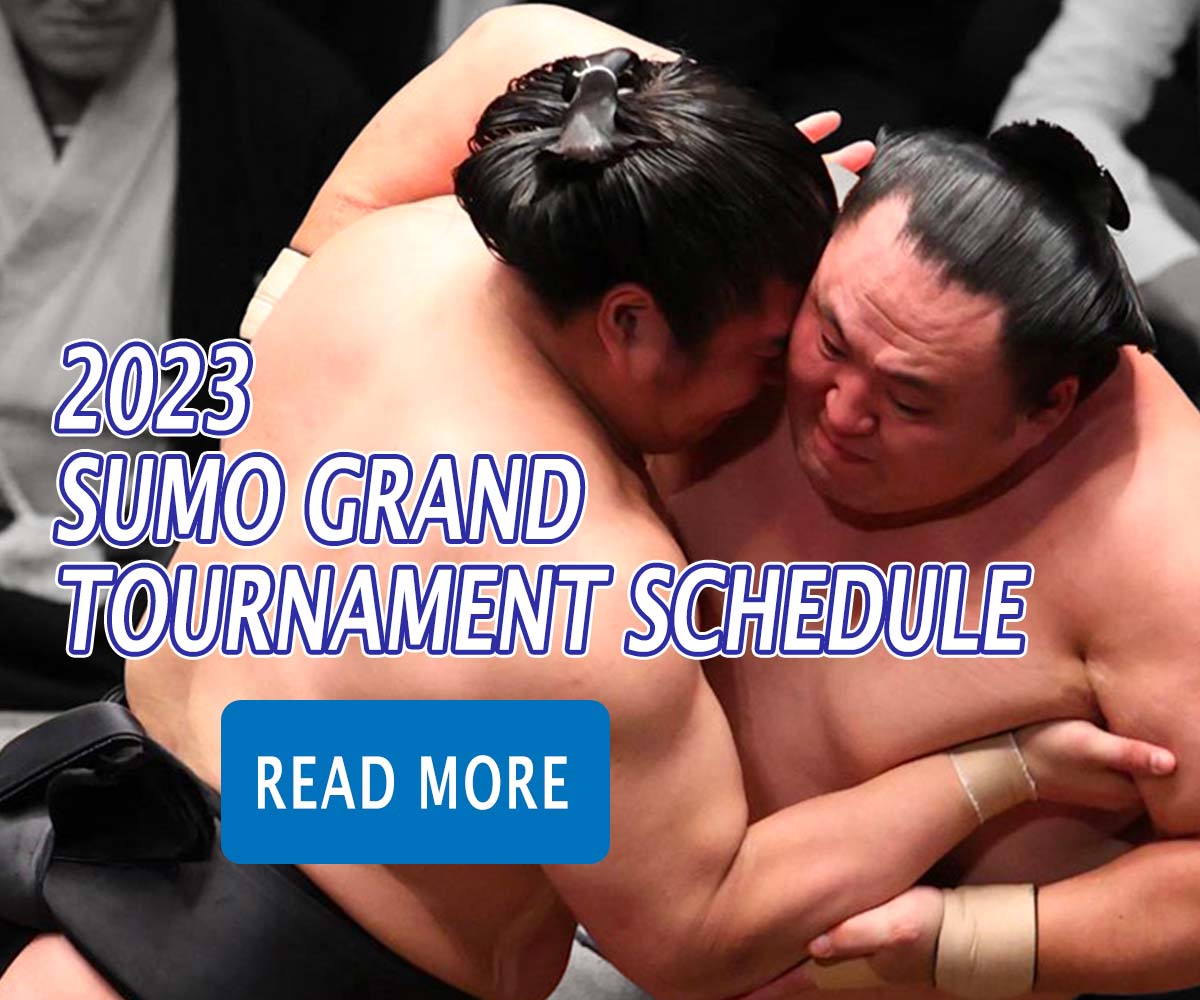 Subscribe to Our Newsletter