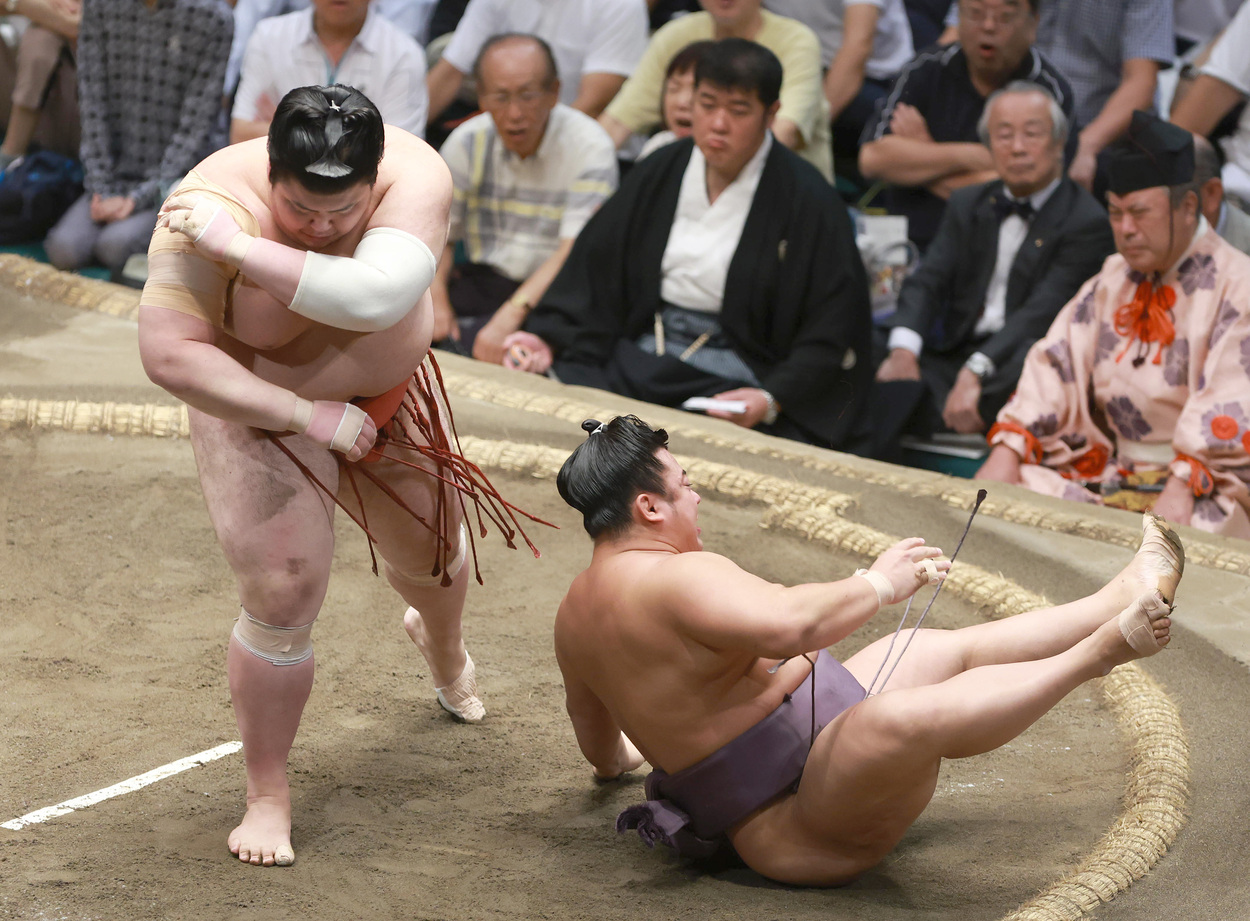 Unheralded Atamifuji upset komusubi Tobizaru on Wednesday, September 20 to maintain sole possession of the lead at the Autumn Grand Sumo Tournament.
The 21-year-old Atamifuji, a No 15 maegashira, got a left-handed grip on the belt of Tobizaru and unleashed a superb overarm throw at the center of the ring to improve to 10-1. Tobizaru dropped to 5-6 at Tokyo's Ryogoku Kokugikan.
Atamifuji is back in the elite makuuchi division for the first time since going 4-11 in his November 2022 debut. His only loss of the 15-day Autumn Basho so far was to Tsurugisho on Day 5.
With four days left, Atamifuji has a two-win cushion over Takayasu, Takakeisho and Tsurugisho, who are all at 8-3.
No 7 maegashira Takayasu lost to Atamifuji on Tuesday and appeared to land awkwardly and limped off the dohyo in that bout.
A day later, he was clearly not in peak form when he was easily shoved out by sekiwake Daieisho to fall to 8-3. Daieisho, who barely broke a sweat, improved to 7-4.


No 16 maegashira Tsurugisho wrapped up a winning record and stayed in the title hunt by improving to 8-3 when he swatted down top maegashira Hokutofuji, who dropped to 7-4.
"I'm in good shape and my body is moving very well," Tsurugisho said before adding. "I was able to do my style of sumo by keeping up the intensity."

Tsurugisho then said, "I know how strong he is and just wanted to stay aggressive."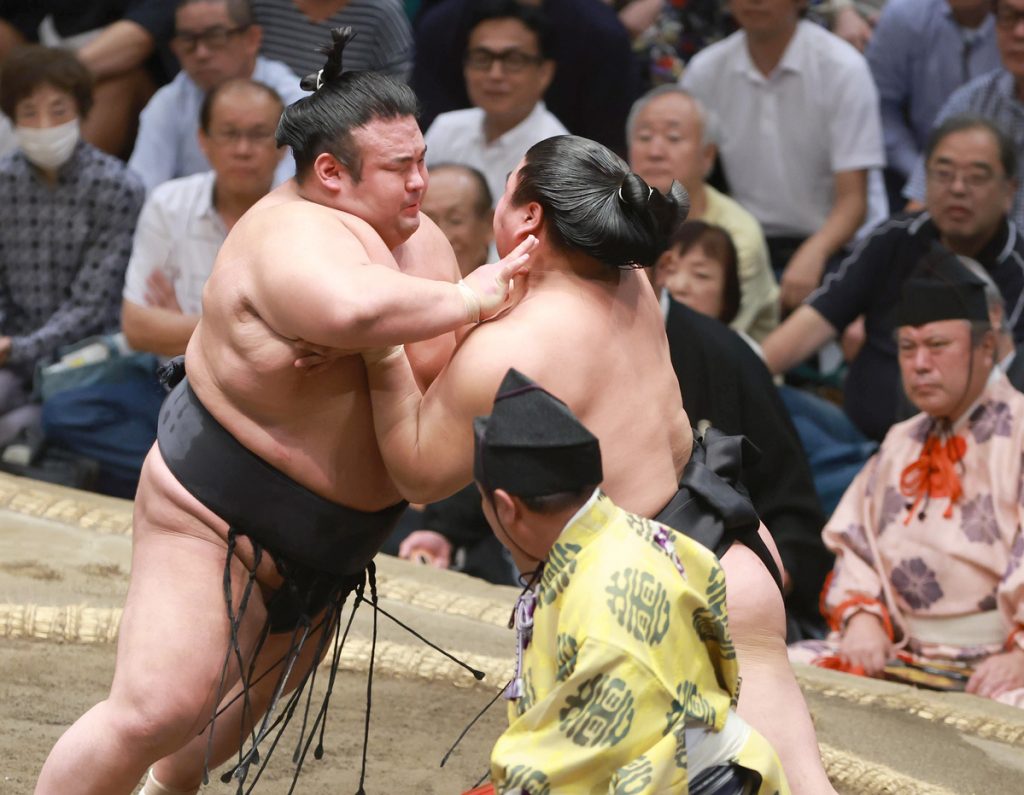 Takakeisho Improves to 8-3
In the day's final bout at Ryogoku Kokugikan, ozeki Takakeisho stayed in the title hunt when he forced out sekiwake Wakamotoharu to wrap up a winning record at 8-3.
Takakeisho, who needed the winning record to maintain his ozeki status for the next tournament, absorbed a ferocious forearm shiver at the face-off but didn't lose his cool.
He just kept forcing Wakamotharu back and finished him off with one final shove to send the sekiwake to a record of 6-5.
Ozeki Kirishima got a left-handed grip on the belt of Kotonowaka at the edge and lifted the sekiwake over the straw ridge to pick up his seventh win against four losses. Kotonowaka fell to 6-5.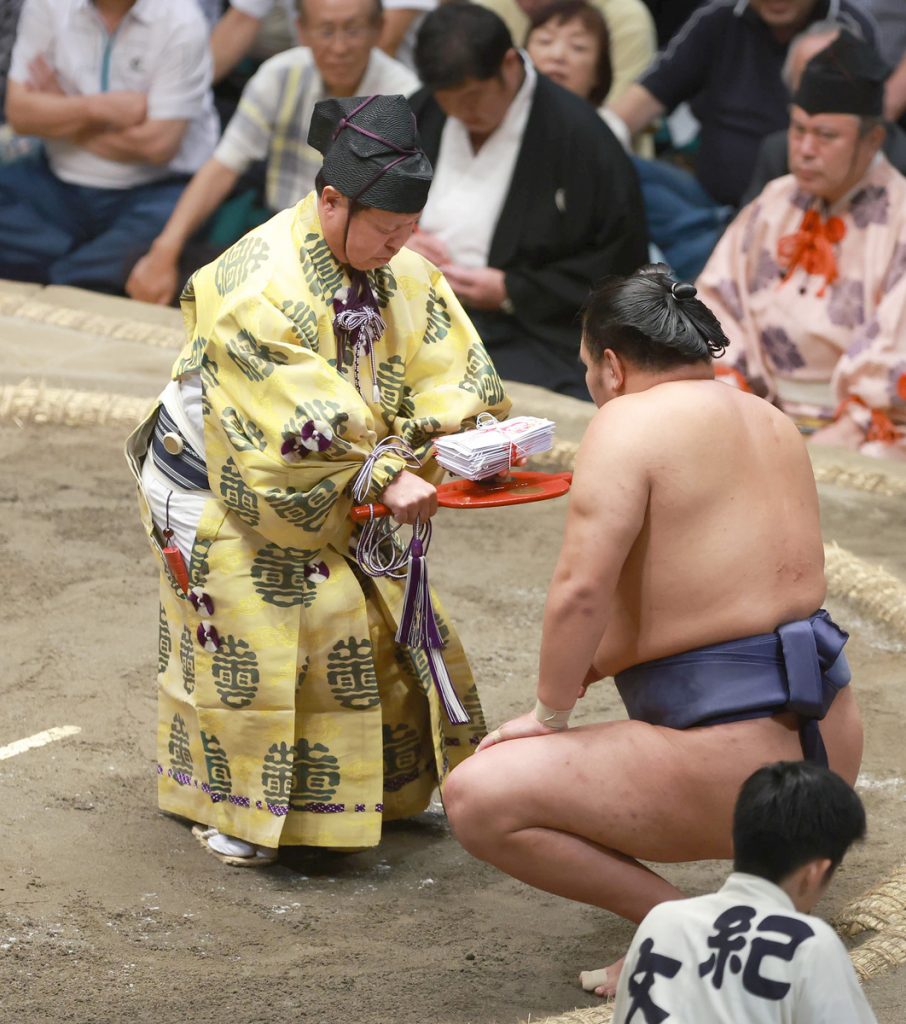 Hoshoryu Triumphs over Takanosho
Mongolian Hoshoryu used a last-gasp arm-lock throw at the edge to defeat fourth-ranked maegashira Takanosho and give both wrestlers a record of 5-6.
Hoshoryu, a newly promoted ozeki, has struggled in his debut at sumo's second-highest rank. He lost three of his fist four bouts and has never really recovered. But he can still salvage a winning record if he performs well over the remaining four days.
RELATED:

Author: Jim Armstrong
The author is a longtime journalist who has covered sports in Japan for over 25 years. You can find his articles on SportsLook.