Rui Hachimura Ignites Lakers in Playoff Opener Against Grizzlies
In the Lakers' 128-112 victory on the road, Rui Hachimura scored 21 of his team-high 29 points in the second half. Hachimura nailed 5 of 6 3-point shots.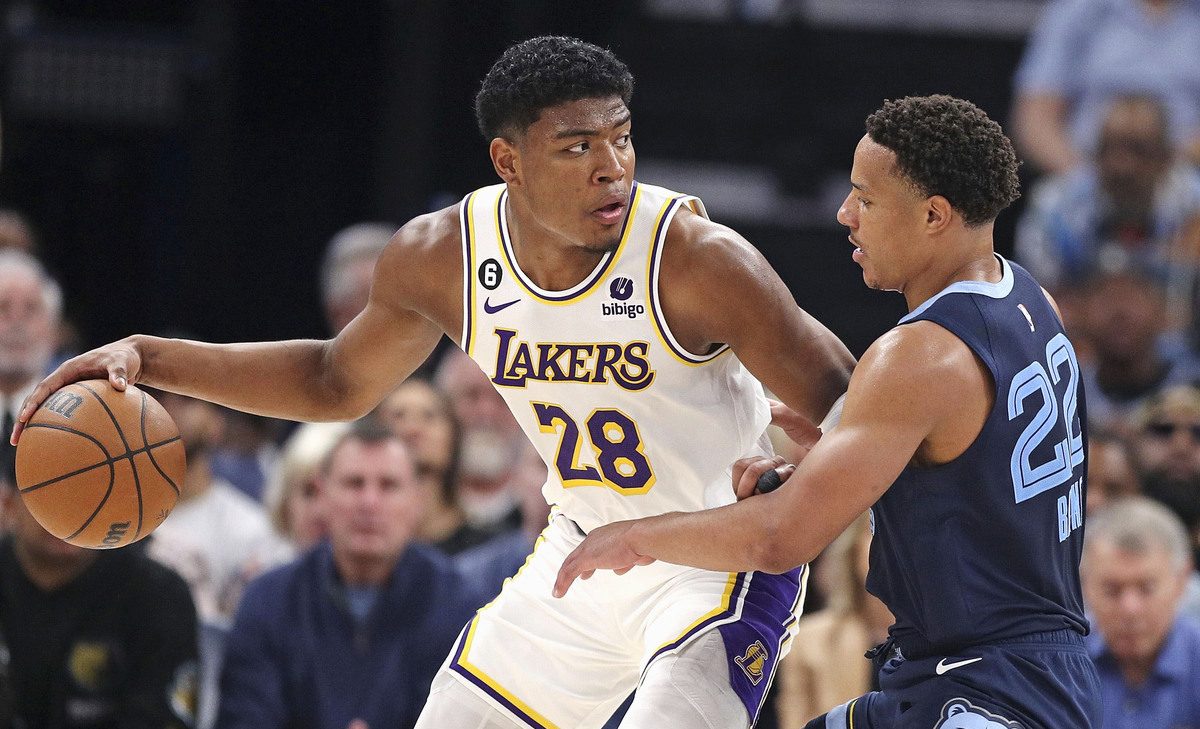 Rui Hachimura scored a team-high 29 points in the Los Angeles Lakers' 128-112 road victory over the Memphis Grizzlies in Game 1 of their NBA Western Conference first-round playoff series on Sunday, April 16.
Hachimura came off the bench and knocked down 5 of 6 3-point shots and finished 11-for-14 from the floor to spark the seventh-seeded Lakers, who beat the Minnesota Timberwolves in the NBA Play-In Tournament on April 11.
A Toyama native and former Gonzaga University standout, Hachimura made his biggest impact in the second half, when he scored 21 of his points. That included four 3-pointers in the third quarter. 
The Lakers outscored the second-seeded Grizzlies 69-47 in the second half to build a comfortable lead en route to victory.

Hachimura, who was traded from the Washington Wizards to the Lakers in late January, credited his teammates for playing unselfish ball in the second half. And it was Hachimura's highest-scoring game since he joined the Lakers.
"The second half, we were in a good rhythm," said Hachimura, who played about 30 minutes. "We were sharing the ball and all the shots just came to me."

Game 2 of the best-of-seven series is on Wednesday, April 19 in Memphis.
Three of Hachimura's teammates also scored 20 or more points: Austin Reaves (23), Anthony Davis (22) and LeBron James (21). Davis grabbed 12 rebounds and James had 12, helping the Lakers outrebound the hosts 45-34.

For Memphis, which went 51-31 in the regular season, Jaren Jackson Jr had a game-high 31 points.
Hachimura made his first playoff appearance since 2021, when the Philadelphia 76ers eliminated the Wizards in the first round.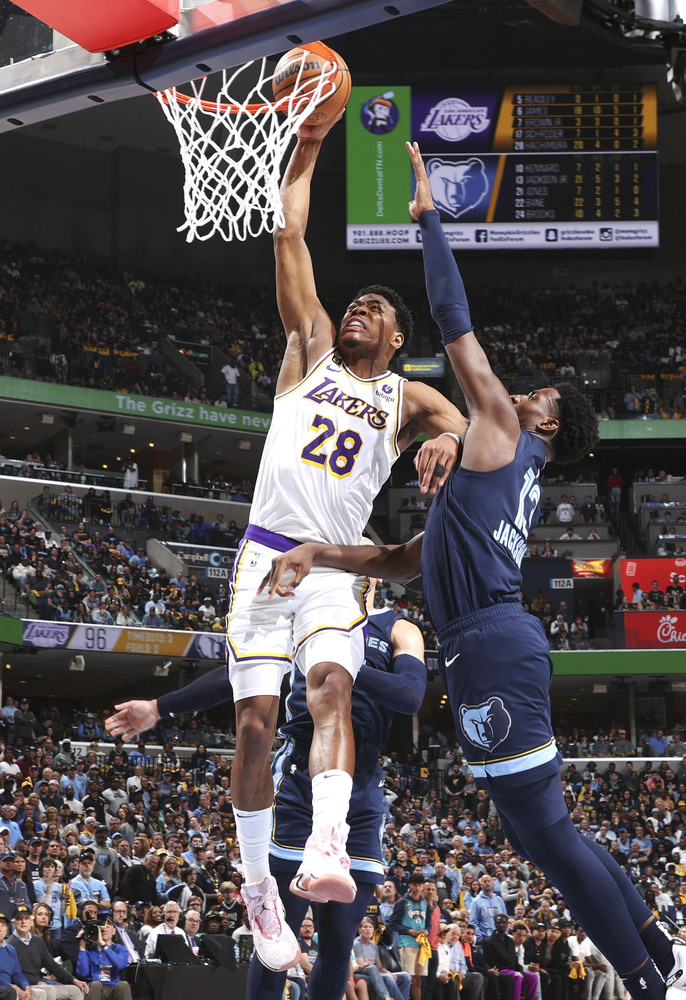 Finding His Niche with the Lakers
Lakers coach Darvin Ham said it's taken Hachimura a few months to find his comfort zone and get acclimated to his role on the team.

But Ham told reporters after Game 1 that his teammates have supported him along the way.

"You could see when he first arrived, he was trying to sort of tiptoe around [James] and [Davis] trying to figure out where his spots were going to come," Ham commented. "They're going to figure it out. These guys want to see you in a position to help them as much as you want to help them."
Ham added, "He listens [and] he watches film. We highlighted certain things in film sessions with him. He's seeing the fruits of that labor. I told him, 'Just go out and be free, be aggressive. The only mistake you could make on this team is to just not compete and not play together with your teammates.' That's it."
After the game, Hachimura noted that Lakers assistant coach Phil Handy instructed him to be ready to take long-range shots against the Grizzlies.
"They're going to be [guarding] in the paint, so I've got to be ready to shoot those kinds of shots," Hachimura told reporters, highlighting the opportunities that Handy predicted would appear and that he focused on converting.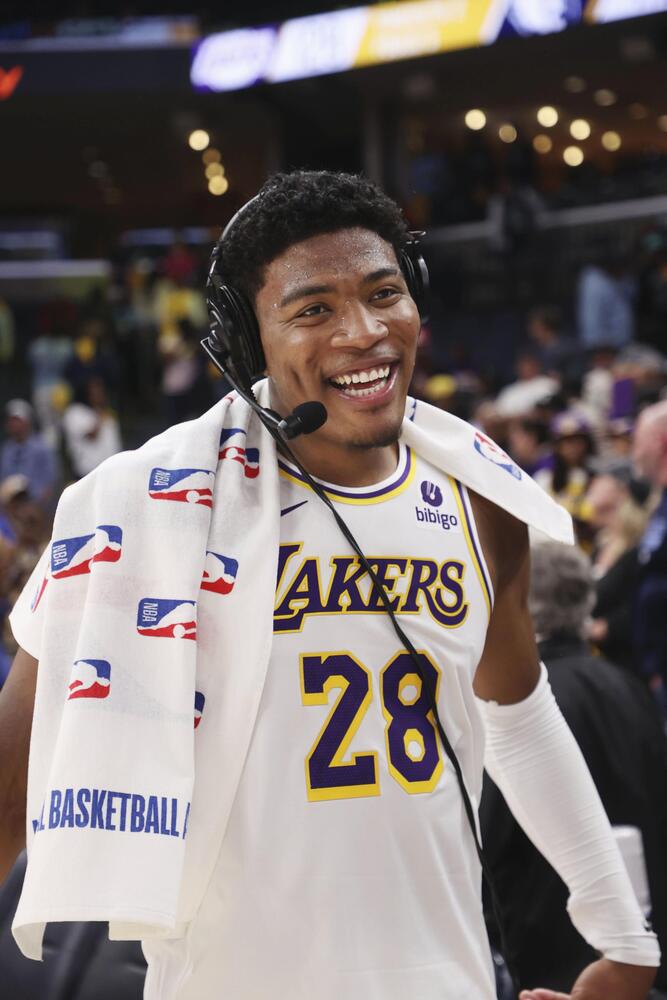 Teammates Embrace Hachimura
And now, nearly three months after joining the Lakers, Hachimura admitted his teammates have embraced him.
"Since I got here, this team really believes in me, my shots and my defensive style, like everything that I do," said Hachimura, who tied the Lakers record for most points by a backup in a playoff game (Mychal Thompson had 29 on May 1, 1988).
"And just before the game the coaches and everybody, including Phil, LeBron and AD, they gave me the green light to shoot all those shots. … I was really comfortable shooting those 3s."

Author: Ed Odeven
Find Ed on JAPAN Forward's dedicated website, SportsLook. Follow his [Japan Sports Notebook] on Sundays, [Odds and Evens] during the week, and Twitter @ed_odeven.