New York Yankees slugger Aaron Judge is the runaway winner of the AL MVP Award, easily outdistancing runner-up Shohei Ohtani of the Los Angeles Angels in voting conducted by the Baseball Writers' Association of America (BBWAA). 
An announcement was made on Thursday night, November 17.
Judge received 28 of 30 first-place votes. Ohtani, the unanimous 2021 winner, got the other two first-place votes.
Thirty BBWAA voters, two representing each American League city, cast votes before the playoffs began. Ballots contain voting for first through 10th place, with a descending value in points: 14 for first place, nine for second, eight for third ― and down to one for 10th.
Judge received 410 points, Ohtani had 280 and third-place finisher Yordan Alvarez of the Houston Astros got 232.
Judge, 30, won the MVP for the first time after smacking an AL-record 62 home runs, breaking ex-Yankee Roger Maris' record of 61 in 1961. He led Major League Baseball in runs scored (133), RBIs (131) and slugging percentage (.686).
Judge, who made his Yankees debut in 2016, had a career-high .311 batting average this season, helping the club win the AL East with a 99-63 record. He's now a free agent and will likely receive blockbuster contract offers from numerous teams, including the Yankees.
"It's tough to put into words, it's an incredible moment," Judge said on MLB Network, reacting to the news. "A lot of hard work throughout the years to get to this point."
An Impactful Season for Ohtani
This year, Ohtani became the first player in the majors to hit 10 or more home runs and win 10 or more games in the same season since Babe Ruth in 1918, when the all-time great had 11 homers and posted a 13-7 record as a starting pitcher.
Ohtani, the MLB's only regular two-way player, was second on the Angels with 34 home runs and had a team-best 95 RBIs. As a full-time designated hitter, he batted .273, scored 90 runs and had a .519 slugging percentage.
As the ace of their pitching staff, the 28-year-old pride of Oshu, Iwate Prefecture, had a 15-9 record this season, leading the team in wins. Ohtani led the AL with 11.9 strikeouts per nine innings. He fanned 219 batters in 166 innings, walked 44 batters and allowed 124 hits. He finished fourth in voting for the AL Cy Young Award, which is given to the league's top pitcher each year.

The Angels (73-89) missed the playoffs, finishing third in the AL West.
The National League MVP winner was also announced on Thursday. St Louis Cardinals first baseman Paul Goldschmidt, a seven-time All-Star, won the award. Goldschmidt batted .317 with 35 homers and 115 RBIs for the NL Central champions.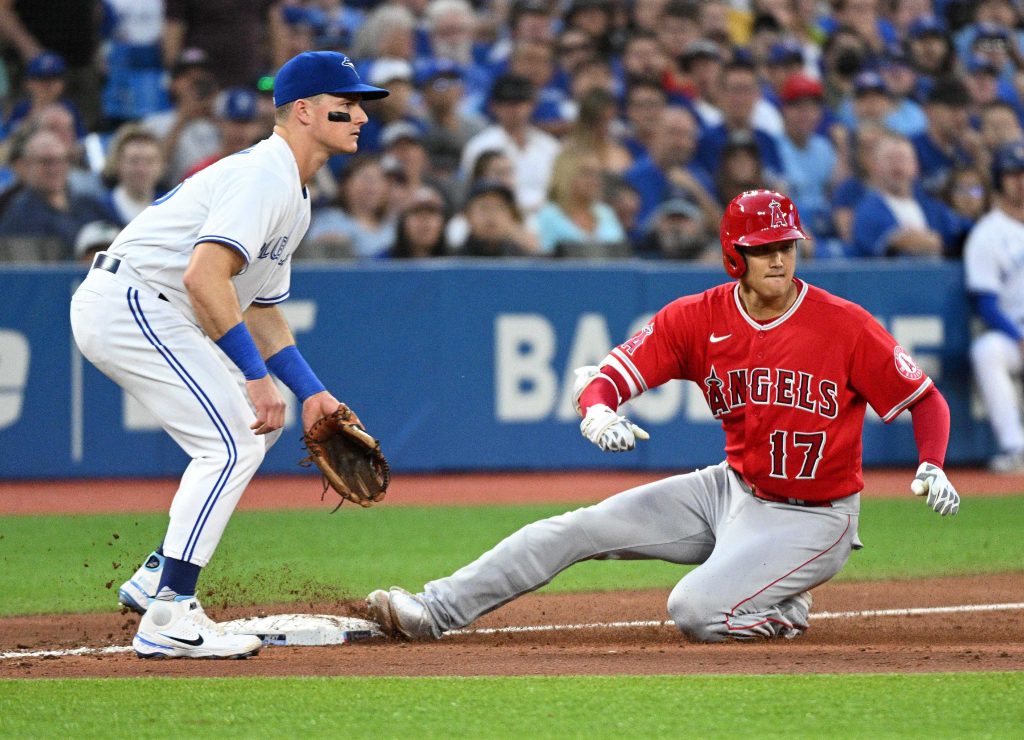 Ohtani's Two First-Place Votes
So who selected Ohtani No. 1 on their AL MVP ballots?

Los Angeles-based reporter Greg Beacham of The Associated Press and The Athletic's Sam Blum, who covers the Angels for the website.

Blum believes Ohtani's continued success as a dominant hitter and pitcher makes him the MVP.

"There are a lot of numbers that could back up my argument, or the argument of the voters that picked Judge," Blum wrote, explaining the rationale for his decision. "Let me first state the very basic reason I picked Ohtani to win. He hit at a very high level. He pitched at an extremely high level. He had the best season of all time."
In 1919, Boston Red Sox left-hander Ruth won nine games and slugged 29 homers, revolutionizing the game as the first prolific home-run hitter in MLB history and then becoming a full-time outfielder with the Yankees in 1920. And then he slugged 40 or more home runs in 11 seasons during the course of his Hall of Fame career.
In 2021, Ohtani was 9-2 as a starting pitcher and hit 46 homers in his first season handling both mound and designated hitter duties on a full-time basis. 
Ohtani Wants to Play in the WBC
Also this week, Ohtani expressed his interest in playing for Samurai Japan in the 2023 World Baseball Classic, letting manager Hideki Kuriyama know he wants to be on the squad.
In an Instagram post, Ohtani wrote: "Looking forward to the opportunity to face the best players around the world and to be able to play in front of the Japanese fans for the first time in over 5 years!"

The World Baseball Classic will be held March 8-21, including the first round at Tokyo Dome (March 9-13). Japan is the Pool B host. There are four pools of five teams apiece for the first round. The semifinals and final will be held in Miami.
RELATED:
Author: Ed Odeven
Follow Ed on JAPAN Forward's [Japan Sports Notebook] here on Sundays, in [Odds and Evens] here during the week, and Twitter @ed_odeven.