Shoma Uno Opens World Title Defense with Outstanding Short Program
A three-time Olympic medalist, Shoma Uno displayed technical aptitude and fantastic expression as he seeks to win consecutive world titles.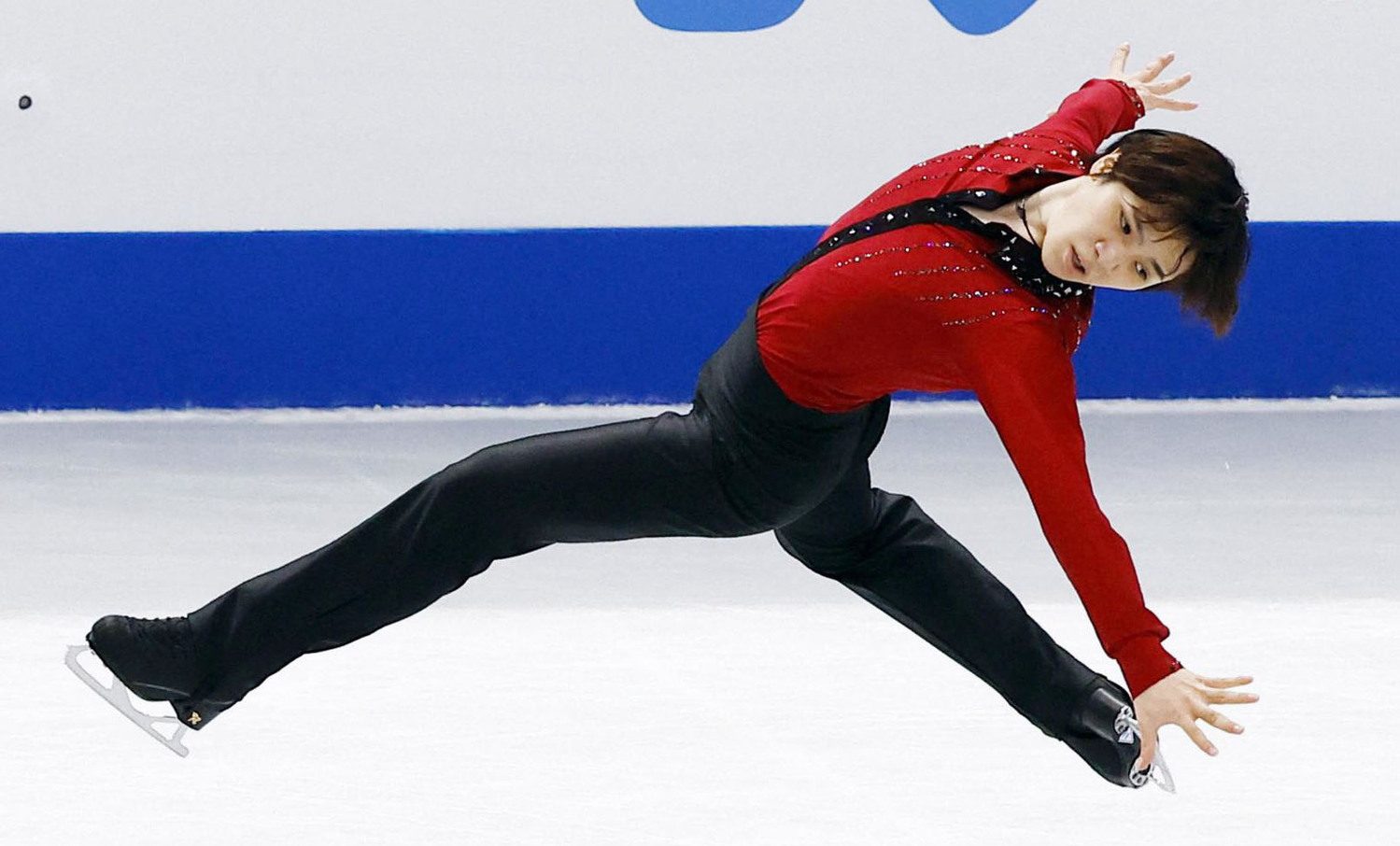 SAITAMA ― World champion Shoma Uno lived up to his billing on Thursday night, March 23 as he grabbed a four-point lead after the short program at the World Figure Skating Championships at Saitama Super Arena. The three-time Olympic medalist was close to spectacular before an enraptured audience.
The 25-year-old star displayed a rare combination of technical aptitude and fantastic expression as he seeks to become the first Japanese man to win consecutive world titles. His line and edge were exemplary throughout his skate.
Uno is in first place with a score of 104.63, ahead of Ilia Malinin of the United States who is second at 100.38. South Korea's Jun Hwan Cha is third on 99.64, while Canada's Keegan Messing is fourth at 98.75.
Kazuki Tomono is seventh with 92.68, while Sota Yamamoto had a calamitous outing and finds himself out of medal contention in 17th place at 75.48.
Uno skated to "Gravity" and opened with a quadruple flip, followed by a quad toe loop/double toe loop combination jump, and went on to land a nice triple axel. He earned level fours on his spins and a level three on his step sequence.
"I think score-wise and as well as the content, it wasn't all that bad," Uno stated.
He added, "I made some missteps in the step sequence and couldn't get the score I wanted. For the jumps, the triple toe turned into a double. But more than that, through the whole year I had been working on this short program and there are no regrets."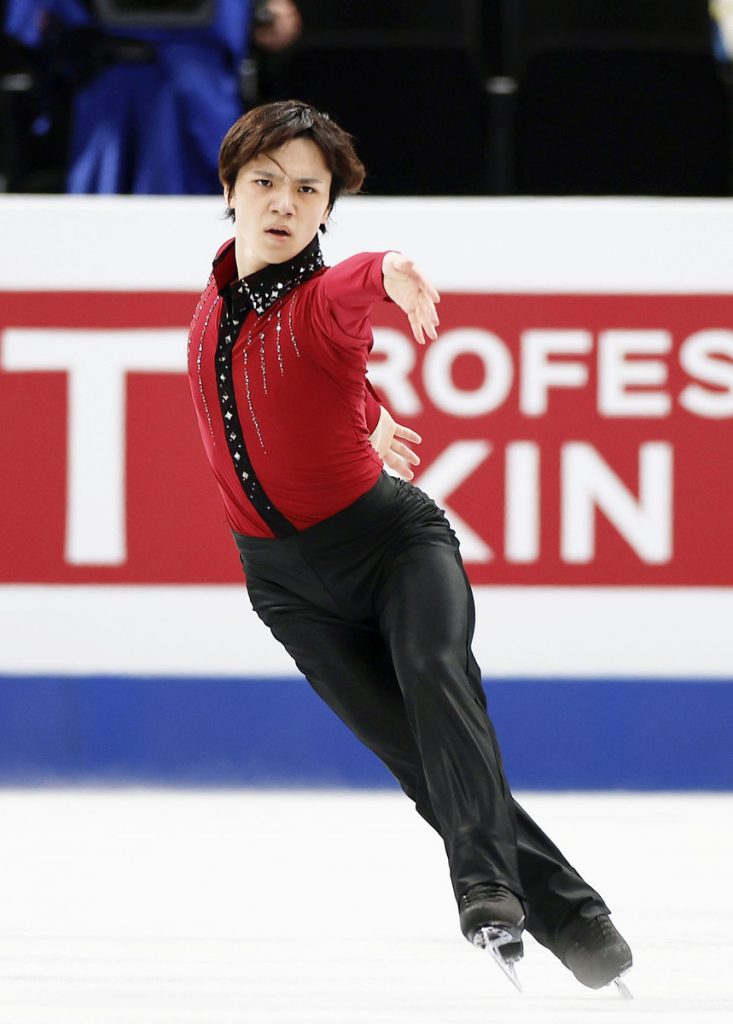 Despite Struggles in Practice, Uno Sharp in Short Program
After an official practice on Tuesday, Uno had bemoaned his condition for the previous several days and said he didn't have confidence in his jumps. But he looked as poised as ever during his performance.
"For the past year or two I was able to perform exactly as I trained at every competition and I was satisfied with that," Uno commented. "I didn't expect anything more or pursue any more than that. But for the past 10 days, with the fall in training, I have been in pretty bad shape.
"I thought about what I could do in my performance," Uno continued before adding, "I wanted to make sure I could do what I needed to do and wanted to do."

He went on: "I was trying to think of how I could do that, [and] I thought going with a cool head is not the answer."

So what happened on Thursday?

"I really pushed myself to be motivated and more in a fighting mode, and with that strong intent in mind I was able to deliver today," Uno acknowledged.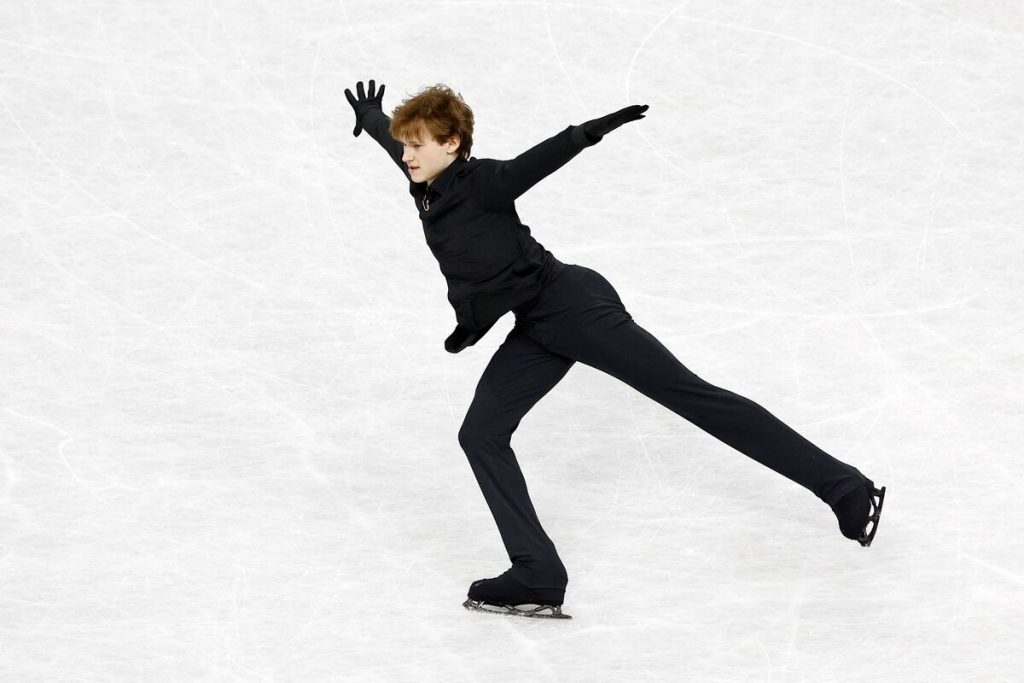 Malinin Pleased with Performance
Malinin, last season's world junior champion, competed to "I Put A Spell On You" and began with a huge quad lutz/triple toe loop combo, followed by a quad toe loop and also cleanly landed a triple axel. The 18-year-old received level fours on his spins and step sequence, but it wasn't enough to match Uno on this night.
"I'm very satisfied with my performance," Malinin remarked.
He continued his assessment by saying, "I came here to deliver and have been working for the past couple of weeks and grinding the whole time."
Malinin added, "I am just very grateful to be here performing in front of the Japanese audience."
When asked about challenging Uno in the free skate on Saturday, Malinin deftly handled the question.
"I think the main thing is to focus on my own performance, be confident and motivated, and [be] able to pull it out from any circumstance," Malinin said.

He added, "I know I will be confident and very prepared and be able to deliver."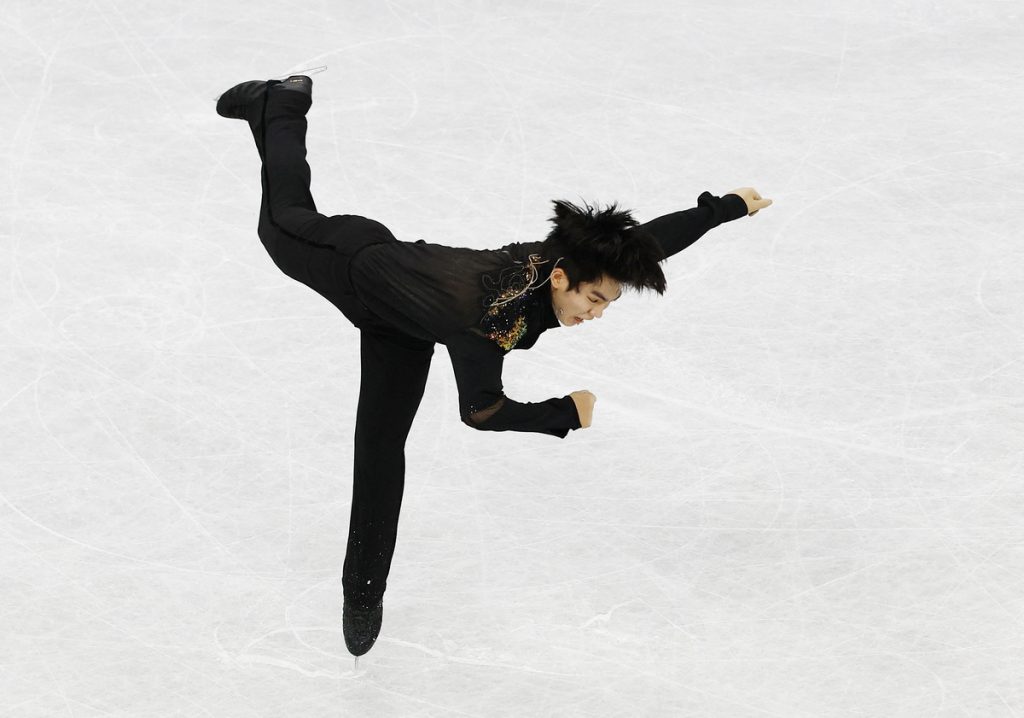 Cha Discussed Training Preparations for World Championships
Jun Hwan Cha skated to a James Bond medley and started with a quad salchow, then hit a triple lutz/triple loop combo and went on to land a solid triple axel.
The Korean talked about how he has been training to be stronger at the end of the season this year.
"I am very happy about my performance," he stated.

He added, "I worked very hard for this world championships. For the past few seasons, I have struggled at the end of the season. I was really focused on the worlds and trained in a different way to build up my strength for this time."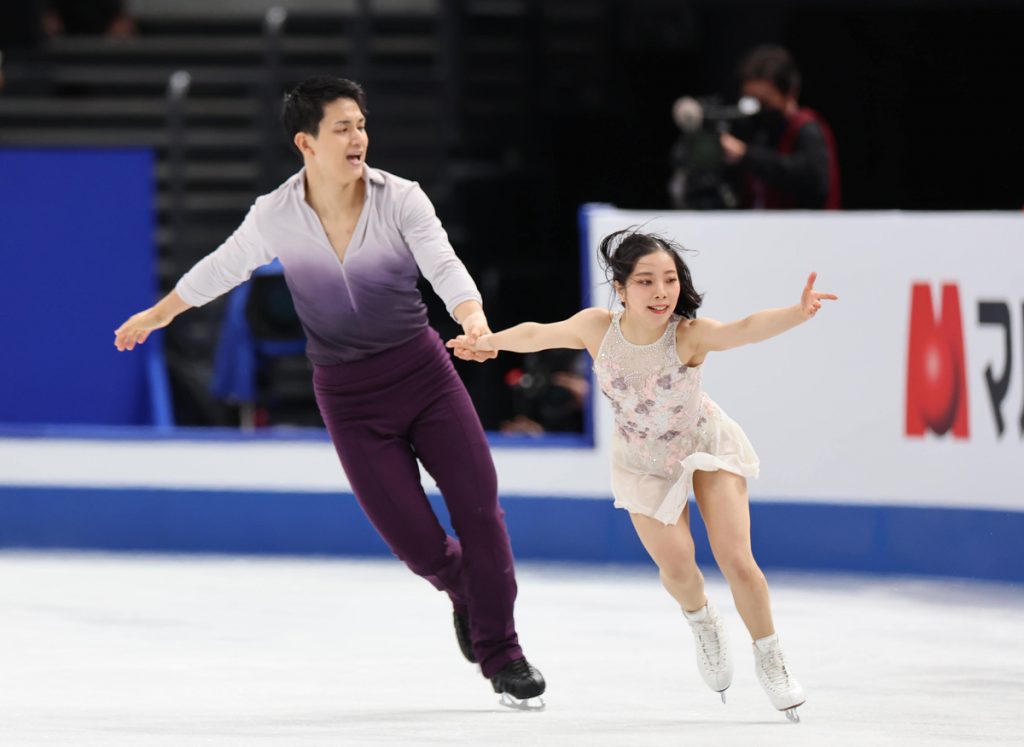 Miura, Kihara Win Gold in Pairs
Riku Miura and Ryuichi Kihara made history with their victory in pairs earlier Thursday, becoming the first Japanese pair to ever win the gold at worlds. Their skate to "Atlas Two" and "Shared Tenderness" was highlighted by a triple twist and a triple toe loop/double toe loop/double axel sequence, though Miura did fall on a throw triple loop.
The duo won with a score of 222.16, outdistancing US pair Alexa Knierim and Brandon Frazier, who took the silver at 217.48. Italy's Sara Conti and Niccolo Macci claimed the bronze on 208.08, giving their country its first worlds medal ever in pairs.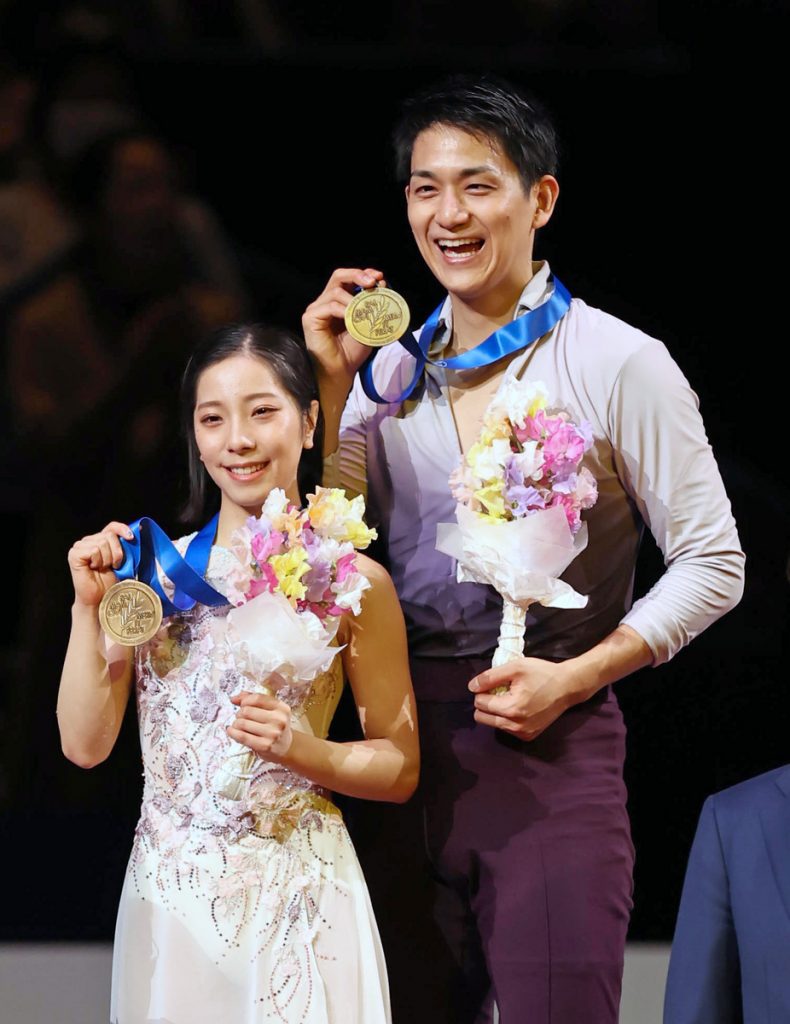 "After the Four Continents, we worked really hard to have no regrets, and in the short program we were able to show what we've been working on," Miura stated. "But today in the free skate my weakness came out and I feel regret, but I am happy."
Kihara was clearly elated with the result.
"I am really happy to win here in my home country," Kihara commented. "The first half of the season was a bit difficult for us, because Riku got injured. However, because of that we were able to acknowledge how strong our bond is."
The world championships will continue on Friday with the rhythm dance and women's free skate.
RELATED:
Author: Jack Gallagher
The author is a veteran sports journalist and one of the world's foremost figure skating experts. Find articles and podcasts by Jack on his author page, and find him on Twitter @sportsjapan.