Shoma Uno, Sota Yamamoto and Kao Miura Are 1-2-3 After Men's Short Program at Grand Prix Final
Uno, who has 99.99 points heading into the men's free skate at the Grand Prix Final, displayed power and finesse in his skate to "Gravity."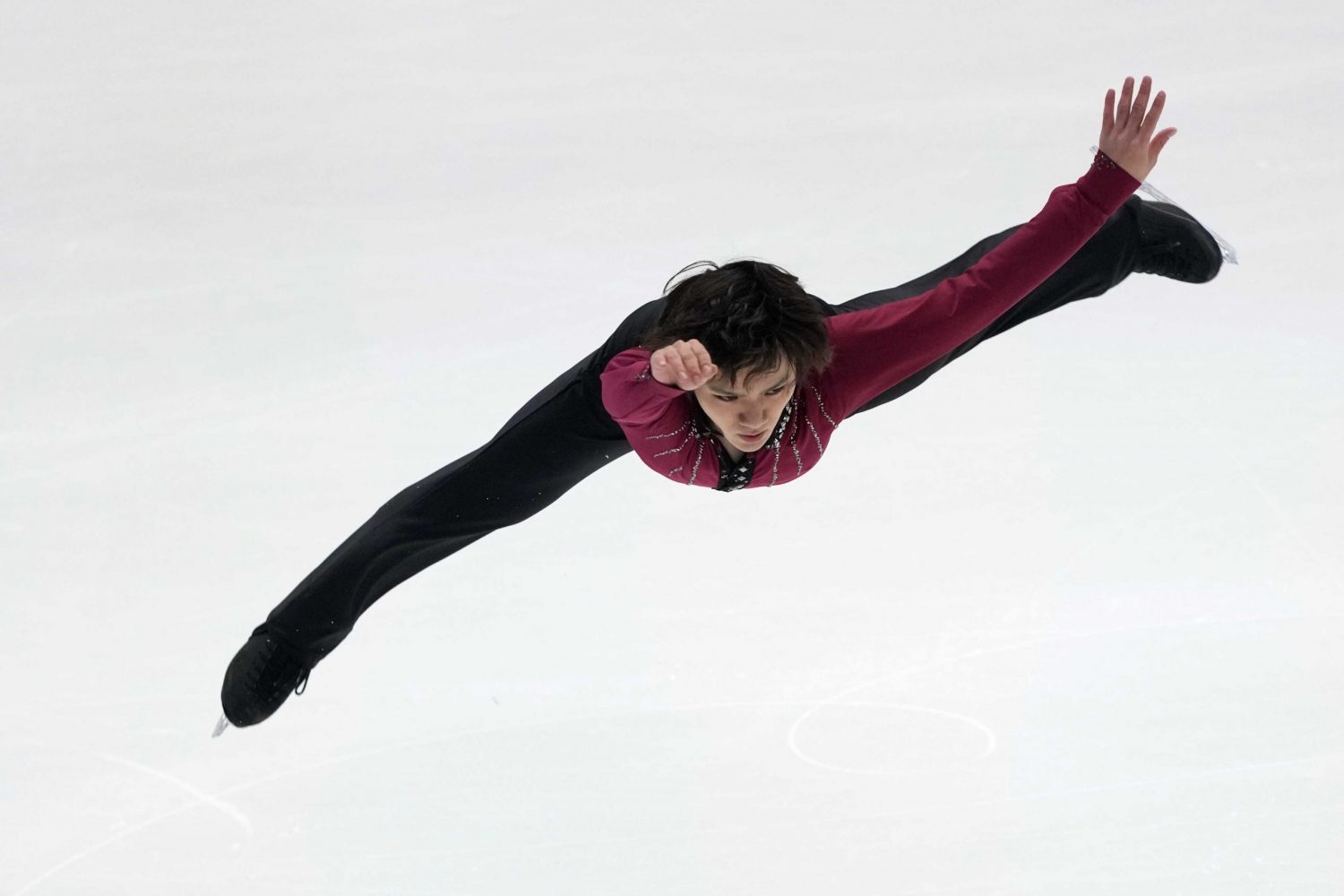 World champion Shoma Uno led a Japanese sweep of the short program at the Grand Prix Final in Turin, Italy, on Thursday night, December 8. Uno is looking to win the title in this prestigious competition for the first time in his career.
The three-time Olympic medalist, who will turn 25 next week, put forth a sublime effort and is on top with 99.99 points going into Saturday's free skate. Sota Yamamoto is in second place with 94.86, while Kao Miura stands in third at 87.07.
Italy's Daniel Grassl is fourth on 80.40, while Ilia Malinin (80.10) of the United States is fifth. Shun Sato (76.62) is sixth.
Uno displayed power and finesse in his skate to "Gravity" and he appears on the way to victory, with his expected top challenger Malinin nearly 20 points behind. The Nagoya native opened with a fantastic quadruple flip, followed by a quad toe loop/double toe loop combination jump. He also hit a clean triple axel.
The star notched level fours on two of his spins and a level three on his step sequence. And Uno felt he could have done better this night.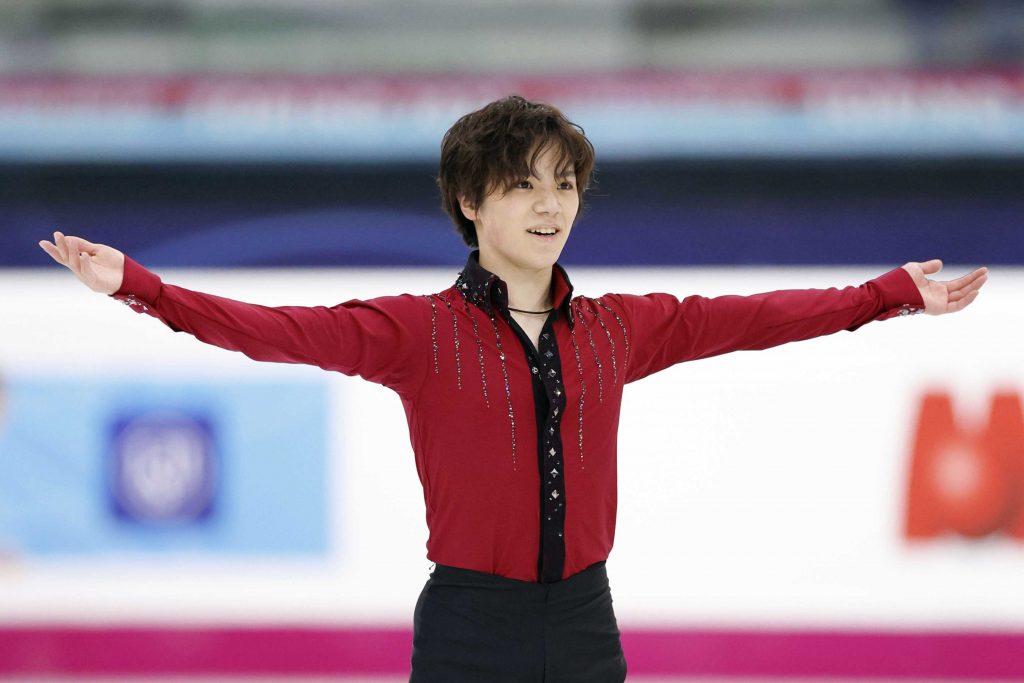 Uno Reflects on His Short Program
"[In] today's performance I made some mistakes, but everything I trained for was put on the ice other than the jumps and steps and spins," Uno stated. "There were lacking elements where I could train extensively, but once there are no concerns over my jumps, I will be able to train for the steps and spins."
Uno acknowledged that he can't rest on his laurels.
"I won worlds last year and just for everyone else it's a new season, and I am challenged just like everyone else," Uno continued. 
He added, "I am happy I was able to make it to the Grand Prix Final this year again."
Yamamoto Upbeat
Yamamoto continued his resurgence, opening with a beautiful quad toe loop/triple toe loop combo in his skate to "Yesterday." The 24-year-old then hit a quad salchow and a triple axel with no issues. He recorded level fours on all of his spins and a level three on his step sequence.
"Today my salchow was not perfect, but I am happy that I was able to skate without any mistakes and going into the free skating it will be a confidence boost," Yamamoto commented.
"I will be confident to put everything out there for the free skating."
Miura Recovers from Shaky Start
Miura skated to a tango program and fell on the back end of his opening quad salchow/triple toe loop combo. But he recovered to hit his triple axel and a quad toe loop with no problems. The 17-year-old spins were solid (all level fours), while he received a level three for his steps sequence.
"Going into my quad-triple combo the salchow was so perfect and felt so great, and then I panicked because my first jump was so good and that's something I need to reflect on," Miura confessed. "I was giving up on my concentration a bit.

"There are things that need to be improved. In the second part of the program, I was able to recover with the [quad] toe loop."
Sato Aims For a Strong Free Skate
Sato competed to "Carol of the Bells" and went down on his opening quad lutz. He bounced back to hit a quad toe loop/double toe loop combo and a triple axel.
"My body was moving, but it felt like I was moving too much," the 18-year-old Sato said of his fall. "I have gotten a feel for the competition, so I will do my best to come back in the free skate."
Miura, Kikuchi In First After Pairs Short Program
World silver medalists Riku Miura and Ryuichi Kihara are in first place after the pairs short program with 78.08, holding a slim lead over Alexa Knierim and Brandon Frazier of the US in second at 77.65.
Canada's Deanna Stellato-Dudek and Maxime Deschamps are third on 69.34.
Miura and Kihara skated to "You'll Never Walk Alone" and "Sweet Hope Walk" and opened with a triple twist, followed by side-by-side triple toe loops.
"I was very nervous right before the performance, but we were able to do our skating without major mistakes," Miura noted.
Kihara talked about the adversity the pair has overcome on their climb up the skating ladder.
"We went through some tough times together and we were able to share those feelings. And we can now enjoy every competition and it's wonderful," Kihara remarked.
The pairs free skate is set for Friday evening.

Author: Jack Gallagher
The author is a veteran sports journalist and one of the world's foremost figure skating experts. Find articles and podcasts by Jack on his author page, here, and find him on Twitter @sportsjapan.