Takakeisho Pulls Into Tie for New Year Basho Lead with Win over Abi on Day 6
Lone ozeki Takakeisho cooled off the red-hot No. 3 maegashira with a confidence-boosting victory at Ryogoku Kokugikan.
Ozeki Takakeisho thrust out Abi on Friday, January 13 to move into a tie for the lead on Day 6 at the New Year Grand Sumo Tournament.
In the day's final bout at Ryogoku Kokugikan, Abi attempted to use his trademark arm thrusts to the neck, but Takakeisho swatted them away and countered with a series of shoves that sent the No. 3 maegashira over the edge.
Both wrestlers are now at 5-1, tied for the lead with six others.
Takakeisho, the highest-ranked wrestler competing in the 15-day tournament, had lost five straight times to Abi coming into Friday's showdown. But he displayed the confidence of an ozeki.
Takakeisho went 12-3 in the November tournament, which put him into a three-way playoff where he lost to eventual winner Abi.
If he is able to win the Emperor's Cup in this tournament with a record of 15-0 or 14-1, he could garner consideration for promotion to yokozuna.
That would be a welcome result for sumo officials, who will be eager to fill the void if the oft-injured Terunofuji is unable to continue his career due to his knee injuries.
Takakeisho has won the Emperor's Cup twice in the past, both times at the Kyushu tournament in 2018 and 2020.
Daieisho Conquers Kiribayama
In other major bouts, top maegashira Daieisho, who defeated Hoshoryu the previous day, took advantage of a superior face-off to shove out komusubi Kiribayama (3-3) and stay in the large group of wrestlers at 5-1.
Diminutive Midorifuji turned in what may have been the most impressive bout of the tournament so far when he took on Mongolian Hoshoryu.
No. 3 maegashira Midorifuji was pushed back to the brink twice. Then he propped his feet up against the straw ridge and then twisted Hoshoryu down and out to improve to 4-2.
Sekiwake Hoshoryu threw everything but the kitchen sink at Midorifuji but couldn't finish his opponent off and dropped to 4-2.
In other bouts, Bulgarian giant Aoiyama saw his perfect record fall when eighth-ranked Onosho spun the No. 10 maegashira around and shoved him out from behind to give both men a record of 5-1.
Lower-ranked wrestlers Kotoshoho, Takarafuji and Azumaryu also stand at 5-1.
Sekiwake Wakatakakage shifted to his left right after the face-off and swatted down No. 2 maegashira Tamawashi to give both men a record of 3-3. It was not the most sportsmanlike move but it counts as a win.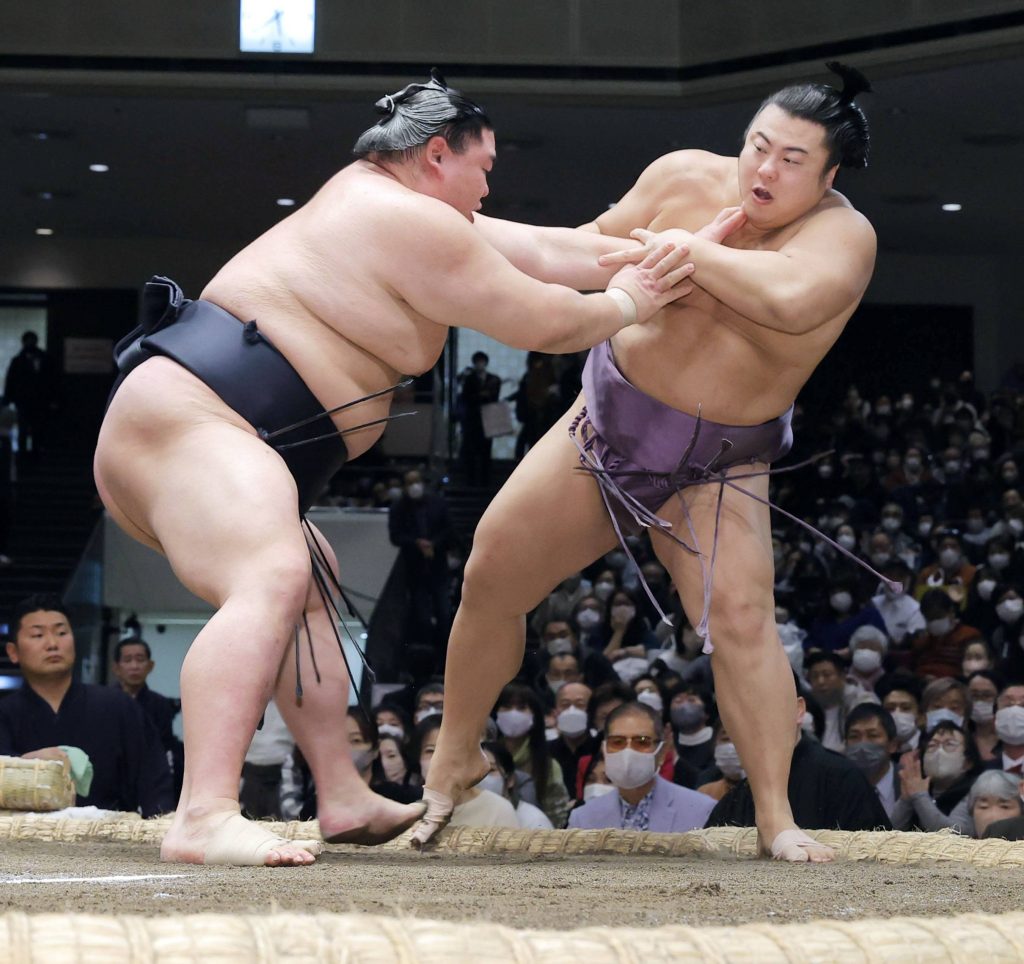 Former ozeki Shodai put a halt to a two-bout losing streak when he shoved out sumo's Flying Monkey Tobizaru (2-4) to pick up his second win against four losses.
Takayasu, Okinoumi Withdraw
Sekiwake Takayasu and No. 12 maegashira Okinoumi withdrew from the tournament on Friday.
Former ozeki Takayasu had struggled with a 1-4 record through Day 5, while veteran Okinoumi had lost all five of his bouts.
Takayasu finished joint runner-up at November's Kyushu Grand Sumo Tournament after losing in a playoff to Abi. In that bout he knocked heads with his opponent and needed to be helped off the dohyo.
Komusubi Wakamotoharu, who was scheduled to face Takayasu, received a forfeit victory and improved to 3-3. No. 15 Mitoryu, who was due to face Okinoumi, was awarded a win and is now 3-3.
If former sekiwake Okinoumi is unable to return to this tournament, he faces demotion to the second-tier juryo division for the first time since September 2010.
With sole grand champion Terunofuji sitting out following knee surgery, a total of five wrestlers are now absent from the top two divisions.

Author: Jim Armstrong
The author is a longtime journalist who has covered sports in Japan for over 25 years. You can find his articles here.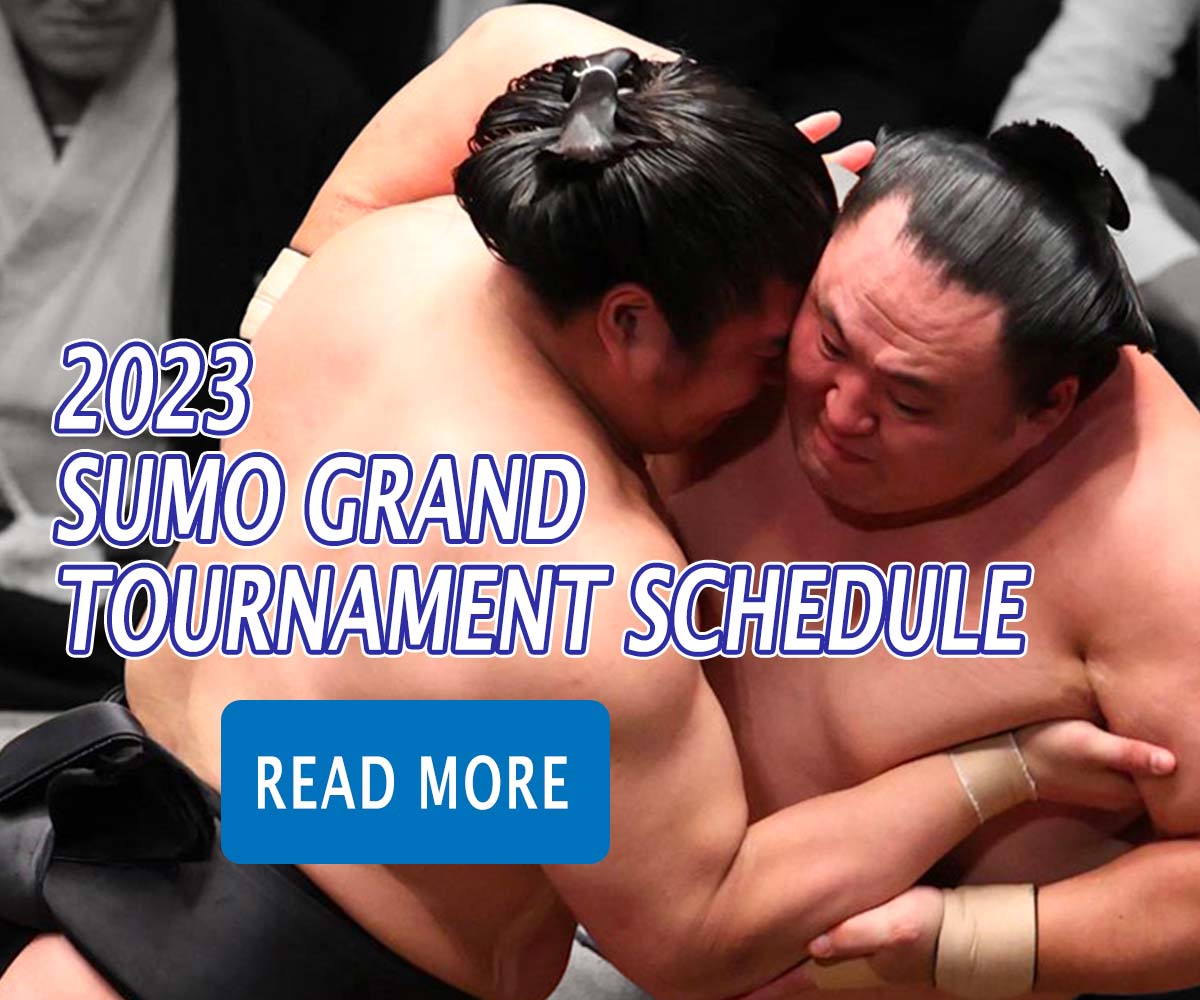 Subscribe to Our Newsletter