Takayasu Defeats Terunofuji to Deliver a Serious Blow to the Yokozuna's Title Hopes
With four losses, the lone grand champion is all but out of contention for the Emperor's Cup at the Autumn Basho.
Former ozeki Takayasu upset Terunofuji on Monday, September 19 to deal the lone yokozuna a serious blow to his championship hopes on Day 9 of the Autumn Grand Sumo Tournament.
In the day's final bout at Tokyo's Ryogoku Kokugikan, Terunofuji's failed leg kick attempt opened the door for Takayasu to deploy a thrusting attack that sent the stunned grand champion over the edge and to his fourth loss against five wins.
At 5-4, it would take a miracle for Terunofuji to recover and win his eighth Emperor's Cup.
"I was able to do good sumo," said No. 4 maegashira Takayasu who, at 7-2, is still very much in contention. "It was a very tough match but I did my best and hope to keep the momentum going for the rest of the tournament."
In an earlier bout, rank-and-filer Hokutofuji stayed in sole possession of the lead at 9-0 when he defeated a tough opponent in Wakamotoharu.
After one false start, eighth-ranked maegashira Hokutofuji was pushed back to the edge immediately following the face-off but quickly recovered and used an impressive push-down maneuver to maintain his perfect record.
No. 6 maegashira Wakamotoharu came into the bout just two wins off the pace but dropped to 6-3.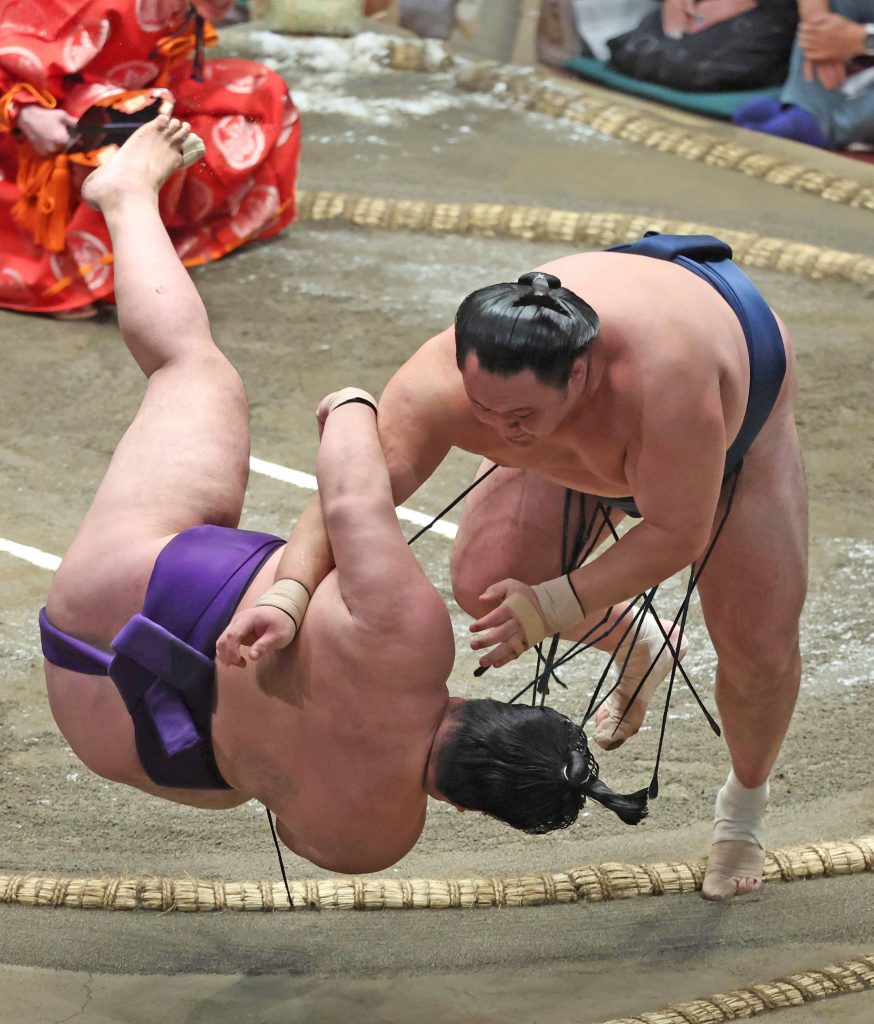 Tamawashi Secures Winning Record
In other major bouts, 37-year-old veteran Tamawashi wrapped up a winning record when he got a right hand in on Meisei (3-6) and toppled the No. 2 maegashira to stay on the heels of Hokutofuji at 8-1.
"I was able to move forward from the outset," said No. 3 maegashira Tamawashi. I just want to keep racking up the wins. I'm not thinking about the championship right now but everything does seem to be going my way."
Three wrestlers ― Takayasu, Nishikifuji and Chiyoshoma ― are in a chase group at 7-2 with six days left in the 15-day tournament.
Tenth-ranked maegashira Nishikifuji got his preferred left-hand in, right-hand out grip on the belt of Oho and waltzed the No. 13 maegashira to improve to 7-2. Oho fell to 6-3.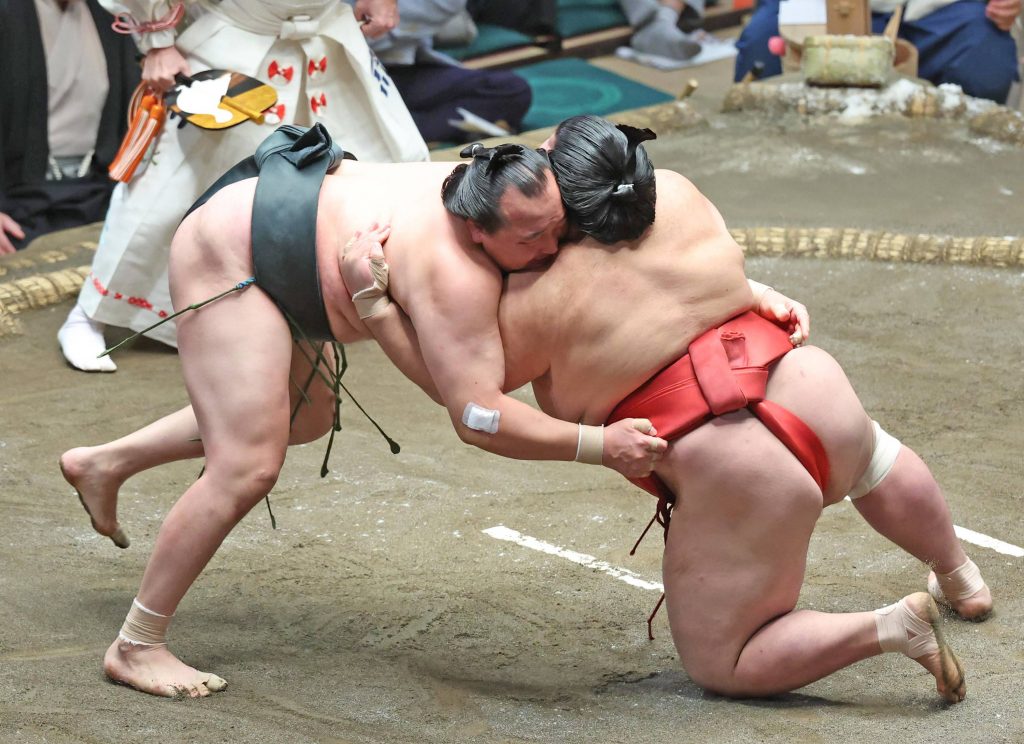 No. 14 maegashira Chiyoshoma got a right-hand grip on the belt and used a nifty twisting overarm throw to defeat seventh-ranked Onosho (3-6) and move to 7-2.
Top maegashira Tobizaru continued his impressive run in this tournament with a spectacular underarm throw of the much larger Kotonowaka to move to 6-3.
No. 2 maegashira Kotonowaka attempted his own arm throw at the edge but was driven down to the dirt surface and fell to 5-4.
Ichinojo Outlasts Midorifuji
In a marathon bout that lasted 2 minutes, 47 seconds, Ichinojo got a double-handed grip on the belt of Midorifuji and hoisted the little man out to pick up his third win against six losses.
Top maegashira Midorifuji, who is almost 100 kilograms less than komusubi Ichinojo, gave it his best but dropped to 4-5.
Sekiwake Wakatakakage won his sixth straight bout and improved to 6-3 when he got both arms around Nishikigi (4-5) and bulldozed the fourth-ranked maegashira out in a matter of seconds.
No. 5 maegashira Sadanoumi improved to 5-4 when he used a textbook arm throw to dispatch struggling sekiwake Hoshoryu, who lost his fourth straight bout and dropped to 4-5.
Shodai's Woes Continue
It was a disastrous day for the tournament's three ozeki wrestlers.
There was more misery for Shodai, who was saddled with a losing record when he was hauled down by Ura to drop to an unflattering 1-8. The No. 3 maegashira improved to 6-3 with the easy win.
Shodai will now be a kadoban ozeki for the next tournament in November where he must post a winning record to maintain his rank.
The bad news for ozeki continued when Takakeisho lost his balance while retreating against the hard-charging komusubi Kiribayama, a result which gave both men a record of 6-3.
Daieisho made it a clean sweep of defeats for ozeki when he used a series of powerful arm thrusts to send Mitakeumi out over the straw ridge.
Sekiwake Daieisho improved to 3-6 while Mitakeumi lost his fourth straight to drop to 3-6.


Author: Jim Armstrong
The author is a longtime journalist who has covered sports in Japan for more than 25 years. You can find his articles here.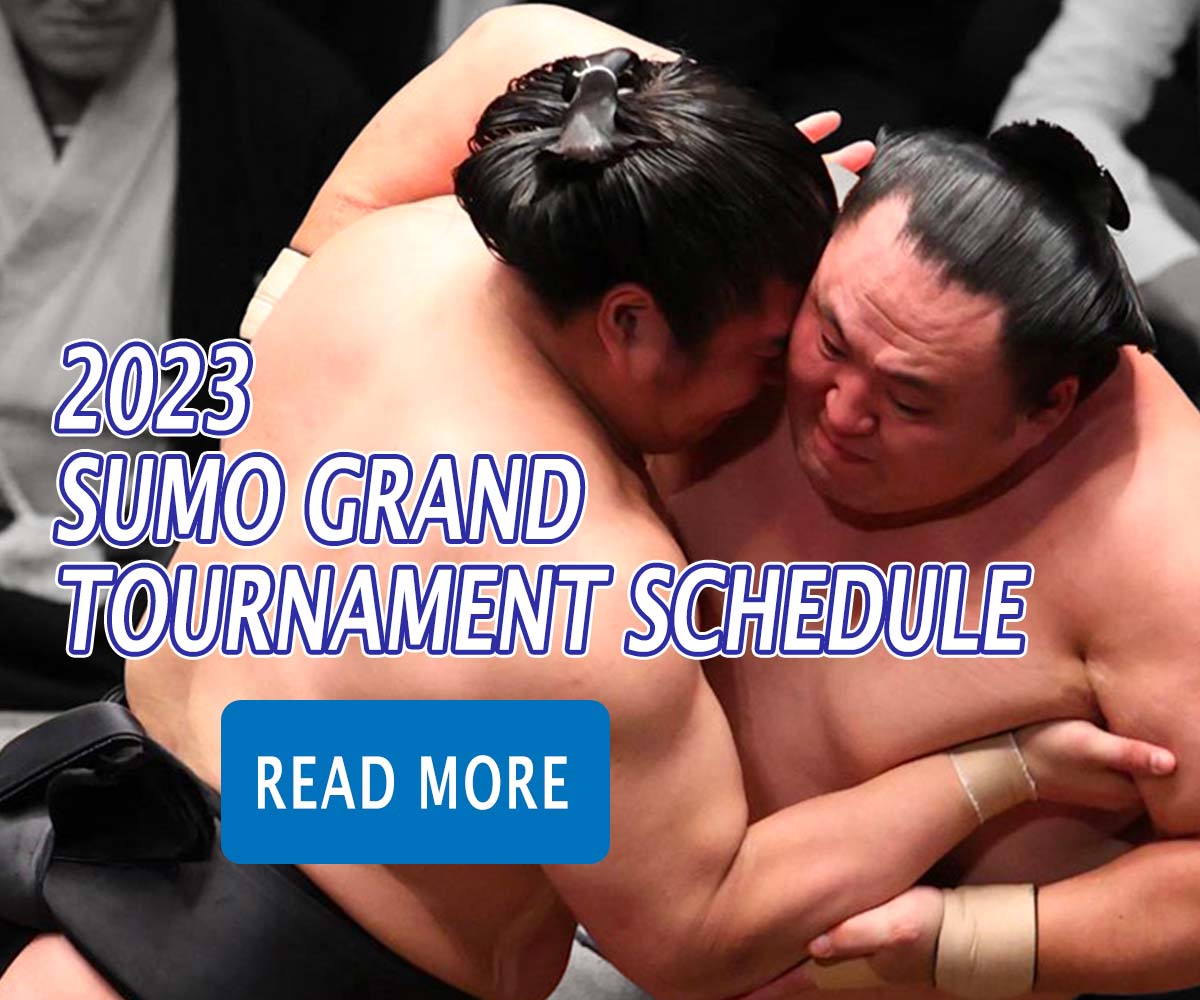 Subscribe to Our Newsletter