Takayasu Hands Hokutofuji First Loss at Autumn Basho
Lone yokozuna Terunofuji is forced to withdraw from the 15-day tournament in Tokyo due to knee injuries.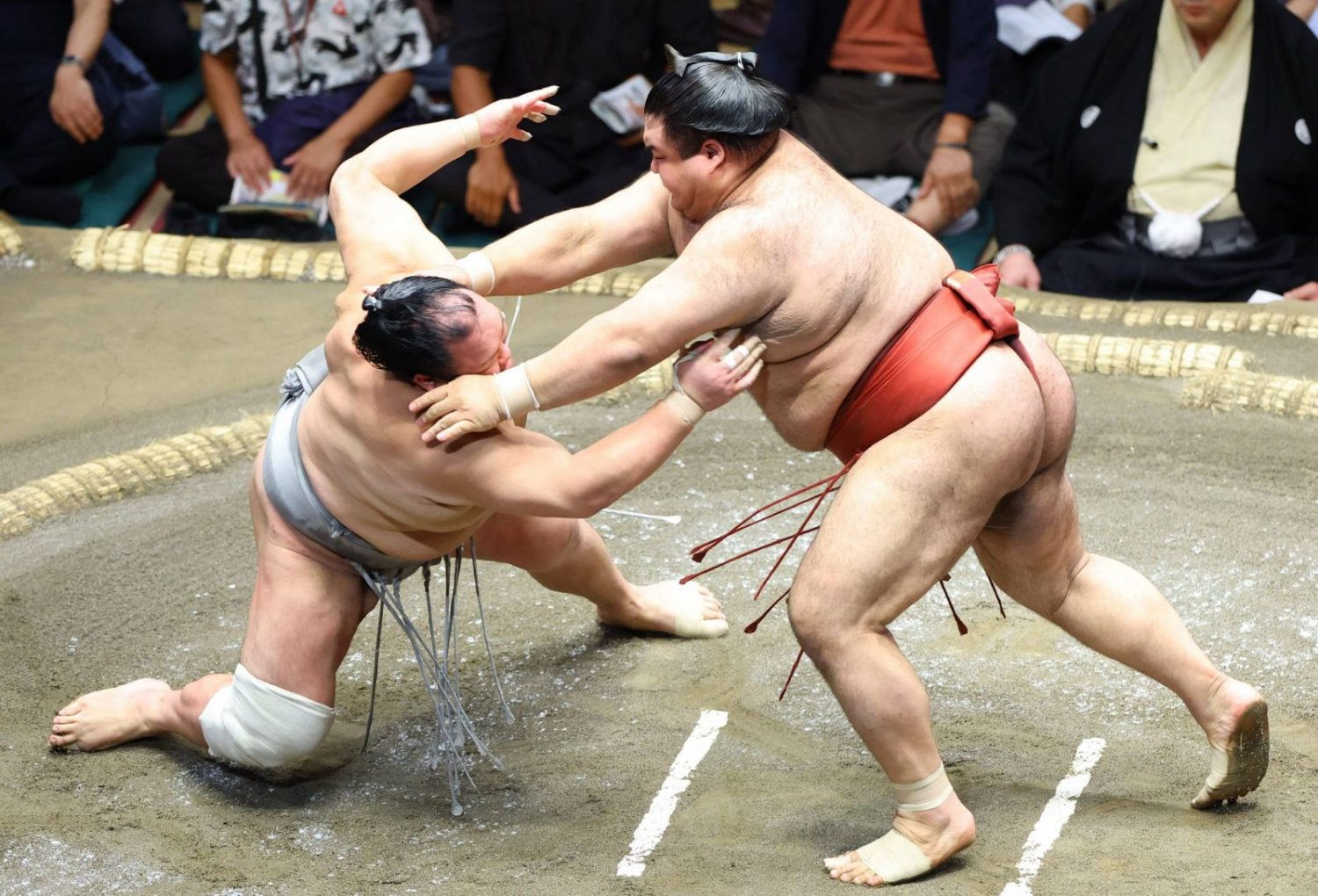 Resurgent former ozeki Takayasu thrust down previously undefeated Hokutofuji on Tuesday, September 20, a day that saw lone yokozuna Terunofuji pull out of the Autumn Grand Sumo Tournament.
No. 4 maegashira Takayasu, who defeated Terunofuji a day earlier, took advantage of a superior face-off and then calmly defeated eighth-ranked Hokutofuji to improve to 8-2.
Both men are bidding for their first-ever championship. Hokutofuji fell to 9-1.
"I tried to stay calm," Takayasu said. "I tried not to overthink things. We are heading into the final third of the tournament so I will just try to enjoy myself."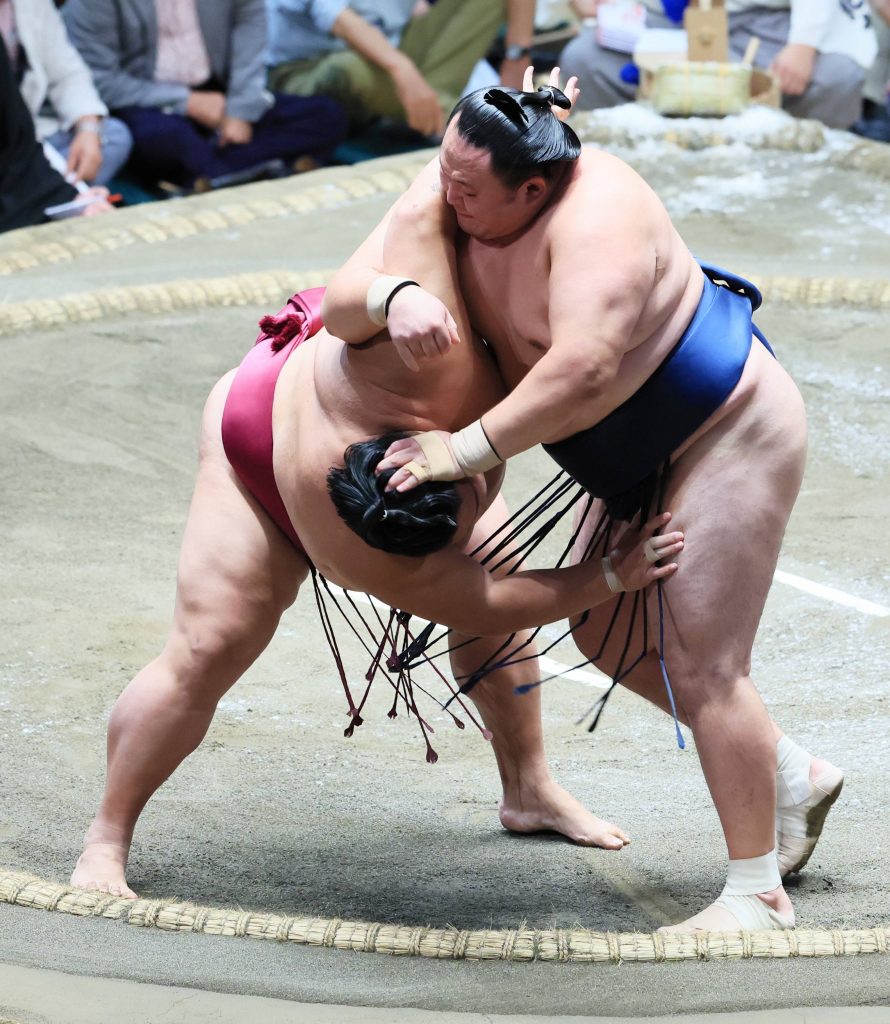 Mongolian veteran Tamawashi pulled into a two-way tie for the lead at 9-1 when he threw down struggling ozeki Mitakeumi (3-7) at the edge with a belt-less arm throw.
"It wasn't a good face-off on my part but I'm glad I was able to escape at the edge," Tamawashi said. "I'm really looking forward to tomorrow's bout against Hokutofuji."
Nishikifuji Maintains Strong Form
No. 10 maegashira Nishikifuji shoved out Wakamotoharu to wrap up a winning record and remain near the top of the leaderboard at 8-2. Wakamotoharu, a No. 6 maegashira, fell to 6-4.
"I've been concentrating on moving forward and trying to get ahold of the belt," Nishikifuji said. "I'm not thinking about the championship at this point and just trying to stay focused."
Sumo's Flying Monkey Tobizaru took a huge step closer to wrapping up a winning record and earning promotion when he shoved out komusubi Kiribayama (6-4) to improve to 7-3 with his fifth straight win.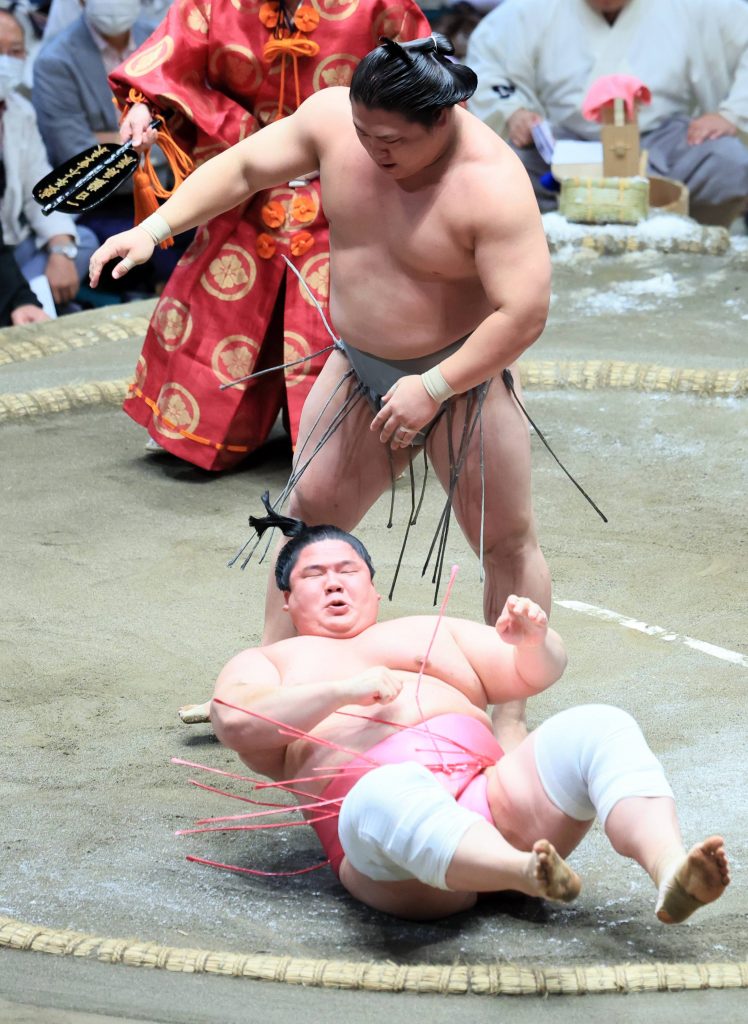 Sekiwake Wakatakakage won his seventh straight with a belt-less arm throw of Ura to move to 7-3. Third-ranked maegashira Ura dropped to 6-4.
With little more than pride on the line, komusubi Ichinojo, the winner of the July tournament, escorted hapless ozeki Shodai out in a matter of seconds to improve to 4-6. Shodai lost his ninth straight bout and slipped to 1-9.
Mongolian sekiwake Hoshoryu made it a clean sweep of the ozeki when he deployed a backward force-down of Takakeisho. Hoshoryu improved to 5-5 while Takakeisho fell to 6-4.
"The ozeki is strong so I just wanted to go at him with no fear," Hoshoryu said. "I'll try to keep improving one day at a time."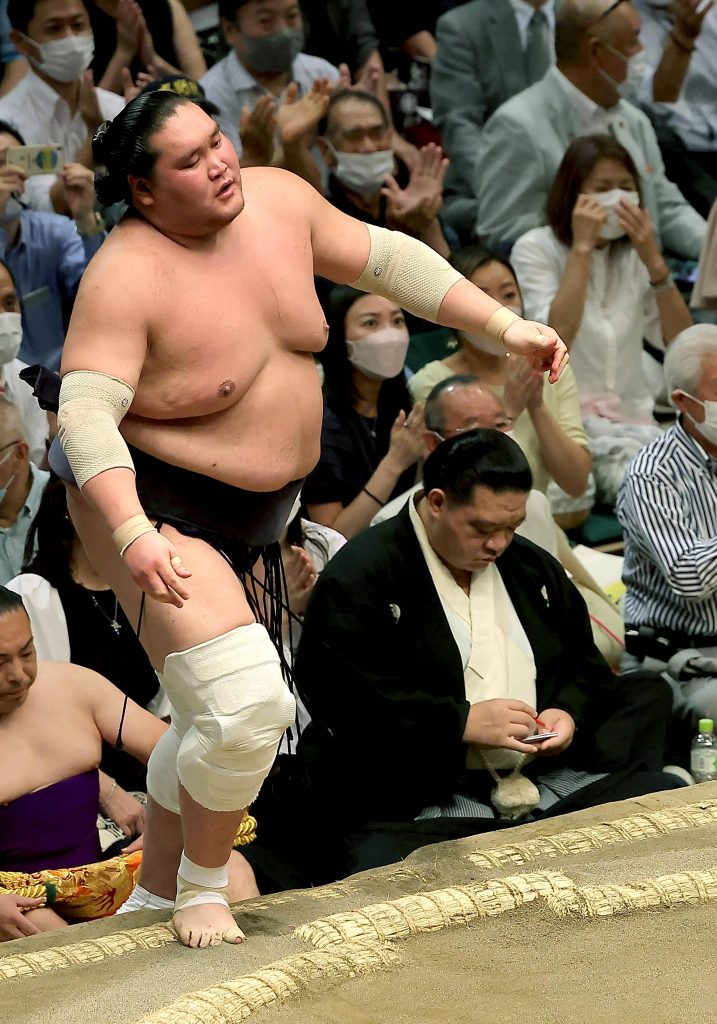 Terunofuji Exits Tourney with 5-5 Record
Earlier Tuesday, yokozuna Terunofuji withdrew from the tournament due to injuries to both his knees.
The 30-year-old Mongolian lost to No. 4 maegashira Takayasu on Monday to drop to 5-4, a result that led to speculation he had to pull out.
Terunofuji, who has long suffered from knee injuries, forfeited Tuesday's bout against Daieisho and leaves the tournament with a 5-5 record.
"He's been wrestling with pain-killing injections," his stable master Isegahama told Kyodo News. "It's not about having a rest, he needs to heal properly. He could require surgery in a certain scenario."
Terunofuji was bidding for his eighth Emperor's Cup but hasn't looked right since the tournament started.
He suffered four kinboshi losses to rank-and-file maegashira ― Tobizaru, Tamawashi, Ura and Takayasu.
It is the second time in seven meets that Terunofuji has pulled out since earning promotion to the sport's highest rank ahead of the Autumn Basho in 2021.

Author:  Jim Armstrong
The author is a longtime journalist who has covered sports in Japan for more than 25 years. You can find his articles here.