Veteran Tamawashi Takes Over the Lead at Autumn Basho
The No. 3 maegashira posted a one-sided win over Hokutofuji to claim the top spot on the leaderboard with four days left.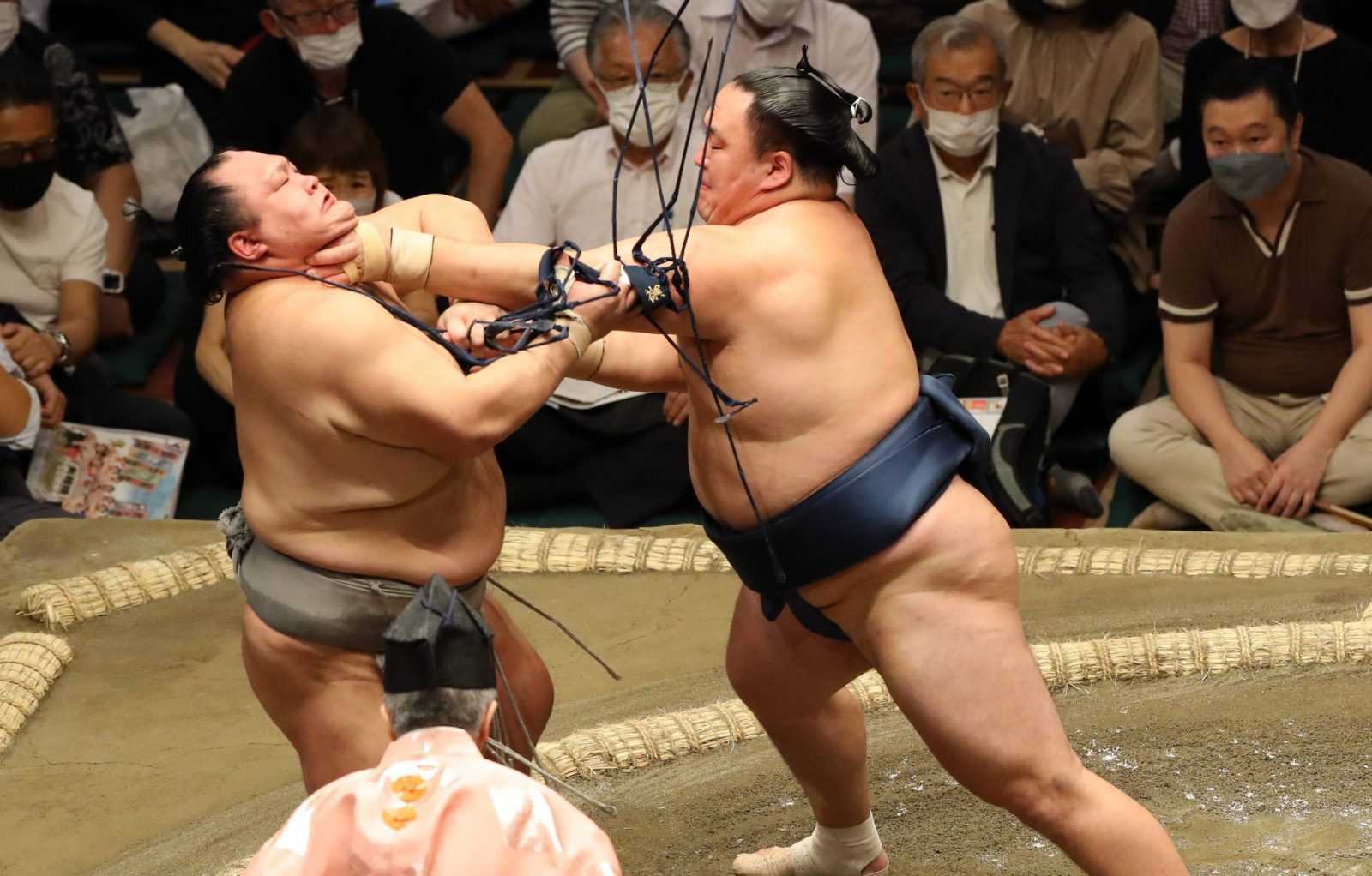 Mongolian veteran Tamawashi seized sole possession of the lead on Wednesday, September 21 with a one-sided win over rank-and-filer Hokutofuji on Day 11 of the Autumn Grand Sumo Tournament.
No. 3 maegashira Tamawashi came bursting out of the face-off with a thrust to the neck of Hokutofuji that knocked the eighth-ranked maegashira off balance.
The 37-year-old Tamawashi then used another powerful thrust to the neck of his opponent to force him out over the straw ridge and improve to 10-1.
Tamawashi, who won his only Emperor's Cup in January of 2019, will fight No. 6 maegashira Wakamotoharu on Day 12.
Hokutofuji, who is bidding for his first Emperor's Cup, was the sole leader throughout the first week of the 15-day tournament but has now relinquished the lead with two straight losses to drop to 9-2.
Tobizaru Tops Ura
In other major bouts, sumo's Flying Monkey Tobizaru used an impressive underarm throw to dispatch No. 3 maegashira Ura (6-5) and wrap up a winning record at 8-3.
Top maegashira Tobizaru has had a spectacular tournament with wins over grand champion Terunofuji, ozeki Mitakeumi and komusubi Hoshoryu. He is likely to move up to the sanyaku ranks for the next tournament in November, perhaps as a komusubi.
"I just wanted to keep a strong mentality against Ura and was able to go forward," Tobizaru said. "I'm training harder and improving all the time."
Wakatakakage kept his title hopes alive with a one-sided win over struggling fellow sekiwake Hoshoryu to improve to 8-3.
March tournament winner Wakatakakage came bursting out of the face-off and dispatched Hoshoryu in a matter of seconds, sending the Mongolian to his sixth loss against five wins.
"I am doing good sumo," said Wakatakakage, who lost his first three matches and has now won eight straight. "I haven't changed anything really, I just need to keep attacking from a lower angle. I am not thinking about the championship race."
Myogiryu Upsets Takayasu
In other major bouts, No. 9 maegashira Myogiryu dealt a blow to Takayasu's title hopes with a textbook underarm throw at the edge to improve to 6-5.
Former ozeki Takayasu, currently fighting as a No. 4 maegashira, dropped to 8-3.
Further down the ranks, No. 10 maegashira Nishikifuji stayed in the championship hunt when he improved to 9-2 after shoving out No. 14 Chiyoshoma, who fell to 7-4.
The woes continued for July tournament winner Ichinojo, who was thrust out over the edge by No. 2 maegashira Kotonowaka to fall to 4-7.
Komusubi Ichinojo looked almost unbeatable in the Nagoya meet in the summer, but he has completely lost his stamina in this tournament.
Ozeki Takakeisho shifted to his left and swatted down Nishikigi to pick up his seventh win against four losses. No. 4 maegashira Nishikigi fell to 5-6.
Ozeki Mitakeumi will be bidding farewell to the ozeki rank in November after he was thrust out by No. 5 Sadanoumi (7-4) to fall to 3-8.
"It was great to beat an ozeki," said Sadanoumi, who recorded his first win over an ozeki in seven years. "I just tried to stay patient and knew my moment would come against an ozeki and it finally did."
Shodai salvaged a measure of ozeki pride when he used a well-timed thrusting down technique at the edge to defeat No. 6 maegashira Wakamotoharu (6-5) and improve to 2-9.


Author: Jim Armstrong
The author is a longtime journalist who has covered sports in Japan for more than 25 years. You can find his articles here.