Ozeki Takakeisho upset Terunofuji on Sunday, July 24 to deny the lone yokozuna his eighth title while allowing Mongolian Ichinojo to win his first Emperor's Cup at the Nagoya Grand Sumo Tournament.
Takakeisho used a superior face-off and never let Terunofuji get a grip of his belt in the day's final bout at Aichi Prefectural Gymnasium.
After knocking Terunofuji off balance, Takakeisho relied on his trademark arm thrusts to force the stunned grand champion back to the edge, where he eventually stepped out with his left foot, giving both wrestlers a record of 11-4.

Terunofuji looked set to win his eighth championship but back-to-back losses to ozeki wrestlers on the final two days of the 15-day tournament derailed those chances.
By the time Takakeisho was taking on Terunofuji, No. 2 maegashira Ichinojo was awaiting a possible playoff after defeating third-ranked maegashira in an earlier bout to improve to 12-3.
But Takakeisho ensured there would be no playoff.
Ichinojo quickly got a left-hand grip on the belt of the unpredictable Ura (7-8) and then used his overwhelming weight advantage to force the No. 3 maegashira out.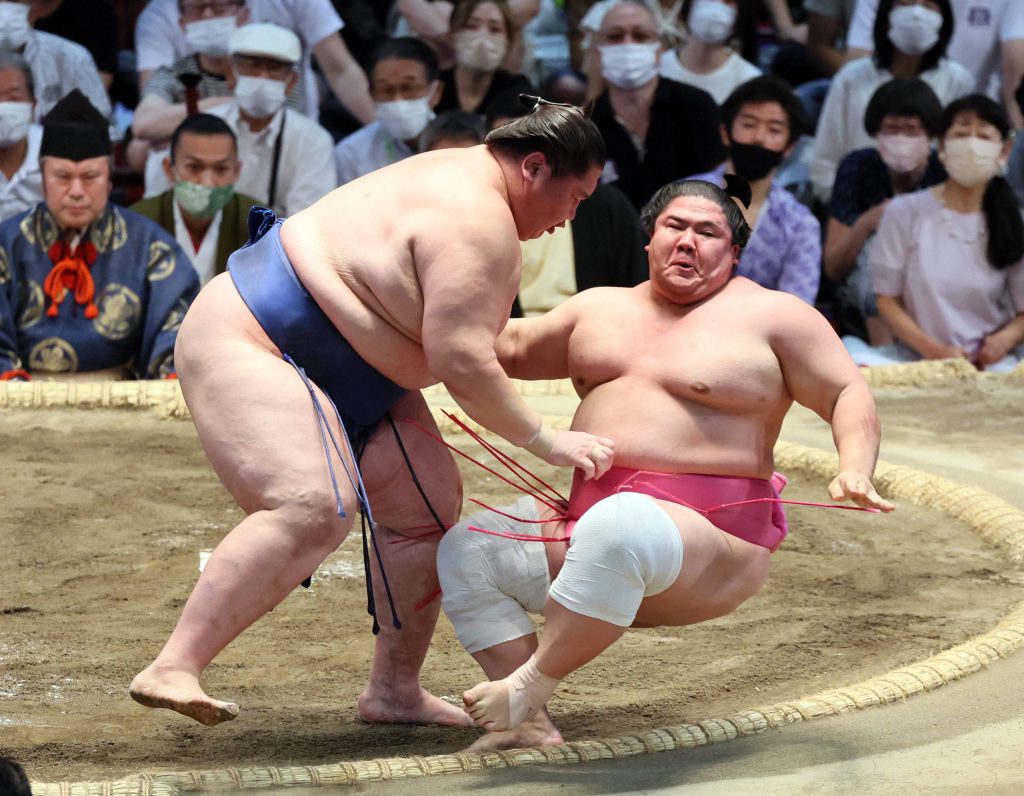 Ichinojo, who missed the previous tournament due to a COVID-19 infection, beat Terunofuji on Day 5, one of six straight wins in the first week.
Despite the confidence-boosting win over Terunofuji, the former komusubi said he was relieved not to have to face his Mongolian compatriot in a playoff.
"I was mentally preparing for a playoff," Ichinojo said in his post-competition interview. "I felt relieved when I saw things had been determined."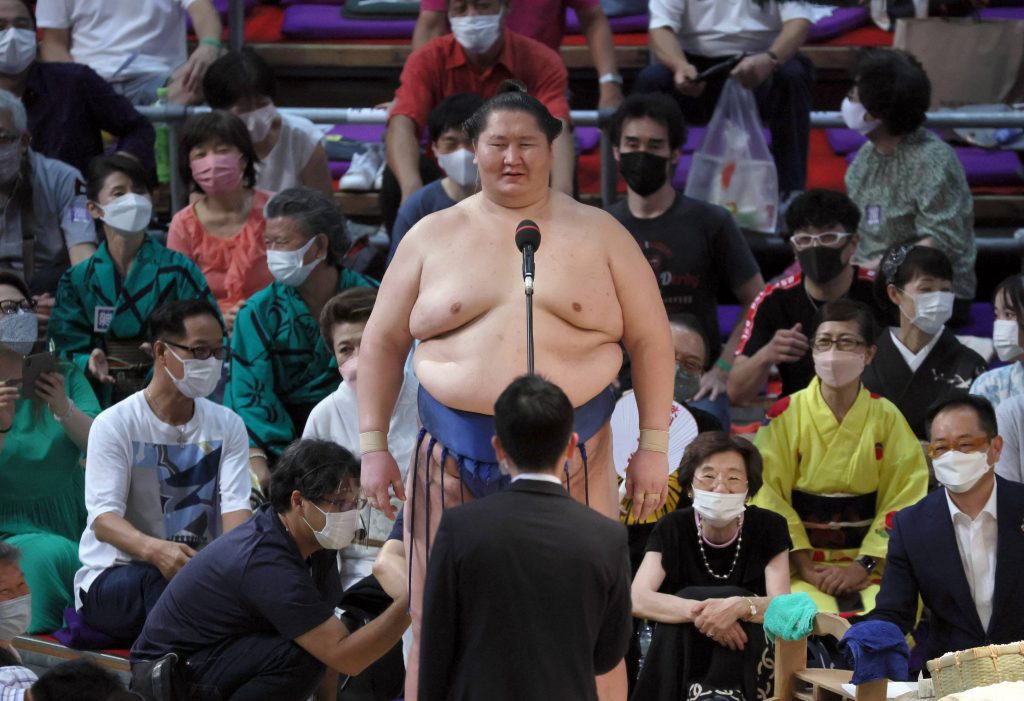 Perseverance Pays Off
Ichinojo waited eight long years for his first title. When he started his career he had to go up against legendary yokozuna Hakuho.
In the March tournament in 2019, Ichinojo went a spectacular 14-1 but had to sit back and watch as Hakuho took home the silverware after going a perfect 15-0.
"I thought one day I would be able to win it all after I went 14-1," Ichinojo said. "Now that I have the title I am so happy that I could finally win."
Like Terunofuji, Ichinojo also lost on Day 14, but he revealed he was determined not to let that hamper his performance on the final day.
"I just tried to forget yesterday and focus on today," Ichinojo said. "I felt some pressure but somehow, things turned out well for me."

Shodai, Nishikufji Collect 10 Wins Apiece
In other major bouts, ozeki Shodai capped an impressive Nagoya Basho showing by swatting down sekiwake Wakatakakage (8-7) to finish at 10-5.
Shodai needed a winning record at this tournament to keep his ozeki status and did that and more. After starting the tournament with four losses in his first five bouts, he completely turned around his fortunes in the second week.
Shodai won nine of his last 10 bouts, including a huge upset over Terunofuji on Day 14.
No. 17 maegashira Nishikifuji won by default over seventh-ranked Hokutofuji (6-9) to finish at 10-5 and capture a Fighting Spirit Prize in his makuuchi debut.
"The last win was by default so it feels a little strange," Nishikifuji said. "After I got a winning record, I just tried to keep the momentum going so I could get a prize. My practice every day and caring for my injuries led to my good performance."
Hokutofuji was forced to withdraw on Sunday due to a COVID-19 infection at his stable. The entire Nagoya tournament was marred by a series of coronavirus withdrawals.
No. 4 maegashira Wakamotoharu got a right-hand grip on the belt of Chiyotairyu and forced the 10th-ranked maegashira out to improve to 6-9. Chiyotairyu also finished at 6-9.
In an all-Mongolia showdown, top maegashira Kiribayama wrapped up a winning record with a superb overarm throw of No. 13 Chiyoshoma (7-8) to improve to 8-7.
Kiribayama won his final four bouts and could be in line for a promotion up the ranks for the next tournament in September.

A Reason to Celebrate
No. 10 maegashira Meisei celebrated his 27th birthday by shoving out komusubi Abi with a series of powerful arm thrusts to improve to a very respectable 9-6. Abi dropped to 8-7.
No. 11 maegashira Midorifuji took advantage of his superior speed when he used a thigh-grabbing push down at the edge to defeat komusubi Hoshoryu to improve to 10-5.
Hoshoryu, who attempted a last-gasp swat-down but ran out of real estate, dropped to 9-6.


Author: Jim Armstrong
The author is a longtime journalist who has covered sports in Japan for more than 25 years. You can find his articles here.