Shodai Upsets Terunofuji on Penultimate Day of Nagoya Basho
The lone grand champion is tied with Ichinojo heading into the final day.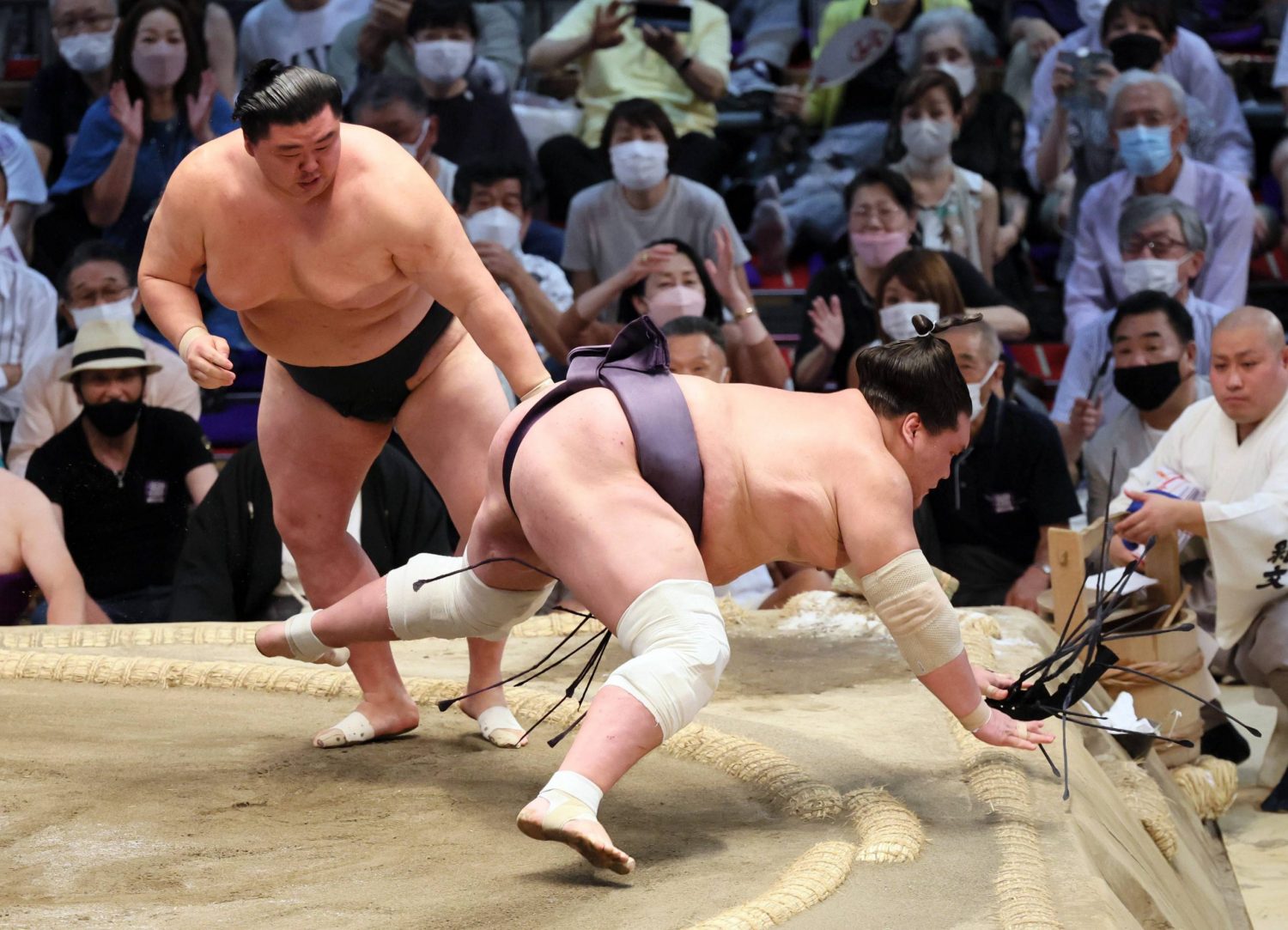 Ozeki Shodai upset Terunofuji on Saturday, July 23, a result that means the Mongolian yokozuna will be in contention for the title with two other wrestlers on the final day of the Nagoya Grand Sumo Tournament. 
In the day's final bout at Aichi Prefectural Gymnasium, Shodai dodged to his side after the face-off and used a thrust-down technique to send Terunofuji toppling off the raised ring.
Terunofuji and fellow Mongolian Ichinojo, aiming to win his first top division title, are tied for the lead at 11-3. Ozeki Takakeisho is just one win off the pace at 10-4.
Terunofuji is bidding for his eighth Emperor's Cup and could have given himself some breathing room heading into the final day with a win over Shodai, who improved to 9-5.
Terunofuji will take on Takakeisho on the final day while Ichinojo will face third-ranked maegashira Ura.
Since losing four of his first five bouts in the 15-day tournament, Shodai had gone 8-1 and looked confident against the lone yokozuna, who was perhaps guilty of being a little over-anxious at the face-off.

Meisei Prevails Over Ichinojo
In other major bouts, No. 10 maegashira Meisei dealt a serious blow to Ichinojo's title chances when he came bursting out of the face-off, got a solid right-hand inside grip on the belt and drove the No. 2 maegashira out to his third loss.
Meisei, who took advantage of his speed, wrapped up a winning record and improved to 8-6. Ichinojo fell to 11-3.
Spring Basho winner Wakatakakage beat ozeki Takakeisho when he spun his opponent around and used a rear-push out win to wrap up a winning record at 8-6.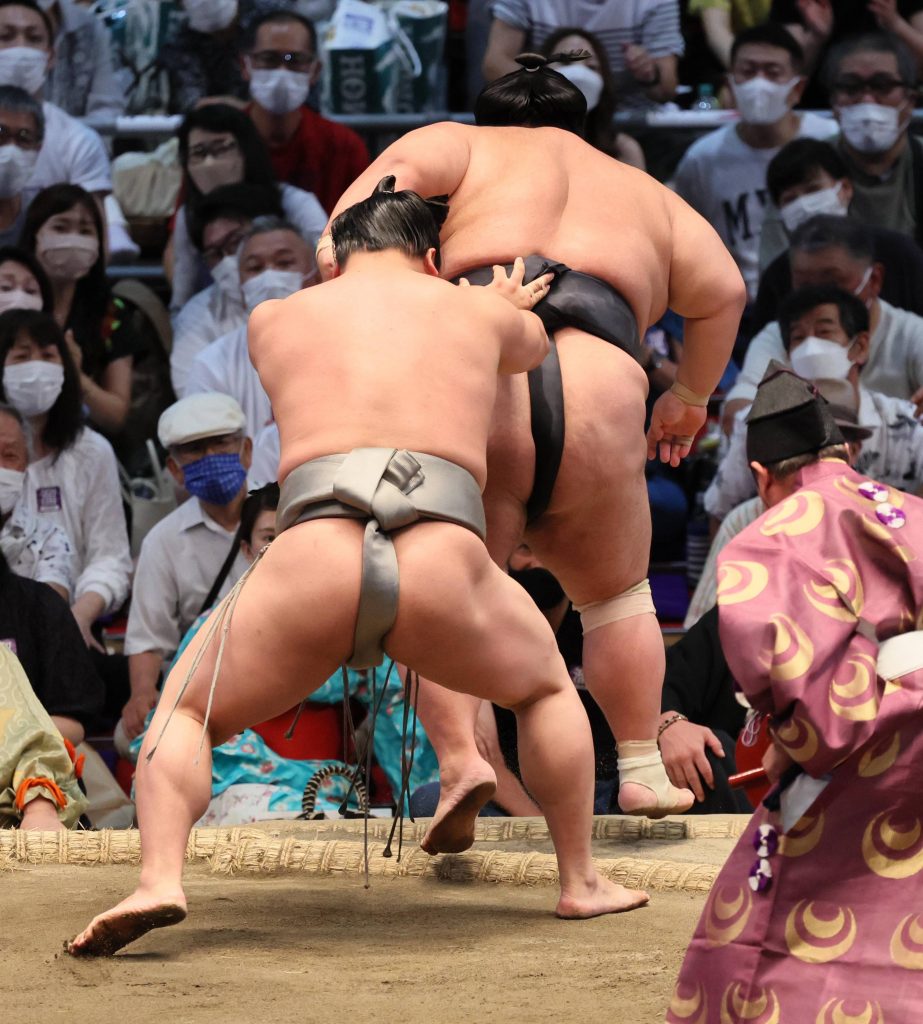 Takakeisho dropped to 10-4, but is still very much in the title chase thanks to Shodai's upset win over Terunofuji.
No. 3 maegashira Ura pulled an evasive henka move at the face-off when he dodged to the side of Hokutofuji but it didn't factor in the decision.
Ura eventually shoved out No. 7 maegashira Hokutofuji (6-8) to improve to 7-7, and can wrap up a winning record on the final day.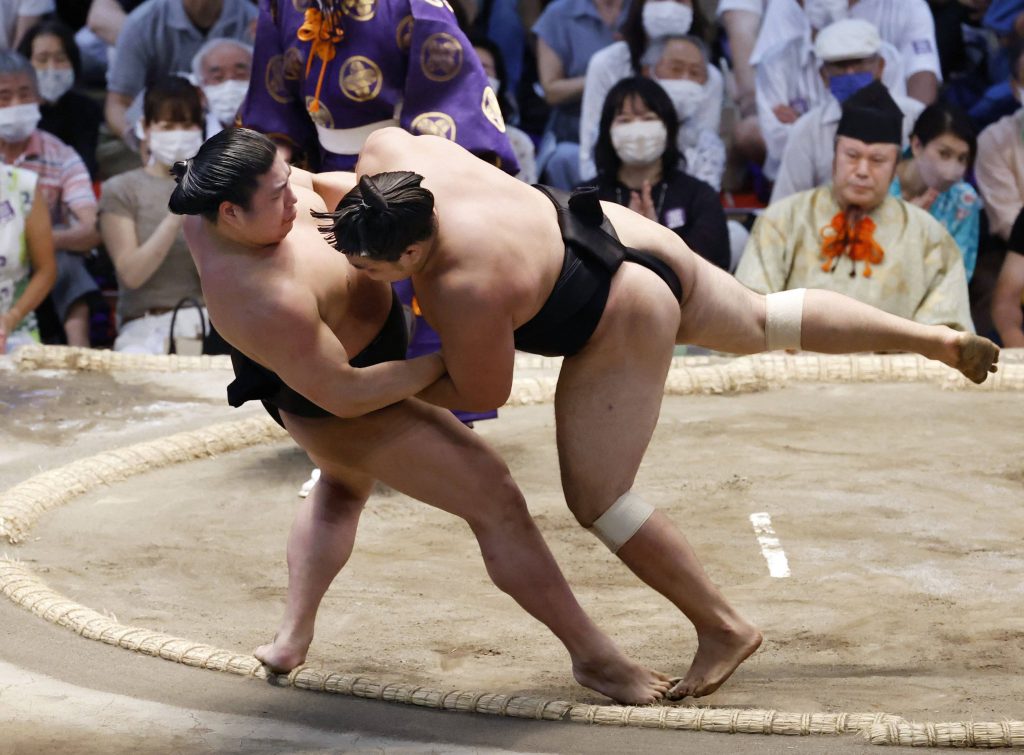 Kiribayama Wins Rematch
Wakamotoharu and Kiribayama needed a rematch after their first bout ended in a draw.
Both wrestlers attempted a throw at the edge in their first bout and touched down at the same time, so the ringside judges called for a do-over.
The rematch was almost just as close with top maegashira Kiribayama eventually prevailing when he got his opponent propped up at the edge when he used a frontal crush-out to improve to 7-7.
No. 4 maegashira Wakamotoharu put up a spirited effort in both bouts but dropped to 5-9.
Komusubi Hoshoryu used an arm throw to force out No. 8 maegashira Tochinoshin to improve to 9-5. Tochinoshin dropped to 7-7.
Komusubi Abi, aiming to move back up to sekiwake, was pushed back at the face-off, but displayed some fancy footwork at the edge where he swatted down No. 10 maegashira Chiyotairyu (6-8) to wrap up an all-important winning record at 8-6.


Author: Jim Armstrong
The author is a longtime journalist who has covered sports in Japan for more than 25 years. You can find his articles here.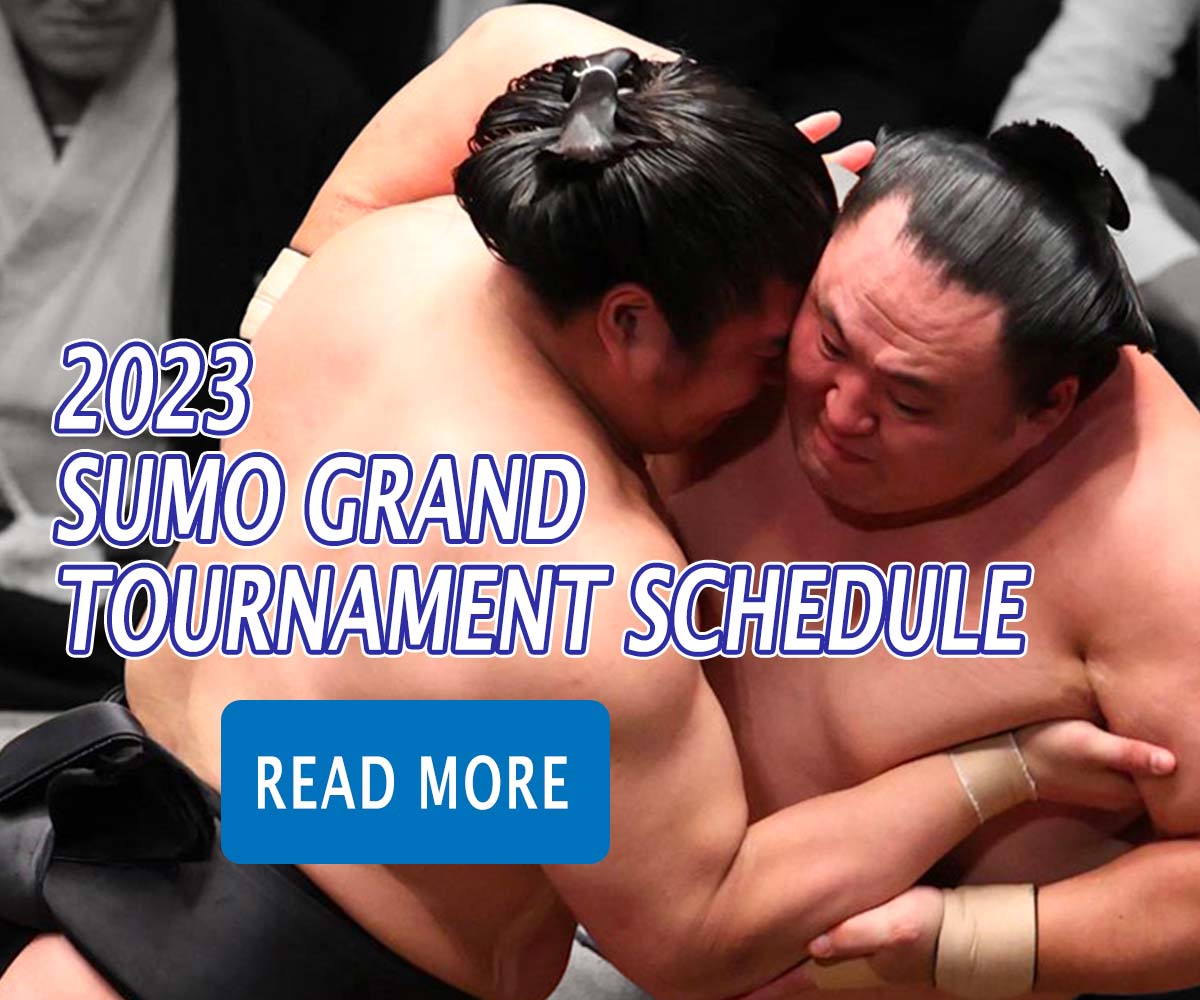 Subscribe to Our Newsletter