Terunofuji Stays Tied For Lead as Nagoya Basho Hit with COVID-19 Withdrawals
The lone yokozuna dispatched Wakatakakage to stay even with compatriot Ichinojo.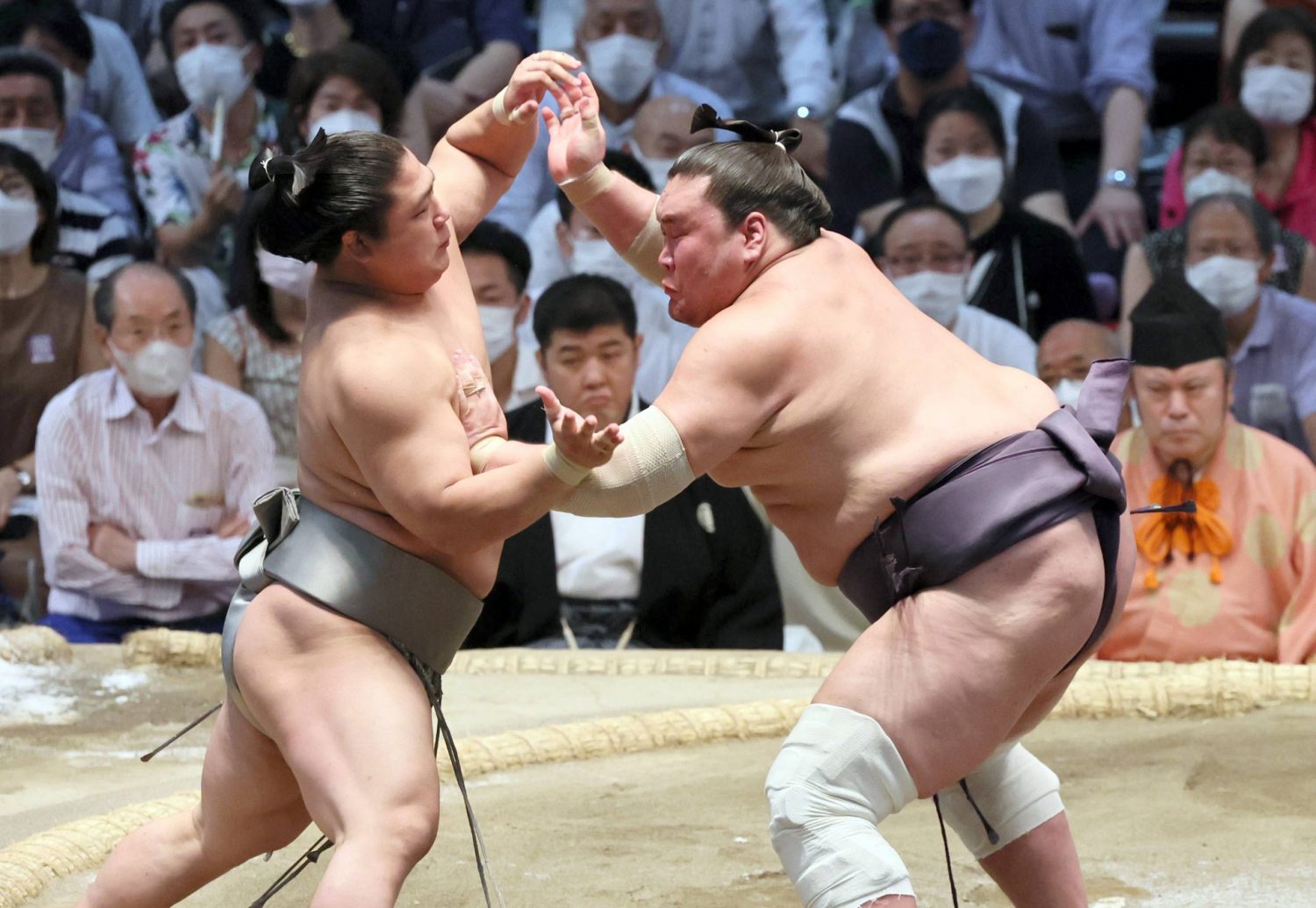 Grand champion Terunofuji made quick work of Wakatakakage on Friday, July 22 to stay tied for the lead on a day when the Nagoya Grand Sumo Tournament was hit by a series of COVID-19 withdrawals.
In the day's final bout at Aichi Prefectural Gymnasium, Terunofuji used a series of powerful arm thrusts to defeat the sekiwake in a matter of seconds and improve to 11-2, tied with compatriot Ichinojo heading into the final two days.
With the one-sided win, Terunofuji improved to a dominant 10-1 record against Wakatakakage, who dropped to 7-6.
In an all-ozeki showdown, Takakeisho stayed in the championship chase and improved to 10-3 when he used his trademark thrusting technique to defeat Shodai. 
Shodai, who wrapped up a winning record on the previous day, dropped to 8-5.
In other major bouts, komusubi Hoshoryu used a perfect arm-lock throw to dispatch Wakamotoharu to wrap up a winning record at 8-5. 
Fourth-ranked maegashira Wakamotoharu dropped to 5-8 and will finish the tourney with a losing record for the first time in the top division.
COVID-19 infections continued to cause havoc with the tournament schedule. The original schedule for 18 bouts in the elite makuuchi division was reduced to just 11 on Friday due to coronavirus infections at the various stables.
Co-leader and No. 2 maegashira Ichinojo won by default to improve to 11-2 when his opponent for Day 13, No. 8 maegashira Nishikigi (8-5) was forced to pull out due to a coronavirus infection at his stable.
The second half of Friday's schedule started with an unprecedented five straight defaults.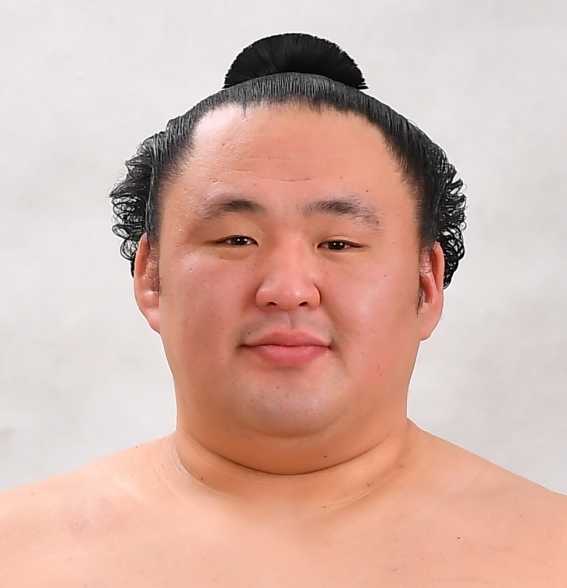 Tamawashi's Streak Ends
Sumo's iron man Tamawashi, who has not missed a single bout in his 18-year career, was also forced to withdraw due to a positive coronavirus case in his Kataonami stable, the Japan Sumo Association announced on Friday.
The 37-year-old Mongolian, a No. 3 maegashira, had a streak of 1,1448 consecutive bouts since his debut in January of 2004, the fourth-longest of all time.
The JSA has supported COVID-19-related medical exemptions so it is likely his streak will be maintained pending a ruling to be made at a later date
No. 3 maegashira Ura, Tamawashi's opponent for the 13th day, won by forfeit to improve to 6-7. Tamawashi finishes at 5-8.
No. 6 maegashira Tobizaru, who was having a strong tournament, was also among the wrestlers who were forced to pull out. He finishes the tournament at 8-5 while his opponent for Day 13, No. 17 Nishikifuji, improved to 9-4 with a win by default.
Update on the COVID-19 Outbreak
Twelve out of the sport's 43 stables have withdrawn all members from the Nagoya tourney because wrestlers either came down with the virus or were in close contact with someone who tested positive.
A total of 158 wrestlers, including 13 sekitori in the juryo and makuuchi divisions, have either missed or withdrawn from the Nagoya Basho due to COVID-related issues.
Komusubi Abi moved to 7-6 when he dodged to his side and hauled down No. 7 maegashira Hokutofuji, who dropped to 6-7.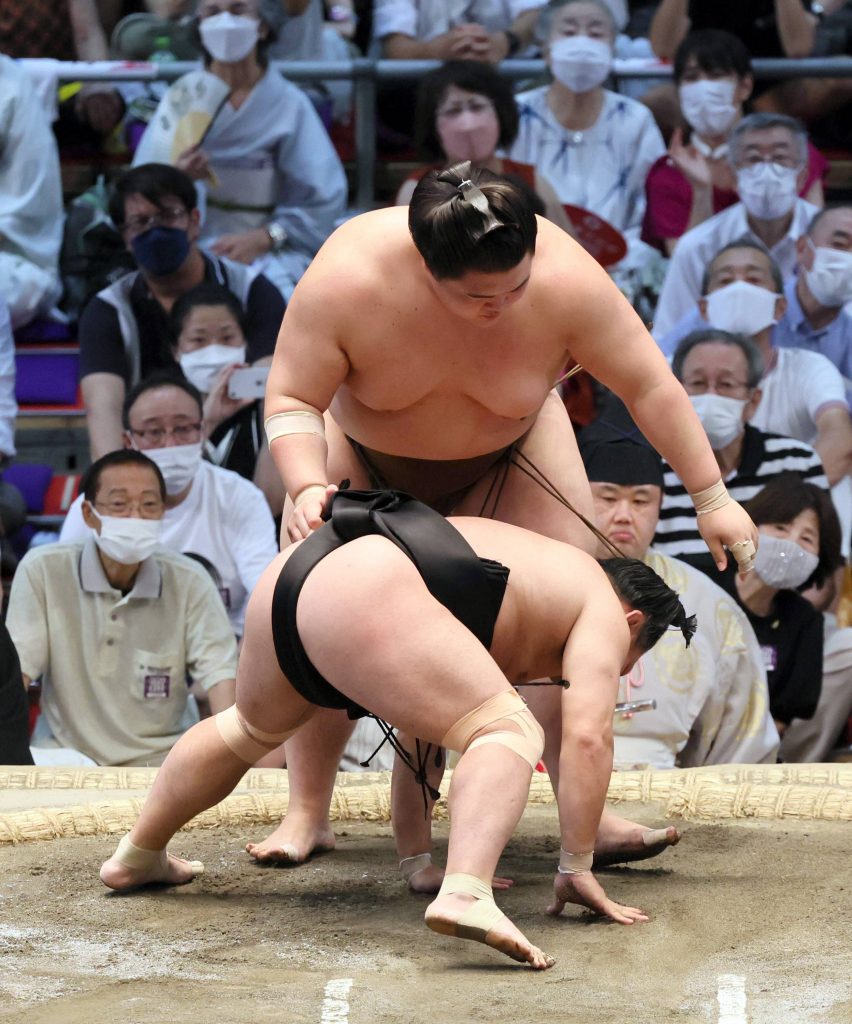 Further down the ranks, No. 15 maegashira Oho wrapped up his first winning record in the top division when he got a right-hand grip of Terutsuyoshi's belt right after the face-off and threw the No. 12 down to improve to 8-5.
Terutsuyoshi, who dropped to 5-8, tried yet another ashitori leg pick but Oho was ready for it.
"I was prepared for his leg pick so I was really composed," said Oho, the grandson of legendary yokozuna Taiho. "I had good practice sessions before this tournament and I think that's the reason I was able to wrap up a winning record."


Author: Jim Armstrong
The author is a longtime journalist who has covered sports in Japan for more than 25 years. You can find his articles here.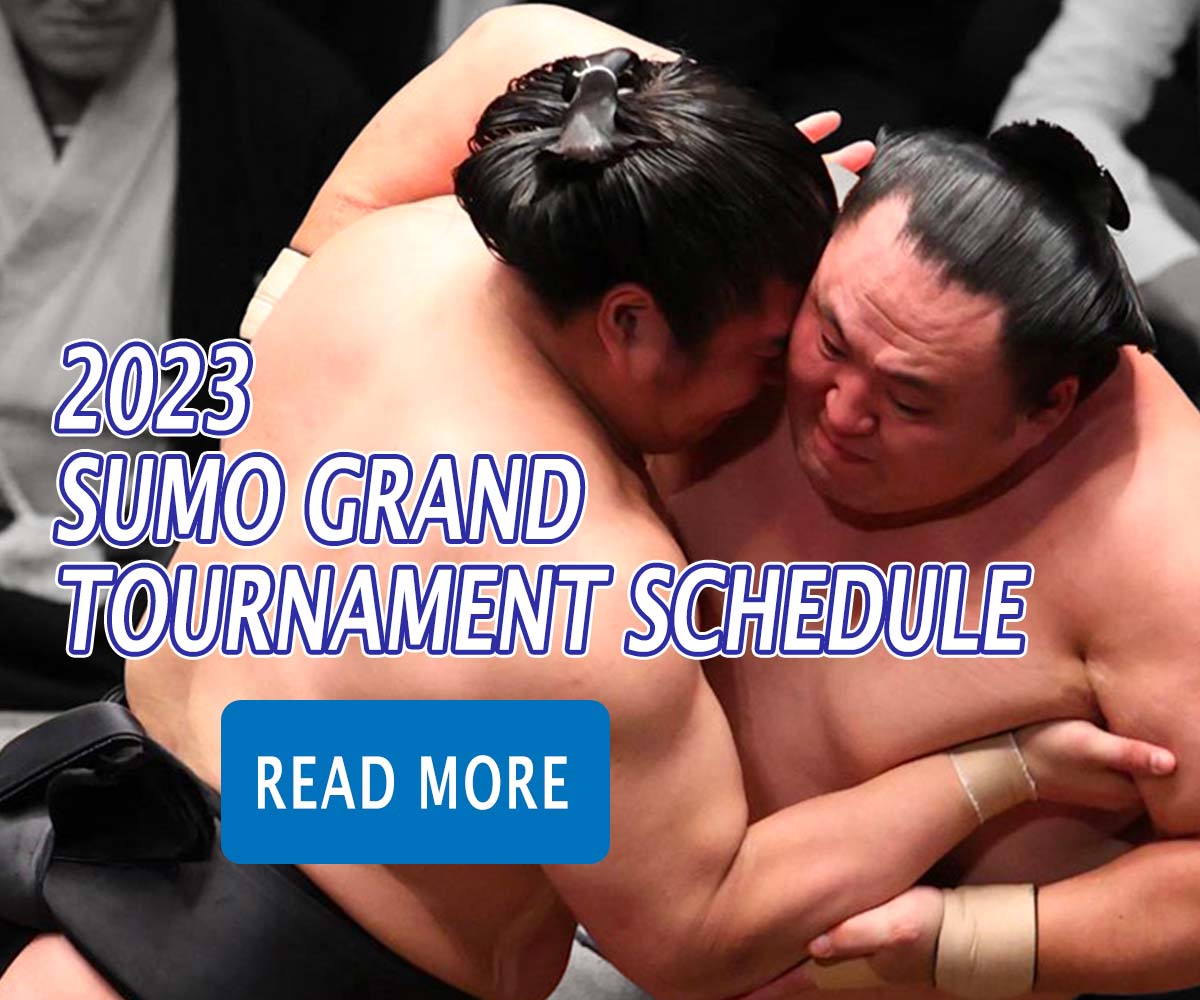 Subscribe to Our Newsletter