Terunofuji bounced back from the previous day's shock defeat to Daieisho to defeat lower-ranked wrestler Ura and maintain his one-win lead at the Autumn Grand Sumo Tournament on Tuesday, September 21.
The new yokozuna had his hands full with rank-and-filer Ura, who tried every move in the book to topple the giant grand champion in the day's final bout at Ryogoku Kokugikan.
With both wrestlers in a standoff at the center of the ring, No. 6 maegashira Ura attempted to grab the leg of Terunofuji and somehow upend his much larger opponent.
Appearing fed up with Ura's unorthodox tactics, Terunofuji finally got ahold of his opponent's belt and threw Ura down, but even that didn't go according to plan.
Ura hung on to the belt of Terunofuji like a rag doll and appeared suspended in mid-air before finally falling to the dirt surface.
Terunofuji, who was promoted to sumo's highest rank in July, improved to 9-1 and holds a one-win lead over rank-and-filers Onosho and Myogiryu. Ura dropped to 4-6.
Terunofuji, the lone yokozuna competing in the 15-day basho, takes on struggling komusubi Takayasu on Day 11 in his bid to win the Emperor's Cup in his debut at grand champion.
The other grand champion, Hakuho, was forced to withdraw when two of his stablemates tested positive for the coronavirus before the start of the tourney.
In other major bouts, ozeki Shodai fought off several powerful thrusts to his head and neck before swatting down Daieisho to pick up his seventh win against three losses.
No. 4 maegashira Daieisho, who used the same arm thrust to the neck to good effect against Terunofuji on Day 9, couldn't pull off another huge upset and dropped to 6-4.
Ozeki Takakeisho also came out on the winning side when he deployed a series of powerful arm thrusts to overwhelm sekiwake Meisei (4-6).
With the win, Takakeisho improved to 6-4 and moved a step closer to securing the winning record he needs to maintain his ozeki status. After losing his first three bouts, Takakeisho has looked more and more like the wrestler who won his second Emperor's Cup in November 2020 by beating Terunofuji in a playoff.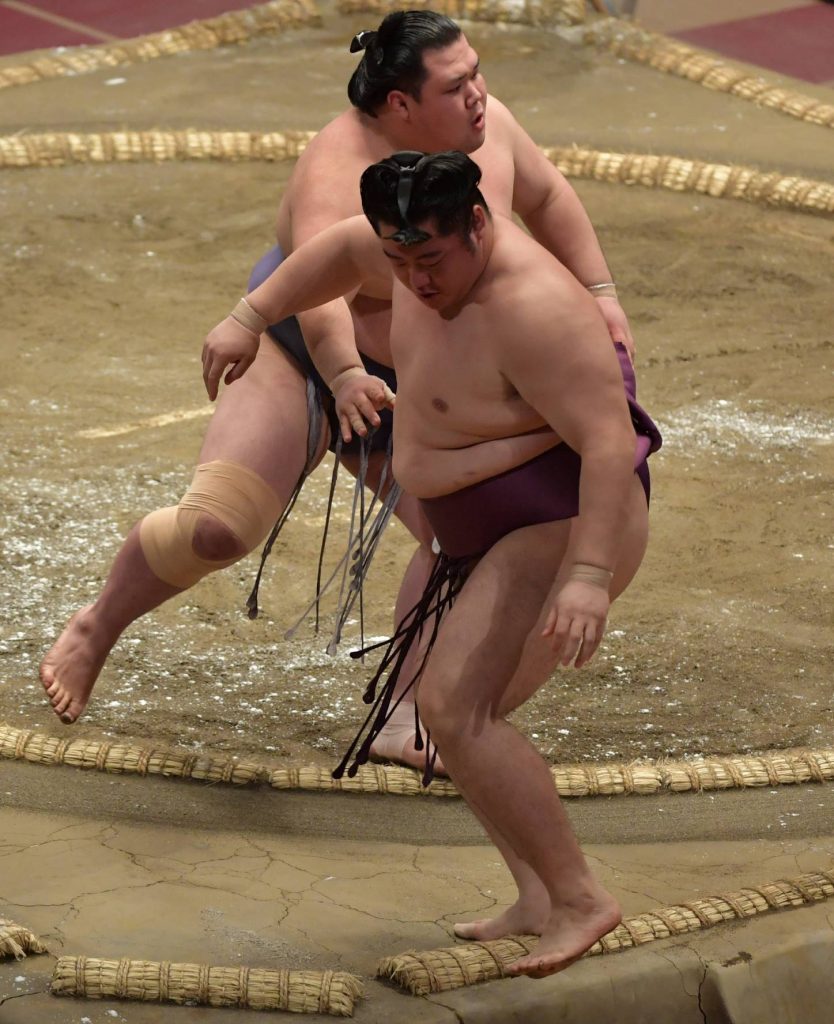 Sixth-ranked maegashira Onosho wrapped up a winning record and remained one win back at 8-2 with a series of rapid-fire slaps to the head to send popular 11th-ranked maegashira Endo toppling off the raised ring.
Endo came into the day's bouts one win back but dropped to 7-3.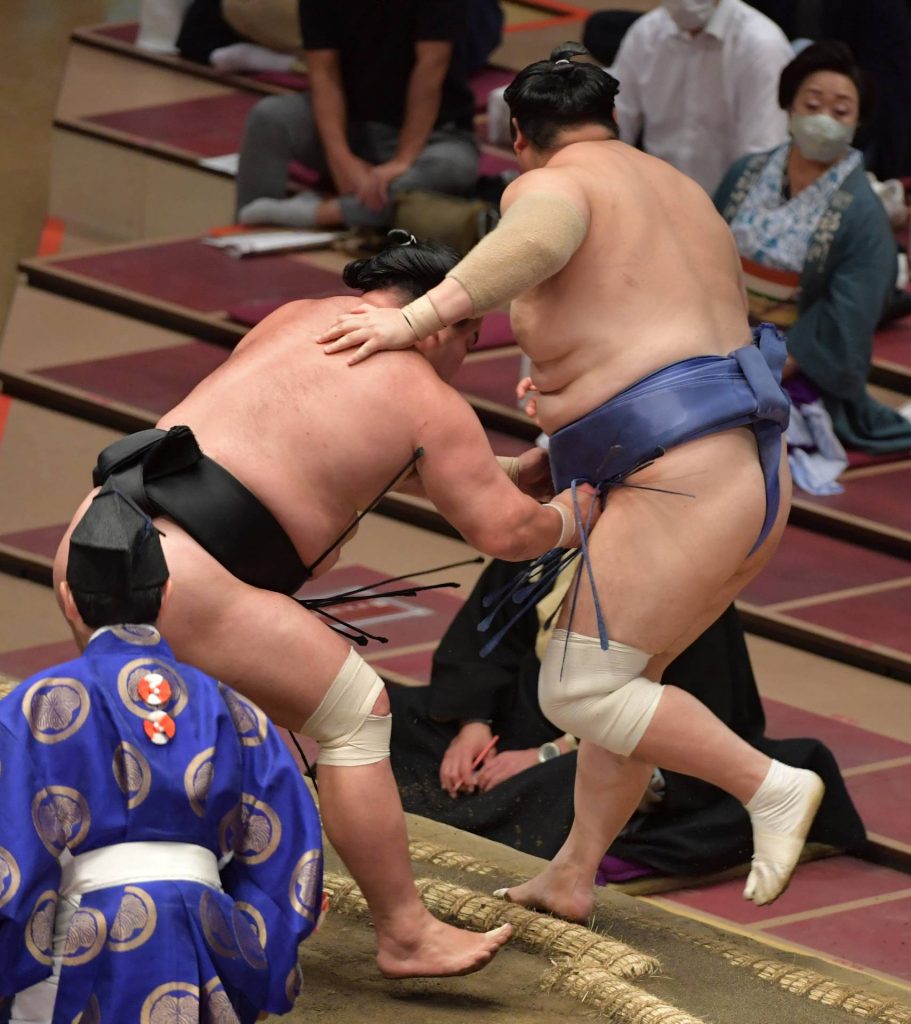 Tenth-ranked maegashira Myogiryu also stayed one win off the pace when he came bursting out of the face-off and used a frontal force-out to dispatch No. 8 maegashira Okinoumi (7-3).
Elsewhere, sekiwake Mitakeumi came bursting out of the face-off, got his right arm under the arm of Wakatakakage and used a frontal force-out to improve to 7-3. Third-ranked Wakatakakage saw his record fall to 4-6.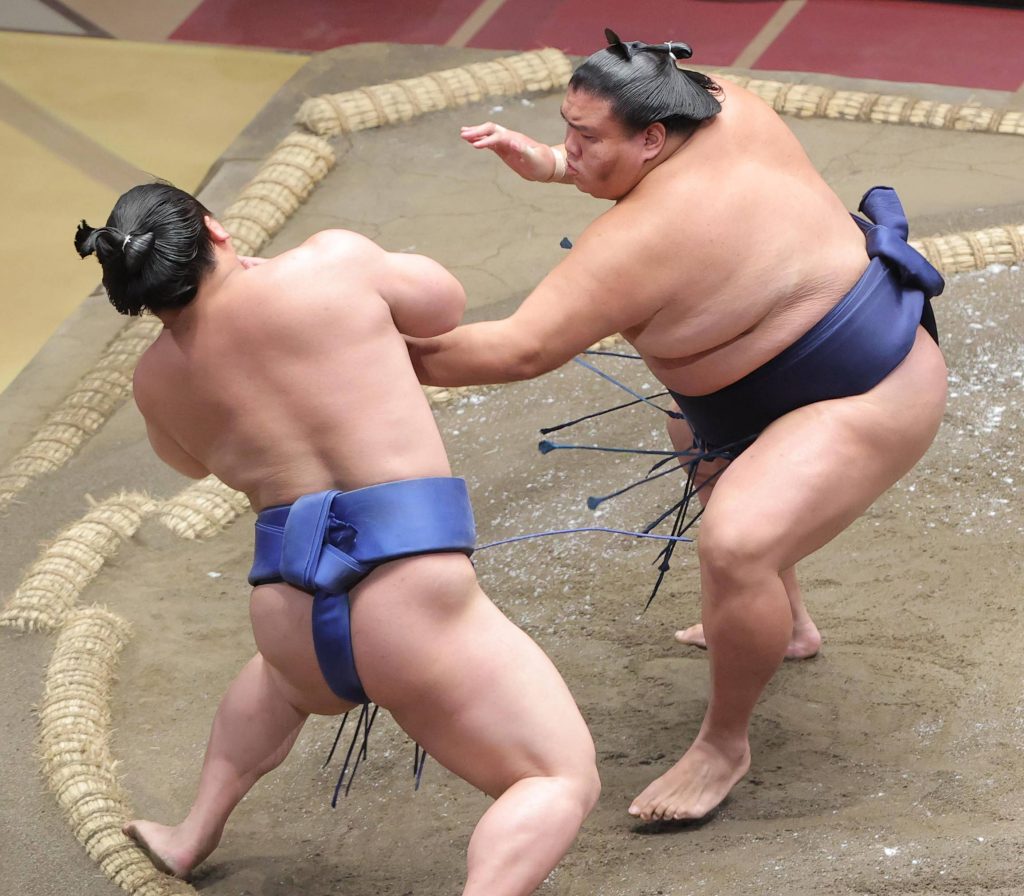 In a showdown of Mongolian up-and-comers, No. 2 maegashira Kiribayama dodged to his side just after the face-off, got a left-hand grip on the belt of Hoshoryu and threw his opponent down in a matter of seconds to improve to 7-3.
Top-ranked maegashira Hoshoryu, a nephew of former yokozuna Asashoryu, dropped to 3-5-2 with two days absent due to tonsillitis.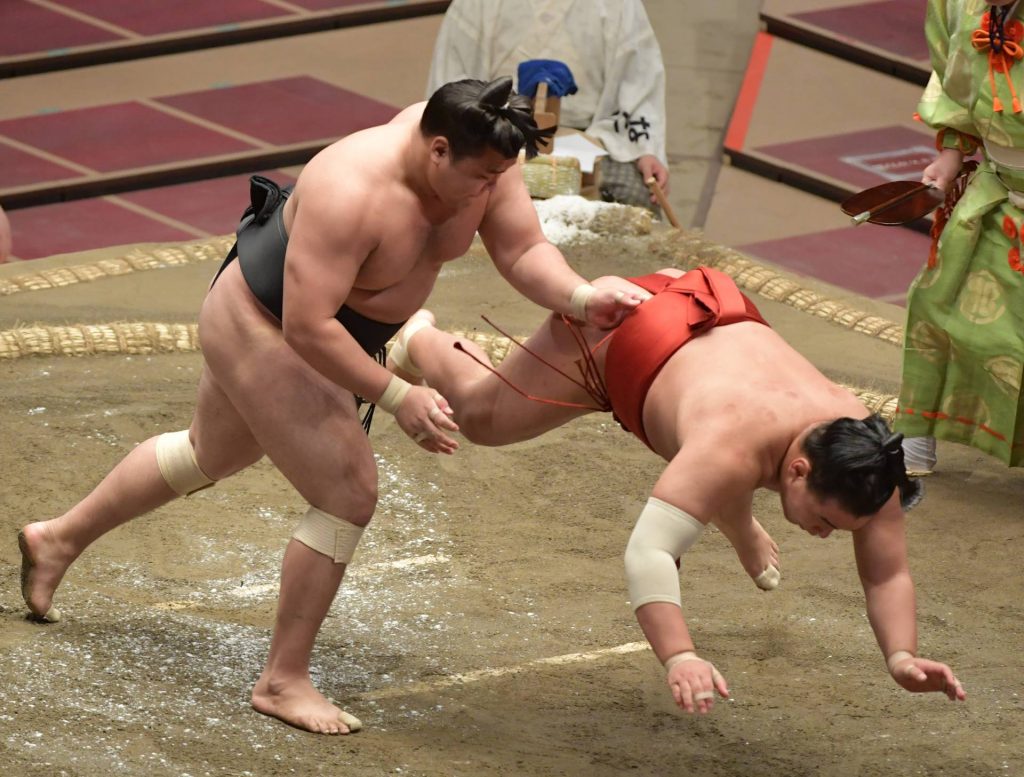 Kotonowaka was forced to pull out of Tuesday's bout with a sore left knee. His withdrawal meant the promising No. 3 maegashira fell to 3-7 while his Day 10 opponent, komusubi Takayasu, improved to 4-6.
No. 17 maegashira Chiyonokuni fell to 7-3 when he was forced out by ninth-ranked Hidenoumi, who improved to 4-6.
In a battle of struggling heavyweights, komusubi Ichinojo took advantage of a superior face-off before getting a right-hand grip on the belt of Tamawashi and bulldozing the No. 4 maegashira out to his seventh loss against only three wins. Ichinojo improved to 4-6.

Three Stars
First Star: Takakeisho. The ozeki wrestler is getting back to his dominant self and is well on his way to securing a winning record.
Second Star: Myogiryu. The 10th-ranked maegashira dispatched a formidable foe in Okinoumi to stay in the title chase.
Third Star: Rank-and-filer Onosho kept pace with a hard-fought win over Endo.


Author: Jim Armstrong
The author is a longtime journalist who has covered sports in Japan for more than 25 years. You can find his articles here, on JAPAN Forward.