Terunofuji Defeats Shodai to Stay Tied For the Lead
The lone yokozuna is even with rank-and-filer Takanosho heading into the final day.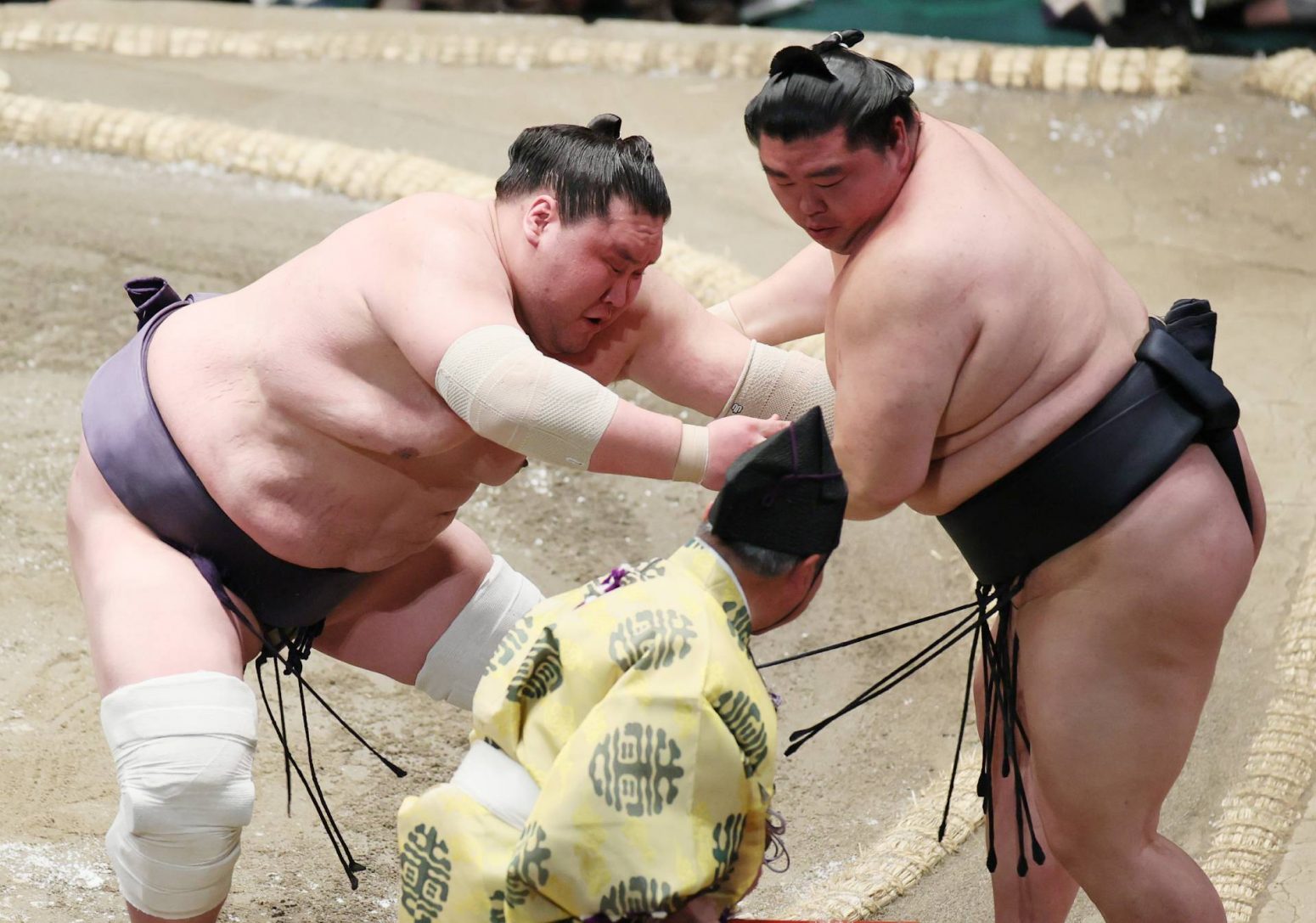 Lone grand champion Terunofuji overpowered struggling ozeki Shodai on Saturday, May 21 to stay tied for the lead with rank-and-filer Takanosho on the penultimate day of the Summer Grand Sumo Tournament.
Terunofuji got a left-hand inside grip in the day's final bout at Ryogoku Kokugikan and then used a bread-and-butter frontal force-out to defeat Shodai and improve to 11-3.
Ozeki Shodai, who will be relegation-threatened in the July tournament, put up little resistance and dropped to 5-9.
The only real drama in the final bout of the day came when Shodai almost bowled over the referee as he was being shoved out by the determined grand champion.
Daieisho and Sadanoumi are the only other wrestlers still in contention heading into the final day with 10-4 records.
On the final day, Terunofuji, who will meet Mitakeumi, will be bidding for his seventh Emperor's Cup and third at sumo's highest rank.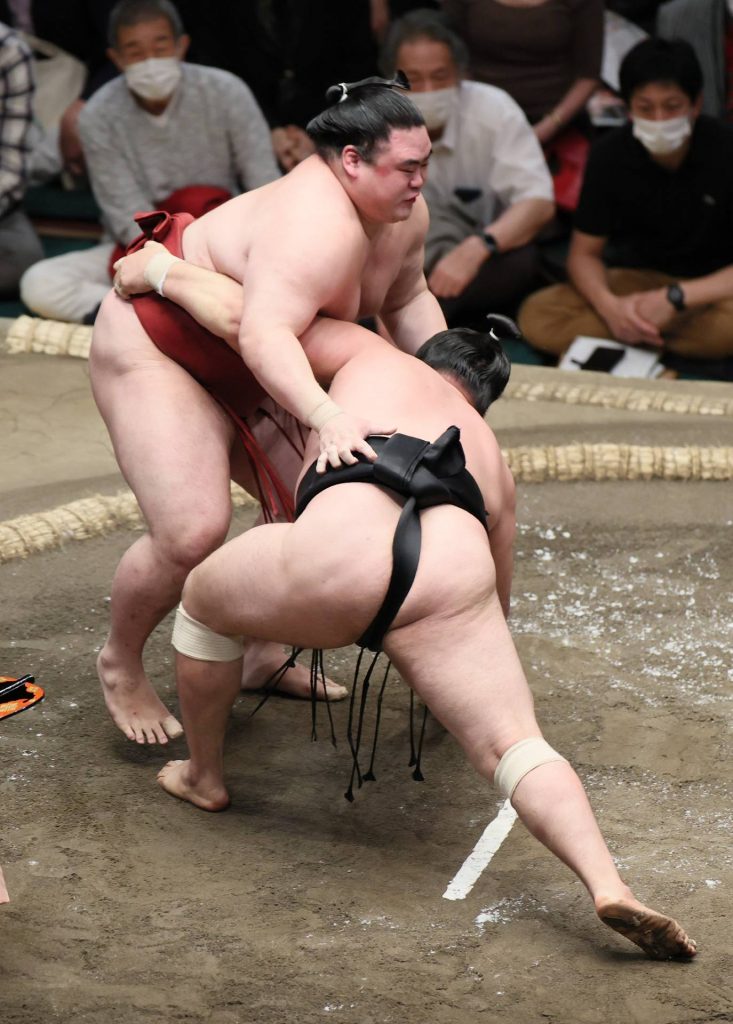 In other major bouts, Takanosho kept his title hopes alive when he took advantage of a mistake by Kiribayama, who dropped out of the title chase.
With both wrestlers locked in a stand-off at the center of the ring, No. 2 maegashira Kiribayama attempted a leg trip of Takanosho.
That allowed the No. 4 maegashira Takanosho to swat Kiribayama down and improve to 11-3. Mongolian Kiribayama fell to 9-5.
Former sekiwake Takanosho, who will face Sadanoumi on Day 15, will be bidding for his first Emperor's Cup on Sunday.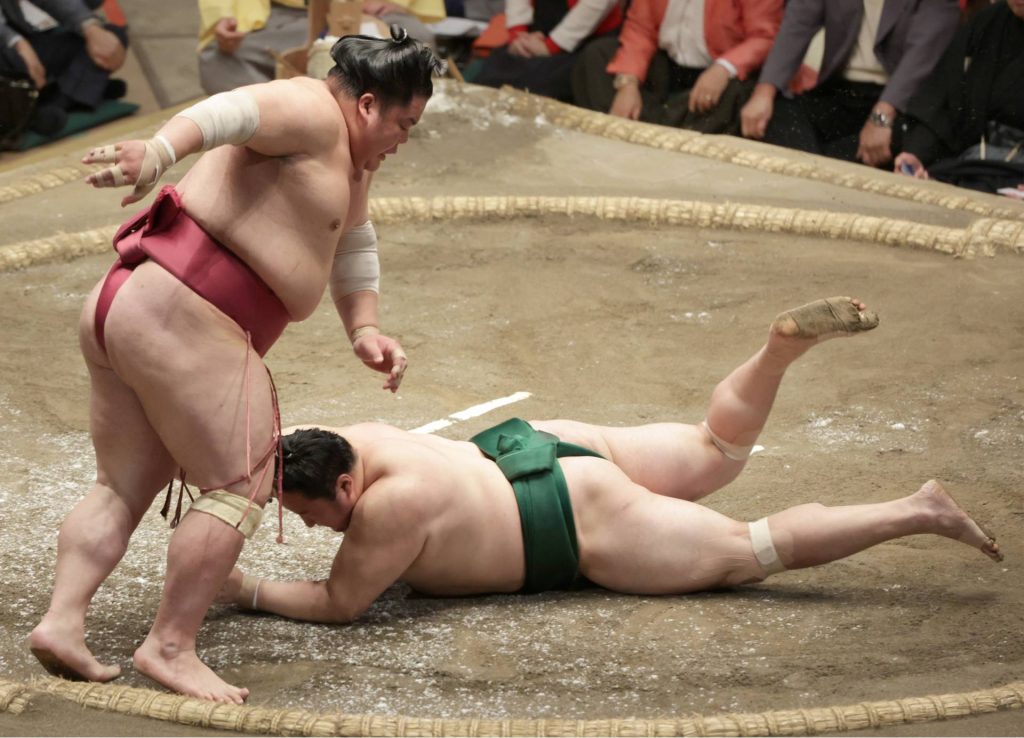 Daieisho Remains in Title Hunt
Komusubi Daieisho, who defeated Terunofuji on the opening day of the 15-day basho, stayed in the chase when he swatted down No. 12 maegashira Sadanoumi to give both wrestlers a record of 10-4.
Mongolian Hoshoryu wrapped up a winning record while knocking Bulgarian Aoiyama out of contention.
Komusubi Hoshoryu spun Aoiyama around shortly after the face-off and shoved him out from behind to pick up his eighth win against six losses. No. 11 maegashira Aoiyama fell to 9-5.
No. 6 maegashira Ura was forced to pull out of the tournament on Saturday, abandoning his title chase. Ura suffered a left ankle injury during his defeat to sekiwake Abi on Friday.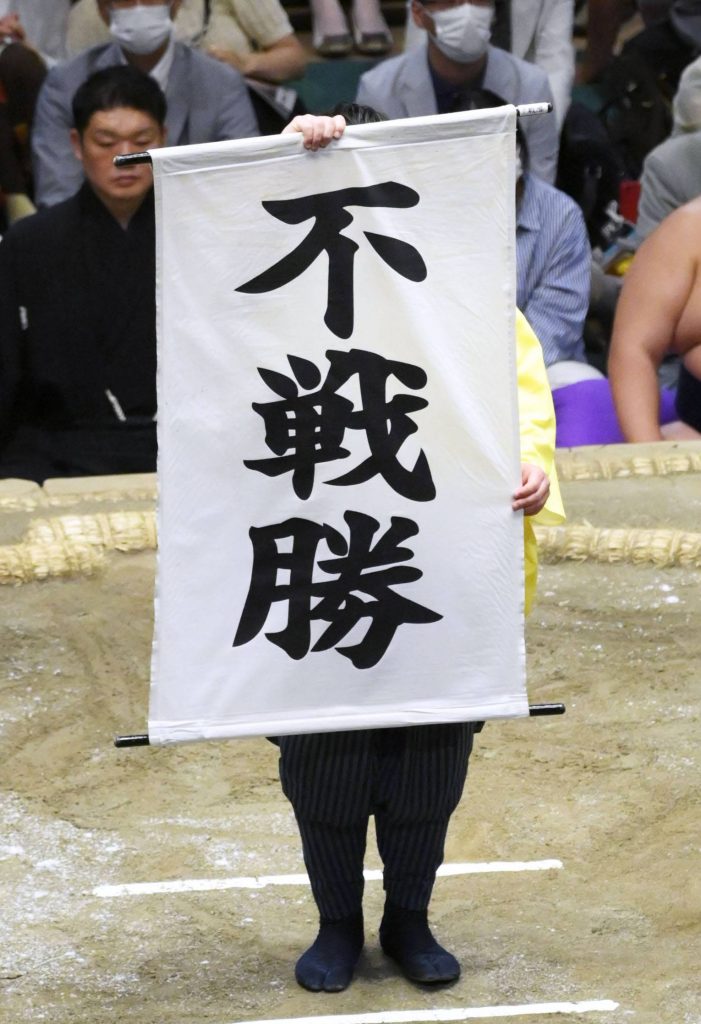 Ura dropped to 9-4 on Friday but still had a chance to win the Emperor's Cup with three leaders tied at 10-3.
The Osaka Prefecture native then lost Saturday's bout with Wakatakakage by forfeit and finishes the tournament with a 9-5 record. The result means sekiwake Wakatakakage, the winner of the March tourney, wrapped up a winning record by improving to 8-6.
Wakamotoharu defeated Ichiyamamoto with a rare utchari, or backward pivot throw.
Propped up at the edge, Wakamotoharu managed to flip Ichiyamaoto, who stepped out with his foot before both wrestlers toppled off the raised ring.
No. 6 maegashira Wakamotoharu, the older brother of Wakatakakage, improved to 9-5 and will be moving up the rankings for the next tournament. No. 15 maegashira Ichiyamamoto fell to 8-6.
No. 3 maegashira Tamawashi spun Tochinoshin (8-6) around and shoved the burly No. 9 maegashira out from behind to wrap up a winning record of 8-6.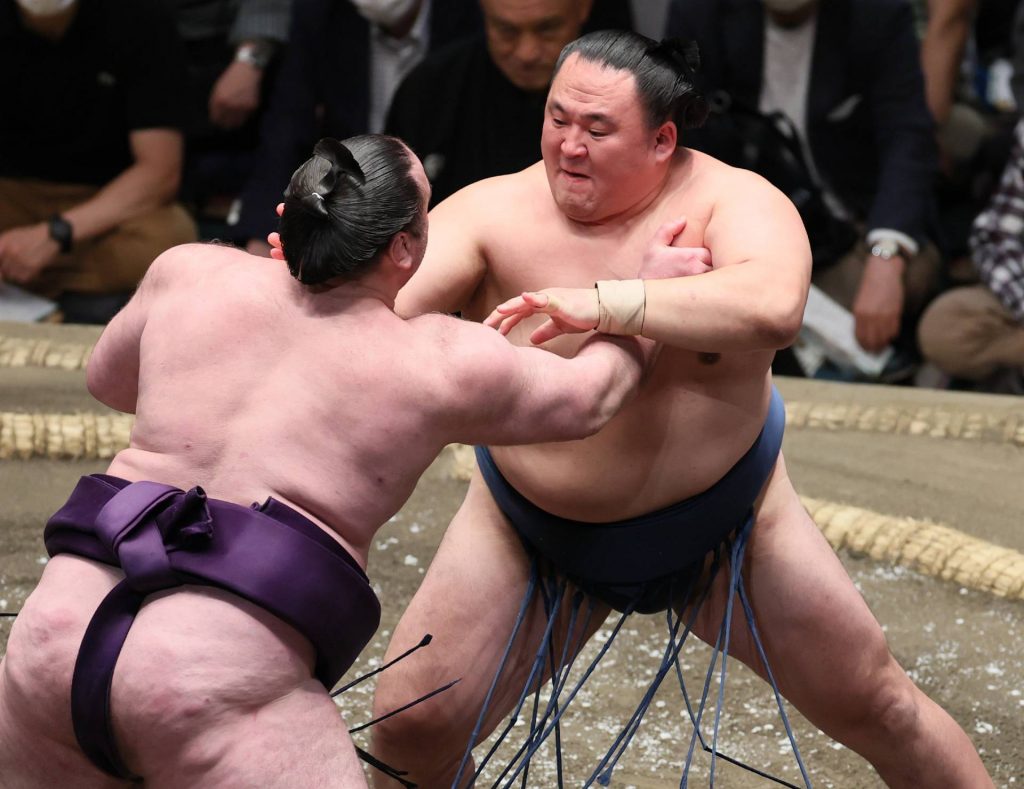 Kotonowaka Seals Winning Record
No. 3 maegashira Kotonowaka displayed superb footwork on the straw ridge when he swatted out sekiwake Abi (7-7) to secure a winning record at 8-6.
Takakeisho overwhelmed fellow ozeki Mitakeumi with a one-sided frontal push-out to improve to 7-7 and can wrap up an all-important winning record on the final day.
Mitakeumi, winner of the New Year tournament, dropped to 6-8 and will be in kadoban status for the July tourney, meaning he will need a winning record to maintain his ozeki rank.
With two ozeki wrestlers facing relegation in the next tournament and the other fighting for a winning record on the final day, it has not been a good showing for the men at sumo's second-highest rank.


Author: Jim Armstrong
The author is a longtime journalist who has covered sports in Japan for more than 25 years. You can find his articles here.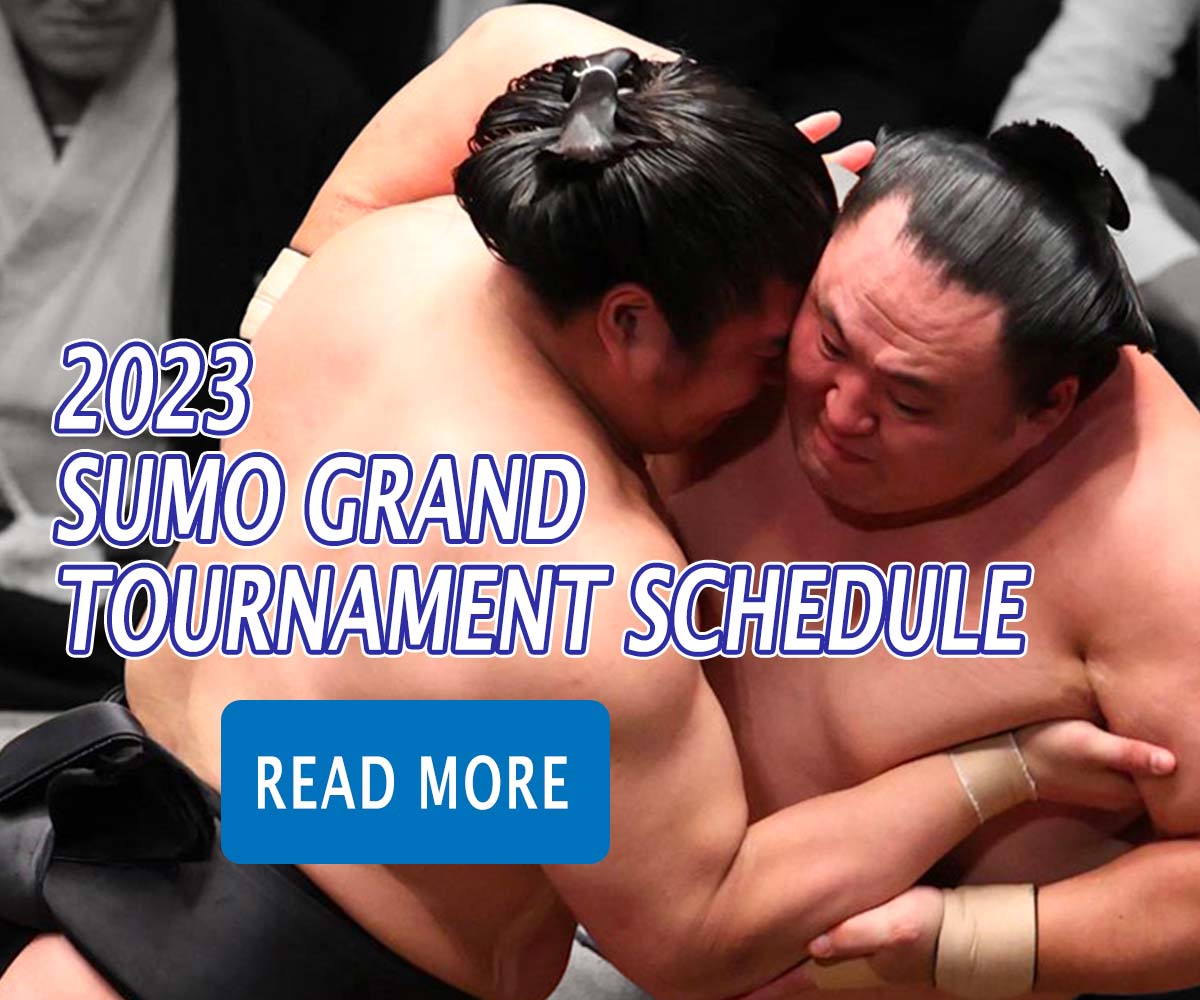 Subscribe to Our Newsletter