New yokozuna Terunofuji moved a step closer to winning his first title at sumo's highest rank on Saturday, September 25 when he used a textbook arm throw to defeat ozeki Takakeisho on the penultimate day of the Autumn Grand Sumo Tournament.
Terunofuji got a left-hand outside grip on the belt of Takakeisho shortly after the face-off. After an unsuccessful first attempt, the Mongolian eventually executed the arm throw to send Takakeisho (8-6) sprawling to the dirt surface while improving to 12-2.
His only losses in the 15-day meet that will conclude on Sunday, September 26 came at the hands of sekiwake Meisei and rank-and-filer Daieisho.
The only grand champion competing in the meet at Ryogoku Kokugikan, Terunofuji is one win ahead of rank-and-filer Myogiryu.
Terunofuji will face ozeki Shodai for a chance to win his fifth title on the final day while Myogiryu takes on Meisei.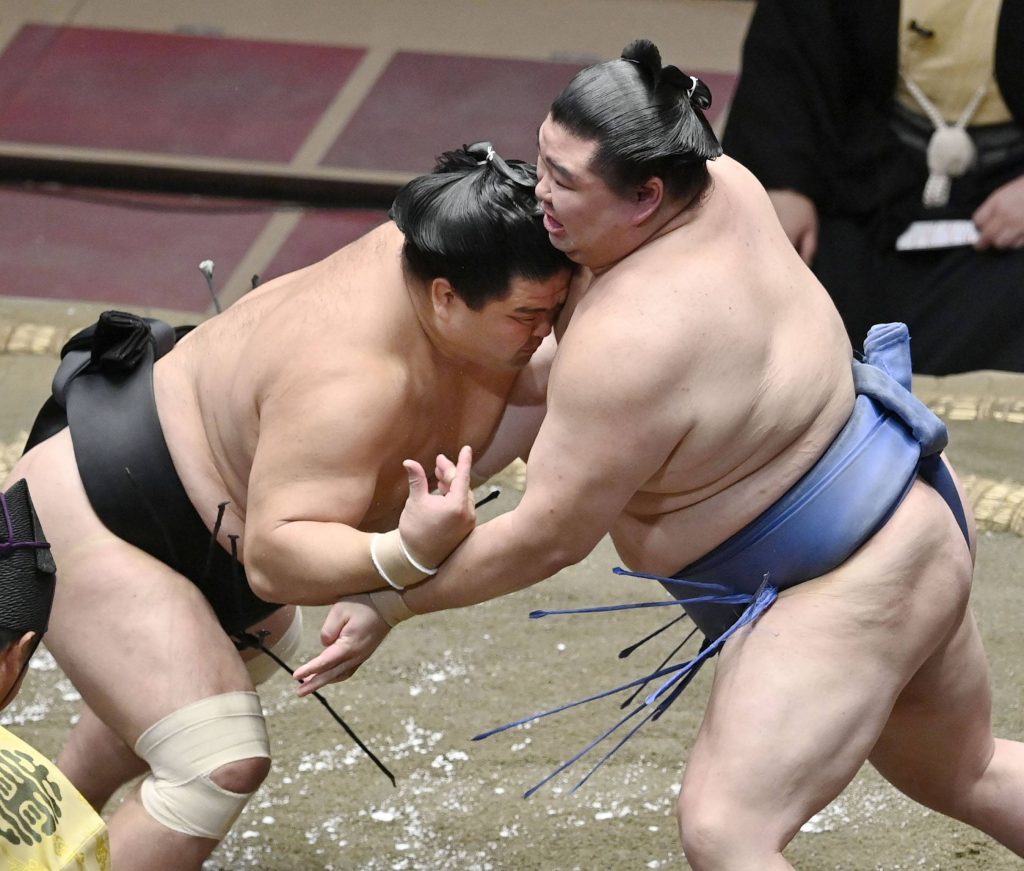 Veteran grappler Myogiryu ensured the title will come down to the final day when he took advantage of a superior face-off to get a grip on the belt of Shodai and shove the ozeki out to improve to 11-3.
Myogiryu beat ozeki Takakeisho the previous day and sent Shodai to his sixth loss against eight wins.
"I'm not at the same rank as ozeki but I wanted to do my best against a higher-ranked opponent," Myogiryu said. "I tried not to think about anything other than winning today's match. I'll prepare as best I can for tomorrow."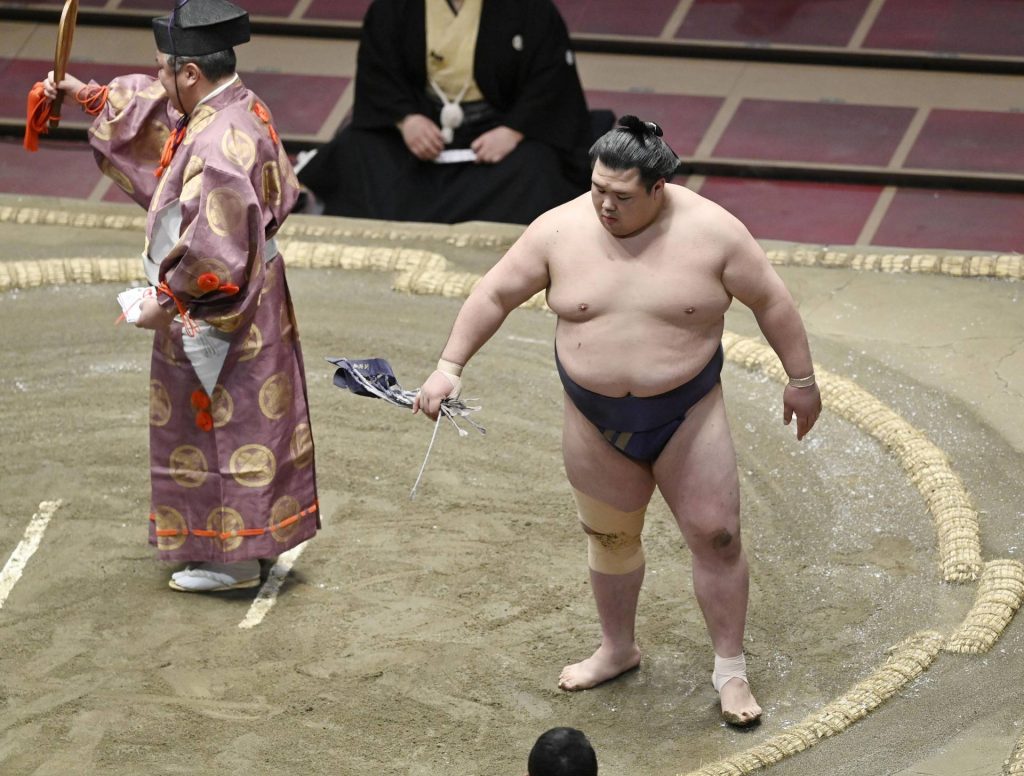 In other major bouts, sixth-ranked maegashira Onosho came in too low at the face-off and was swatted down in a matter of seconds by Meisei to drop to 10-4. Meisei improved to 7-7 and can secure a winning record on the final day.
No. 11 maegashira Endo saw his title hopes dashed when he simply appeared to lose his footing against komusubi Ichinojo to drop to 10-4.
Mongolian Ichinojo improved to 8-6 with the thrustdown win to secure a winning record for the Autumn Basho.
No. 8 maegashira Okinoumi used an arm throw to send sekiwake Mitakeumi sprawling to the dirt surface.
Okinoumi moved to 10-4 while Mitakeumi fell to 8-6.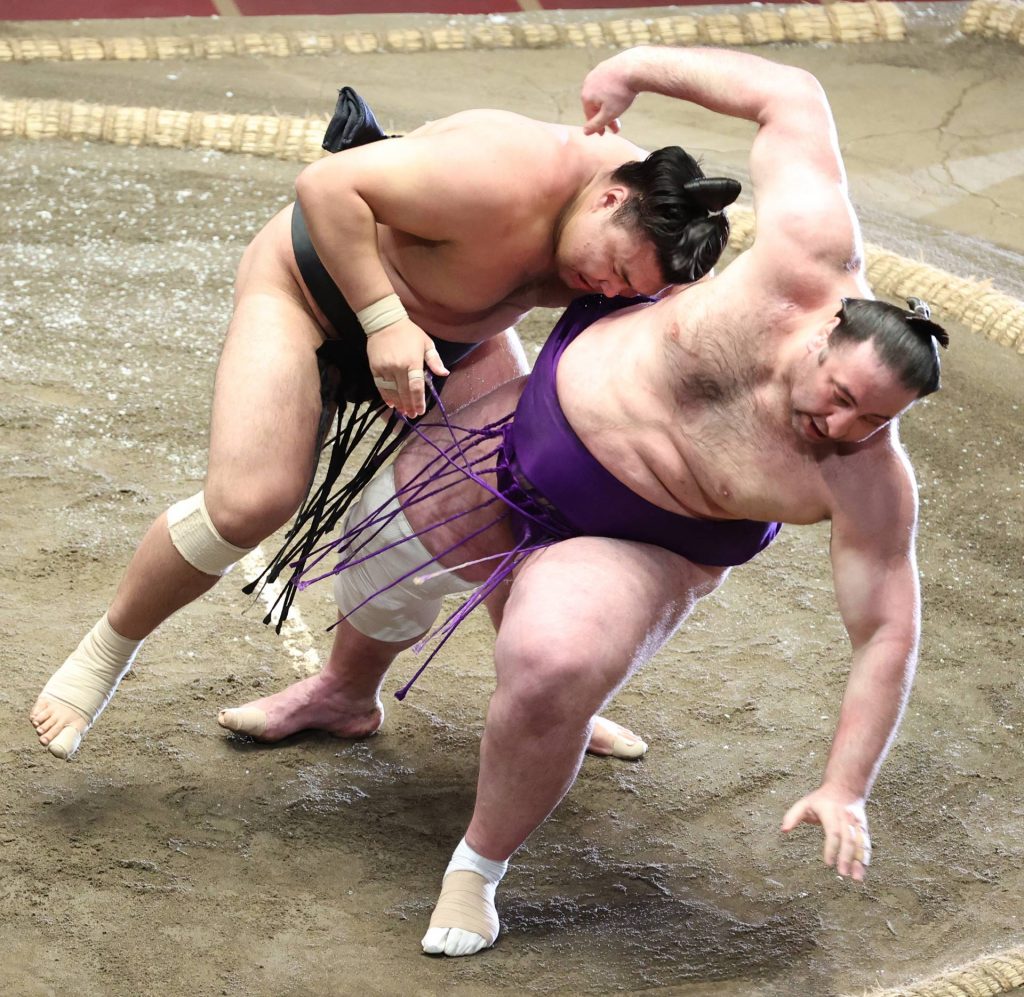 No. 2 maegashira Kiribayama wrapped up a winning record and improved to 8-6 with a well-timed leg kick that toppled 12th-ranked Tochinoshin, who dropped to 7-7.
Top maegashira Hoshoryu, a nephew of former yokozuna Asashoryu, showed great perseverance at the edge when he got a hold of Chiyotairyu's arm and twisted the 10th-ranked maegashira down to improve to 5-7-2. Chiyotairyu was handed his seventh loss but could secure a winning record on the final day of competition.
Further down the ranks, sixth-ranked maegashira Ura used a rare "ashitori" technique where he grabbed the leg of No. 14 maegashira Kaisei (5-9) and forced his larger opponent out to improve to 6-8.

Three Stars
First Star: Terunofuji. With a clutch win over an opponent that has given him trouble in the past, yokozuna Terunofuji deserves full credit for maintaining his lead.
Second Star: Myogiryu. The veteran grappler showed incredible poise in beating an ozeki for the second straight day.
Third Star: Hoshoryu. All but forced out over the edge, Hoshoryu somehow found the determination to recover and post a last-gasp win over Chiyotairyu.


Author: Jim Armstrong
The author is a longtime journalist who has covered sports in Japan for more than 25 years. You can find his articles here, on JAPAN Forward.