New yokozuna Terunofuji overpowered Mitakeumi at the Autumn Grand Sumo Tournament on Friday, September 24 to remain one win ahead of three others with two days left in the 15-day meet.
After being pushed back several steps at the face-off, Terunofuji got a left-hand grip on the belt of sekiwake Mitakeumi and frogmarched his opponent out over the edge in the day's final bout at Ryogoku Kokgikan.
Terunofuji, who was badly beaten by Meisei on the previous day, improved to 11-2 and has a one-win lead over lower-ranked wrestlers Myogiryu, Onosho and Endo. Mitakeumi dropped to 8-5.
Bidding for his first title at sumo's highest rank, Terunofuji will face ozeki Takakeisho on Saturday, September 25. Takakeisho has been much better recently and wrapped up a winning record on Thursday.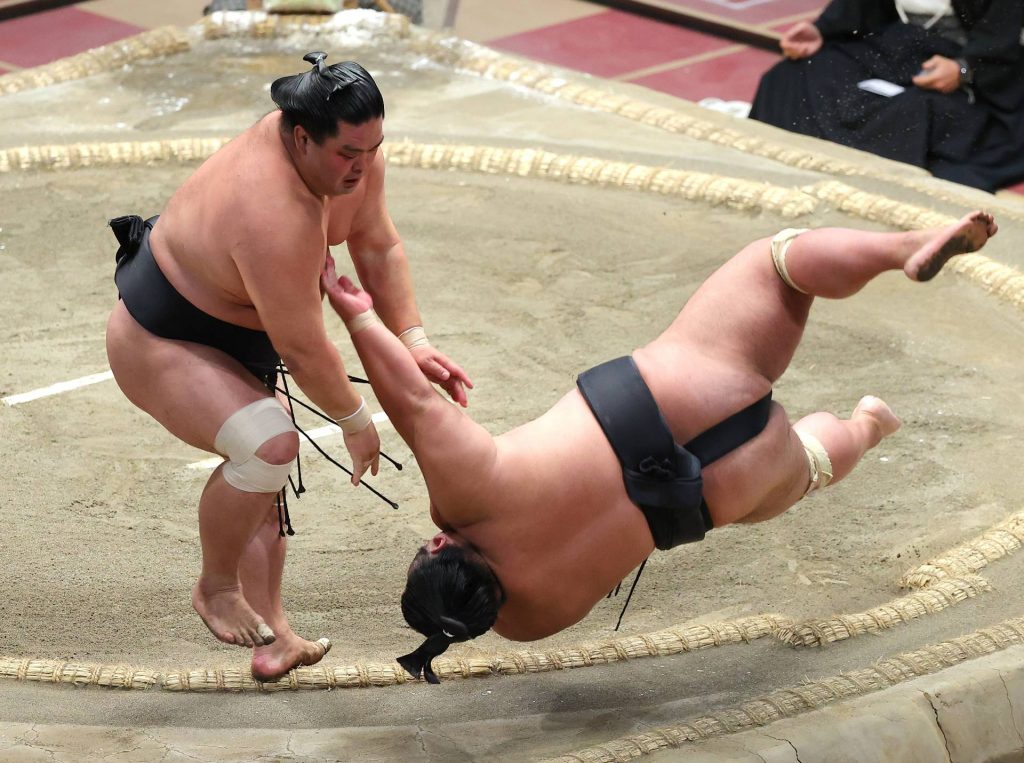 In other major bouts, No. 10 maegashira Myogiryu deployed a belt-less arm throw at the edge to remain one win off the pace at 10-3 and post his first win in 14 bouts over Takakeisho, who fell to 8-5.
"I've never beaten him before but was able to do it today," Myogiryu said. "I just tried to move forward and my opponent was more agile. I've been in good shape and will just try to move on and fight my own style of sumo."
Fellow rank-and-filer Onosho joined the other three maegashira at 10-3 when he drove out ozeki Shodai with a frontal force-out.
Shodai pushed Onosho all the way to the edge after the initial face-off but couldn't finish off his opponent and dropped to 8-5.
"He was very aggressive but I was able to get ahold of his belt and that was key," Onosho said. "I've been able to go forward, and focus and take it one bout at a time. I'm not thinking about the title but just trying to move forward."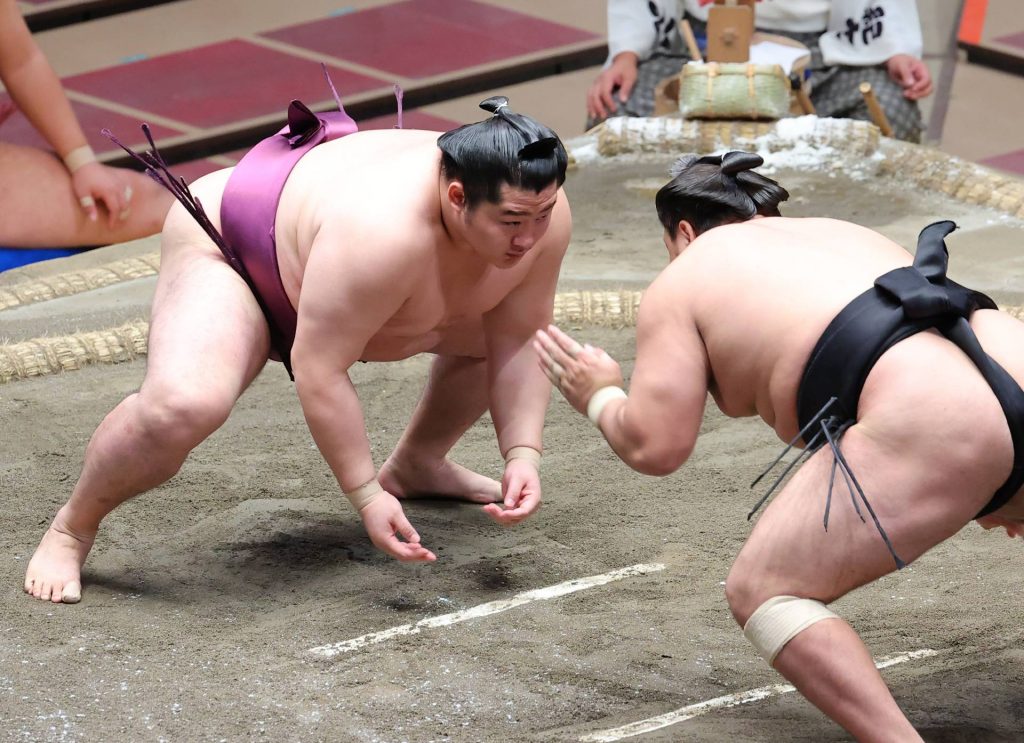 No. 11 maegashira Endo stayed one win off the pace at 10-3 when he dodged to his side shortly after the face-off and slapped down second-ranked maegashira Kiribayama.
Mongolian Kiribayama has beaten all the sanyaku wrestlers but hasn't fared so well against the rank-and-filers and dropped to 7-6.
Kiribayama can wrap up a winning record with a win against No. 12 maegashira Tochinoshin on Day 14.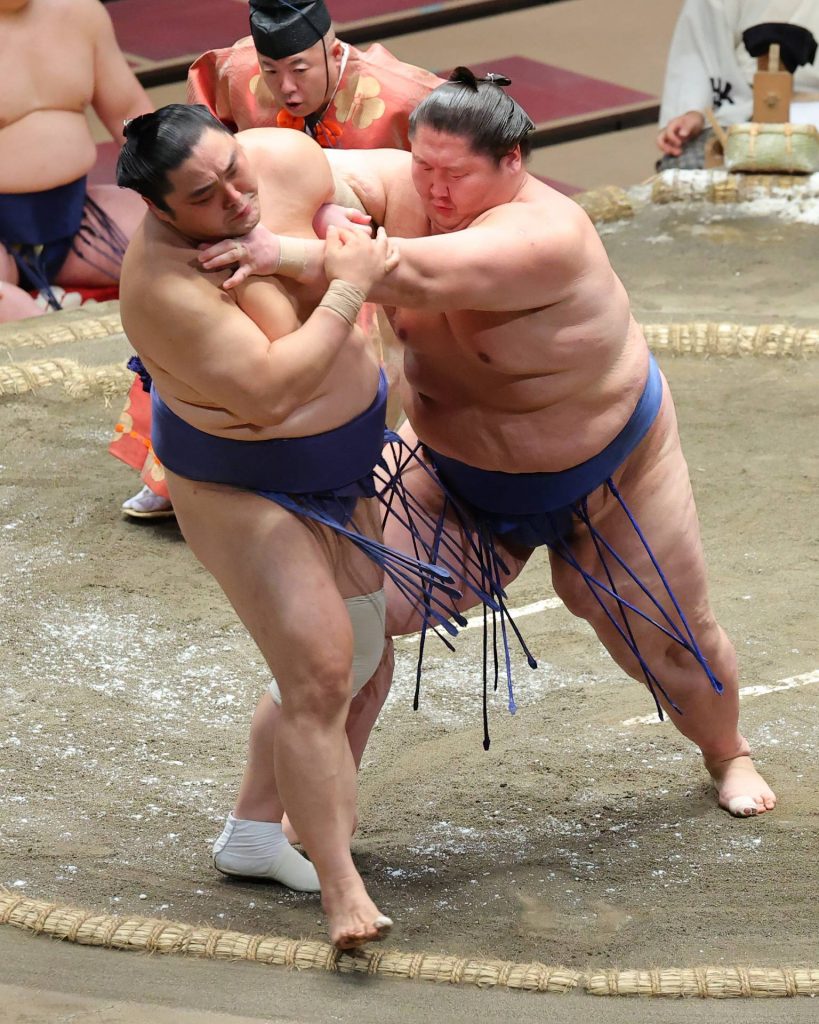 Eighth-ranked maegashira Okinoumi dropped out the chase pack that is one win off the pace in a loss to komusubi Ichinojo.
Ichinojo used an arm barring force-out to pick up his fourth straight win and improve to 7-6 while Okinoumi fell to 9-4.
Top maegashira Hoshoryu used a series of arm thrusts to send fellow Mongolian Tamawashi out over the straw ridge and improve to 4-7-2. No. 5 maegashira Tamawashi fell to 5-8.
Hoshoryu is just 22 and has had an impressive showing in this tournament despite missing time in the first week due to tonsillitis.
New sekiwake Meisei (6-7) followed up his upset of Terunofuji by shoving out No. 5 Takarafuji (6-7) and still has a shot at finishing the tournament with a winning record.


Three Stars
First Star: Myogiryu. The rank-and-filer faced a tough opponent in Takakeisho with a superb belt-less arm throw to stay one win back.
Second Star: Endo. The No. 11 maegashira read Kiribayama like a book and deserves credit for staying in the title chase over an opponent who had beaten many of the top wrestlers.
Third Star: Onosho. A huge win over ozeki Shodai to stay in the pack chasing Terunofuji is more than worthy of third-star status.


Author: Jim Armstrong
The author is a longtime journalist who has covered sports in Japan for more than 25 years. You can find his articles here, on JAPAN Forward.