New yokozuna Terunofuji hit a speed bump on his way to securing his first Emperor's Cup when he was upset by sekiwake Meisei on Thursday, September 23 at the Autumn Grand Sumo Tournament.
Meisei had never beaten Terunofuji in their previous four bouts and he came out on the attack, using a superior face-off to stun the Mongolian grappler.
Once he knocked Terunofuji back at the outset, Meisei got a grip on the belt of his larger opponent and muscled him out for a surprising "kinboshi" win that will ensure the final three days are filled with drama.
"I managed to get good foot movement at the start and it was a great result for me," Meisei said. "I've been fighting him for a long time and it was good that I could finally beat him."
Rank-and-filers Myogiryu, Okinoumi, Endo and Onosho are all one win off the pace.
Terunofuji dropped to 10-2, while Meisei improved to 5-7.
Terunofuji is the only grand champion competing in the Autumn Basho after fellow Mongolian Hakuho was forced to sit out after two of his stablemates tested positive for COVID-19.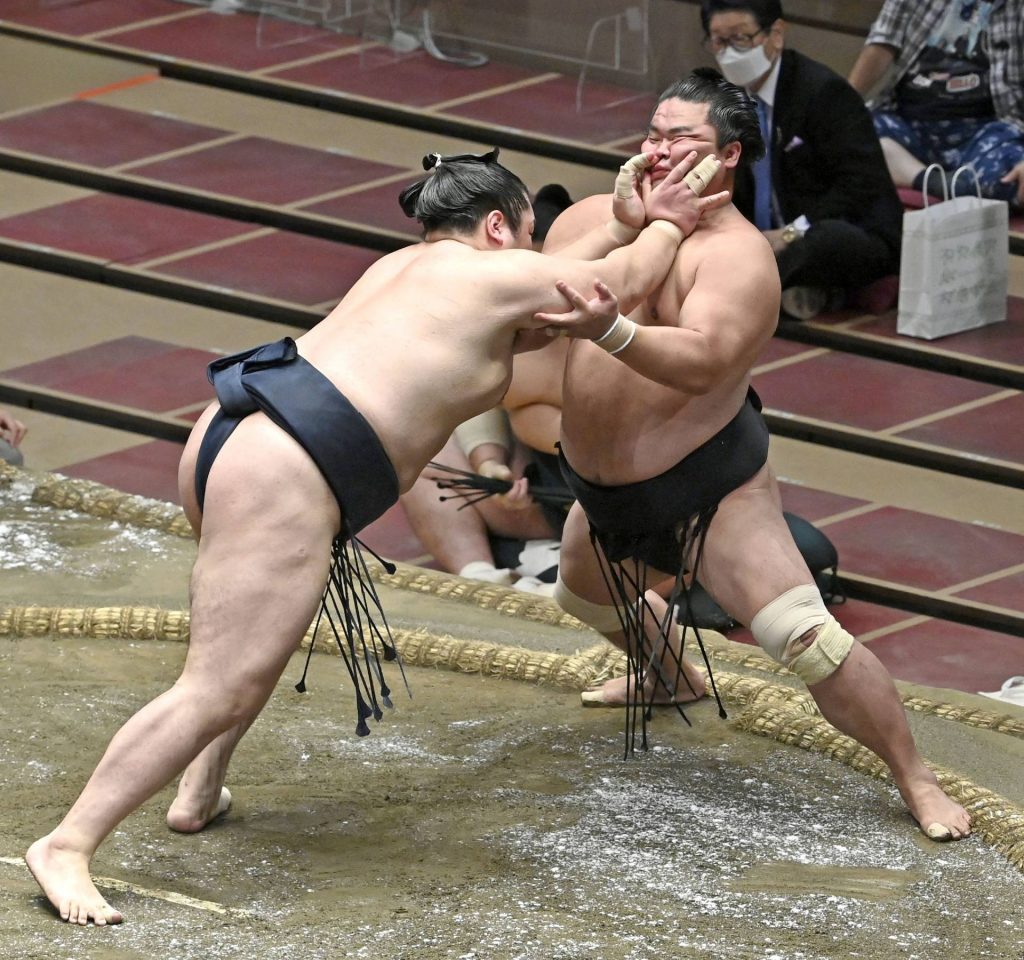 No. 10 maegashira Myogiryu was handed his third loss by rank-and-filer Kagayaki.
Myogiryu was stood up by Kagayaki at the face-off and was shoved back over the straw ridge in a matter of seconds. Myogiryu never established momentum by coming in lower and dropped to 9-3.
Veteran grappler Okinoumi stayed in the title chase with a hard-fought victory over No. 2 maegashira Kiribayama.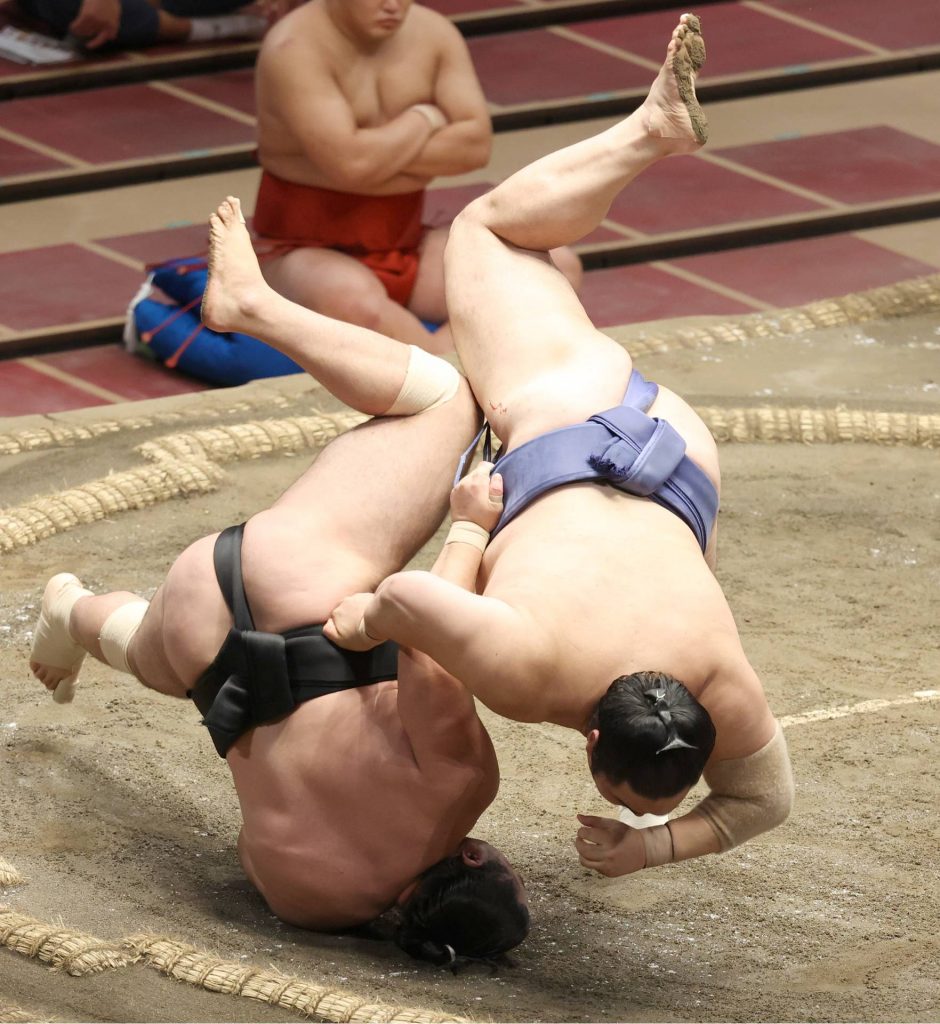 No. 8 maegashira Okinoumi improved to 9-3 when he used a textbook arm throw to send Kiribayama (7-5) toppling head first to the dirt surface.
Ozeki Takakeisho used his pushing and thrusting technique to good effect to shove Takarafuji out to wrap up a winning record and improve to 8-4.
Takakeisho entered the tournament as a "kadoban" ozeki, meaning he needs a winning record to maintain his status for the next tournament.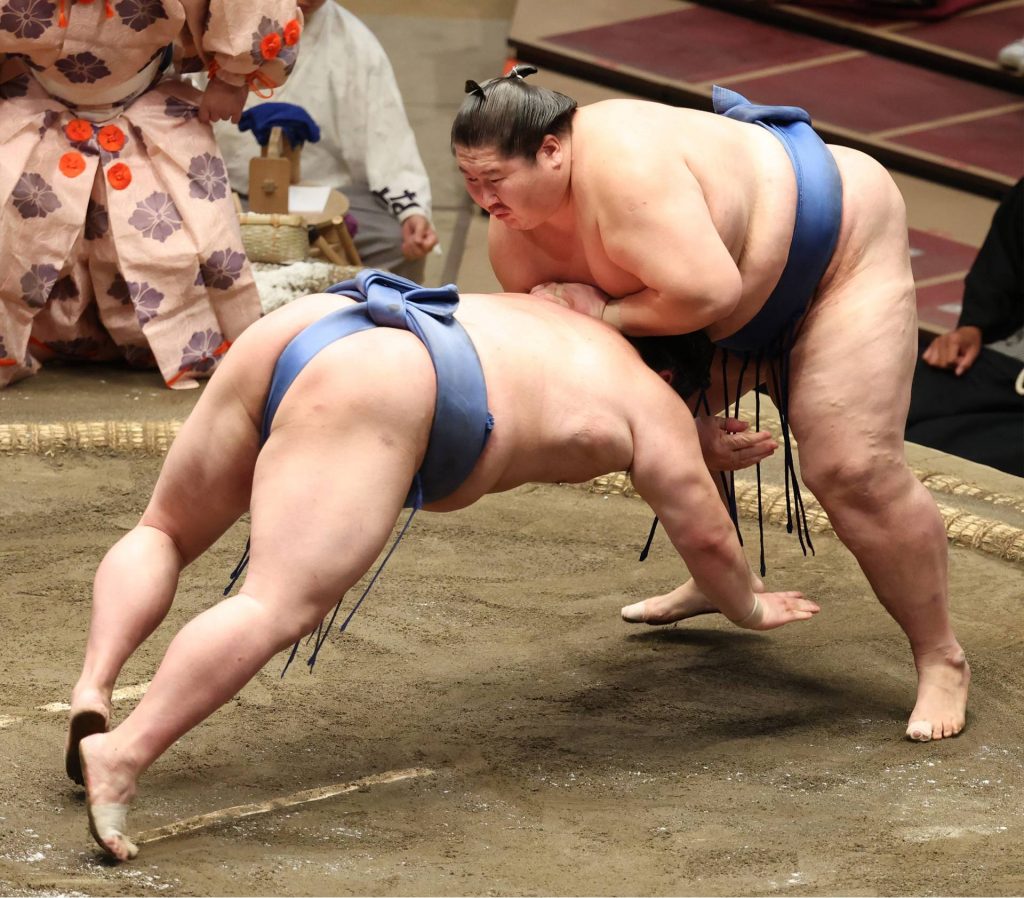 Ozeki Shodai all but fell out of contention when he was swatted down by Mongolian giant Ichinojo, who got a hand on the back of his opponent's head.
Shodai dropped to 8-4 while komusubi Ichinojo, who had a bout with the coronavirus before the start of the tourney but recovered in time, evened his record at 6-6.
"I just tried to concentrate as much as possible," Ichinojo said. "I hope to get a winning record. I couldn't do as much as I wanted before the tournament in terms of preparing so I am happy with where I am at now."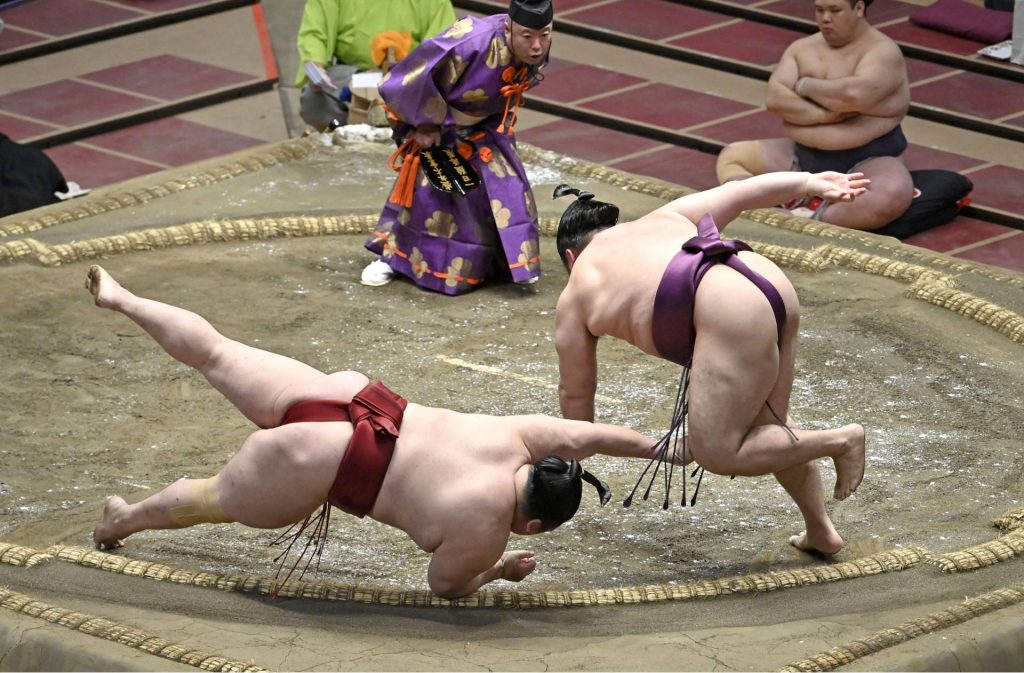 Popular No. 11 maegashira Endo also kept his title hopes alive when he swatted down top maegashira Takanosho to stay in the chase pack at 9-3. Takanosho fell to 6-6.
Onosho also stayed two wins off the pace at 9-3 when he came bursting out of the face and used several powerful arm thrusts to the chest to beat sekiwake Mitakeumi (8-4).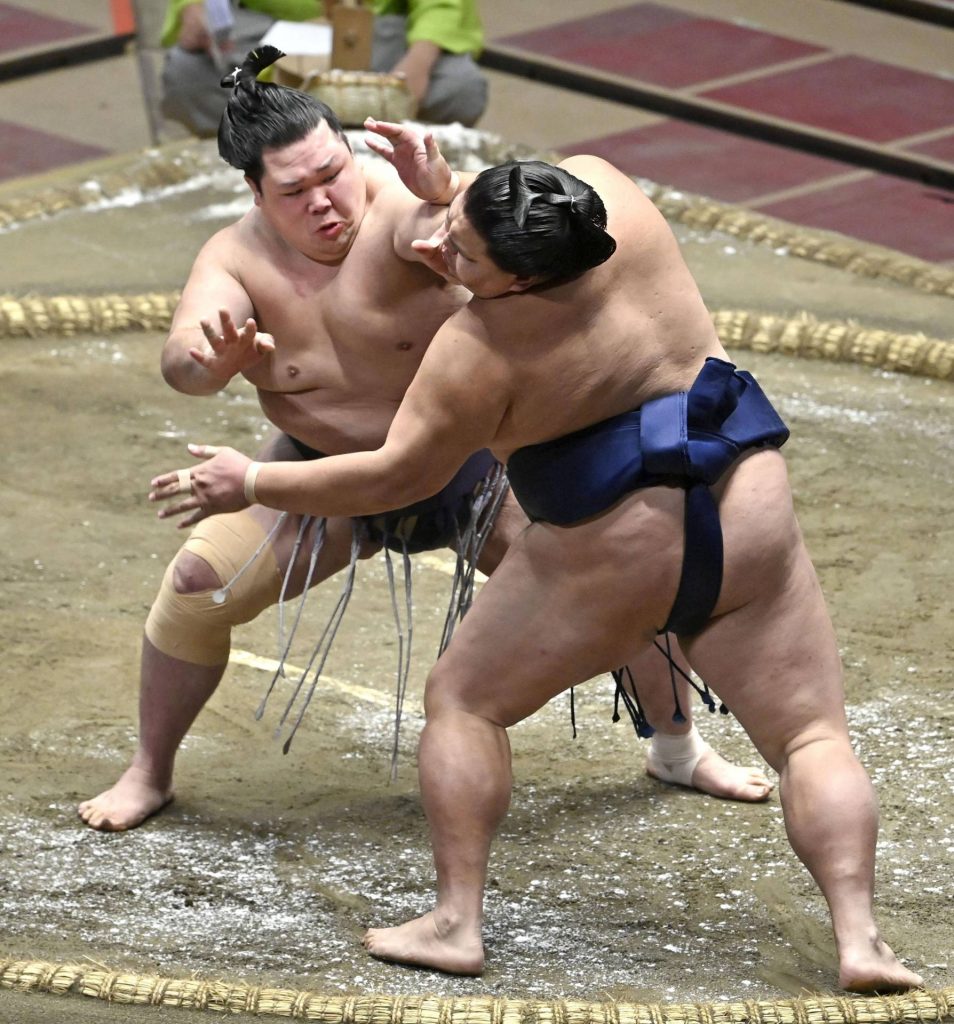 Meanwhile, komusubi Takayasu pulled out of the tournament earlier Thursday due to a right hip injury.
His absence means he forfeited his Day 12 bout against fourth-ranked maegashira Tamawashi and dropped to a record of 4-8.
Takayasu injured himself when he was sent tumbling off the raised ring by Terunofuji in the final bout on the previous day. The 31-year-old grappler, who will require two weeks to recover, landed hard on his side and had trouble getting up.
It's been a disastrous tournament for a wrestler some saw as a dark horse candidate to challenge the favorites. Of his four wins, two came by way of default when his opponents were forced to withdraw.
His withdrawal also means he will finish the tournament with a losing record and could lose his komusubi status as it's the second straight basho he has failed to complete.
No. 8 maegashira Tobizaru put a halt to six straight losses when he used an arm throw to dispatch Tokushoryu and improve to 5-7. Tokushoryu, a 13th-ranked maegashira, fell to 3-9.


Three Stars
First Star: Meisei. With one of the biggest wins of his career, Meisei stuns Terunofuji to ensure the Autumn Basho will have a drama-filled finale.
Second Star: Okinoumi. With a perfectly timed arm throw against a tough opponent in Kiribayama, the veteran grappler stayed in contention.
Third Star: Ichinojo. With a big win over ozeki Shodai, Ichinojo took a big step toward a winning record.
Third Star: Takakeisho. After a disastrous start, the ozeki wrapped up a winning record with a clutch win.


Author: Jim Armstrong
The author is a longtime journalist who has covered sports in Japan for more than 25 years. You can find his articles here, on JAPAN Forward.