Terunofuji overwhelmed up-and-comer Kotonowaka on Saturday, September 18 to remain in sole possession of the lead while both ozeki wrestlers won their bouts on Day 7 at the Autumn Grand Sumo Tournament.
Third-ranked maegashira Kotonowaka was looking for a major upset in the day's final bout at Ryogoku Kokugikan and went on the attack after the initial charge.
But new yokozuna Terunofuji neutralized Kotonowaka's offense and got a double arm grip on the belt before hoisting his opponent out to improve to a perfect 7-0. Kotonowaka dropped to 2-5.
Terunofuji now holds a one-win lead over lower-ranked Myogiryu, who won an earlier bout.
It's looking more and more like Terunofuji will complete his debut at the sport's highest rank with a perfect 15-0 record. He's barely been challenged thus far and, with fellow grand champion Hakuho sitting out as two of his stablemates tested positive for coronavirus, Terunofuji is firmly in the driver's seat.
Terunofuji became the 73rd yokozuna in July after he went an impressive 14-1 in the Nagoya meet and is the odds-on favorite to lift the Emperor's Cup in the Autumn Basho.
Meanwhile, both ozeki won to give a glimmer of hope that the tournament is not over quite yet.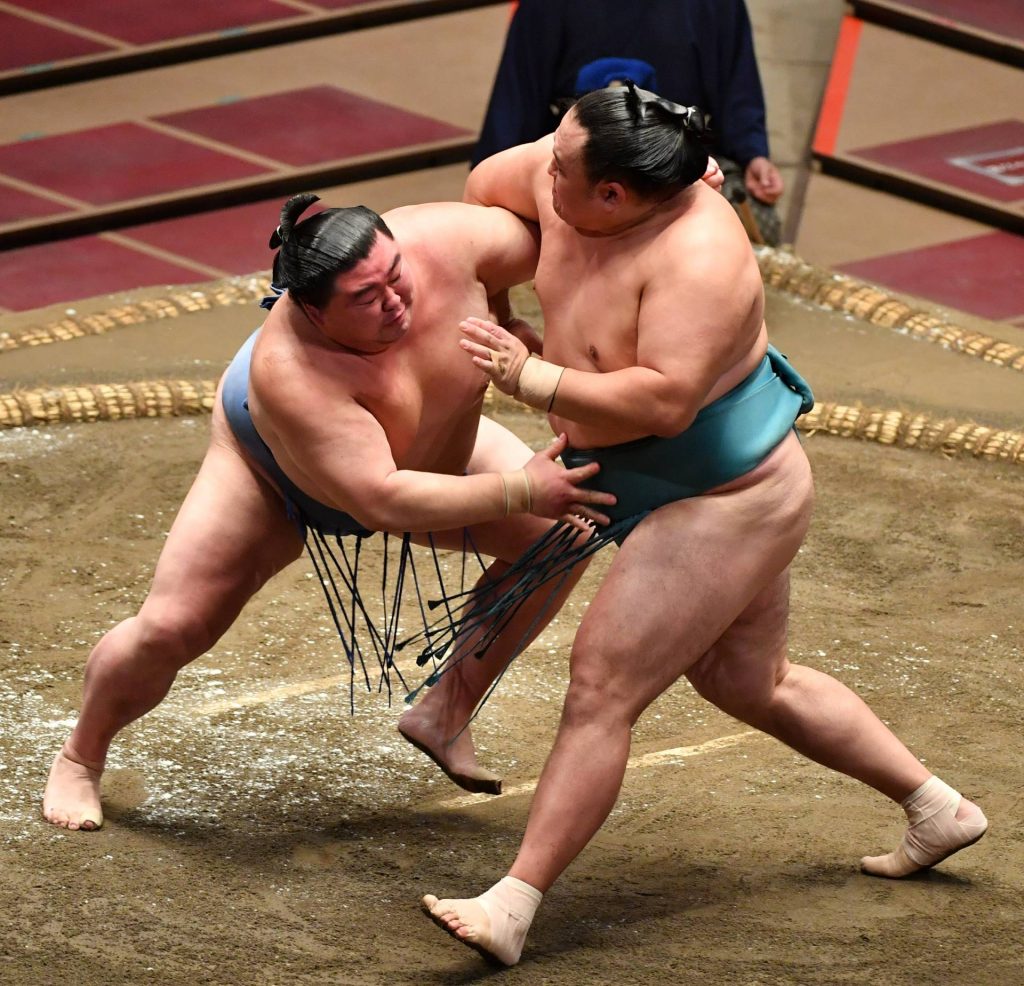 Ozeki Shodai bounced back from the previous day's defeat when he came bursting out of the face-off and used a frontal force-out to send Tamawashi backpedaling over the straw ridge.
Shodai improved to 5-2 while fourth-ranked maegashira Tamawashi dropped to 3-4.
Terunofuji faces Mongolian Tamawashi on Day 8.
"Kadoban" ozeki Takakeisho used a frontal push down to send No. 3 maegashira Wakatakakage toppling off the raised ring and improving to 3-4.
Takakeisho, who got off to a slow start in the current meet, put in one of his best performances so far and is hoping for more of the same as he needs a winning record to maintain his ozeki status.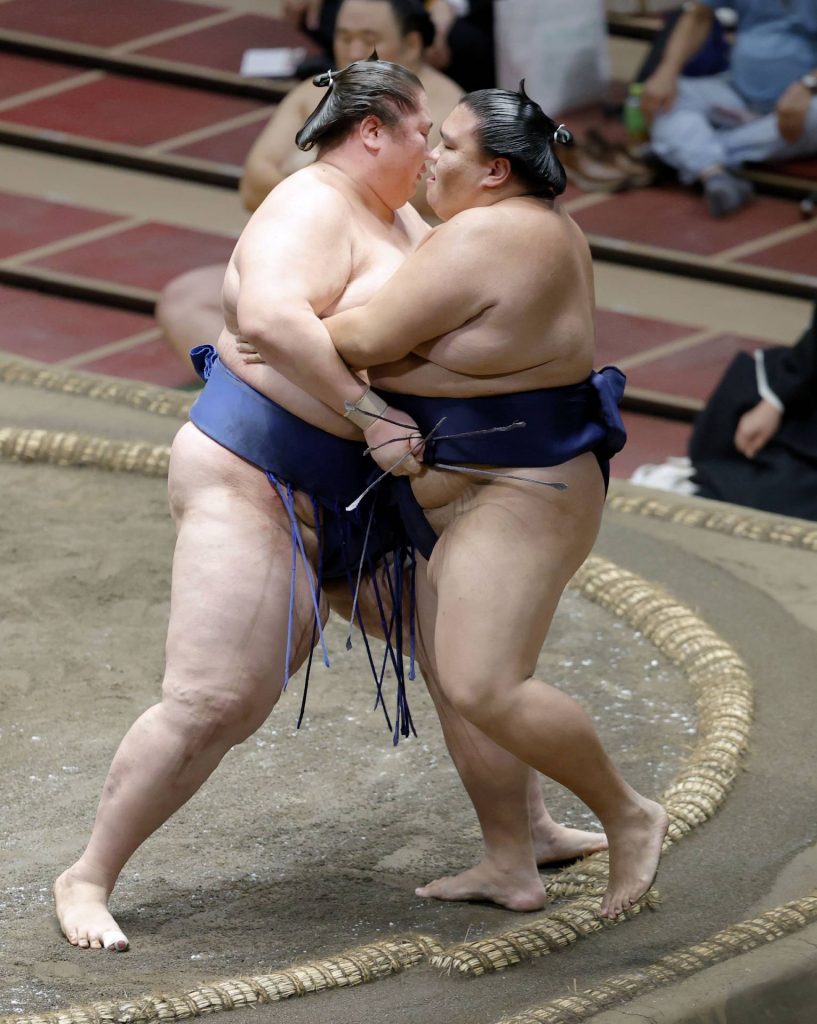 In a battle of heavyweights, Mongolian Ichinojo quickly got a left-hand grip on the belt of sekiwake Mitakeumi at the initial charge and forced his opponent back.
After working Mitakeumi to the edge, Ichinojo grabbed the belt with his right hand as well and bulldozed his opponent out to improve to 3-4.
Mitakeumi fell out of a group of wrestlers who came into Saturday's bouts one win off the pace and dropped to 5-2.
Kiribayama, who has beaten all the top wrestlers in the tournament except Terunofuji, was taken down by fourth-ranked Daieisho, who used a hand pull down technique to dispatch the No. 2 maegashira. Both wrestlers stand at 5-2.
Komusubi Takayasu used a frontal push down to beat top maegashira Takanosho, giving both grapplers a 3-4 record.
New sekiwake Meisei outmaneuvered winless fifth-ranked maegashira Chiyoshoma to improve to 3-4.
In a spectacular display of sumo, fan favorite Endo prevailed over No. 17 maegashira Chiyonokuni to give both wrestlers a record of 5-2.
After exchanging a series of fierce thrusts and slaps to the upper body, Chiyonokuni forced 11th-ranked maegashira Endo to the edge and was on the brink of victory. But Endo somehow kept his balance and eventually got a double grip on the belt of his opponent before forcing him out.
No. 10 maegashira Myogiryu took advantage of a superior face-off and got a left-hand grip on the belt of Shimanoumi's belt and forced the seventh-ranked maegashira out in a matter of seconds to improve to 6-1.
Shimanoumi, who put up little resistance, fell to 3-4.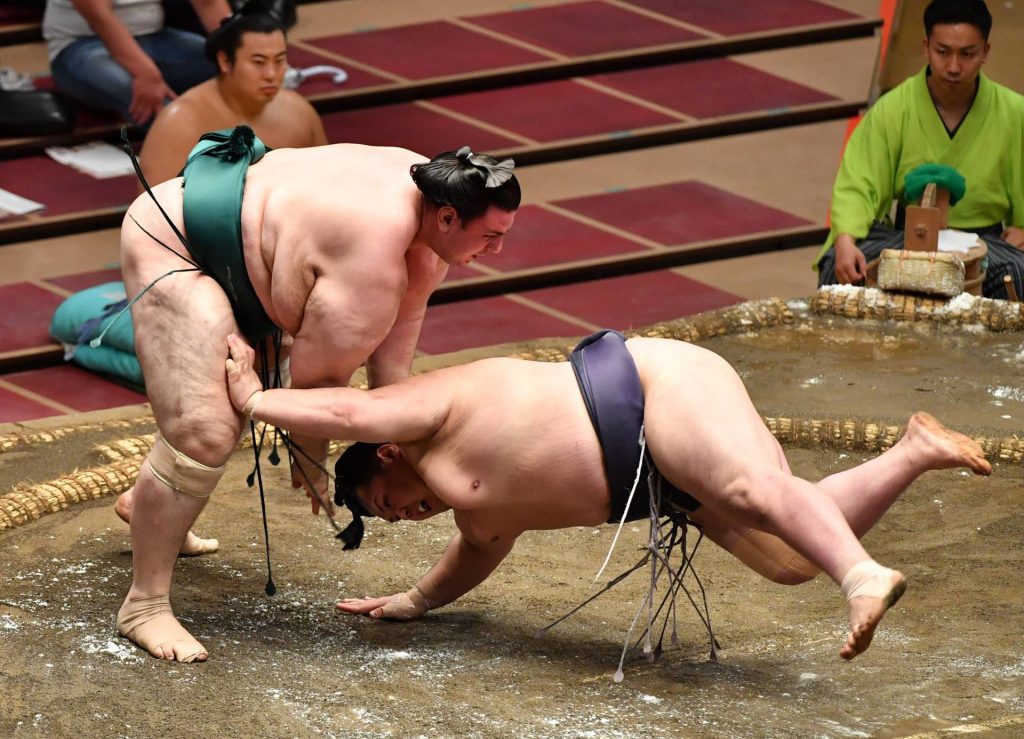 Bulgarian Aoiyama, a ninth-ranked maegashira, picked up an impressive win over Onosho, who dropped out of the pack that was one win off the pace and is now 5-2.
After butting heads and the face-off, Aoiyama deftly shifted to his side and swatted down the No. 6 maegashira to improve to 3-4.
Takarafuji grounded sumo's flying monkey Tobizaru in a match that lasted 2 minutes, 35 seconds.
After a prolonged standoff at the center of the ring, No. 5 maegashira Takarafuji eventually got a left-hand grip on the belt of eighth-ranked Tobizaru and bulldozed him out to give both wrestlers a 4-3 record.

Three Stars
First Star: Endo. In one of the best bouts of the tournament so far, Endo showed why he is a fan favorite with a gutsy win over Chiyonokuni.
Second Star: Myogiryu. If nothing else, the No. 10 deserves credit for being the lone wrestler who is one win off the pace.
Third Star: Aoiyama. One of the biggest wrestlers in the elite makuuchi division showed he is capable of some fancy footwork in his win over Tobizaru.


Author: Jim Armstrong
The author is a longtime journalist who has covered sports in Japan for more than 25 years. You can find his articles here, on JAPAN Forward.