Terunofuji overpowered a determined Wakatakakage on Friday, September 17 to improve to a perfect 6-0 and move into sole possession of the lead at the Autumn Grand Sumo Tournament.
No. 3 maegashira Wakatakakage started out well in the day's final match against the new yokozuna. He got both arms around Terunofuji and appeared to have the upper hand.
But Terunofuji got both arms under those of Wakatakakage and deployed an arm bar force-out to dispatch his opponent and maintain his perfect record.
Terunofuji became the 73rd yokozuna in July after he went an impressive 14-1 in the Nagoya meet and is the odds-on favorite to lift the Emperor's Cup in the Autumn Basho.
The only grand champion competing in the tournament at Ryogoku Kokugikan, Terunofuji will face No. 3 maegashira Kotonowaka on Day 7.
Fellow yokozuna Hakuho was forced to sit out the tournament after two wrestlers at this stable tested positive for coronavirus before the start of the meet.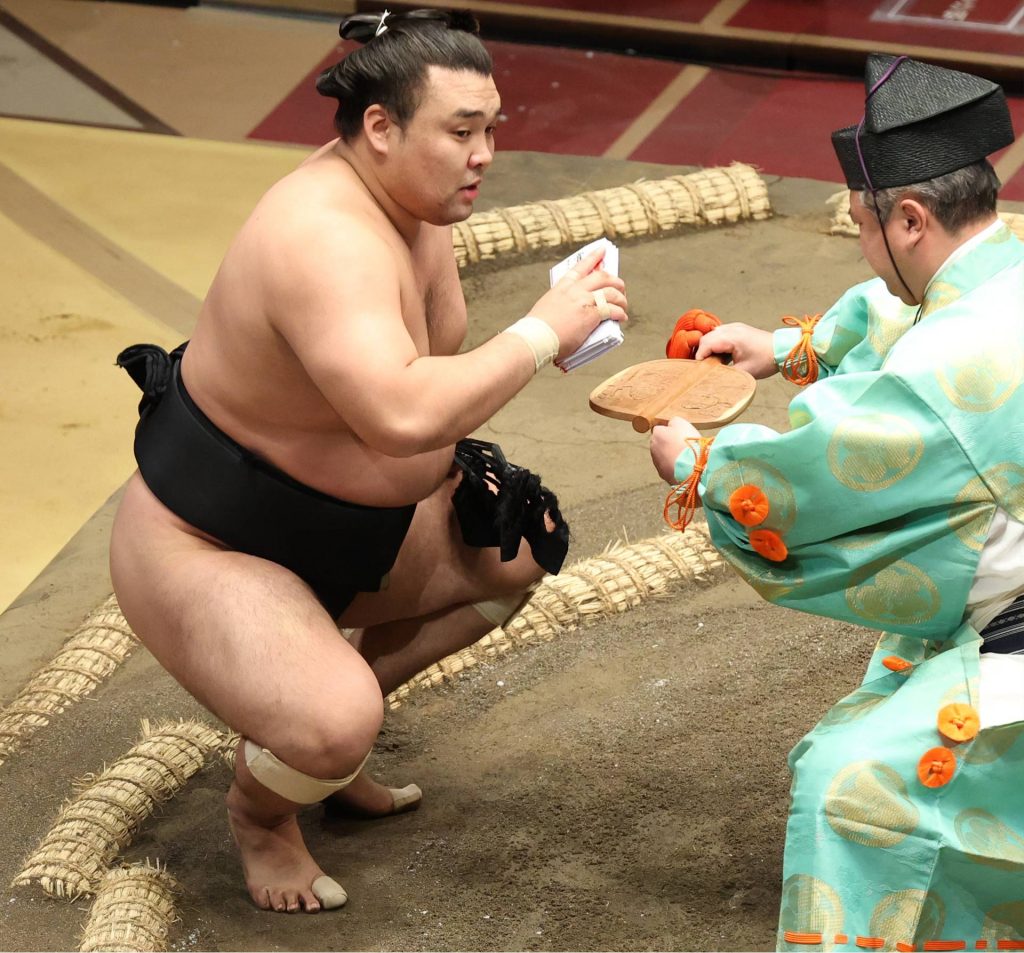 Elsewhere, Mongolian Kiribayama racked up another huge upset when he beat ozeki Shodai for the first time.
No. 2 maegashira Kiribayama burst out of the crouch and quickly got a grip of Shodai's belt before forcing his much larger opponent out to improve to 5-1.
Shodai, who won this tournament in 2020, saw his four-match win streak snapped and dropped to 4-2.
It's been an impressive tournament so far for Kiribayama, who has beaten both ozeki wrestlers, a sekiwake and two komusubi. His only loss of the 15-day tournament came on Day 5 when he was beaten by Terunofuji in a hard-fought bout.
"I was able to quickly get a hold of the belt and that was key," Kiribayama said. "I tried to stay calm and continued to attack. I just want to keep the momentum going."
It was a bad day all around for ozeki.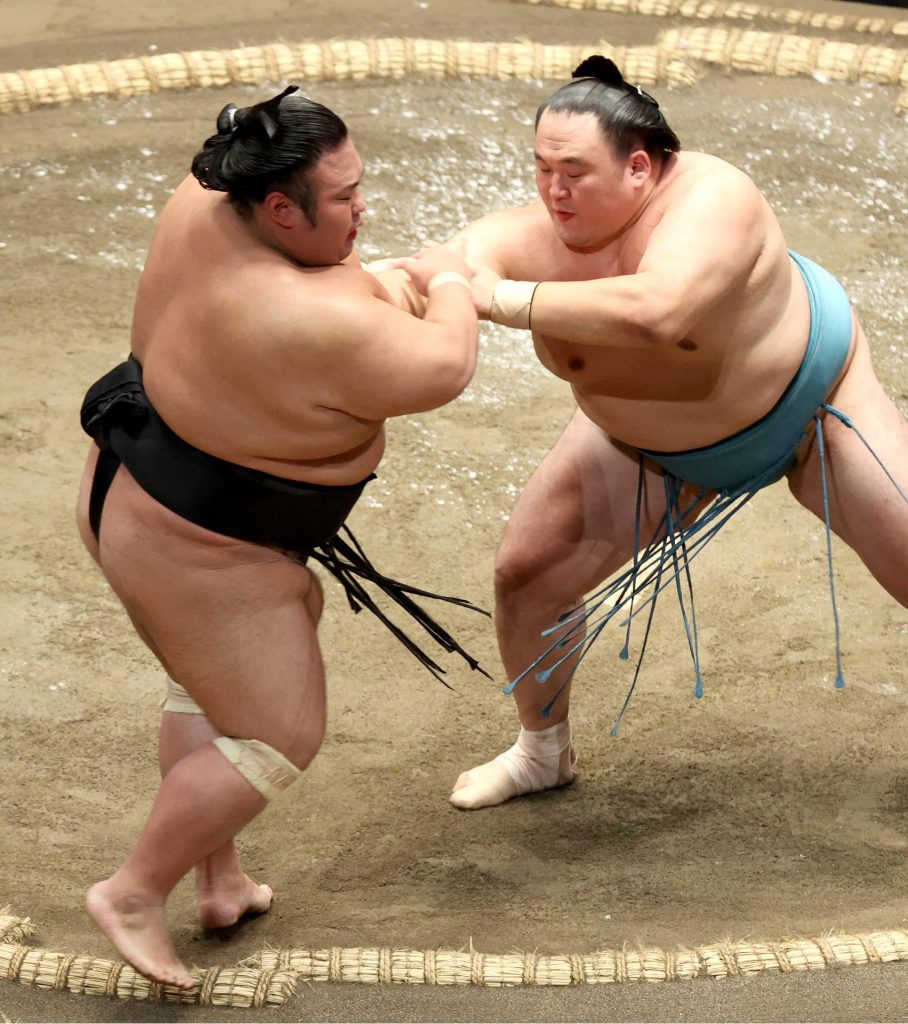 Fourth-ranked maegashira Tamawashi overpowered Takakeisho with a series of powerful arm thrusts to the upper body to improve to 3-3.
Takakeisho's goal of securing a winning record to maintain his ozeki status is slipping away with every passing day. He dropped to 2-4 and will face a stern test on Day 7 against Wakatakakage.
In other major bouts, sekiwake Mitakeumi overpowered Kotonowaka when he came bursting out of the tachi-ai and drove the young No. 3 maegashira out in a bout that resembled a practice session.
Mitakeumi improved to 5-1, while Kotonowaka fell to 2-4.
New sekiwake Meisei wasn't as fortunate as he was swatted down by fourth-ranked maegashira Daieisho.
Daieisho picked up his fourth win against a pair of losses while Meisei fell to 2-4.
No. 10 Myogiryu also stayed in a group of five wrestlers who are one win off the pace when he stepped to his side after a collision at the face-off and shoved No. 14 Kaisei out over the edge. Kaisei fell to 2-4.
Overnight co-leader Chiyonokuni was handed his first loss and dropped to 5-1 when the No. 17 maegashira was shoved out by juryo wrestler Sadanoumi, who also has a 5-1 record in the lower division.
Onosho, a sixth-ranked maegashira, also kept pace at 5-1, spinning Tobizaru around at the face-off and shoving the eighth-ranked maegashira out from behind. Tobizaru, who collided with a referee sitting at ringside after toppling off the raised ring, dropped to 4-2.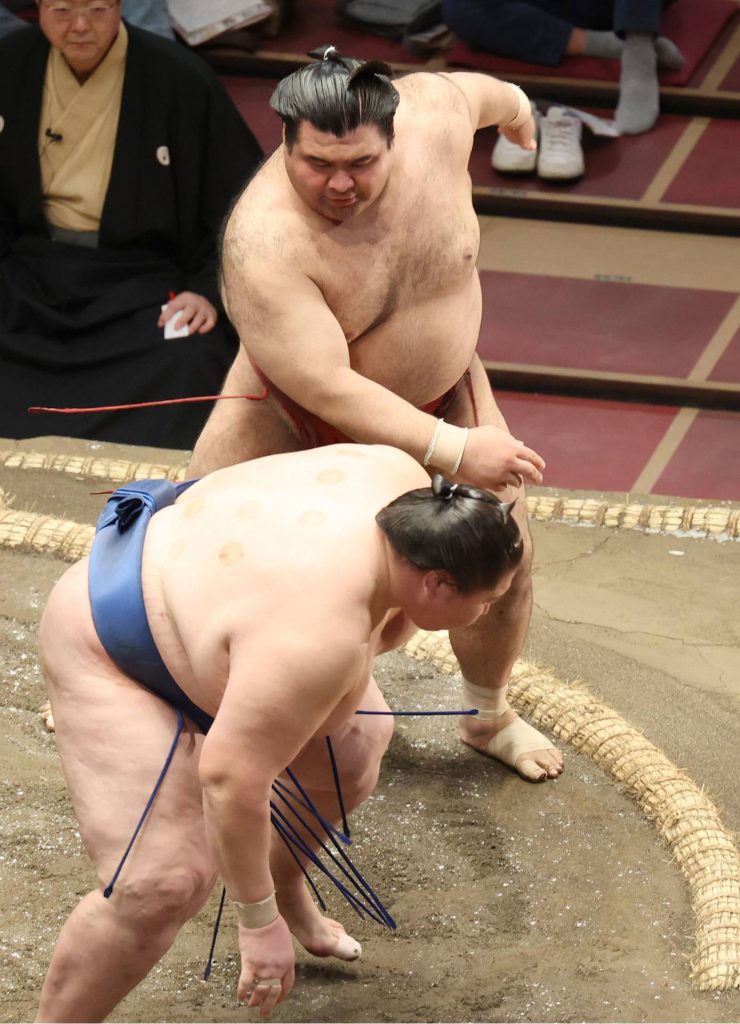 In an all-komusubi showdown, Takayasu fought off a series of arm thrusts and shoved Mongolian Ichinojo out to give both grapplers a record of 2-4.
No. 6 maegashira Ura, who has a flair for the dramatic, was shoved back to the edge by Aoiyama but eventually turned the tables on the much larger ninth-ranked maegashira and shoved him out to the delight of the crowd.
Ura improved to 3-3 while Bulgarian Aoiyama dropped to 2-4.

Three Stars
First Star: Kiribayama. With another upset win, the Mongolian will certainly be destined for a promotion when the tournament is over.
Second Star: Tamawashi. Big win over ozeki Takakeisho is a confidence boost for the fourth-ranked maegashira from Mongolia.
Third Star: Terunofuji. A win over Wakatakakage to take over sole possession of the lead makes it a clean sweep for Mongolian wrestlers.


Author: Jim Armstrong
The author is a longtime journalist who has covered sports in Japan for more than 25 years. You can find his articles here, on JAPAN Forward.
Keywords: