New yokozuna Terunofuji faced his sternest test of the Autumn Grand Sumo Tournament on Thursday, September 16 and came through with flying colors against giant killer Kiribayama.
Coming into the day's final bout at Ryogoku Kokugikan, Mongolian Kiribayama had already beaten sekiwake Meisei, ozeki Takakeisho and komusubi wrestlers Takayasu and Ichinojo.
He was looking to make it five upsets in a row but Terunofuji, who was also undefeated, had other ideas.
After a crushing collision at the face-off, the two wrestlers got a grip of each other's belt.
No. 2 maegashira Kiribayama attempted everything in the book to topple his much larger opponent while Terunofuji was content to just wait for Kiribayama to use all his energy.
Once he had, Terunofuji calmly shoved Kiribayama (4-1) out to improve to 5-0 and maintain a share of the lead with lowly rank-and-filer Chiyonokuni.
"Terunofuji was in no hurry, Kiribayama had a good deflection and attack but couldn't find any angle of attack Terunofuji gradually goes in deep and makes Kiribayama rise," said NHK sumo analyst Ajigawa, the former sumo wrestler Aminishiki. "Terunofuji was patient and that was the decisive factor for today's win.
"In the first five days Terunofuji has been dominant. If I was to fight him tomorrow, I would be at a loss to find any tactics to challenge him."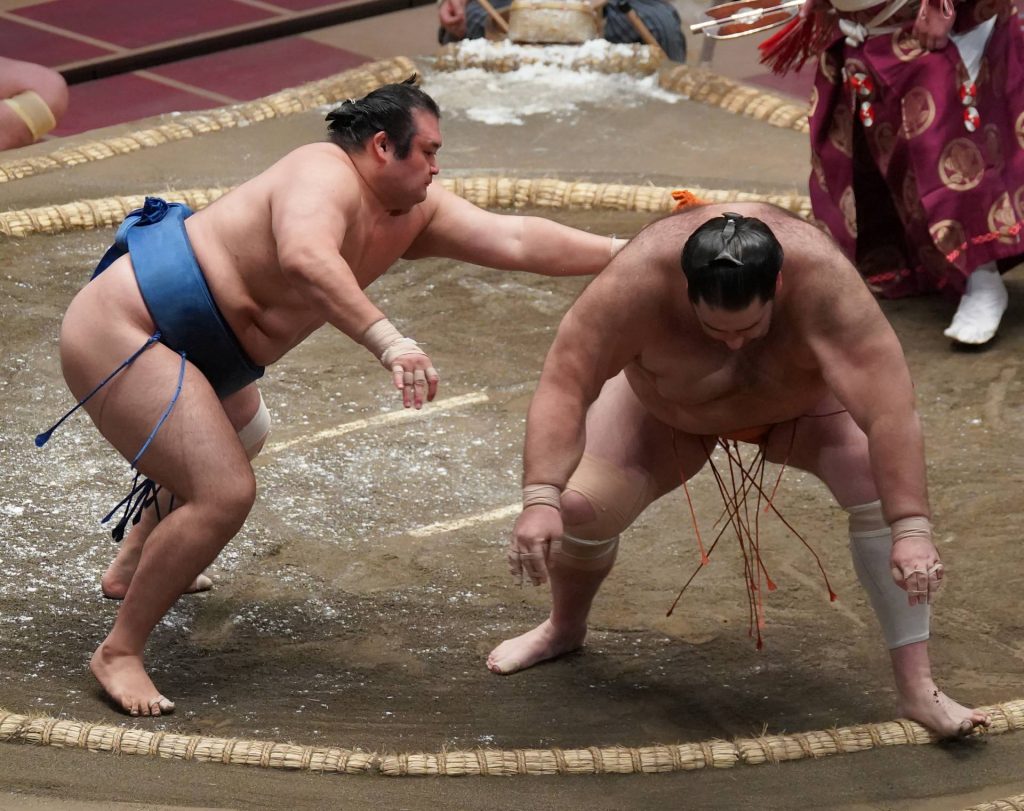 In an earlier bout, maegashira No.17 Chiyonokuni spun Kaisei around after the face-off and shoved the No. 4 maegashira out to stay undefeated.  Brazilian-born Kaisei fell to 2-3.
With fellow grand champion Hakuho sitting out the 15-day meet after a member of his stable came down with the coronavirus, Terunofuji is the clear title favorite and his win over the upstart Kiribayama only solidifies that position.
Terunofuji will face third-ranked maegashira Wakatakakage on Day 6.
Meanwhile, ozeki Shodai bulldozed Wakatakakage out with several powerful arm thrusts to the upper body to post his fourth straight win and stay in a group of six wrestlers who are one win off the pace.
Third-ranked maegashira Wakatakakage was no match for the determined ozeki and was handed his second loss.
Ozeki Takakeisho, who got his first win of the tournament on Day 4, came bursting out of the face-off and used a barrage of arm thrusts to beat Kotonowaka, who dropped to 2-3.
Needing a winning record in this tournament to maintain his ozeki status, Takakeisho improved to 2-3
Sekiwake Mitakeumi is among the group at 4-1 after he stepped to his right and watched as the hard-charging Tamawashi went tumbling out. Fourth-ranked Tamawashi dropped to 2-3.
Komusubi Ichinojo showed deft footwork at the edge when he slapped down sekiwake Meisei for his second win against three losses. New sekiwake Meisei suffered his third loss and also stands at 2-3.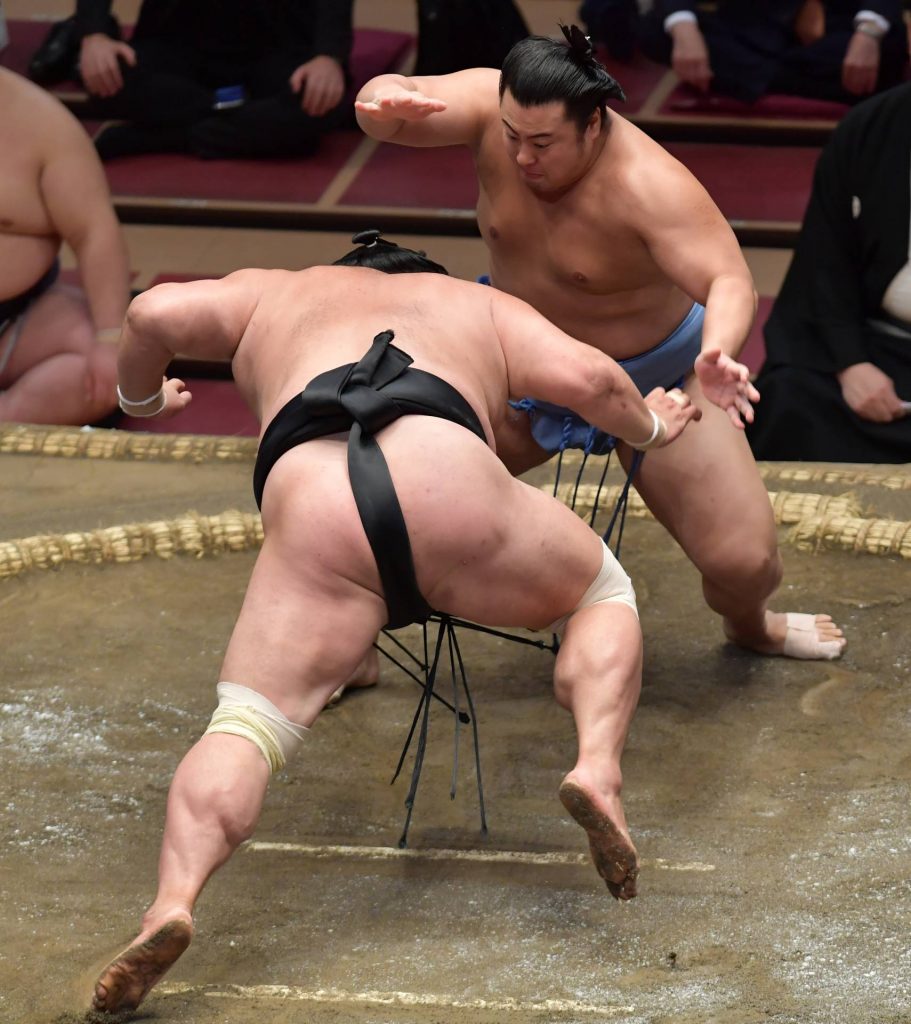 No. 10 maegashira Myogiryu dropped out of the lead when he was swatted down by eighth-ranked maegashira Tobizaru to give both grapplers a record of 4-1.
Two wrestlers had to bow out on Day 5.
Top-ranked maegashira Hoshoryu of Mongolia, a nephew of former yokozuna Asashoryu, pulled out due to tonsillitis and will miss at least two days. His absence meant that struggling komusubi Takayasu picked up his first win by default.
Also, No. 2 maegashira Hokutofuji pulled out with a knee injury allowing top maegashira Takanosho to improve to 2-3.
No. 6 maegashira Onosho stayed one win off the pace at 4-1 when he used a strong pushing attack to send No. 8 Okinoumi out over the straw ridge and to his second loss.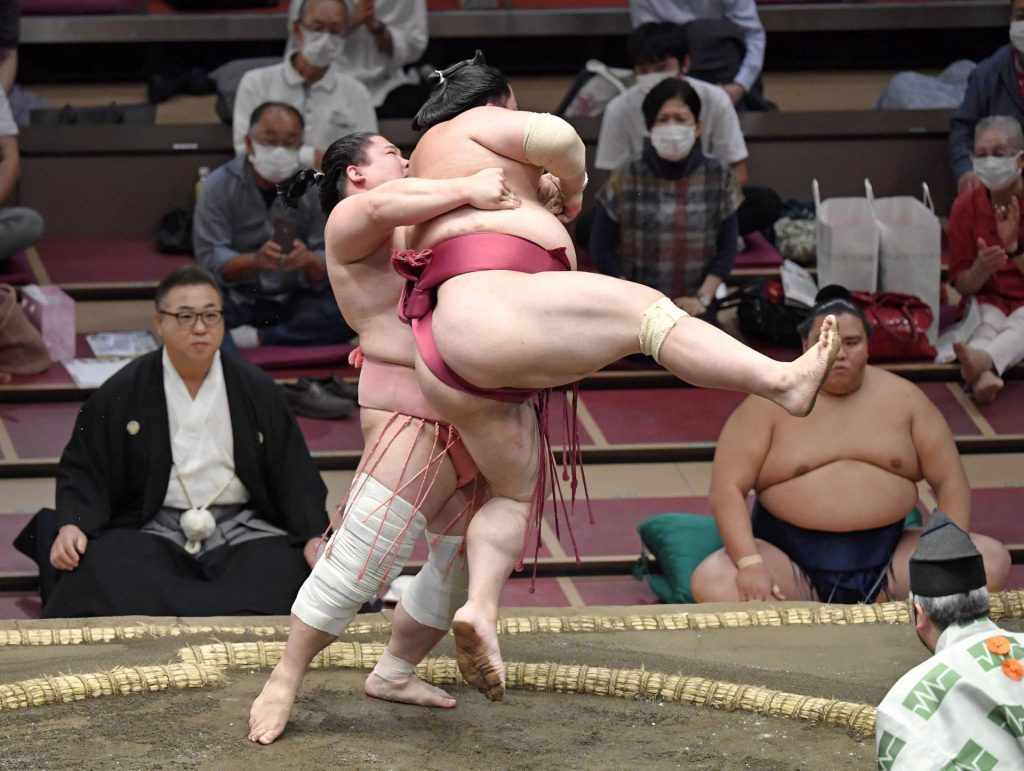 In one of the more colorful matches, sixth-ranked maegashira Ura, wearing a pink mawashi, put Daieisho in a bear hug and lifted him up and over the edge to get a rare rear-lifting body slam win.
It was the first time since 2007 that the technique was used.
Ura improved to 2-3 while fourth-ranked maegashira Daieisho fell to 3-2.

Three Stars
First Star: Terunofuji. Big win against a wrestler that had defeated many of the top wrestlers puts new yokozuna Terunofuji firmly in the driver's seat.
Second Star: Ura. On top of a pink mawashi, the No. 6 maegashira pulled off an "okuritsuridashi" technique that hadn't been used since 2007.
Third Star: Takakeisho. After a dismal start, the ozeki appears to have put his woes in the rear view mirror.


Author: Jim Armstrong
The author is a longtime journalist who has covered sports in Japan for more than 25 years. You can find his articles here, on JAPAN Forward.