Terunofuji Holds Off Endo to Stay Tied for Lead at Nagoya Basho
The lone yokozuna is one of six wrestlers atop the leaderboard.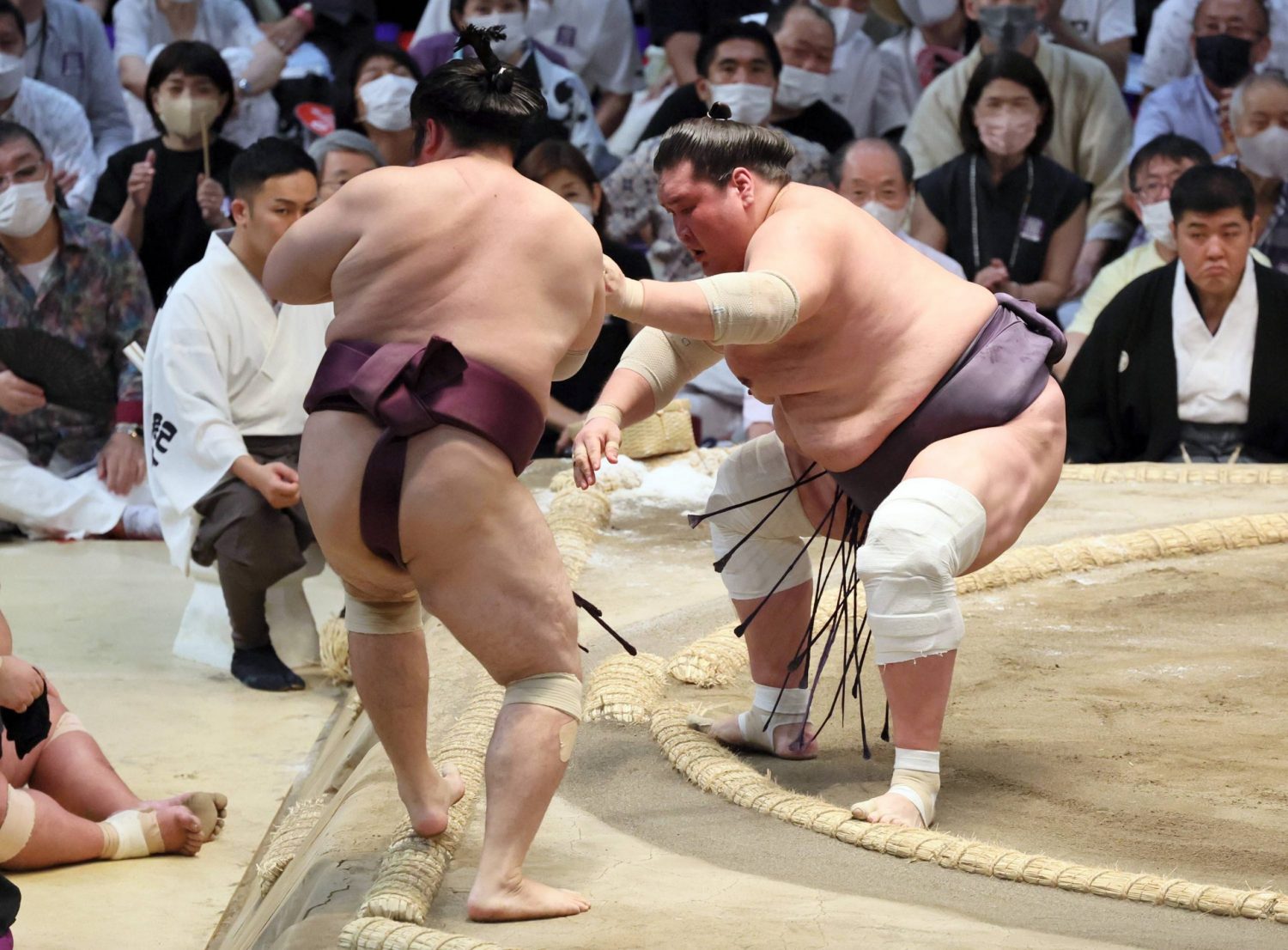 Grand champion Terunofuji fought off a spirited challenge by fifth-ranked maegashira Endo on Monday, July 18 to remain tied for the lead at the Nagoya Grand Sumo Tournament.
In the day's final bout at Aichi Prefectural Gymnasium, Terunofuji allowed a double inside grip just after the face-off but remained calm and used a frontal push-out to send Endo (2-7) toppling off the raised ring and improve to 7-2.
Terunofuji is one of six wrestlers tied at 7-2 as the second week of the 15-day tournament got underway. Three men ― Takakeisho, Chiyotairyu and Ichiyamamoto ― are at 6-3.
Terunofuji won his seventh Emperor's Cup at the Summer tournament in May when he won all his remaining bouts in the second week and will be hoping for a similar outcome in Nagoya.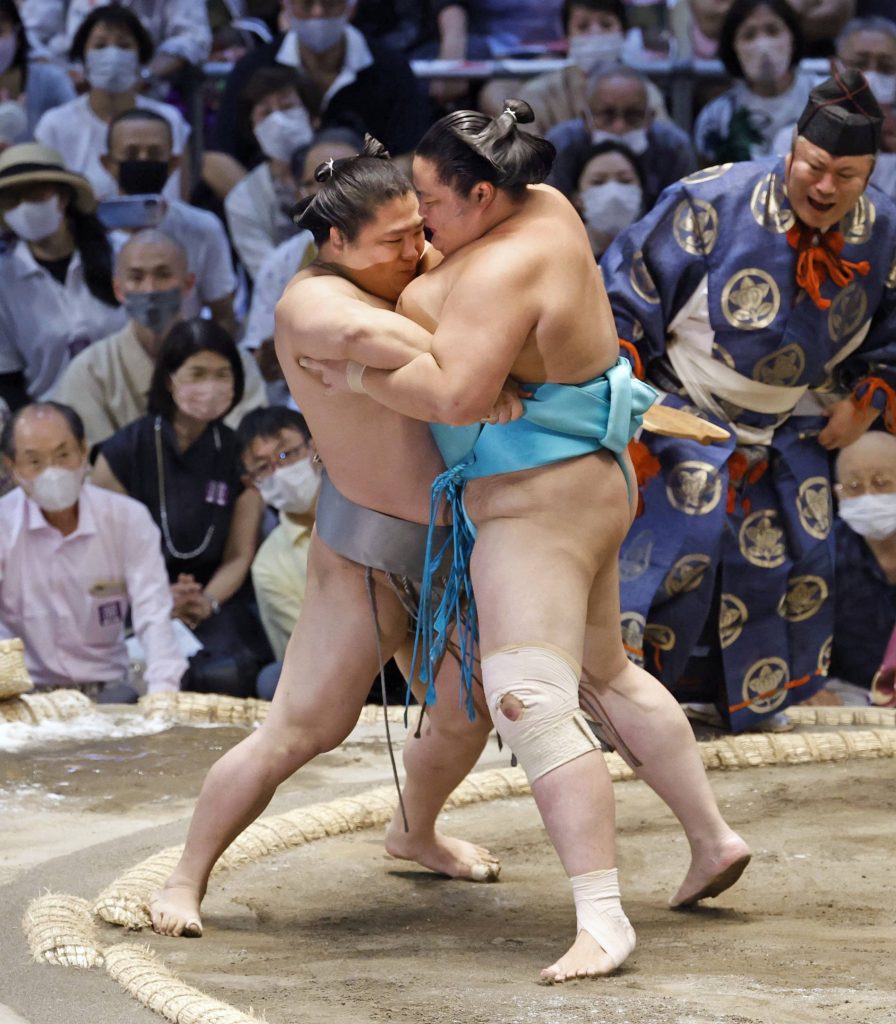 Up-and-coming grappler Kotonowaka, a No. 2 maegashira, displayed the poise of a veteran when he shoved out in-form sekiwake Wakatakakage to stay tied for the lead at 7-2.
Wakatakakage had won four in a row and was trying to get back in contention, but couldn't hold off the 24-year-old Kotonowaka and dropped to 5-4.

Shodai Extends Win Streak
Resurgent ozeki Shodai was pushed back to the brink by komusubi Abi (5-4) but used a thrust-down technique at the edge to win his fourth straight and improve to 5-4.
Shodai lost three of his first four bouts leading to concerns he couldn't secure the winning record he needs to maintain his ozeki status for the next tournament. But just as he did in the Summer Basho, he's turned things around after a slow start.
Ozeki Takakeisho made quick work of Wakamotoharu when he used a powerful arm thrust at the face-off and then swatted down the fourth-ranked maegashira.
Takakeisho improved to 6-3 while Wakamotoharu, who was involved in a marathon bout that included a rematch with Terunofuji on the previous day, dropped to 4-5.
In a showdown of two Mongolians, Ichinojo got a hold of Kiribayama's arm and then used his considerable weight advantage to march the top maegashira out and stay tied for the lead at 7-2.
Ichinojo, who has already beaten a yokozuna and two ozeki in this tournament, put a halt to a two-bout losing skid.
Sumo's Flying Monkey Tobizaru used a leg sweep to knock Sadanoumi off balance then swatted the No. 9 maegashira (1-9) down to maintain his share of the lead at 7-2.
No. 6 maegashira Tobizaru, who also used a leg kick to win on the previous day, is having his best tournament since March of 2021 when he went 10-5.
Nishikigi, Nishikifuji Among Leaders
Eighth-ranked Nishikigi kept pace at 7-2 with an arm-barring force-out win over No. 11 Midorifuji, who dropped to 5-4.
Rank-and-filer Nishikifuji also stayed atop the leaderboard at 7-2 when No. 13 maegashira Ichiyamamoto was forced to pull out due to a case of COVID-19 in his stable.
Ichiyamamoto was having a good tournament but because of COVID protocols he will not be able to return and finishes at 6-3.
No. 10 maegashira Chiyotairyu swatted down Tochioshin to stay one win back of the leaders at 6-3. No. 8 maegashira Tochinoshin stands at 5-4.
Komusubi Hoshoryu used a frontal push-out to defeat Tamawashi while improving to 5-4. No. 3 maegashira Tamawashi stands at 3-6.
Sekiwake Daieisho used a barrage of slaps and thrusts to the upper body then swatted Ura down just as the No. 3 maegashira tried to go inside on his opponent.
Daieisho improved to 5-4 while Ura tumbled out to his fifth loss against four wins.
Diminutive No. 12 maegashira Terutsuyoshi came in low at the face-off and grabbed a hold of Daiamami's leg to topple the No. 18 maegashira and improve to 3-6.
Daiamami, who sat out two bouts with an ankle injury, dropped to 1-6-2.


Author: Jim Armstrong
The author is a longtime journalist who has covered sports in Japan for more than 25 years. You can find his articles here.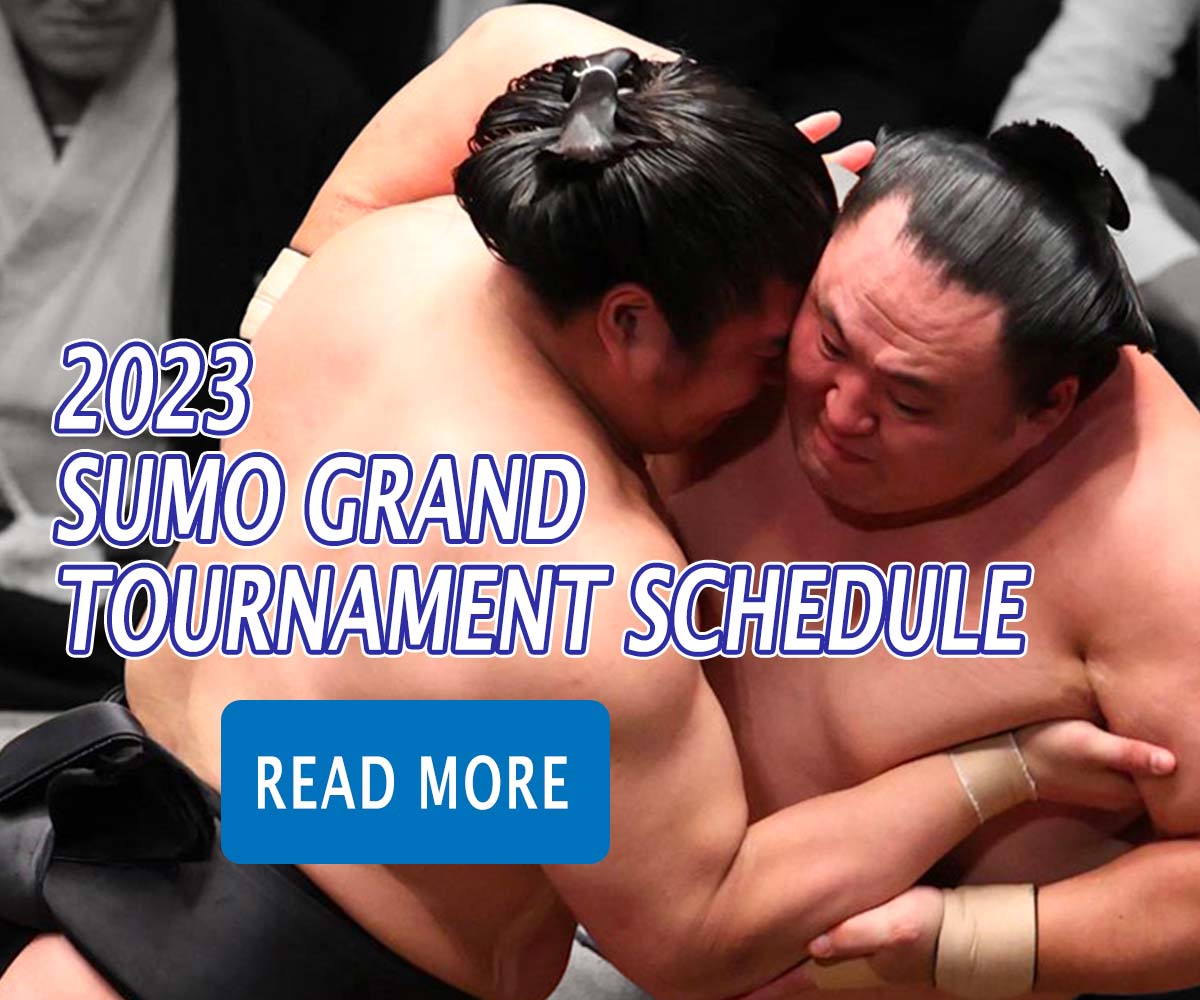 Subscribe to Our Newsletter