Tobizaru Beats Chiyotairyu to Stay Tied for Lead at Nagoya Basho
The Flying Monkey kept his poise and stayed even with heavyweights Terunofuji and Ichinojo and rank-and-filer Nishikigi.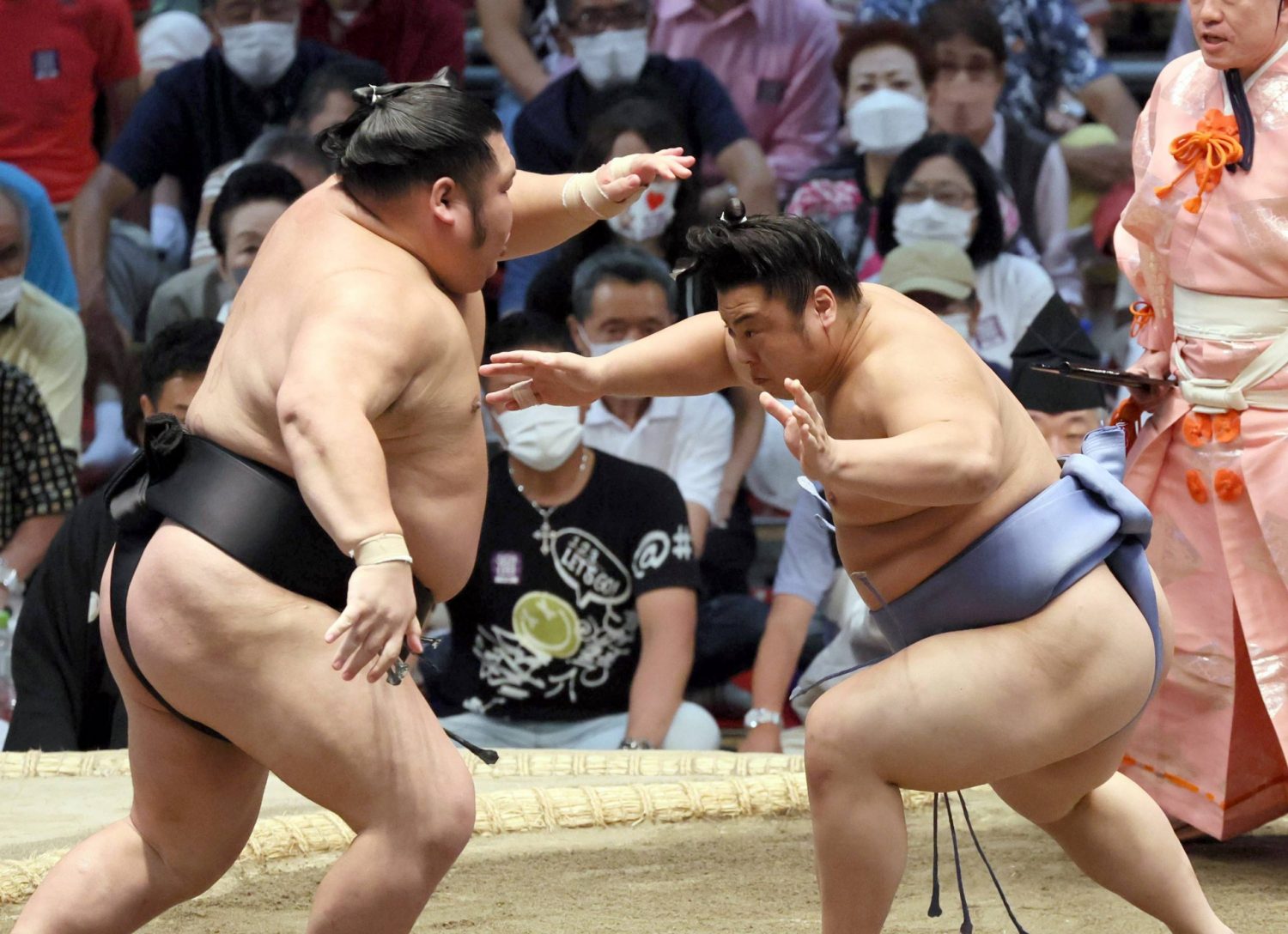 Sumo's Flying Monkey Tobizaru overcame a pull to the top knot on Tuesday, July 19 to defeat Chiyotairyu and maintain a share of the lead at the Nagoya Grand Sumo Tournament.
Shortly after the face-off, No. 10 maegashira Chiyotairyu (6-4) got a hand on Tobizaru's top knot and gave it a good yank before the No. 6 maegashira shoved his opponent out to improve to 8-2.
Chiyotairyu certainly could have been disqualified for the illegal move, but it didn't factor as Tobizaru took care of business to wrap up a winning record.
"It's been a while since I wrapped up a winning record on Day 10," Tobizaru said. "I've been in good shape and have been using a variety of techniques. I'm not thinking about the championship at this point."
Tobizaru is tied for the lead with Terunofuji, Ichinojo and lower-ranked wrestler Nishikigi.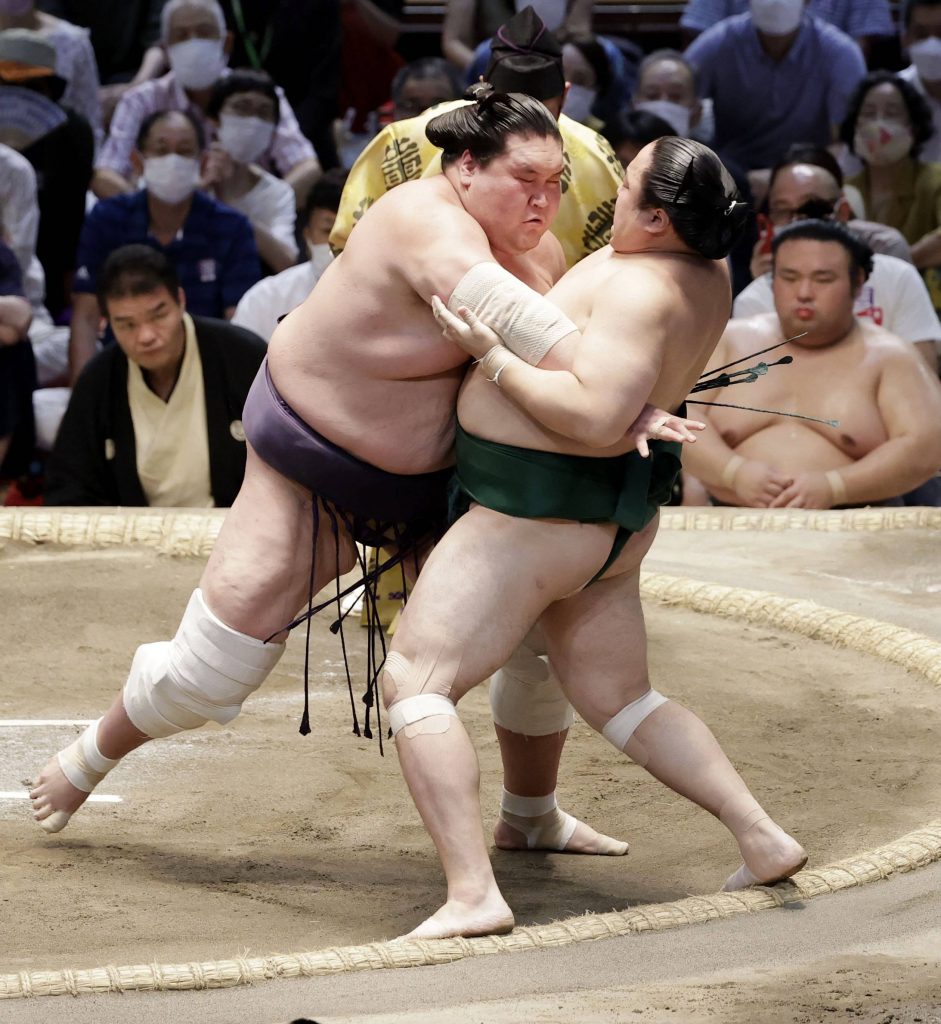 Lone grand champion Terunofuji barely broke a sweat when he overwhelmed Sadanoumi in the day's final bout at Aichi Prefectural Gymnasium to keep his share of the lead. Fifth-ranked maegashira Sadanoumi fell to 2-8.
Mongolian Ichinojo also stayed on top of the leaderboard at 8-2 when he used a frontal crush-out to send Tamawashi toppling off the raised ring. Third-ranked maegashira Tamawashi fell to 3-7.
Hoshoryu Beats Kotonowaka Again
In other major bouts, Mongolian Hoshoryu used a spectacular arm throw while hooking the leg to knock No. 2 maegashira Kotonowaka out of the lead while improving to 6-4.
Komusubi Hoshoryu has now won five straight against Kotonowaka, who dropped to 7-3.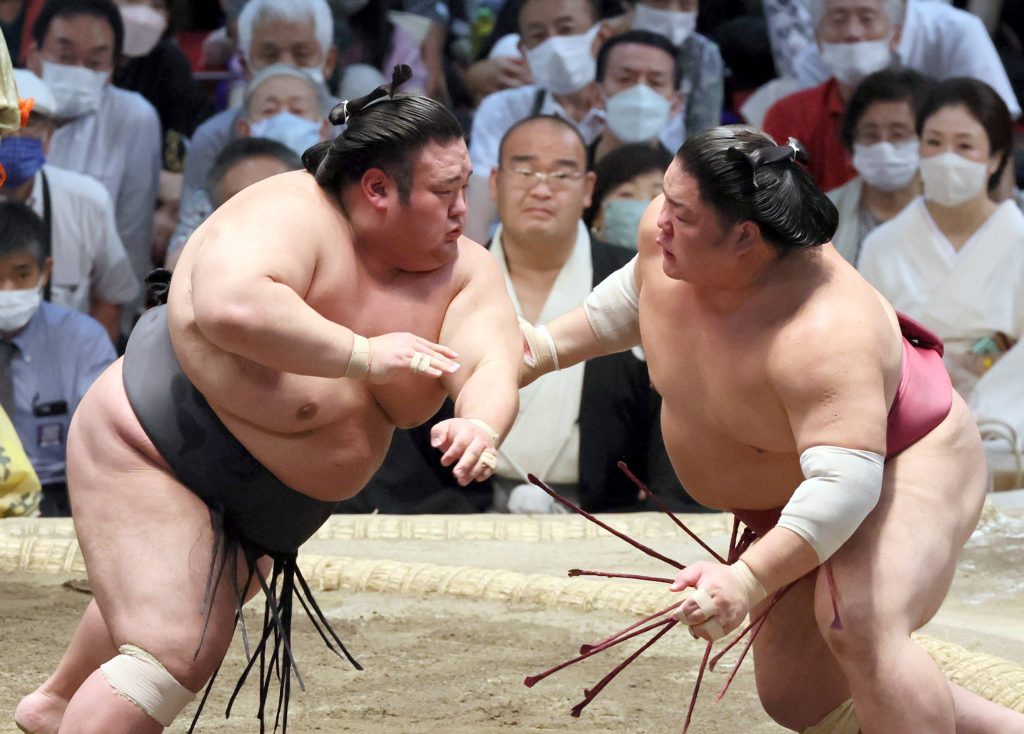 Ozeki Takakeisho stayed in the title chase when he got behind sekiwake Daieisho (5-5) and bulldozed him out from behind to pick up his seventh win against three losses.
Takakeisho is in second place with Kotonowaka and Nishikifuji.
It was also another good day for ozeki Shodai, who got a left-hand grip on the belt of Ura (4-6) and then used a right-handed thrust to the neck to defeat the No. 3 maegashira and improve to 6-4.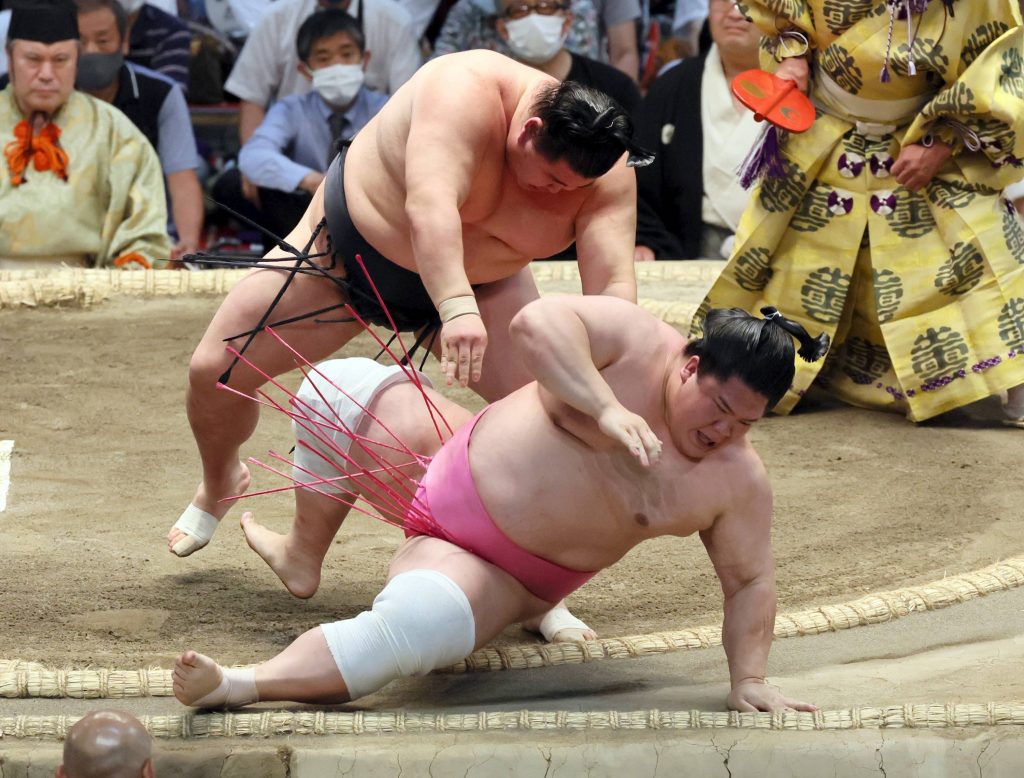 Shodai, who started slowly, is inching toward the winning record he needs to hold on to his ozeki status for the next tournament.
No. 8 maegashira Nishikigi maintained a share of the lead when he spun No. 13 maegashira Chiyoshoma (4-6) around after the face-off and shoved him out to wrap up a winning record at 8-2.
"This is the first time I've wrapped up a winning record this fast," Nishikigi said. "My body has been moving well. Now that I've got a winning record, I'll aim for double digits and we'll go from there."
Fourth-ranked maegashira Wakamotoharu got a left-hand grip on the belt of Okinoumi (4-6) and waltzed the veteran No. 7 out to pick up his fifth win against five losses.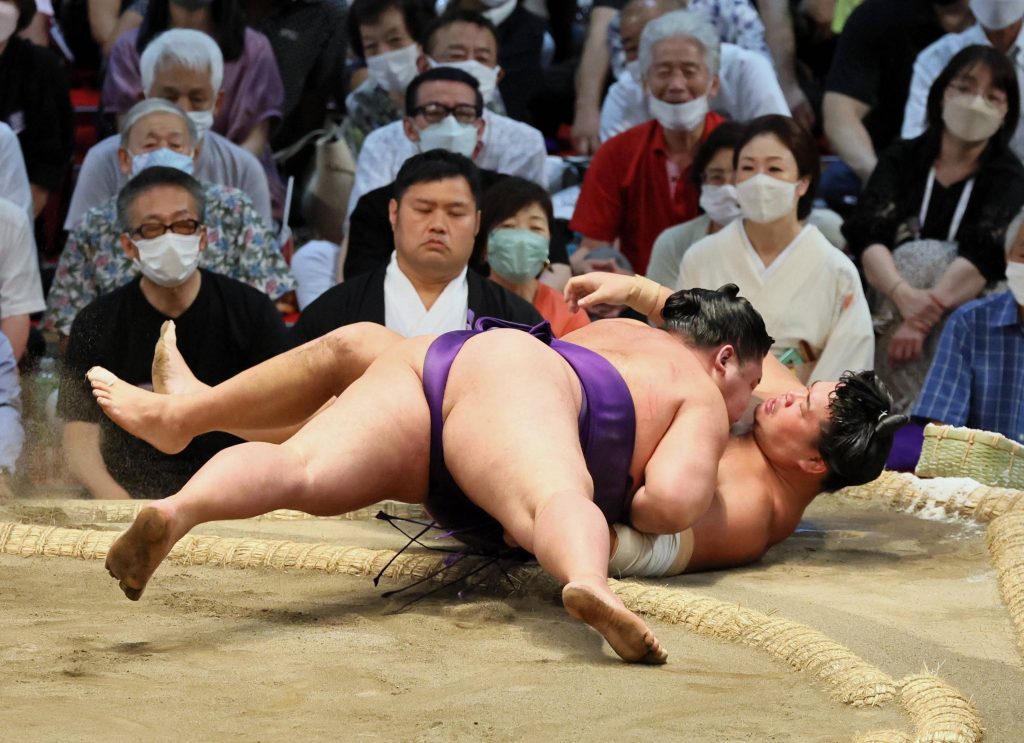 Meisei used a frontal crush-out technique to defeat Nishikifuji and knock the No. 17 maegashira off the leaderboard.
No. 10 maegashira Meisei improved to 5-5 while Nishikifuji fell to 7-3.
Sekiwake Wakatakakage spun Endo around with a pulling move on the belt and then shoved out the struggling fifth-ranked maegashira to improve to 6-4.
Endo lost his sixth straight and dropped to 2-8, meaning he will finish the 15-day tourney with a losing record.
Top maegashira Kiribayama shoved out komusubi Abi to move to 4-6. Abi stands at an even 5-5.
Oho, the grandson of legendary yokozuna Taiho, continued his strong showing when he used a series of arm thrusts to send fellow rank-and-filer Kotoshoho (5-5) out to improve to 6-4.


Author: Jim Armstrong
The author is a longtime journalist who has covered sports in Japan for more than 25 years. You can find his articles here.