Showing the poise of a grand champion, Mongolian Terunofuji pulled off a great escape on Monday, November 15 to beat upset-minded Daieisho and improve to 2-0 at the Kyushu Grand Sumo Tournament.
In the day's final bout at Fukuoka Kokusai Center, Daieisho shoved Terunofuji back to the edge and was inches away from pulling off yet another huge upset of the new yokozuna.
But Terunofuji, with both feet on the straw ridge, deployed a textbook beltless arm throw at the last minute to send Daieisho tumbling to the dirt surface.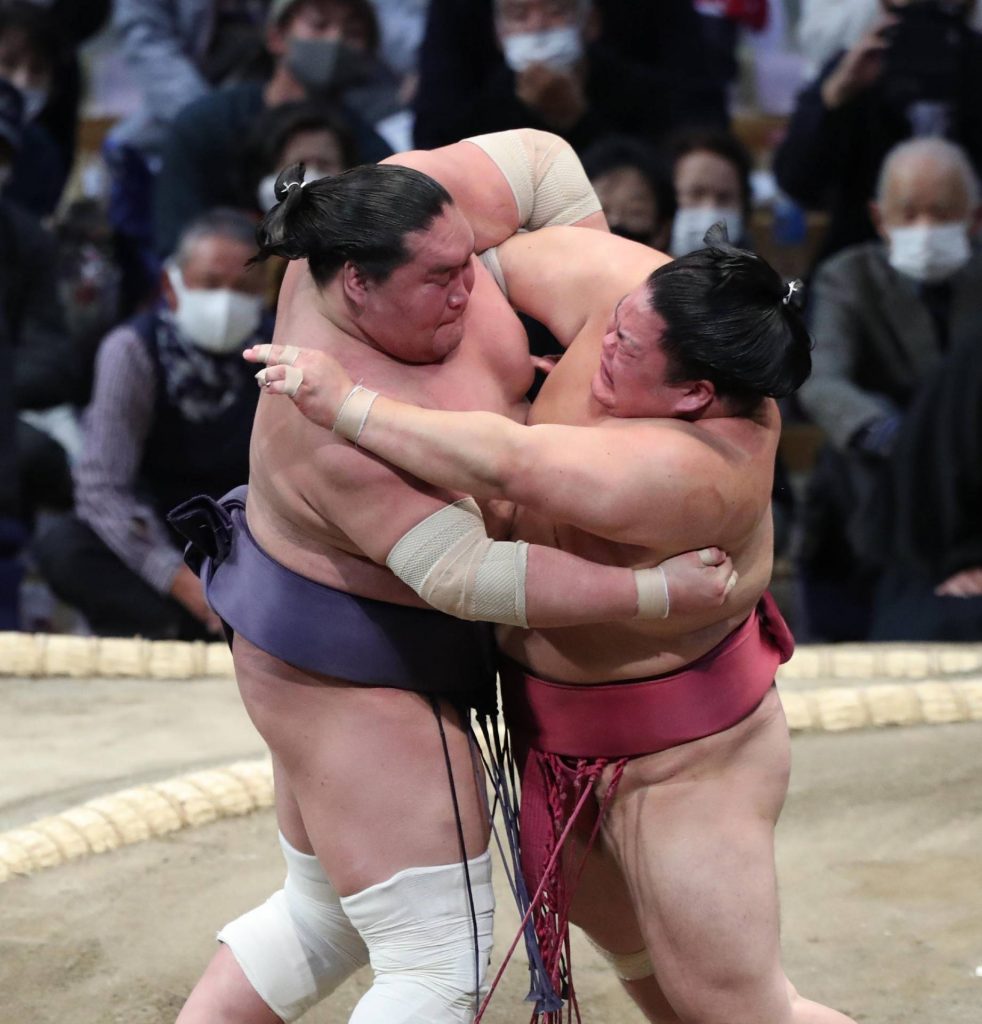 Daieisho was one of only two wrestlers to defeat Terunofuji when he made his debut at the sport's highest rank in the September tournament.
Terunofuji went on to win that tournament despite the loss to Daieisho but was no doubt eager to avenge that defeat in Monday's featured bout.
Top maegashira Daieisho, meanwhile, was eager for another "kinboshi" upset over the yokozuna but Terunofuji was having none of that and used every ounce of energy to hand his opponent his first loss.
As the lone grand champion competing now in sumo, Terunofuji is anxious to cement his place as the new king of the ring and Monday's win is an early indication that he is in dominant form.
In other major bouts, Kyushu native Shodai relied on a superior face off to pick up his first win by shoving out Mongolian giant Ichinojo.
Ozeki Shodai could only manage an 8-7 record in the previous tournament and will be hoping for better things this time out. Komusubi Ichinojo had dominated Shodai in recent bouts but was no match for the determined ozeki and dropped to 1-1.
Takakeisho made it a clean slate for the ozeki wrestlers on Day 2 of the 15-day basho when he deployed a series of powerful arm thrusts to send No. 2 maegashira Onosho toppling off the raised ring.
Like Shodai, Takakeisho was less than impressive last time out with a modest 8-7 record but is off to a strong 2-0 start in Fukuoka.
In a showdown of rising hopes in the makuuchi division, top maegashira Wakatakakage slapped down Meisei to pick up his first win of the November meet.
Sekiwake Meisei exchanged a series of ferocious arm thrusts with his opponent but appeared to lose his footing as he fell to the dirt surface and now stands at 0-2.
Maegashira No. 3 Okinoumi overpowered Kiribayama with a frontal force out to improve to 1-1. Mongolian Kiribayama, who is making his debut at komusubi, came into the meet with high hopes but is off to a slow start and dropped to 0-2.
Sekiwake Mitakeumi posted his fourth straight win over No. 2 maegashira Takanosho.
Despite being pushed back to the edge, Mitakeumi turned the tables on his opponent and won with a push-out maneuver to improve to 2-0. Takanosho fell to 1-1.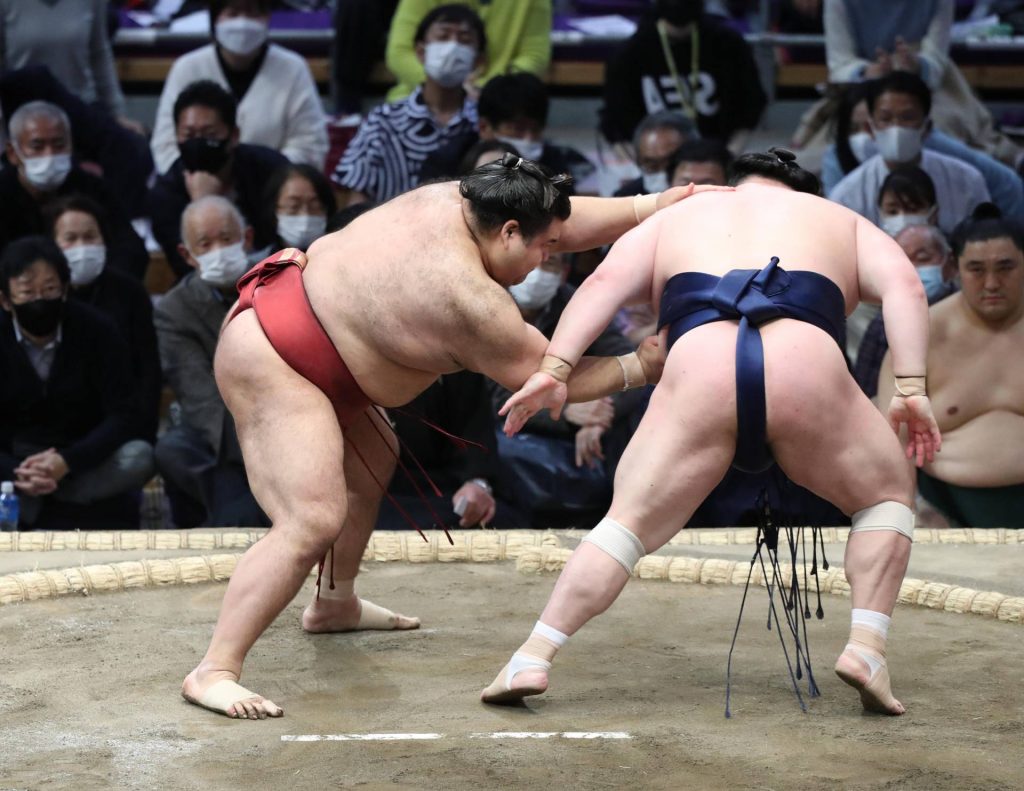 In a marathon bout that lasted over three minutes, Takayasu deployed an underarm pulling throw to dispatch of fourth-ranked Takarafuji.
No. 6 maegashira Takayasu, who had a disappointing result in the September tournament, improved to 2-0 while Takarafuji dropped to 0-2.
Fourth-ranked maegashira Endo displayed deft footwork at the edge of the ring when he swatted down veteran Myogiryu, a third-ranked maegashira, to give both wrestlers a 1-1 record.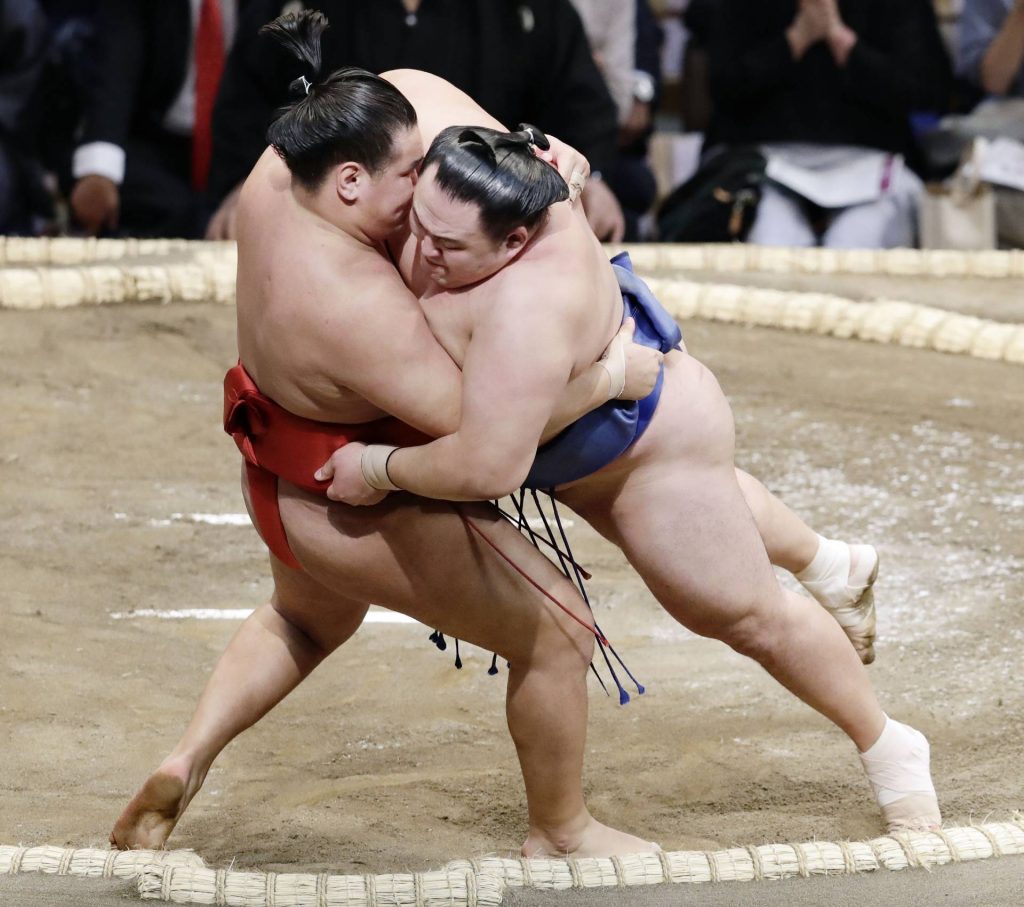 Veteran grappler Tamawashi posted a hard-fought win over fellow Mongolian Hoshoryu to give both wrestlers a 1-1 record.
No. 6 maegashira Tamawashi forced Hoshoryu to the edge where the fifth-ranked maegashira attempted an arm throw. Both wrestlers fell out of the ring at the same time but the referee ruled that Hoshoryu's elbow touched down first.
Three Stars
First Star: Terunofuji. The new grand champion has rarely been pushed to the brink as he was on Day 2 in Fukuoka. That he was able to come back with such poise bodes well for the remainder of the tournament.
Second Star: Shodai. It's been a tough go for the ozeki wrestler of late. He's taken a lot of heat for his modest results so hopefully Monday's win over Mongolian behemoth Ichinojo is a sign he's returning to a level worthy of an ozeki wrestler.
Third Star: Wakatakakage. The top maegashira showed plenty of poise in a hard-fought win over fellow up-and-comer Meisei. The future of sumo will be bright if wrestlers like Wakatakakage can keep showing improvement.

Author: Jim Armstrong
The author is a longtime journalist who has covered sports in Japan for more than 25 years. You can find his articles here, on JAPAN Forward.