Lone yokozuna Terunofuji overpowered up-and-comer Wakatakakage on Tuesday, November 16 to remain undefeated after three days of the Kyushu Grand Sumo Tournament.
Mongolian Terunofuji absorbed a ferocious charge at the face-off but barely flinched and used a series of powerful arm thrusts to send the top maegashira toppling off the ring in the day's final bout at Fukuoka Kokusai Center.
Three days into the 15-day meet and Terunofuji is looking as dominant as was expected. He was only seriously challenged on Day 2 when he was pushed to the brink by Daieisho but recovered with a spectacular beltless arm throw.
There was no such threat on Day 3 against the youthful Wakatakakage (1-2), who had only beaten Terunofuji once in their previous seven bouts but that win came by way of default.
Winner of three of the past four Emperor's Cups, Terunofuji will face winless Onosho on Day 4.
Most of the top-ranked wrestlers also posted wins on the third day of action. A large group of nine wrestlers, including several rank-and-filers, remain undefeated at 3-0.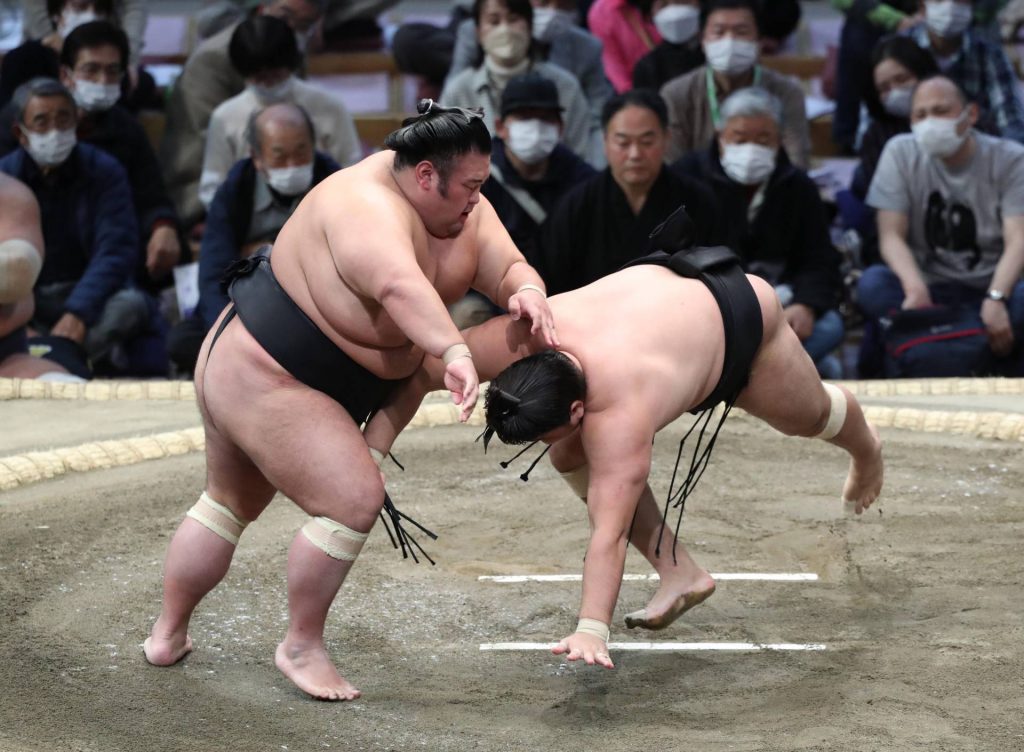 In other major bouts, ozeki Takakeisho used an audacious left-handed swat to the back of the head of Kiribayama to send the newly promoted komusubi down and out in a matter of seconds.
Takakeisho, who went 8-7 in the previous tournament, is off to a solid 3-0 start while Mongolian Kiribayama is at the other end of the spectrum at 0-3.
Shodai (2-1) made it two wins on the day for ozeki with his second straight win when he took advantage of a weak face-off and slapped down winless No. 2 maegashira Onosho.
Like Takakeisho, Shodai is looking for an improvement on the 8-7 record he posted last time out.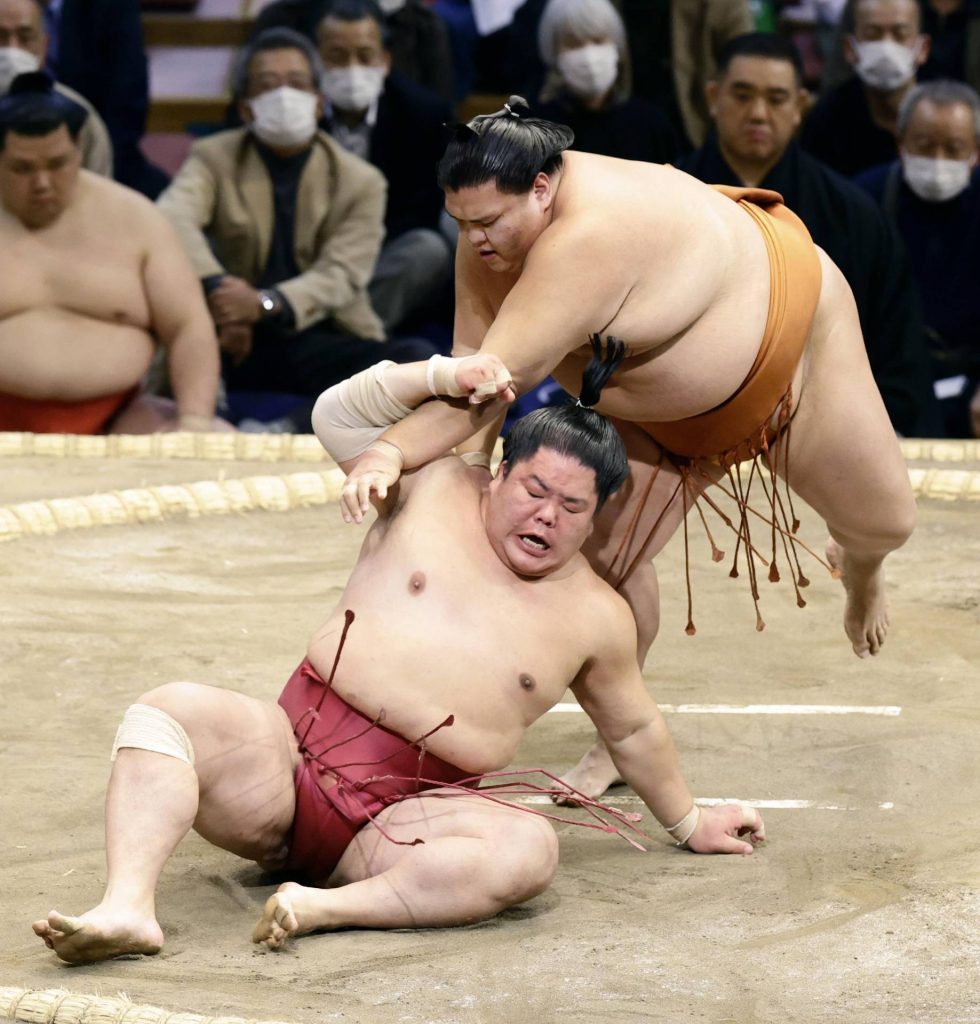 Elsewhere, sekiwake Mitakeumi improved to 3-0 when he beat rising star Daieisho with a beltless arm throw that sent the top maegashira tumbling to the dirt surface and his second loss against a lone win.
Sekiwake Meisei finally broke through with his first-ever win over Okinoumi when he got a right-hand grip on the belt of the No. 3 maegashira and hoisted him up and over the straw ridge to give both grapplers a 1-2 record.
Meisei was 0-7 against No. 3 maegashira Okinouimi before Tuesday's win.
Takarafuji fought off a left-hand grip on the belt by fellow No. 4 maegashira Endo and shoved his opponent out to give both wrestlers a record of 1-2.
Third-ranked Myogiryu (2-1) fought off a "kubinage" neck throw and toppled Takayasu to hand the fifth-ranked maegashira his first loss of the tournament.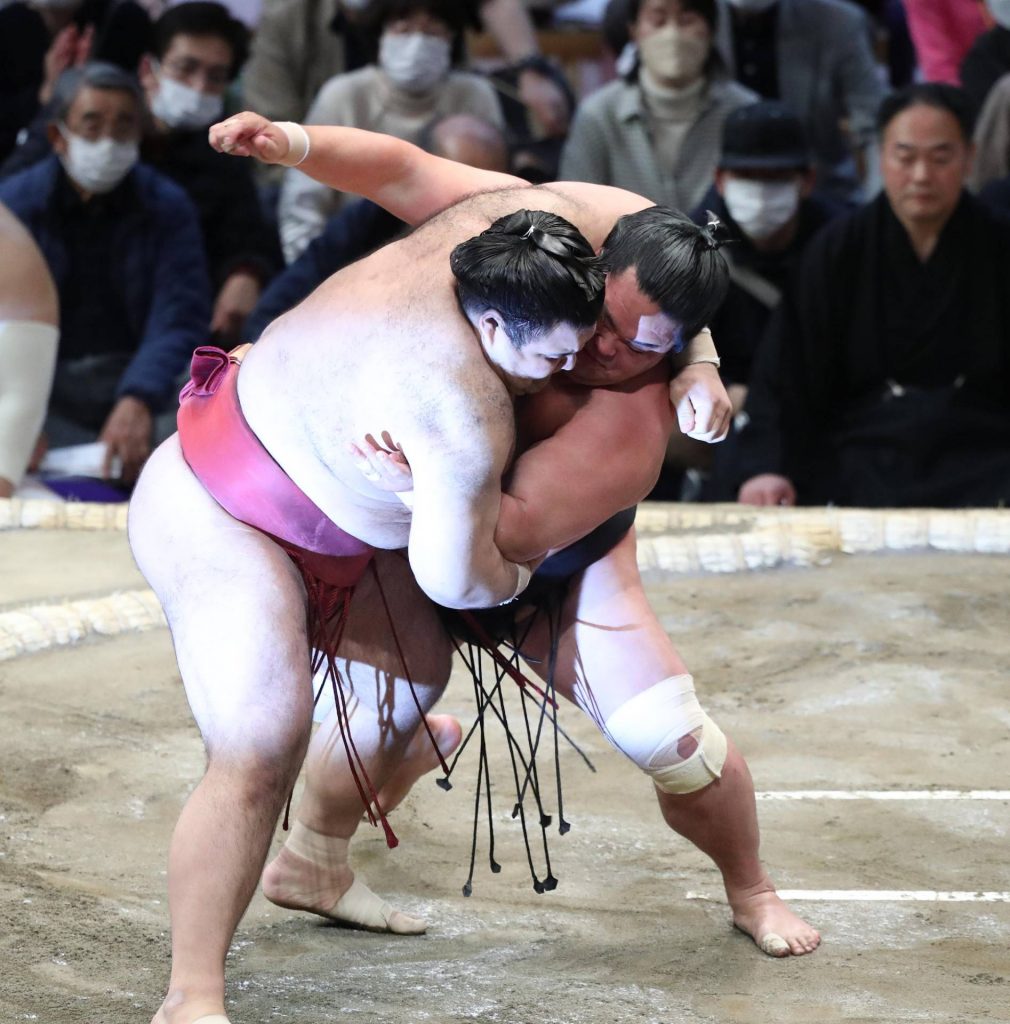 Mongolian behemoth komusubi Ichinojo, the heaviest man in sumo at 206 kilograms, thrust down No. 2 maegashira Takanosho (1-2) to pick up his second win against one loss.
In a showdown of wrestlers known for their unorthodox winning techniques, No. 7 maegashira Ura hauled down Hoshoryu to remain undefeated at 3-0. Hoshoryu, a fifth-ranked maegashira, seemed to lose his footing on the sandy surface and dropped to 1-2.
Tamawashi (2-1) celebrated his 37th birthday with a powerful "oshidashi" (thrust-out) win over fellow sixth-ranked maegashira Shimanoumi, who has yet to win a bout.
Further down the ranks, Terutsuyoshi followed up his outlandish salt throwing routine with a force-out win over 10th-ranked maegashira Chiyotairyu to improve to 2-1.
No. 11-ranked maegashira Terutsuyoshi has a habit of grabbing a huge handful of salt before every bout and throwing it high into the air to the delight of the fans. It seemed to pay off this time as he was able to overpower the much larger Chiyotairyu, who dropped to 1-2.
Seventh-ranked Chiyoshoma forced out sumo's flying monkey Tobizaru to improve to 3-0. No. 8 Tobizaru couldn't get a grip on the belt of the Mongolian and fell to 1-2.

Three Stars
First Star: Mitakueumi. The sekiwake has a bit of reputation for inconsistency but has looked steady thus far and an impressive win over up-and-comer Daieisho on Day 3 bodes well for the Dewanoumi stable wrestler.
Second Star: Meisei. With his first win in seven tries against Okinoumi, sekiwake Meisei came up big to also get his first win of the Kyushu Basho.
Third Star. Tamawashi. The Mongolian veteran got to celebrate his 37th birthday with a big win over Shimanoumi. "Happy Birthday to You!"



Author: Jim Armstrong
The author is a longtime journalist who has covered sports in Japan for more than 25 years. You can find his articles here, on JAPAN Forward.